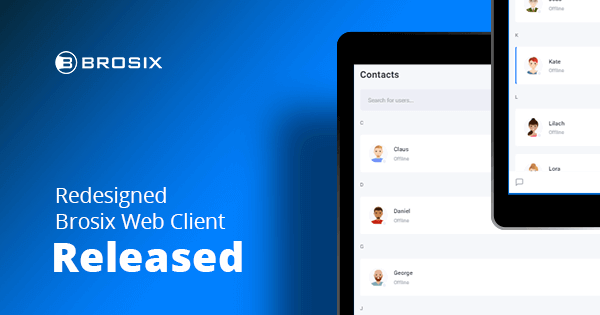 Redesigned Brosix Web Client Released
As part of ongoing efforts to provide the best possible user experience, the Brosix Team has announced the launch of a completely redesigned Web Client. This update aims to increase overall usability and better synchronize the Web Client across a range of devices. Brosix customers will find the following main changes to the Web Client:
A completely new design
Multiple login support
Synchronization of chat history across devices
Compatibility with a range of devices including desktop, mobile and tablet
Ability to receive images
Browser notifications for new messages
Active session saved on browser removing the need to enter credentials on login
Chat history saved locally to browser and can be deleted at any time
Ability to pin app to windows start menu, taskbar and iPhone home screen
Ready to Use
The new Web Client is already live and can be accessed at the following address: https://web.brosix.com/. Customers are welcome to begin using the tool at their earliest convenience. The Brosix Team would be happy to receive any feedback on the Web Client that customers might have.
New Features in the Future
The Brosix Team already has plans for new Web Client features which they will soon begin developing. Customers can expect news in this regard in the near future.