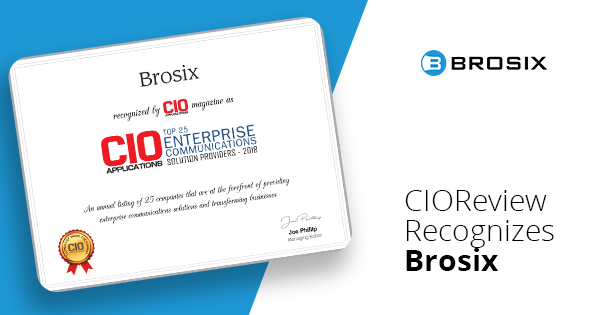 Brosix Recognized as One of the 25 Best Enterprise Communication Solutions
The Brosix team is proud to share that Brosix has been featured on the cover of the latest edition of CIO Аpplications, a leading industry publication in the IT sector. In the CIO Аpplications cover story, Brosix CEO and Co-Founder, Stefan Chekanov, discusses how Brosix has improved the collaboration and productivity of its clients through its unique IM enterprise features. He also comments on how he sees Brosix developing in the future to better serve its clients.
Customer Case Study
Brosix's added value to its customers is further highlighted in the magazine through a comprehensive case study on one of Brosix's long-term clients, Plesser's Appliances. The case study describes how Brosix has helped Plesser's Appliances to streamline and focus its Inter-office communication, leading to increases in team efficiency and productivity.
25 Best Enterprise Communication Solutions


In the same edition of the magazine, Brosix is also listed as one of the 25 best enterprise communication solutions in recognition of its innovative and unique approach to enterprise communication. This is Brosix's latest external recognition for its excellent work and products, and comes on the heels of an exciting few months of new product releases and updates.
The Brosix team is proud of this recognition, and encourages its community members to read the article and share their thoughts!