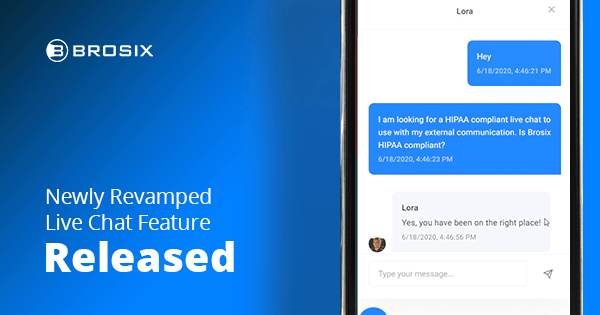 Newly Revamped Live Chat Feature Released
Supporting businesses to best serve their customers is a top priority at Brosix. In these times of instant communication, it's beneficial for businesses to immediately communicate with customers through their website. That's why the Brosix team has been diligently working on a revamped Live Chat plugin for direct customer support which is now ready for immediate release.
The Live Chat feature allows Brosix customers to directly engage with guests on their website in order to provide customer support or field queries. The feature is fully integrated into the Brosix private team network, providing a seamless customer support experience without the need for third party software.
Newly Redesigned Feature
The newest version of Brosix Live Chat comes with numerous new and updated features. These include, but are not limited to:
Website plugin color and placement customization options
Advanced installation options for further plugin personalization
Three Live Chat availability options: always available, when an agent is available and custom business hours
Compatibility with all Brosix Desktop, Web based and Mobile apps
Unlimited number of agents and 10 dedicated communication channels
Dedicated customer support group for live chat agents on the team network that can be updated by the network administrator
Dedicated chat room for the customer support group for efficient collaboration
Numerous collaboration features that agents can use to collaborate with other agents in order to resolve customer issues
Conversations recorded for future review through the Brosix User Activity Log feature
Numerous Potential Benefits
Brosix Live Chat is an efficient tool for boosting customer engagement, which can help businesses to better support customers, improve sales, and convert more clients. By using this feature, Brosix customers will add an important element to their customer support efforts that compliments more traditional email and telephone based support.
The Brosix Team is certain that customers will come to discover the numerous benefits of live customer support, and looks forward to receiving feedback on the feature.