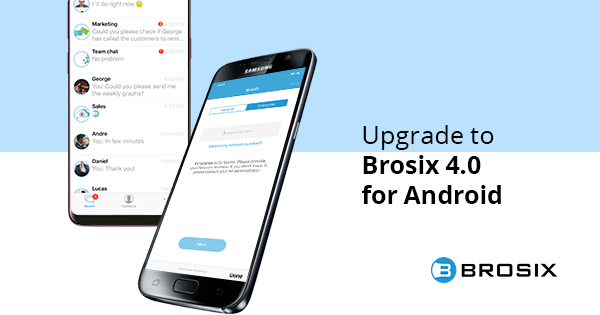 Brosix 4.0 Released for Android
Brosix is bringing the expanded features and functionality of Brosix 4.0 to Android with the release of its newest Android app! Now Android mobile customers can take full advantage of the new and expanded features of this latest version of Brosix.
Brosix 4.0 now for all Mobile Customers
Together with the recent releases of Brosix 4.0 for iOS and 4.1 for Desktop, this new Android build is part of the Brosix Team's efforts to improve user experience across all platforms. This entirely new Android app is certain to bring the exciting new features of 4.0 to all mobile users, and opens Brosix to the possibility of many new and updated features in the future.
New Features now on Brosix's Android App
Brosix 4.0 for Android comes with many new and expanded features aimed at improving user experience. These features include:
Redesigned user interface
Direct addition of contacts from mobile devices
Brand new emoticons
Automatic synchronization of chat history across devices
The ability to log in to Brosix on multiple devices
Redesigned picture transfer feature with faster speed and improved interface
An App Designed for the Modern Workplace
As this list shows, Brosix 4.0 for Android, along with the recent Desktop and iOS releases, will allow team members to communicate and collaborate even more efficiently across all platforms. The ability to login from multiple devices and automatically synch chat history across devices will allow users to more flexibly access their Brosix networks and stay in touch with team members wherever they are, a true benefit in the modern workplace.
The Brosix team is certain that there are many other uses for the new Android app, and is excited to hear more about user experience using it. The team is looking forward to user feedback!
NOTE: Please, update the Brosix mobile app on your Android devices from Google Play