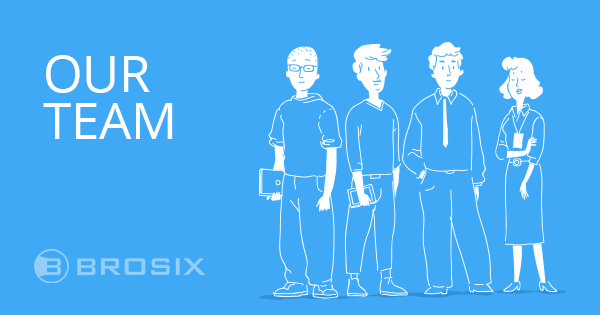 A Day at Brosix
We at Brosix are always interested in learning more about you, our customers, as it helps us grow our business and better meet your needs. Over the years we've found that the reverse inquisitiveness is true as well, and many people have asked us about how we spend our time on a daily basis. That's why we'd like to present to you 'A Day at Brosix.' If you're curious about what goes into bringing you Brosix, please read on!
We always try to start our day on a positive note, which is why the first thing in the morning is to greet each other with a smile and a 'Good Morning.' We find that a positive attitude is a key to a productive team, so we try to begin our day with this in mind… despite the fact that not all of us are morning people, at least until we have our coffee.
Once we exchange some words, we all set out for our offices and desks to focus on our daily tasks. Now it's important to note that not all of the Brosix team works from one location, and we take advantage of our own team communication technology to work with several remote employees. We have regular screen-sharing sessions with these colleagues in order to stay connected and collaborate.
If it's a Monday our CEO Stefan can be found in a weekly meetup with the developer team, and Wednesdays find him meeting with the marketing team. In this way he's able to offer hands-on support to both of these key functions.
Everyone on the Brosix team has ongoing goals, and every business day is a new chance to meet them. Some of our work routines include making tests on the Brosix applications, responding to requests from people interested in our product, providing customer support over the phone, exchanging ideas on something that could improve the user experience, and so on.
One of the essential parts of the everyday work of our development team is developing and testing new features for our Web Control Panel, desktop client and Brosix mobile versions. They begin by coding new features and improving old ones, then they move on to the testing phase, and finally, after the features are released, we impatiently wait for customer feedback in order to improve the features even further.
We also try to help our community stay up to date on the latest developments in the field of secure instant messenger by uploading different articles on Facebook, Twitter and Linkedin . And connected with our belief that it's important to invest time getting to know each other outside of the workplace as well, we organize periodic teambuilding events every 2-3 months.
And last but not least, we also communicate between ourselves with the help of the Brosix application on a daily basis. It helps us keep an active communication level even when we are busy with our tasks. Our favorite features include Screen-shot, Screen sharing, file transfer and text chat.
We hope that you found this information about how we spend our days interesting. The Brosix team wishes you a happy and business-friendly week!