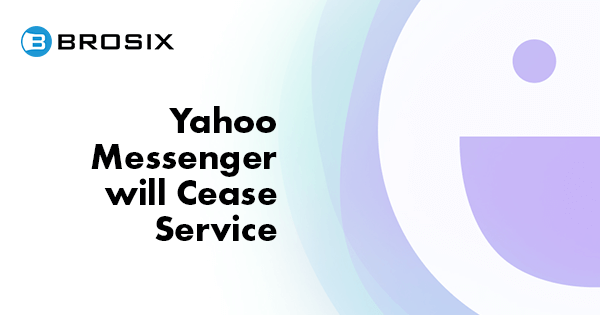 Yahoo Messenger will Cease Service- What are the Alternatives?
Yahoo Messenger, one of the pioneers in the field of Instant Messaging, will be discontinuing its service as of July 17, 2018. The announcement came as Oath Inc., the parent company of Yahoo messenger and part of Verizon Communications, announced that it is looking for a replacement for the messenger service. As of yet, Oath Inc. is still in the experimentation phase for an alternative. Given that it seems a replacement product is a long way off, Yahoo Messenger users are now forced to take their business elsewhere for the time being.
The Latest IM Shakeup
Much like its one time competitor and recent sister program, America Online Instant Messenger, which Oath Inc. also shutdown less than a year ago, Yahoo Messenger struggled to maintain its relevance in an ever-changing IM landscape. Initially launched as Yahoo! Pager in 1998, the messaging program was a trend setter with many first time features, and continued to have moderate success with its mobile version to the present day. However, with the advent of a wide range of competitors, Yahoo struggled to retain its original market prominence and relevance.
While the lessons from this latest IM program closure will certainly be analyzed in the months ahead, there is the more pressing question at hand: which program do Yahoo Messenger users turn to for their messaging needs? In order to make an informed choice it's important to weigh the strengths of some of the options currently on the market.
Where to next?
Luckily for Yahoo Messenger users the amount of alternatives is growing every day, and it has never been a better time to choose a new IM program. While this means that users have a wide range of replacement programs from which to choose, it can also be a challenge to make the right choice and not become overwhelmed by the sheer number of alternatives. When approaching this choice there are certainly many factors to consider.
Do Yahoo Messenger users need a program that is stronger in mobile messaging, or desktop? Do they use their messaging program for communicating with friends, or in a business environment? How heavily do they weigh security concerns when choosing a program? These are some of the questions that users are surely asking themselves. In order to help in the process of Yahoo Messenger users selecting an alternative messaging program, four of the best choices are listed below along with their relative strengths.
Skype
Founded in 2003, Skype has been a mainstay on the IM market for over 15 years. While it has faced stiff competition from competitors in its own right, it has maintained prominence over the years, particularly in the international calling market since its release of the video calling feature in 2011. For those users looking for a replacement program that can facilitate this type of video messaging, Skype is a solid choice.
Facebook Messenger
Messenger has evolved into a standalone app from the Facebook Chat service launched in 2008 as part of the Facebook platform. While this means that users don't necessarily need a Facebook account to use the program, one of the benefits of Facebook Messenger is that it's integrated into a site that many people use already. This makes it a strong choice for users looking to reduce the amount of different websites and services they access on an ongoing basis.
Brosix IM
Brosix Instant Messenger is both a free personal messaging program, and an IM based enterprise internal communication solution for businesses. Brosix has some of the highest security standards on the market, making it a good choice for Yahoo Messenger users looking for a secure alternative. Given its emphasis on internal team communication solutions, Brosix is also a great alternative for businesses, organization and other groups who have been relying on Yahoo Messenger for their internal communication.
Viber
Viber is an IM and Voice over Internet Protocol (VOIP) application that was originally launched exclusively for mobile devices. Viber has since developed a desktop version for Windows and Mac, but its strength still lies in its mobile versions. With a rapidly growing mobile user base, Viber is an appropriate choice for Yahoo Messenger users who use their mobile devices mainly for their messaging needs.
In Conclusion
As this list shows, the number of IM options is wide and varied, meaning that every user of Yahoo Messenger should be able to find an appropriate alternative. By analyzing the relevant strengths of each program, users will be able to choose the program best suited to their needs and style. Whether they are focused on finding a replacement as similar to what they are used to, or are looking to try something completely new, there's an option out there for them.