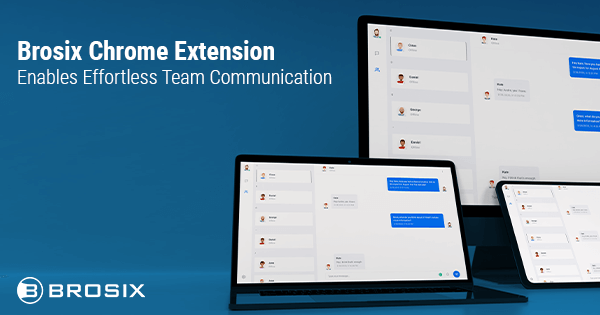 Brosix Chrome Extension Enables Effortless Team Communication
Brosix strives to provide its users a smooth communication experience. Delivering on this objective, the Brosix Team is pleased to announce the release of the Google Chrome browser extension for Brosix Web App users.
Brosix Chrome Extension Highlights
The Brosix Chrome extension simplifies access to the Brosix Web Client. The extension provides users another option for quick access to Brosix, without the need to install the Brosix application for desktop or laptop. With the extension, Brosix users can access their Team Network directly from the Google Chrome browser for a more seamless team communication experience.
In addition to these practical benefits offered by the Chrome extension, Brosix Web App users will enjoy other notable updates, including:
File sharing capabilities
A range of new emojis
The Brosix Chrome extension is available now at the Chrome Web Store.
The Brosix Team is certain that the Chrome browser extension paves the way for effortless team communication and collaboration. Furthermore, as part of its commitment to provide Brosix users with wide-ranging functionality and maximum usability, the Brosix Team is working to release extensions for additional browsers.