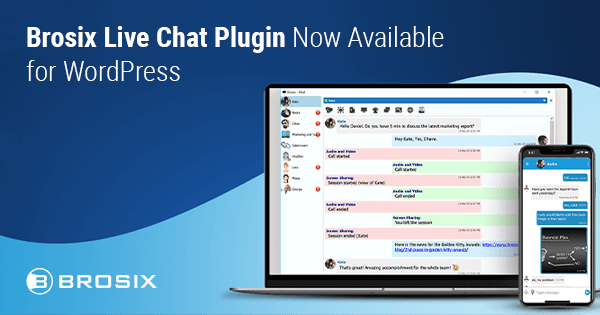 Brosix Live Chat Plugin Now Available for WordPress 
Equipping businesses with the tools to effectively support their customers is a top priority at Brosix. Now, that support extends to WordPress websites.
With the WordPress Live Chat plugin, WordPress users can integrate Brosix Live Chat support into their website.
Why Use the Brosix Live Chat Plugin
Brosix's Live Chat plugin enables direct engagement with customers and website guests. As a fully integrated feature of Brosix Private Team Networks, the plugin facilitates a seamless customer support experience without the need for third-party software.
Chat with website visitors from the convenience of the Brosix Desktop application, the Brosix mobile application for mobile devices and tablets, or the web application on any browser.
In addition to these practical benefits, the Brosix Live Chat plugin offers a number of worthwhile advantages. By enabling the plugin, businesses can improve customer support accessibility, build stronger customer relationships, increase sales and client conversions, easily monitor live chat agents' communications, and much more.
Brosix Live Chat Features:
The ability to delegate Live Chat responsibilities to any number of users on the network
A dedicated chat room for Live Chat operators
Up to 10 separate Live Chat communication channels
Encrypted messaging with customers and between agents
Customized groups for agents
Multiple agent availability options
Several plugin color choices
Custom plugin placement on right or left side of the webpage
Agent applications for Windows, Mac, Linux, iOS, Android and web
Brosix is committed to supporting its users in their quest to provide a top-notch customer experience. Simple to set up, use, administer, and now available for WordPress websites, the Brosix Team is certain the Live Chat plugin will help businesses not only provide more immediate support, but more effectively engage website guests across an even wider range of platforms.