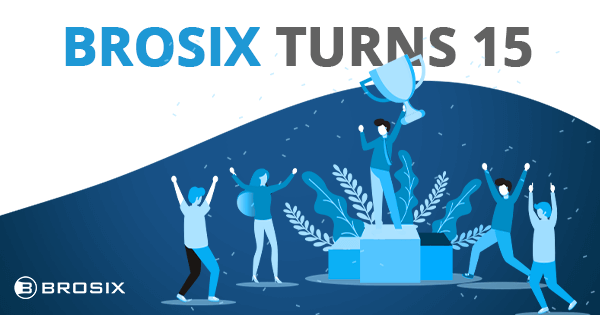 Brosix Turns 15
Industry-leading provider of business instant messaging and collaboration capabilities, Brosix is celebrating the 15th anniversary of its founding.
Established in 2006, Brosix has cemented itself at the forefront of the realm of enterprise communications.
15-year milestone is testament to award-winning features and service
Founded by Stefan and Svetoslav Chekanov , Brosix has remained steadfast in its commitment to provide businesses with the features and service to communicate and collaborate securely and efficiently.
Over the past 15 years, the company has grown from a bootstrap organization to a recognized brand with thousands of customers spanning the globe.
Along the way, Brosix has stayed true to its roots, maintaining a constant dialogue with its customers. Regularly seeking and taking onboard user feedback has helped Brosix to add many new features and make the improvements necessary for teams to work more effectively.
This dedication has led to numerous awards and accolades for Brosix, including:
Reflecting on Brosix's success and achievements while also looking to the future, Stefan Chekanov said, our customers are the biggest reward we could ever imagine. We always strive to provide the best possible service.
I was able to get Brosix up and running within about 15 minutes. Our team is spread across mulitple locations and now are able to quickly communicate with each other with the Brosix app. Our office manager loves it because she's able to check in with employees frequently without interrupting their productivity. What an improvement in speed and efficiency!
– Frank A.
Read the full review on G2