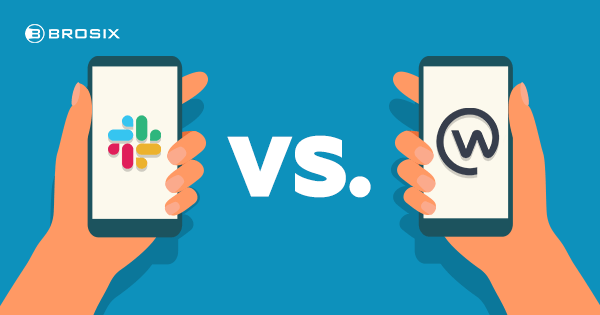 Workplace by Facebook Vs Slack – Is Either Right for Your Team?
Workplace by Facebook and Slack are two of the big team chat apps.
Workplace is newer to the field. But it hit the ground running in 2016 and has continued its upward trajectory to 7 million paid users. Sure, much of its success is down to the name recognition and familiarity it boasts thanks to its parent company. But while Workplace functions separately from Facebook, there's something to be said about a familiar user experience, especially at work.
Slack is no slouch, though. Just the opposite. It  has dominated the enterprise communication space since it arrived on the scene in 2013, to the tune of more than 20 million active Slack users.
And that begs the question – which one is better for your team? Or is either right?
Below, we'll compare Workplace and Slack. In that way, you can make a more informed decision about whether they're right for your team, or whether another option, such as Brosix, might suit your business better. Brosix is our alternative to Slack and Workplace. It's fully encrypted and loaded with advanced control options on a Private Team Network. Check it out.
How We Compared Workplace by Facebook to Slack
Here are the criteria we used for comparing Workplace and Slack.
Pricing – Slack features a Freemium option while Workplace only offers a 30-day free trial. Paid plans differ greatly in terms of price and features, so we'll examine those in greater detail.
Getting Started – Getting set up with a team communication tool should be easy. Productivity depends on efficient workflows, after all, and here we'll see how Workplace and Slack deliver in terms of the ease of getting started.
Usability and Interface – Workplace and Slack take vastly different approaches to user interface and design, which we'll cover in this section.
Communication – Both Workplace and Slack feature plenty of real-time instant messaging channels for 1-to-1 communication, group chatting, and voice and video calling. But they're implemented slightly differently, which we'll explore here.
Advanced Features – A team communication tool should not only enable collaboration, but provide adequate control of the platform to increase productivity and security. Here, we'll look at the advanced features Workplace and Slack provide, as well as where they fall short.
Workplace by Facebook vs Slack: Pricing
Only Slack offers a freemium version. That, however, limits you to a 10K message history and 10 integrations. Workplace, meanwhile, only offers a 30-day free trial.
At $4 per seat per month, Workplace is the better bargain. There's an Enterprise Plan for $8 per user per month, but the cheaper Advanced Plan probably has everything you need. Plus you can try it for free.
Like Workplace, Slack also operates on a tiered pricing plan. Standard will run you $6.67 per user per month, while the Premium sets you back $12.50 per user per month. But those prices only apply if you pay annually. If you want to pay on a monthly basis, get ready to shell out $8.00 and $15.00 respectively. Slack also offers Enterprise Grid, but you'll have to contact them for details.
Workplace by Facebook vs Slack: Getting Started
Getting started with either tool is a cinch. But right out of the box, Workplace and Slack take slightly different approaches to signing up and onboarding.
Getting Started with Workplace by Facebook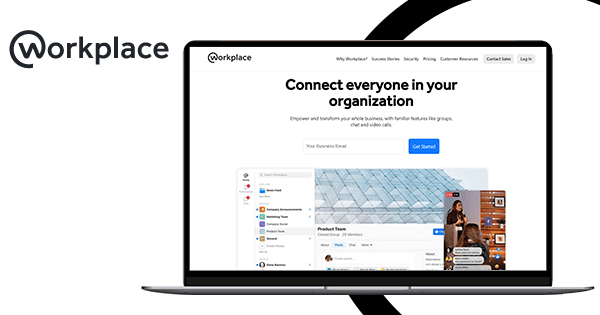 With Workplace, you'll need a business email, and one that hasn't already been claimed by another Workplace community. Once verified, Workplace will tell you if there are other users from your domain and then pair you with them. From there, just fill in your profile and voila, you're a member of the Workplace community. Onboarding then takes place through text prompts, teaching you about the platform as you use it.
Getting Started with Slack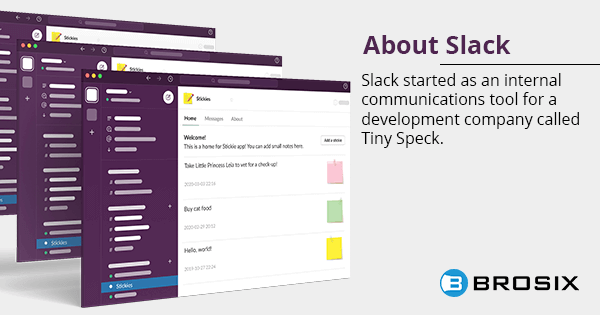 Slack allows you to register with any email address you choose. You'll get a confirmation code and, upon confirming, you can create a workplace name and invite teammates from the get-go. Onboarding happens through a series of interactions with the Slackbot, with which you can chat and ask questions. Slack also offers Tooltips, or pieces of advice about the platform, during your Product Tour.
Workplace by Facebook vs Slack: Usability and Interface
Right off the bat, the first thing you'll notice about Workplace is its similarity to Facebook. While your Workplace profile is completely separate from your personal Facebook, the core UI and UX of Workplace are the same. And that's Workplace's biggest advantage.
Smack in the center is your News Feed. Notifications, Chat, Groups, and Events are accessed on the left panel. If you've signed into Facebook desktop at any point in the past few years, you'll navigate the interface with ease. Each team member has their own profile and Timeline where they can post updates.
Slack features a split screen with two main panels. Chat is located on the right, but it's the larger of the two panels, keeping the emphasis on communication. Here you'll find all the information about your current Channel or 1-to-1 conversation, such as pinned messages, shortcuts, or video calls.
On the left, you'll find your Channels, Threads, Direct Messages, and app management. It's not overly complicated, but finding your way around takes some getting used to as many features, such as the information of the contact you're chatting with, are hidden behind buttons and menus.
Workplace by Facebook vs Slack: Communication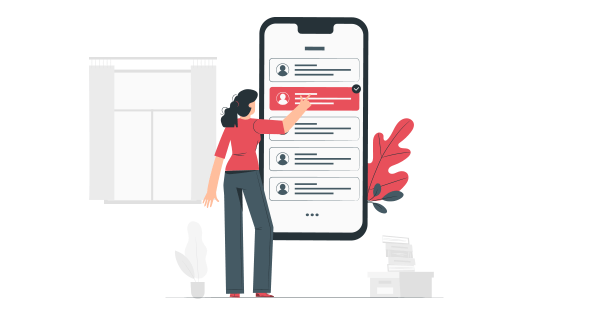 Workplace and Slack both offer 1-to-1 and group communication. In Workplace, 1-to-1 communication takes place in Workplace Chat. In Slack, it's Direct Messages. Both platforms allow you to react to and delete messages, but only Slack allows you to edit messages.
Group chats are where things get a bit convoluted. Slack features both Channels and Group Messages. Channels can be public or private. The former can be accessed by anyone within the company, so if you're looking for privacy, you'll want to consider the latter. There's also Group Messages, which Slack calls Hallway Conversations. They're for a max of 9 participants, though.  From there on, you'll need to convert it to a Private Channel.
In Workplace, group communication is private by default. To create a public chat, you'll need to invite the specific participants.
But there's a second option – Groups – for chat and collaboration. Groups can be open, closed, or secret (unable to be viewed by anyone without an invite). Think of them as a meeting place for collaboration on a specific project by a specific team, department, or location.
Workplace by Facebook vs Slack: Advanced Features
While there's much to like about both Workplace and Slack as office communication tools, both fall short in various ways in terms of advanced features that enhance collaboration, security, and control of the platform.
Notifications
Both tools provide ample ways to stay informed. With Slack, for example, you can set channel-specific notifications or keyword alerts. Those allow you to choose a keyword and then receive a notification whenever the word of your choosing is mentioned. Slack also features a Do Not Disturb mode.
That said, the DND mode can actually be overridden, meaning someone else can determine that their message is more valuable than your productive time. And that's one of Slack's major Achilles heels.
Workplace doesn't feature keyword alerts, but you can tailor notifications for specific groups and conversations.
Task Management
Workplace doesn't provide native task management. For that, you'll need to integrate with a third-party app. And that requires a paid plan.
Slack also requires you to integrate with a third-party app for task management. However, Slack's Actions mean you can do so without leaving the app. So you can integrate with Trello, Asana, Jira – whatever collaboration tool you're using for task management – all within Slack.
Search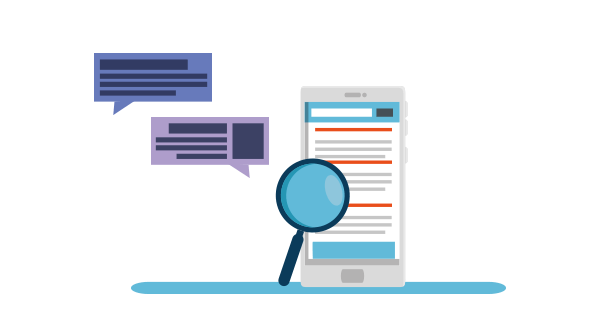 Search in Slack is comprehensive. The tool allows you to search by person, channel, time, or even snippets of text within an attached document. The biggest limitation you'll face is with the free version which limits you to 10,000 searchable messages.
Workplace doesn't allow you to search all conversations at once. So if you remember a conversation or a single aspect of it, but not with whom it took place, you'll need to search each possible chat.
File Sharing
One of Slack's biggest drawbacks is that file storage is capped regardless of your version of choice – 5GB per team on the freemium plan and capped at 20GB per user on paid plans. There's also a single file size upload limit of 1GB per file.
Workplace claims unlimited file, photo, and video storage for all plans. But there are caveats. First, there's no single hub for your sent media. Shared files can only be found within specific conversations. What's more, the maximum file size in Workplace is 100MB and 25MB within Workplace Chat.
Voice and Video Calls
Both platforms offer voice and video calls. In Workplace, you can connect with up to 50 people in either grid or speaker view.
Slack's free plan offers 1-to-1 voice and video calls in its Freemium plan, while paid plans provide conference calling for up to 15 participants. That said, with Slack, you could connect to Zoom or other video calling apps for greater potential.
Integrations
Integrations are Slack's bread and butter. While Freemium limits you to 10 integrations, paid plans provide you the ability to connect to over 2,000 different services and platforms, such as apps for organization, task management tools, and more.
Workplace, on the other hand, only features about 60 integrations, though that list includes household names such as Google Drive, Zoom, and HubSpot.
Security
Data security and privacy are of the utmost importance for companies today. After all, if you're using a team communication tool to facilitate internal communication and collaboration on company processes and projects, it's critical that the platform is as secure as possible.
Unfortunately, both Workplace and Slack fall well short in this area.
For starters, Slack isn't encrypted end-to-end. But if that has you leaning towards Workplace instead, there's hardly any information out there on Workplace's security protocols and nothing about whether the app employs end-to-end encryption.
Furthermore, Slack has been hacked before. And as of just last year, Slack credentials for thousands of workspaces were available on the dark web according to a New York Times report.
Sadly, the story isn't much better for Workplace. Facebook is notorious for its lack of transparency with how they process and use data, not to mention they're currently facing new legal trouble after more than 500 million users had their data exposed.
While we're not saying that Workplace and Slack are unfit for business use, you should know that there are safer options out there that offer not only more control over the platform, but peace of mind regarding your sensitive data.
Brosix: A More Secure Alternative to Workplace and Slack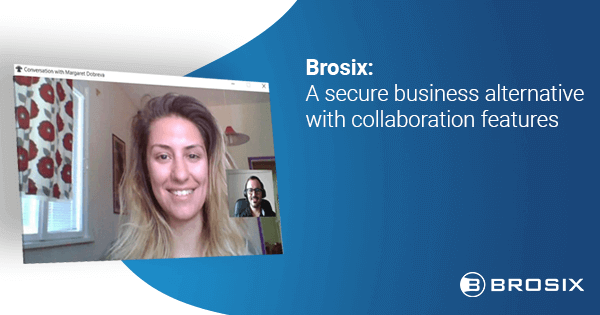 If you're on the fence about whether Workplace or Slack offer the right features for your team, or you're unimpressed with their lack of attention to privacy and data security, consider Brosix.
Brosix is an all-in-one instant messaging software for businesses. Unlike Workplace and Slack, Brosix allows you to create your own Private Team Network that you can tailor to your business. It's loaded with real-time communication channels, collaboration tools, and granular control options that increase communication and efficiency and guarantee data security.
Below, we'll see how Brosix stacks up, as well as examine the major differences that separate it from Workplace and Slack.
Cost
Brosix pricing features three tiers. For small teams, Startup provides a free private Team Network with text chat, a virtual whiteboard, activity logs, and control over user accounts.
Business costs $4 per user per month and gets you unlimited communication and chat histories, tons of collaboration tools, and control options like the ability to manage contacts and features.
At $6 per user per month, Enterprise adds on the full range of enterprise features, such as the ability to manage features, chat rooms, how users access the network, individual data security permissions, and more.
Getting Started
You don't need much to get started with Brosix. Simply register on the landing page with an email address. Then you'll just need to provide your name and phone number, as well as create a company or team name and a password.
With Brosix, onboarding happens in a couple of ways. You get an instructional email explaining the product, key features, and how to get the most out of the service. After that, the site provides both a tutorial section featuring loads of video content, as well as a comprehensive FAQ page.
User Experience and Interface
Brosix's classic interface lends itself to an intuitive user experience. Chats are organized on the left side of the screen, while your current message or group chat is front and center. In-messaging access to voice and video chats and collaboration tools keeps teamwork within a mouse click.
Robust Real-Time Communication and Collaboration
With Brosix, group communication happens in chat rooms where you invite specific participants. Text chats facilitate 1-to1 conversations. You not only get an unlimited chat history searchable by keyword or date, but the unlimited transfer of files, both in upload size and the number of files you can send.
There's a broadcast message feature that allows you to send messages to handpicked audiences, ideal for sharing news and announcements or notifying groups of upcoming events.
If you're looking for collaboration tools, you'll find that Brosix isn't lacking in this area either.
There's a virtual whiteboard to spice up group presentations or brainstorming. Screen sharing with remote desktop allows you to hand over control of your device and enable a slew of collaborative processes, such as employee onboarding, configuring a device, or carrying out remote tech support.
All of this can be accessed from within your text or group chats, as well as paired with crystal clear voice and video chat.
What's more, Brosix allows you to connect to external apps, services, and Team Networks.
Notifications API allows you to integrate the Brosix platform with other apps and receive notifications within your Team Network. With Network Connections, you can join forces with other Team Networks and increase your company's collaboration potential.
Total Visibility and Peace of Mind
Compared to Workplace and Slack, Brosix features some key differences with regard to how you manage the network and the steps taken to safeguard your data and information.
1. A Private Team Network
With Brosix, collaboration takes place within a Private Team Network. You control every aspect of your Brosix Network from the convenience of the Web Control Panel.
Authorize user access to the network, delegate other network administrators, and manage any network connections. This first layer of Brosix's multi-layered approach to securing internal communication not only provides total visibility over your users, but ensures your network only grows as your team does.
2. Security
Whether you're worried about eavesdropping, man-in-the-middle attacks, viruses and malware, or misuse of your data by the host you've entrusted to ensure your communication, Brosix's approach to security mitigates these worries better than Workplace or Slack.

Brosix's fully encrypted, peer-to-peer channels guarantee communication flows directly between users, bypassing potentially vulnerable host or third-party servers and avoiding data misuse. Anti-virus and malware integration further boost the safety and integrity of any data and information you transfer on the platform.
3. Granular Control
Brosix provides a granular level of administrative control that Workplace and Slack lack. From the Web Control Panel, you can manage which users have access to which features and options, who can chat with whom, how shared chat spaces operate, and more. This allows you to customize your Brosix Network to better meet your team or business specifications.
User Activity Logs ensure everything is fully trackable and easily retrievable, providing network oversight and shedding valuable insight into team communication trends and temperament. You can even set individual data security permissions to govern data on the network on a user basis.
Workplace by Facebook vs Slack: The Takeaway
Finding the right tool for team collaboration is difficult. Hopefully, this article has enabled you to make an informed choice for your team. Between the two, we'd opt for Slack. There are just too many trust issues with Facebook, while its social media-like approach to team communication could slow productivity. Though Slack isn't without fault either.
So if you're still on the fence, give Brosix a look. Workplace and Slack are certainly capable of helping your team collaborate. But Brosix's granular control options and secure Private Team Network increase communication and efficiency and guarantee data security. Give it a try today.