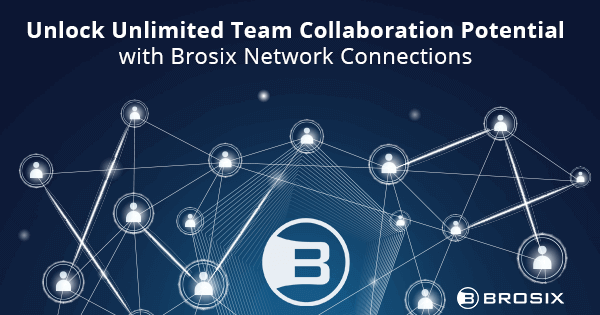 Unlock Unlimited Team Collaboration Potential with Brosix Network Connections
The Brosix Team is pleased to announce the release of the Brosix Network Connections feature.
Sometimes collaboration takes teams outside the realm of their Team Network. With Network Connections, users can now connect their Team Instant Messaging Network to another Brosix Network, unlocking greater collaboration potential.
Networks Connection at a Glance
With Network Connections, administrators can:
Connect their Team Network to another
Choose which users to share with the other network
View communication between their users and the users from the other Team Network
Network Connections employs the same industry-leading attention to data security and privacy that Brosix applies to all its features. When connected to another network, Admins see only information that has explicitly been shared with them, namely shared users and chat histories between shared users from both networks. Communication inside the Brosix Team Network remains wholly private while users shared to other networks, including user-specific permissions, remain under the full control of their network administrator.
Bypass Barriers to Internal Communication
By allowing customers to connect to other Brosix Team Networks, Network Connections helps users bypass potential barriers to collaboration, such as working with outside consultants and freelancers, carrying out joint projects between teams or joint ventures with other companies, or cases where company branches operate on separate Team Networks.
The Brosix Team is certain that Network Connections will enhance the internal communication and collaboration capabilities of Brosix users, and looks forward to receiving feedback on the feature.