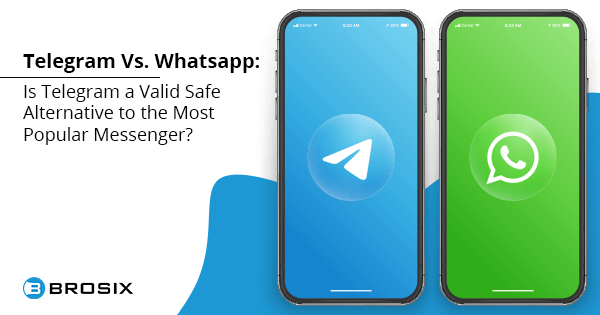 Telegram Vs. Whatsapp: Is Telegram a Valid Safe Alternative to the Most Popular Messenger?
If you're a Whatsapp user that cares about data safety, you're likely familiar with the privacy update that was announced this month. It was meant to be rolled out on February 8th but it has since been delayed amid rumors about Whatsapp using it to share more data with their parent company, Facebook.
Given the fact that Facebook has endured its fair share of data privacy issues and regularly shares data with advertisers, Whatsapp's reputation has suffered a big setback.
On the other hand, Telegram is often mentioned as one of the best Whatsapp alternatives on the instant messenger market. Both Telegram and other secure messengers like Signal have been counting new users in millions for the past week since Whatsapp's new policy has undergone criticism. Unlike Whatsapp, these messengers claim that they don't share data with third parties, don't store as much information on their servers, and have more advanced safety features.
But, how much safer is Telegram, really? Is it worth the switch?
Let's see how these two instant messengers compare against each other in the most important areas.
About Telegram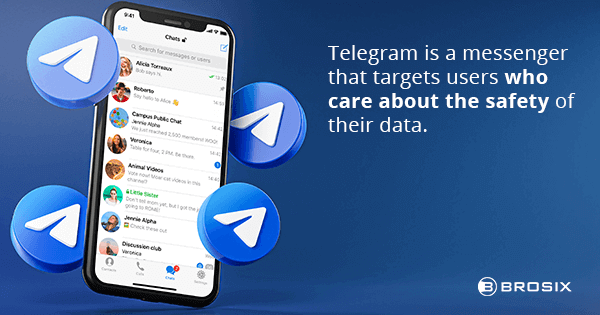 Founded in 2013 by brothers Nikolai and Pavel Durov, Telegram is a messenger that targets users who care about the safety of their data. It uses several security features to make the messaging experience safer from third-party influence, including industry-standard end-to-end encryption that makes it one of the most popular secure chat apps.
It's commonly used in its home country, Russia, but it's also popular in certain parts of Europe, including Germany. Telegram is among the most used messengers in the world, surpassing 500 million users just a few days ago.
In 2015, the app introduced Channels – a form of one-way messaging, where admins post messages to an unlimited number of subscribers.
About Whatsapp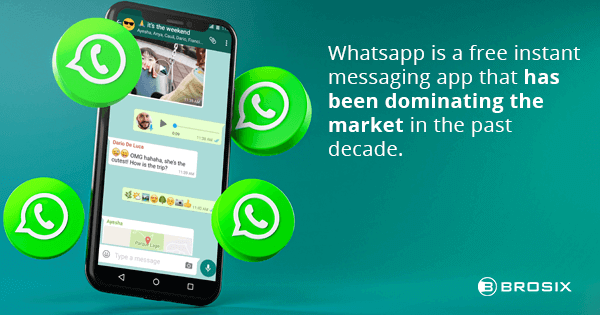 Whatsapp is a free instant messaging app that has been dominating the market in the past decade. Founded in early 2009, it's lauded for its ease of use, simple design, and intuitive interface.
It was acquired by Facebook in 2014, for US$19 billion – its largest acquisition to date. Since then, Whatsapp has introduced several features like end-to-end encryption, desktop and web apps, document sharing, and others.
As of February 2021, the app has more than two billion users, making it the most popular messenger app in the world, followed by Facebook Messenger and WeChat.
How did we compare them?
We chose six key areas in which Telegram and Whatsapp compete for the most, and measured their performance in each one.
Setup and interface. A messenger that you use every day has to be easy and intuitive. Creating an account, connect with other users, adding contacts, and sending messages need to come naturally to each user.
Data safety. How do these apps handle your data? Where is it stored? Safety is a burning issue and the key reason why people seem to be switching to Telegram, so we'll take a closer look at its safety policies and Whatsapp's issues.
Advanced features. If you want to use all the advantages of secure messaging, you'll need some advanced features. These apps offer disappearing messages, secret chats, and other advanced options to keep your conversations more private.
Groups and team collaboration. You might need advanced collaboration features to organize a group of friends or a team at work. Both of these apps offer team chat features to a certain extent.
Web and desktop apps. It's often easier to use a messenger app on a desktop so that you can do your work without switching to your phone all the time. In this section, we'll focus on what sorts of desktop solutions these two apps offer, along with some of their key limitations.
Video and audio calls. Whatsapp and Telegram both offer encrypted audio and video calls with some significant differences. We'll focus on these differences and announce the clear winner in this category.
So, let's get into it and see whether you should consider switching to Telegram!
Telegram Vs. Whatsapp: Setup and interface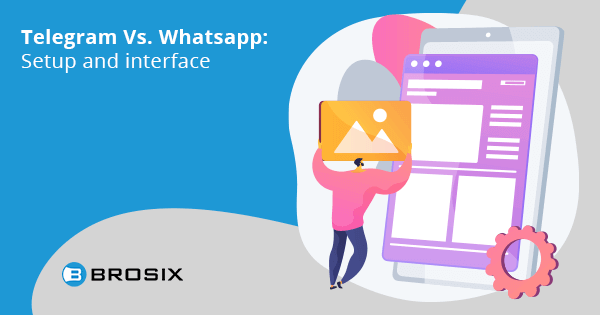 The setup process for these two apps is pretty simple – like with most messenger apps. You download the app from the Play or App Store, install it, and verify your device with a code you get through an SMS. This means you need to give up your phone number to create an account, which can be a concern if you care deeply about your data.
It also means you can lose all of your chats if you suddenly switch devices. Fortunately, both of these apps allow you to export or backup chats so you can change to a different smartphone with minimum trouble.
When it comes to the user interface, both apps sport a classic messenger design, where you see a list of all your chats, and tapping on those chats starts a conversation. While Whatsapp has a convenient navigation bar on the bottom, Telegram has a "hamburger button" on the top right to help you navigate through options. In our opinion, the bottom menu is easier and more intuitive.
We give a slight edge to Whatsapp in the design department because you can switch things around a little more – you can go to Settings – Chats – Wallpaper and completely change your chat appearance. You can choose from a large wallpaper library or even upload your photo. If you want to change things up even more, you can download Whatsapp Plus – an APK that can help you modify chat colors, increase file upload size, hide your profile picture, etc.
Telegram does offer some fun, unconventional stickers but they're hard to get to: you have to find Telegram bots or get a Telegram user to send you a pack. Among other things, this contributes to Telegram's feeling of secrecy and exploration, so this app might be more fun to you than a regular instant messenger.
Telegram Vs. Whatsapp: Data safety
The privacy issues that Whatsapp is dealing with seem to be benefiting Telegram but there are some serious questions to be asked about Telegram's safety as well.
For example, Telegram is marketed as an app that uses end-to-end encryption but this might be misleading. While this feature is available, it's only applied to Telegram's Secret Chats – a feature we'll get to in the next section. This bypasses Telegram's Cloud (where all messages are usually stored) but it doesn't apply to other messages. Their MTProto encryption protocol is proprietary and it isn't open-source.
In reality, both of these apps are unlikely to read your messages but in theory, Telegram could do so. On the other hand, Whatsapp uses end-to-end encryption, so we're still waiting for the announced privacy update to decide on which app is safer.
Telegram Vs. Whatsapp: Advanced features
One of the reasons why Telegram has developed a reputation is a safer messaging app is the number of advanced security features it offers.
One of those features we already mentioned – secret chats. You can start a secret conversation by clicking on the contact you want to chat with, then clicking on the three little dots next to their name, and selecting the "Start Secret Chat" option. In it, you can send disappearing messages that get deleted for both users after a certain time period you can select (anywhere from 5 seconds to hours). In secret chats, you also get notified when a user takes a screenshot.
Many people don't know this but Whatsapp also has disappearing messages. However, you can't set the period for which the messages will be available like you can with Telegram – you'll get the default seven days.
In terms of advanced safety features, Telegram is the clear winner. It also has the handy Instant View feature that allows you to quickly view any link you receive with no loading time.
Telegram Vs. Whatsapp: Groups and team collaboration
Neither of these apps has high-level team organization features available. However, they do both offer basic team collaboration tools like group chats and channels.
Creating Whatsapp groups is easy – you click on the "Compose" icon to write a new message and select "New Group" from the next screen. The process is similar for Telegram, and both apps allow you to perform standard actions you would like to perform in a regular team messenger: respond to specific messages in the conversation, mute notifications, mention people, etc.
Telegram has a significant advantage in the team communication category thanks to its Channels feature. You can choose to join an already existing channel to receive updates on a certain topic or create your own. Keep in mind that the only people who can post a message on a Channel are admins. The rest are followers – an audience that simply follows it for news.
Another important blow to Whatsapp's and Telegram's team communication capabilities is their secure file transfer limitations. Whatsapp is particularly limiting here, as you can only upload media files that are up to 16 MB and other files that are up to 100 MB. Telegram is the winner here with a 2 GB limit for file uploads.
Telegram Vs. Whatsapp: Web and desktop apps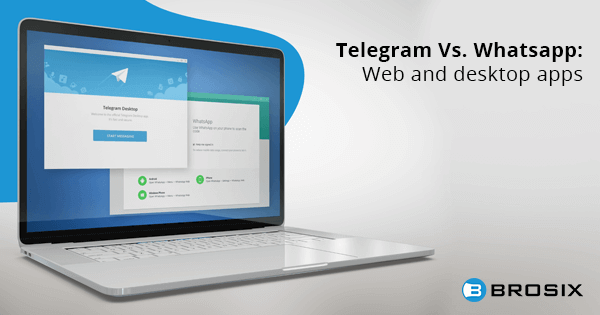 You can use both of these apps on your desktop, either as an app or in your web browser. They're both available for Mac and Windows but only Telegram is available for Linux.
The web version of both apps comes with some limitations. On Whatsapp Web, you can't create new groups or leave the groups you're currently in. Similarly, you can't create channels or invite friends on Telegram for PC. You also can't have secret chats, while on Whatsapp you can't forward or delete messages in the web version.
But the most important difference is that you don't need your phone to stay connected to the Internet to use Telegram Web. This is an upgrade over Whatsapp, as it works only as an extension of your smartphone app, so when your phone loses the Internet connection, the web app is useless.
Telegram Vs. Whatsapp: Video and audio calls
If you want to use Telegram and Whatsapp for video or voice chat, it's pretty easy. You just click on one of the two icons in the upper right corner of a conversation (in Whatsapp) or a contact's profile (Telegram), and the app will prompt you whether you'd like to start a call. You can use both Telegram and Whatsapp for international calls this way.
The most significant difference is the fact that Telegram allows for only one-on-one video calls. While you can have several participants in a voice call, video conferencing still hasn't been rolled out but they're in development. On the other hand, Whatsapp allows for up to eight participants on a video call.
Brosix: a truly safe instant messenger made for teams
As we've seen, neither Whatsapp nor Telegram is particularly good at keeping your data more secure. Telegram's encryption protocols are questionable and Whatsapps new privacy policy, along with its connection to Facebook, raises valid concerns.
If you want the convenience of an instant messenger with better safety protocols and more features, check out Brosix. With an audio and video chat, Brosix allows you to communicate with zero distractions. You can also combine video calls with features like the Whiteboard or co-browsing for an even more advanced experience.
Brosix also places no limits on your file transfers: you can share files of unlimited sizes with your contacts. You also have an unlimited chat history that's searchable by both keyword and date, for easier navigation.
Request a demo now and check out these features yourself!
Final word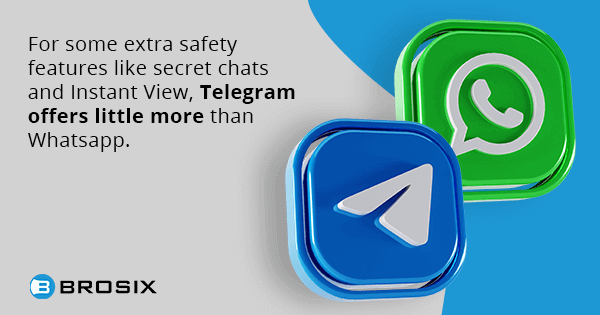 If you read Whatsapp and Telegram app reviews online, you might feel like switching to Telegram is a good solution to your data privacy issues. The truth is, save for some extra safety features like secret chats and Instant View, Telegram offers little more than Whatsapp when it comes to privacy.
If you want more privacy, end-to-end encryption should be a bare minimum requirement. For team communication, you might want a Web Control Panel that lets you have some control over features and data.
You won't get this with Whatsapp or Telegram.
If you want a safe messenger with more advanced features, contact us!
Request Demo