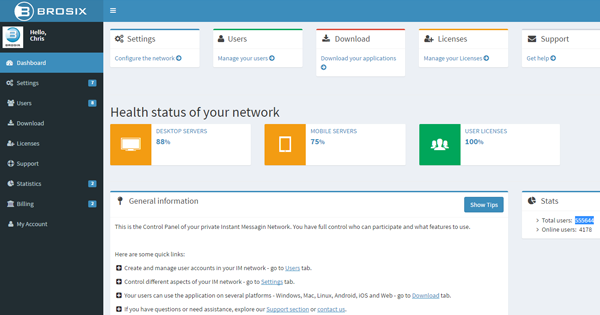 Brosix Updated Web Control Panel
Brosix is proud to announce several high level changes to its admin panel, all of which are designed to improve the user experience.
Some of the most recent improvements include:
• Fresh design changes with an eye toward user efficiency.
• A new layout for the "users accounts" tab.
• The option for users to upload an image.
• A more user-friendly interface for the "user activity log."
• The addition of default images in chat rooms.
Led by CEO Stefan Chekanov, Brosix is always making changes to help improve the efficiency of its enterprise instant messaging application. Furthermore, the company is dedicated to making changes that have a positive impact on users.
Chekanov had this to say about the recent changes to the admin panel:
"We went into 2017 with the idea that we could improve a few key areas of the admin panel. With the guidance of user feedback, we were able to implement several changes that have been well received."
For Brosix users, the admin panel is where everything begins and ends. This is why it's so important for users to understand which features are available, where to find them, and how to move throughout the application.
"While security is always at the top of our list, we never make changes that make life more difficult on our users," added Chekanov. "Instead, everything we do is meant to improve the user experience as to help our customers save both time and money."
In addition to the admin panel, Brosix plans on rolling out a variety of additional upgrades and features in the months to come.
Brosix Team