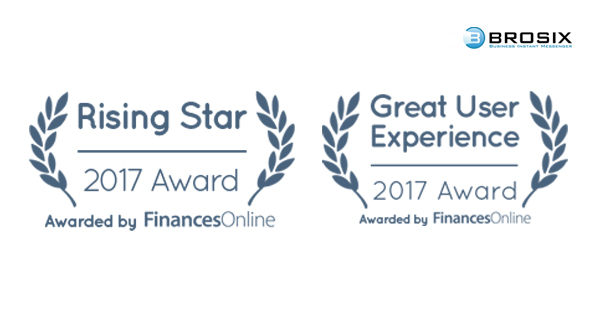 Brosix Holds Two 2017 SaaS Awards
On a market overwhelmed with powerful communication solutions, gaining expert recognition for best-in-class messaging functionality is easier said than done. This is why our team is happy to announce that Brosix got its first review from the leading B2B software directory FinancesOnline, and received two quality awards that stand in favor of its functionality.
More precisely, Brosix Instant Messenger won the 2017 Rising Star Award and the Great User Experience Award for their instant messaging software category, both reserved for top quality products that won't expose users to complex installations and expensive trainings. The Rising Star Award is usually delivered to original and inventive systems that note unusual growth in popularity, while the Great User Experience award targets solutions that create no obstacles for creative teams to share information and stay connected. Our effectiveness, improved data security, and multi-language support also inspired experts to discuss Brosix on their list of communications software users should consider in 2017.
Experts' opinion on Brosix was more than positive, having in mind that they described it as a reliable communications platform that enhances collaboration in both small and large teams. They praised the flexibility of the system which allows users to run it on virtually any device, and our reliable support team that is only a call away from solving customers' queries and answering their questions.