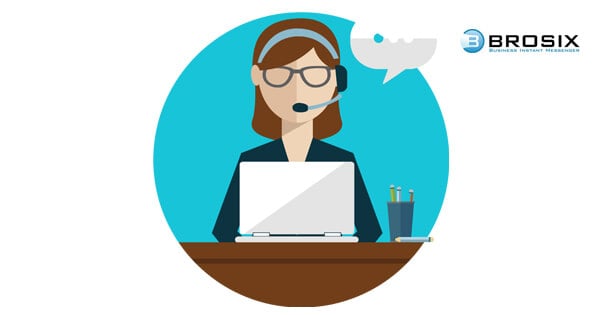 Enhance Efficiency with Brosix Softphone Dialer Solution
Making phone calls through the Internet is the best way to increase the productivity of call agents and decrease phone bills in a large scale.
Brosix offers a softphone dialer solution with voice, video, and text chat features. The softphone is a solution that can positively affect your business productivity. Basically, you can make phone calls through the Internet using a computer or any smart device.
Brosix softphone application is appropriate for contact centers use without requiring installation of specific hardware
A big volume of phone calls needs serious organization and preparation, agents training and facilitation. With Brosix softphone application, call center agents can easily prepare daily work without any initial setup. Brosix softphone software solution can be adapted to your business needs and volume of daily phone calls. The only initial setup a company needs is a stable Internet connection. The softphone is used in conjunction with Voice over Internet Protocol in order to deliver the voice data over the network. The Brosix softphone app is perfect for businesses that are just starting a call center or upgrading their customer experience centers.
Brosix softphone application is using best VoIP phone service providers and offers affordable pricing plans, according to the quantity of planned phone calls for execution.
After choosing a service provider the softphone application will be registered with the particular VoIP supplier and a phone number will be assigned.
The features of a softphone dialer vary depending on the app functionalities
Brosix offers a great combination of useful communication features for increasing overall business effectiveness and internal productivity.
Brosix softphone dialer solution can be upgraded with voice chat, video chat, text chat, screen sharing and unlimited size file transfer. The complexity of the solution Brosix offers is the best features package for large teams' communication; clients service departments, custom solution centers, at extremely affordable price.
Who can use the softphone dealer solution?
If you are a frequent traveler, remote employee or manage a remote working team;
For those who are traveling overseas and experience expensive phone calls, because of the large distance;
Contact centers with high quantity of daily phone calls;
Custom solution centers executing projects as phone researchers, customer surveys and other opinions, and customers satisfaction studying;
For these groups the softphone is a perfect service resolution, which allows them to call anyone from anywhere in the world, at better price and quality, using a computer or smartphone, phone station or laptop, saving time and cost of using the standard phone or mobile provider/ roaming.
Softphone solution is also appropriate for small and medium-size companies, which are price sensitive. The standard phone services can generate pretty significant share in their overall monthly expenses.
Softphone application is simple to install and do not require expensive computers or devices. Brosix softphone application is a saving solution easy to maintain and upgrade, depending on current business needs, workflow and volume.
Benefits of using softphone!
It is cheap
It provides custom and unified solution
Improves work organization and productivity
Saves money from hardware
Easy management of phone calls
Benefits of using Brosix softphone application!

Decrease phone bills, pricing plans according to company needs
A great combination of phone and messaging features
Encrypted communication
Better work organization
Features and users management
Privacy levels and full history of users activities
Multiple platforms
Polylingual interface
Utilize existing hardware infrastructure
Flexibility
With Brosix complex phone and messaging solution, your team will become more effective, productive and flexible. The softphone is serving as a traditional telephone, but with extended user mnagement features, interface dedicated to better work organization, especially for call center agents and custom solution companies.
Brosix is a highly secured messenger; it encrypts all data transfers, including the voice calls, going through the softphone application. In the today global business communication, each business can be everywhere if using the right software applications. Technology is developing fast; each day new solutions are rising. You can easily stop collecting hardware devices by combining as much as possible in one. Same is valid for software applications.
Brosix is best features package for business users when you need to communicate with clients or internally.
Not convinced yet? Send us your company requirements for integrating a softphone solution in your business.