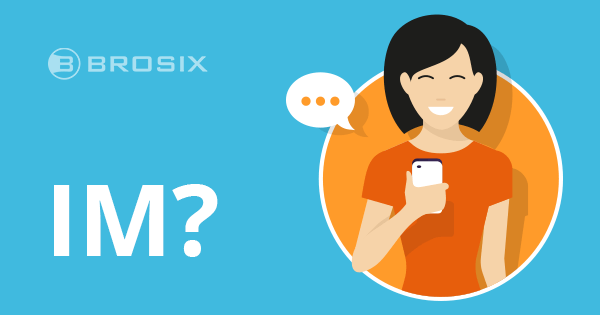 What is Instant Messaging? Your Complete Guide to IM.
Instant Messaging has soared in popularity in recent years. In fact, the number of worldwide instant messaging accounts totaled seven billion in 2019. 
Because of this astronomical growth, it can sometimes be a challenge to define instant messaging and answer the question of what exactly it is. Answers often have a wide range and fail to capture all of the different elements and uses of instant messaging. 
Understanding instant messaging is important, though, as it can provide good insights into its potential, both personally and in the workplace.
So what exactly is instant messaging? Read on to explore a brief history, the features that distinguish it from other means of communication, and some use cases and best practices.
What is Instant Messaging?
Instant messaging, also known as IM, is an online communication method used to connect two or more people in real time for back-and-forth conversation. 
Instant messaging software has long been known for its direct peer-to-peer connections, pioneered by the now-defunct AOL Instant Messenger (AIM). 
AIM, and other similar IM programs, initially allowed two 'contacts' to directly send and receive text-based messages, provided both users were online, logged on with the client, and had access to each other's unique screen names.
While most people view IM as a vehicle for sending direct messages, nowadays most instant messaging apps employ centralized servers which facilitate the delivery of messages between users. Often, users access the platform by downloading the client's application to their device of choice and registering with their phone number. In some cases, access to the network can be controlled by a network administrator. 
In recent years, IM has expanded to include a variety of communication features, not just for personal use, but for corporate environments, too. This growth has brought a range of benefits to both individuals and companies, including better communication between coworkers and increased team productivity.
A Brief History of Instant Messaging 
Who could forget the days of AOL buddy lists or even ICQ before that? Other platforms like Yahoo Messenger and Microsoft's MSN also helped bring instant messaging into the mainstream in the 90s. 
You'd be forgiven, however, for not knowing that instant messaging systems date back to the 1960s. MIT's pioneering Compatible Time-Sharing System (CTSS) allowed up to 30 users to log in and send messages to each other, all the way back in 1961! 
While rudimentary messaging programs like CTSS connected universities and research labs, those early days have since morphed into an industry spanning myriad platforms, social media, mobile IM, business environments, billions of users, and even more instant messages.

Real-Time Communication Features
As groundbreaking as the original CTSS and other platforms from the 90s were, today's instant messaging services couldn't be further from them. IM has evolved to include a range of highly advanced real-time communication features with implications for both personal and business use.
Group Chat
One of the most common features of modern-day IM is the ability to chat in groups. Group chats provide a fixed space for communication among more than two users where they can talk, share information, and even collaborate in the workplace.
Voice and Video Calling
Thanks to Voice over Internet Protocol (VoIP) technology, instant messaging can facilitate richer interactions than standard text-based communication. 
Voice and video calls allow users to hear and see each other in real time, either one-on-one or in groups. These capabilities enable more personal and dynamic communication between friends and family, as well as effective meetings and team collaboration for remote workers.
File Sharing
Instant messaging provides an easy way to share files. Most IM clients allow you to quickly drag and drop files directly into the chatbox. When combined with end-to-end encryption, file sharing via an instant messaging network is a quick, convenient, and more secure way to transfer files to contacts. 
Instant Messaging Helps You Work Smarter 
Instant messaging isn't just for quick and convenient personal communication. Platforms for office communication combine IM with business-specific tools and options designed for the corporate environment. It's an efficient way to increase communication, ensure productivity and data security, and improve team collaboration.
Closed Network
Unlike the open nature of free services, instant messaging via a team chat app typically takes place on a closed network. Users need special authorization, usually granted by a network administrator, to access the platform.
Collaboration Tools
Tools such as screen sharing with remote desktop and virtual whiteboards transform how teams approach and resolve issues, especially when working remotely. Paring these tools with instant messaging can enhance and streamline internal processes, from simple team collaboration to remote tech support. 
Control Options
One of the benefits of communicating on a closed network is that it offers stronger control of the communication space. In addition to regulating which users can access the IM network, administrators have greater authority over users through robust administrative toolkits. 
The option to control user-level abilities, such as who can message whom, who has access to which features, how users access the platform, and specific permissions, facilitates more effective management of team productivity and data security. 
Consolidation
By unifying instant messaging with internal collaboration on one platform, all-in-one communication platforms can help you streamline workflows, operating procedures, and overhead. 
Consolidate your software needs and eliminate unused programs 
Cut back on costly upgrades
Reduce inefficient processes, such as switching back and forth between multipletools and applications 
If you're looking for an instant messenger that does all of this, try Brosix. An all-in-one instant messaging software for businesses, Brosix provides the messaging features, collaboration tools, and control options your team needs. Each Team Network is fully private and encrypted to increase team communication and efficiency, reduce overhead, and guarantee data privacy. 
Best Practices for Your Instant Messaging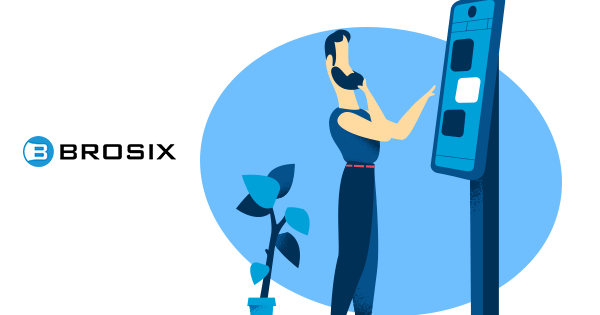 Instant messaging plays a critical role in your communication toolkit, enhancing your overall ability to communicate both personally and professionally. Like any method of communication, though, IM isn't immune to potential drawbacks. To avoid it becoming a distraction, it's helpful to keep in mind a few best practices.
1. Follow IM etiquette
Believe it or not, instant messaging comes with its own rules and etiquette which you should always try to consider. 
Respect others' availability settings and status updates
Try to first seek permission to chat, just as you would on the phone
Always use proper English
Keep IMs brief and to the point
At work, keep messages business-appropriate and use emojis sparingly
2. Avoid Free Instant Messaging Services in the Workplace
Thanks to their convenient mobile capabilities, personal-grade messaging platforms such as WhatsApp, Viber, and Telegram have exploded in popularity. 
Despite their prevalence, these free instant messengers are fraught with risks, especially when employed in a work setting. Privacy and security issues, bugs, ads, and solicitations can expose critical data and hinder productivity. When using instant messaging at work, opt for apps that are encrypted end-to-end. 
3. Consider Whether IM Maximizes or Hinders the Interaction
Instant messaging has become a lifeline for workers, especially as companies shift to flexible and remote work arrangements in the wake of the COVID-19 pandemic. Like most technologies, though, how you exploit IM determines whether you maximize your interactions, or hinder them.
When using instant messaging for internal communication, tailor your channels and chat rooms to align team communication and foster more wholesome connections.  
Brosix, for example, allows you to manage contacts, shared chat spaces, and the features to which users have access. Customize contact lists and chat rooms by project, department, or location. Or set up a group chat to recognize employee milestones, provide feedback, share memes and GIFs, or even carry out remote-team building activities. Managing features on a user level allows you to create a custom collaboration space unique to your team or business needs. 
With that in mind, IM shouldn't serve as the sole means of communication – neither for individuals nor enterprises. 
For long-form, documented communication that may not need an urgent reply, go for email. Use voice or video for communication of a personal nature, or to more clearly explain yourself. 
Better yet, utilize the increasingly rare opportunities for in-person communication. They're critical for your social skills, health, and overall well-being.
Looking Forward
If the previous 2 decades are any indication, the field of instant messaging will continue to develop, creating even more ways to connect individuals and add value to businesses. 
By better understanding IM – its uses, myriad benefits, as well as a few best practices – each person will be better positioned to take full advantage of the exciting developments in this technological field.