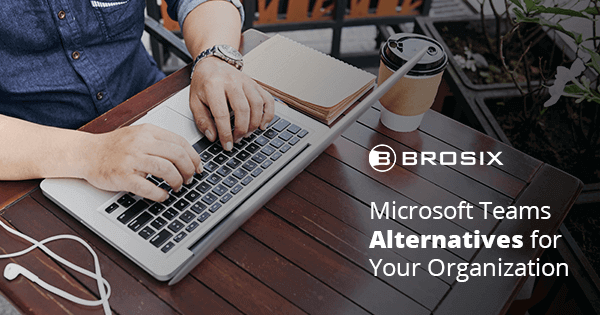 The Most Capable Microsoft Teams Alternatives for Your Organization
Communication and collaboration platforms are a crucial component of today's office environment, boosting productivity, efficiency, and teamwork.
One of the newer platforms on the market, Microsoft Teams, has become a favorite, most notably for its integration with Microsoft products.
Launched in 2017, Microsoft Teams allows teams to communicate over top of Office 365 solutions like Word, Excel, PowerPoint, Sharepoint, and more.
MS Teams isn't without its criticisms, though. Not only are there governance concerns, but if you collaborate with other individuals, teams, or organizations outside the Microsoft ecosystem, that could pose interoperability issues.
MS Teams also features tons of tools and integrations and it isn't always clear which tool to use in which situation. There is a freemium version, but it's limited with the aim to push you toward an Office 365 subscription – and that's not cheap.
It's always worth considering the alternatives before settling on a solution, especially one which shapes how your team communicates and collaborates.
With that in mind, we've compiled a list of the ten most capable Microsoft Teams alternatives for your office communication.
Read on to see if one might suit your team!
Ryver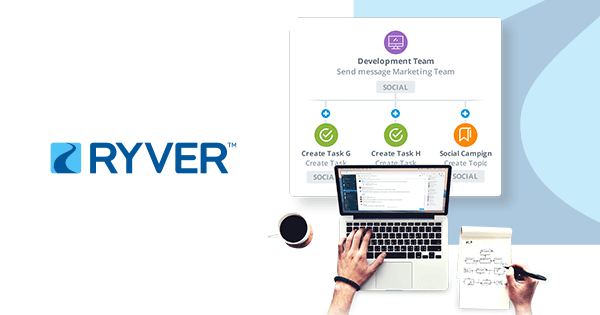 The combined capabilities of a team messaging app and a project management tool make Ryver a competent Microsoft Teams alternative.
For starters, Ryver not only allows you to visualize tasks in Kanban board fashion, but also manage everything from assigning to scheduling, organizing, tracking, and discussing the task.
When it comes to communication, Ryver ticks the expected boxes. You get group chat, threaded messages, direct messaging, voice and video calls, and screen-sharing. Messages can then be turned into an item on a to-do list and assigned to anyone on the platform.
Voice and video are supported for up to 400 people through native integration with Free Conference. And if you're a Zapier fan, Ryver claims to further integrate with over five hundred additional apps, such as Dropbox and Google Drive.
Ryver starts at $49 per month for up to twelve users, $99 per month for unlimited users, and $399 for an enterprise-level plan. But if you rely heavily on integrations, you'll need to shell out for a Zapier plan, too. And at $250 for 50K tasks – that's a hefty price tag.
Available on: iOS, Android, Windows, macOS, and Web
Slack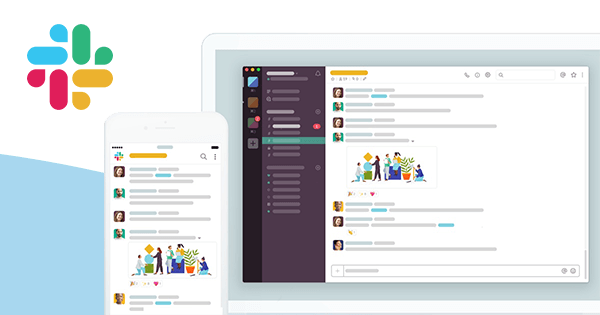 Despite an increasingly crowded field, no conversation around communication and collaboration tools is complete without mentioning Slack.
Boasting over 10 million users, its wide array of features and integrations make it easy for teams to have their own distinct threads, discuss relevant topics, and execute different workflows.
For instance, if you're part of a project called Alpha, by setting "Alpha" as a keyword in your notifications, any time someone uses the keyword in a public channel (not in a direct message or private channel), you get a notification.
Slack organizes conversations via public and private channels which are searchable by anyone. There's also screen-sharing, voice and video, and over 1,000 integrations with tools like Dropbox and Asana.
Countless channels, threads, and notifications, however, can make Slack noisy and disruptive. The onslaught of messages and notifications can interrupt workflows. Meanwhile, channels can overflow with memes, GIFs, jokes, and irrelevant conversations, burying important details.
While there is a worthy freemium version, Slack isn't one of the cheaper options. $8 per user per month for a Standard Plan, or $12.50 per user per month for a Plus Plan are steep prices for small to medium enterprises or large teams.
Available on: iOS, Android, macOS, Windows, Linux, Web
Discord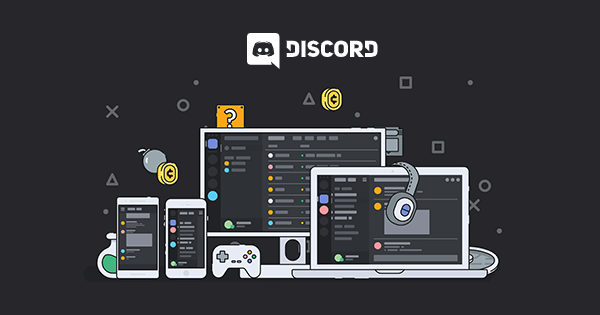 Created with the gaming community in mind, Discord has provided gamers a voice communication platform since 2015.
But that doesn't mean Discord can't serve as a Microsoft Teams alternative for both small to medium-sized enterprises or even large organizations.
In Discord, you begin with a server, such as your team or organization's name. Upon setup, you create channels where you and your teammates can chat about anything you like.
There are some differences, though. For starters, Discord lacks threads. It's also missing the Word-like in-messaging features of MS Teams, such as text formatting, font settings, and editing tools.
The most notable difference, however, is that a channel can be strictly for audio chat. There's also text and video chat, too, as well as push-to-talk.
The free plan comes with plenty of features, while for $4.99 per month, the Nitro plan gives you custom emojis
, larger file uploads, and GIF avatars in your team chat.
By default, Discord servers are open to the public. So if you're after a more private option, you'll need to configure the settings accordingly upon setup.
Available on: iOS, Android, Windows, macOS, Linux, and Web
Glip
Glip is a messaging tool offering a host of ways for teams to work together. Developed by RingCentral, it's a worthy alternative to Microsoft Teams.
Glip offers a pretty generous freemium version. You get unlimited chat, storage, guest users, integrations, and teams. Glip also provides a host of collaboration options, letting you and your teammates share to-do lists, manage a group calendar, annotate images and PDFs, and work together on documents.
With Glip, communication happens one-on-one, privately, and publicly. There's also an option to chat with yourself. That's useful for reminders or prioritizing tasks.
There are drawbacks, though. Glip limits your shared video minutes to 500 on a free plan. While the paid plan is affordable at $5 per month per user, video time is still capped at 1000 minutes per user per month.
Available on: iOS, Android, Windows, macOS, and Web
Flock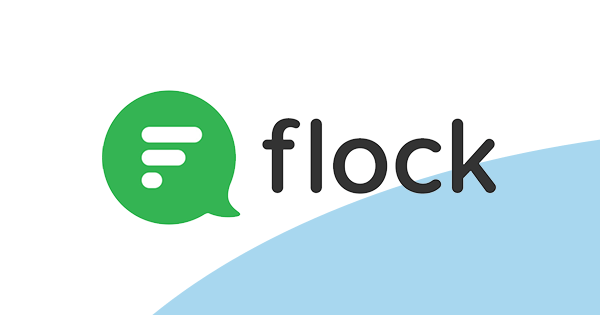 Offering teams everything from real-time messaging to process automation, Flock is more than a communication app. It's a viable substitute for Microsoft Teams.
With Flock, you get the expected team communication tools like chat, voice, and video calls. You also get some pretty handy extras like built-in polls, reminders, notes, code snippets, and a rich library of emojis and animated GIFs.
Flock's free version integrates with up to 50 apps, including Google Drive and GitHub. It also includes unlimited users.
One of the most interesting features, though, is process automation. Not only does process automation simplify complex cross-departmental workflows like onboarding, but it's free (albeit with limited capabilities). And that gives it a leg up on Microsoft Teams.
The free version does limit you to 10,000 searchable messages, video conferencing for four users for twenty minutes, and 10GB team storage. Access to screen-sharing, unlimited messaging history, and 10GB storage per user will run you $4.50 per user per month.
Available on: iOS, Android, Windows, macOS, Linux, and Web
Hangouts
Hangouts is Google's team chat platform. Its tight integration with G-Suite makes it a worthy contender, especially for those already utilizing Google's wide range of services.
The first thing you should know is that chat and video calls take place through separate apps. Hangouts Chat is where conversations happen – via direct message, in groups, or in a room. Rooms, which are thread-based, can be started any time you have an idea and can accommodate up to 8,000 people.
You can upload and collaborate on files from G Suite apps like Docs and Sheets. Then you can see notifications when team members edit or comment on those files.
Video calls and screen-sharing, both one-on-one and in groups, take place in Hangouts Meet. Hangouts Meet features a bot that integrates directly with Google Calendar to schedule meetings.
Hangouts doesn't offer a freemium version, but a G-Suite account (that'll cost you $5 per user per month) gets you in the door.
Available on: iOS, Android, macOS, and Web
Brosix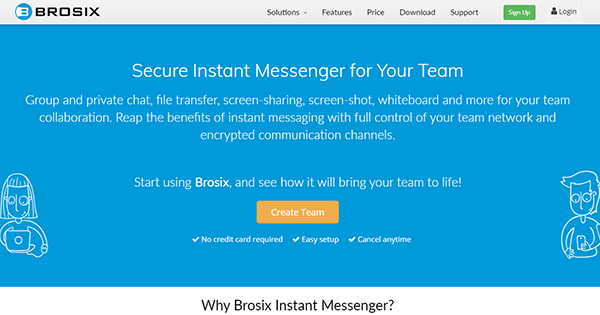 Brosix is an all-in-one communication and collaboration hub for organizations of all sizes.

With Brosix, communication happens one-on-one via text chats or in groups via chat rooms, where you invite specific participants. Both options provide easy, in-messaging access to loads of IM tools – voice and video chat, screen-sharing, unlimited size file transfers, a native whiteboard solution, and more.

Brosix gives your enterprise greater control over how it handles privacy, security, and teamwork. In addition to a fully private team network, communications across the platform happen on peer-to-peer channels featuring end-to-end encryption and anti-virus and malware integration.

Brosix's comprehensive enterprise tools ensure communication and teamwork in a host of ways, such as allowing you to control who chats with whom, and who has access to which features.

What's more, the ability to manage contact lists, authorize multiple administrators, and set specific data security levels facilitate secure and efficient network administration.

One of the more affordable Teams alternatives, Brosix features three pricing tiers. Startup – Brosix's freemium version – gets you text chat, a virtual whiteboard, and some limited enterprise features.

$4.00 per user per month gets you an assortment of communication and collaboration tools plus the ability to manage contacts and features. $6.00 per user per month gets you the full range of enterprise tools and lets you broadcast messages.
.
Available on: iOS, Android, Windows, macOS, Linux, and Web
Mattermost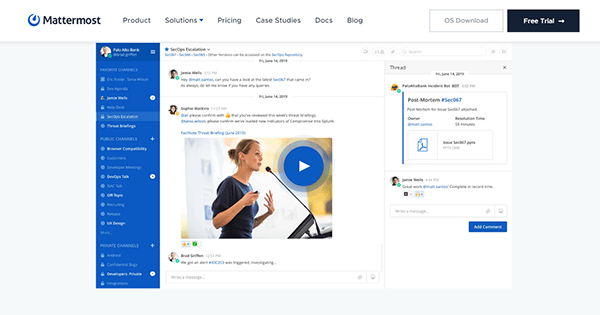 Mattermost is an open-source messaging app aimed at large enterprises.
Communication takes place by direct messages or in public or private channels. Importantly, a self-hosted option frees you from an overzealous provider misusing your metadata. What's more, you can run the messaging platform behind your organization's firewall.
Featuring a slew of customization options, Mattermost gives you the ability to fiddle around with the code, tailor the interface to create a custom-branded platform, or change the interface itself. You can add encryption on both communication and server-level and even and customize the languages available in the UI.
The freemium version offers unlimited message history and support in a variety of languages. Paid plans start at $39 per user per year and unlock more customization options and better privacy and security. They also require you to have at least 10 users.
Available on: iOS, Android, Windows, macOS, Linux, and Web
Chanty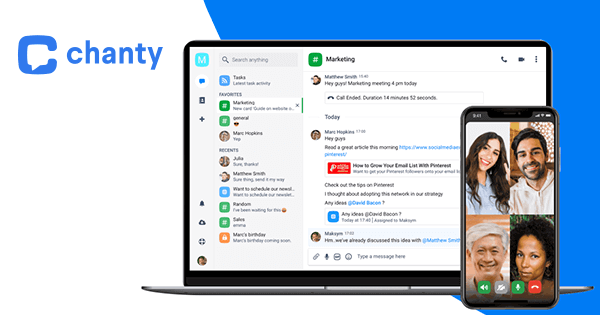 Another relative newcomer to the field, Chanty is a team messaging tool aimed at small to medium-sized enterprises.
Chanty facilitates communication on a one-to-one basis, as well as through channels, both public and private. Chanty also provides an unlimited searchable message history.
Chanty supports both audio and video calls, as well as voice message replies. Though a bit limited, Chanty is still rolling out features. Workflow threads and AI search and suggestions are expected in the near future.
Chanty's organizational features, as well as its low cost, make it a viable Microsoft Teams alternative. For instance, teams looking for order will appreciate the Teambook feature, which keeps files, links, tasks, and messages neat and tidy and in folders.
And at $3 per user per month for all the extras, Chanty is the most affordable option on this list. There's a freemium version, but you'll be limited to 10 users, 10 integrations, and 20 GB of storage.
Available on: iOS, Android, Windows, macOS, and Web
Twist
Created by a group of people working remotely across several time zones, Twist initially launched as an alternative to Slack. But few key features make it a capable stand-in for Microsoft Teams.
To begin, Twist offers a more familiar, simplified interface than Teams. Twist gathers the messages you've missed while you've been offline – almost like an email inbox – and then organizes them into threads and provides a preview of each one before you open it.
What's more, Twist integrates with Todoist – a to-do list app to boost both your productivity and organizational habits. By providing each message a unique URL, you can then add it to task assignments in Todoist.
While Twist's limited freemium version restricts you to 5 integrations, 5GB of storage, and limited search, $6 per person per month or $60 per person per year will get you all the bells and whistles.
Available on: iOS, Android, macOS, Windows, Linux, Web