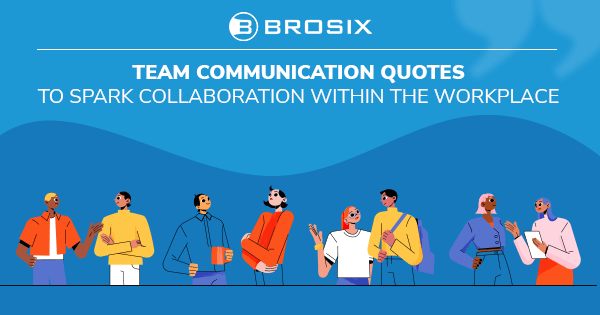 Team Communication Quotes To Spark Collaboration Within The Workplace
Communicating may seem easy at first glance, given the advanced technology of today, however, communicating effectively is still one of people's greatest challenges.
Truthfully, connecting and sharing knowledge and information is easier than ever. However, actually communicating effectively is more nuanced than that.
Luckily, people have started to realize that in order to have fruitful relationships, they have to improve their communication skills.
The increasing number of personal development classes and courses available today is clear proof of that and a step in the right direction.
In today's context of remote work and tool-mediated interactions, the need for improved communication skills is evident, especially within the workplace.
The pandemic had a polarizing effect on many businesses. During the pandemic, some organizations struggled with a lack of team cohesion, while others thrived precisely thanks to their team's unity.
Collaboration and effective communication are imperative for getting teams in sync and being productive.
Inspiring collaboration within the workplace can be done through a series of actions – from sharing motivational team communication quotes to fun team-building challenges.
To unite your team, you can start by sharing a couple of quotes about team communication from some of the world's most successful entrepreneurs and professionals.
Team communication quotes from successful entrepreneurs and professionals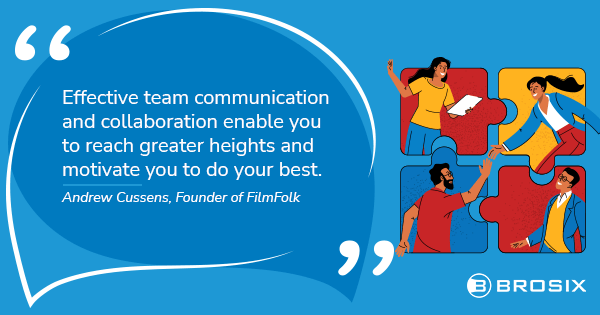 "Effective team communication and collaboration enable you to reach greater heights and motivate you to do your best." – Andrew Cussens, Founder of FilmFolk
"Team communication and collaboration are one of the most vital aspects of a successful business or company, as most success stories are built on a strong foundation of close-knit teams that actively work towards achieving the same goals." –  Brandon Li, Co-founder & CEO of Power
"Team communication is a great method for team members to learn from one another and develop empathy for the team members, which is an essential trait for a successful team." – Eliana Levine, Co-founder of FindPeopleEasy
"Team communication helps build a strong sense of company culture so that workers are motivated, invested, and willing to be more involved in the success of the business." – Ty Gibson, Founder of Gibson Hill PC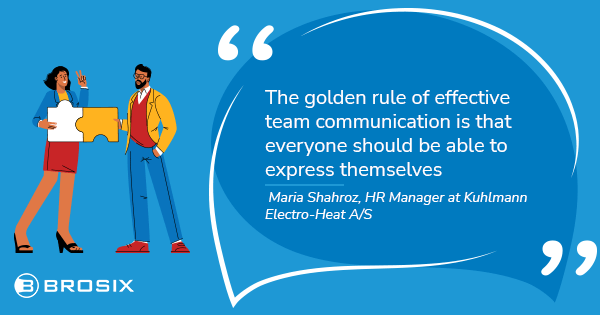 "The golden rule of effective team communication is that everyone should be able to express themselves." – Maria Shahroz, HR Manager at Kuhlmann Electro-Heat A/S
"Team communication and collaboration are extremely important, especially in this age of the remote and hybrid workplace. When a team has seamless and open communication, work as a whole is better for the team, and the produced work is of better quality." – Mario Cacciottolo, PR & Branding Manager at SBO
"Effective team communication allows for the exchange of ideas, the sharing of resources, and the building of relationships. When team members work collaboratively, they can develop new ideas, improve their skills, and increase their productivity." – Deniz Efe, Founder of Fitness Equipped
"In a work environment, team communication and collaboration help eliminate doubts and fears, which resultantly reduce project conflicts in the workplace by enhancing transparency and promoting innovation." – Ronald Williams, Founder of BestPeopleFinder
"Team communication and collaboration is something that plays the most important role in an organization. A business cannot function without communication. It eliminates unnecessary problems and promotes better performance." – Vartika Kashyap, Chief Marketing Officer at ProofHub
"The modern work environment is a mix of remote and hybrid working environments, making team communication and collaboration crucial components that help in achieving seamless operations." – Dillon Hammond, Marketing Manager at Achieve TMS East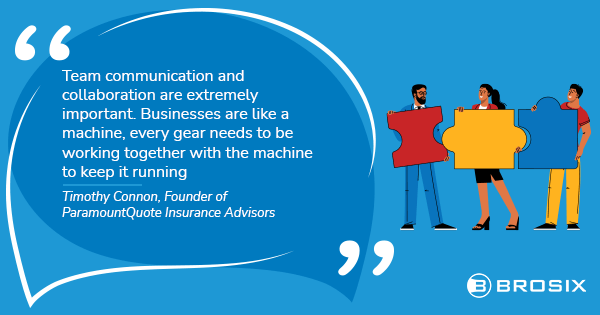 "Team communication and collaboration are extremely important. Businesses are like a machine, every gear needs to be working together with the machine to keep it running." – Timothy Connon, Founder of ParamountQuote Insurance Advisors
"Effective team communication is what you need to be successful in business situations. When team members express themselves clearly, it comprehends information properly and promptly. Team communication inspires cooperation and harmony and contributes to a more productive work environment." – John Hubbard, Founder of Urban Blog
"Team communication and collaboration are critical for building morale and maintaining a positive work environment. When employees feel like they are part of a team and can communicate openly with one another, they are more likely to be engaged and satisfied with their jobs." – Kate Zhang, Founder of Kate Backdrop
"Team communication and collaboration are essential in the modern work environment. To be successful, businesses need to have a clear understanding of what their goals are and how everyone can work together to achieve them." – Alan Duncan, Founder of Solar Panels Network USA
Motivational team communication quotes from famous personalities
"In teamwork, silence isn't golden, it's deadly." – Mark Sanborn
"The kinds of errors that cause plane crashes are invariably errors of teamwork and communication." – Malcolm Gladwell
"Effective teamwork begins and ends with communication." – Mike Krzyzewski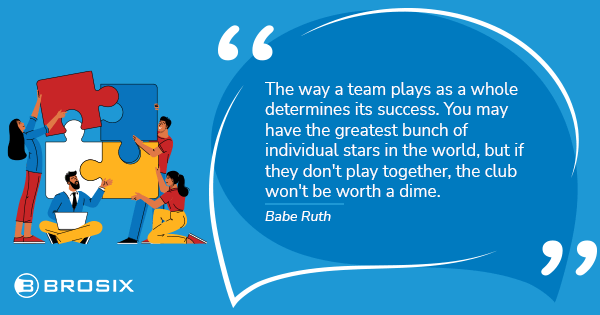 "The way a team plays as a whole determines its success. You may have the greatest bunch of individual stars in the world, but if they don't play together, the club won't be worth a dime." – Babe Ruth
"Effective leadership begins with effective communication." – Asa Don Brown
"Teamwork is so important that it is virtually impossible for you to reach the heights of your capabilities or make the money that you want without becoming very good at it." – Brian Tracy
​​"Effective communication helps to keep the team working on the right projects with the right attitude." – Alex Langer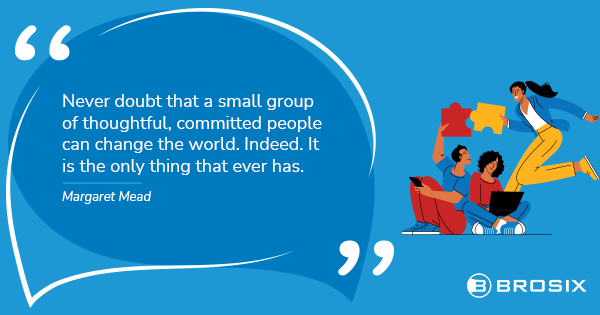 "Never doubt that a small group of thoughtful, committed people can change the world. Indeed. It is the only thing that ever has." – Margaret Mead
Wrap up
As these team communication quotes have emphasized, nowadays effective workplace communication is the cornerstone of every company.
While there's so much potential for businesses to expand in the era of globalization, it would be a shame to let ineffective communication stand in your way.
In the remote work environment, it's important to find the right communication tools that can facilitate effective team communication and collaboration. This is where Brosix may come in handy. With a variety of features that ease team communication, it is one of the best tools to help you improve workplace communication!