March 14, 2017 Announcements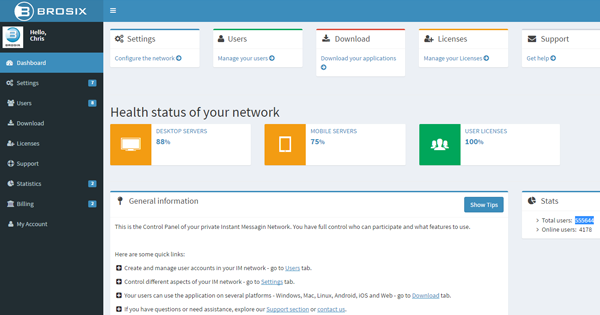 Brosix updated web control panel is now ready and is coming to facilitate the complete usage of the new application features, which will be released very soon.
The new Brosix web control panel is much easier to navigate in, more user-friendly and visually upgraded
The improved user interface design is focused on a better orientation and users' management organization with bigger variety of chat rooms images and avatars, based on personal preferences and thematic visualization.
The new web control panel is intuitive and gives more controlling options to the administrators:
1. Granular chat history for chat rooms and web guests;
2. Variety of avatars are automatically assigned for the user accounts, chat rooms and web guests. You can set your own image too;
3. Improved Tips and Tricks wizard;
4. Optimized Custom logo management interface.
With the applied web control changes Brosix is ready to enter into a new stage of its product development life, which will facilitate the smooth transaction to the upgraded version of the whole application.
Better user experience and more features, together with application visual design improvements are coming NEXT
Brosix Team