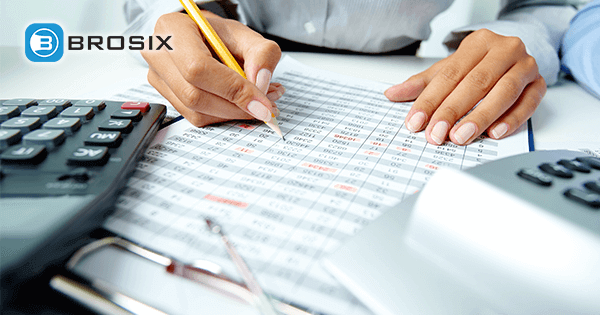 How Brosix will Help Accountants to Work More Safely and Efficiently
In its simplest form, accounting is all about measuring the economic activity of different organizations. While it's true that accountants spend much of their time wading through financial data and spreadsheets, their analytical skills aren't the only ones necessary for success. The ability to analyze data is just one step in the accounting process, in order to be truly successful accounting teams need to be able to communicate safely and efficiently.
Internal communication in accounting firms is crucial, yet often overlooked, enabler for results. The ability to quickly request and send information, ask and answer questions, and collaborate on projects is key to any accounting firm's success. Given the nature of work, this internal communication must also be secured to the highest standards.
When working with sensitive information, accountants must ensure that they're providing the highest levels of security on their internal communication. Without a guarantee that their data will be safe when in the hands of their accountants, clients will most likely look elsewhere for accounting services. This makes security a top selling point for any accountant and is the reason that the accounting industry has the strict SAS-70 and SSAE 16 standards.
With this in mind, the question arises around how accountants can make their internal communication as efficient and secure as possible in order to achieve higher results?
The problem
Two of the main challenges facing accountants in the modern workplace are data security and efficient internal communication, particularly as related to remote communication. Both of these challenges speak to the changing workplace, with a larger reliance on advances in IT and increased cybersecurity threats.
Effective Communication
Internal communication can be a challenge for any team. This is particularly true for the accounting industry, where large quantities of data must be sent and received and team members need a way to quickly consult each other on various issues. Sending large files internally, for example, can pose a challenge for firms relying on email communication, as there are often limits on file size. The speed of communication is also an issue, as anyone who has waited for hours for a reply email to a simple question can attest.
All of this speaks to the need for accounting firms to provide a structured internal communication approach to their teams in order to create easy and efficient collaboration. Any communication structure, however, must also pay attention to data security given that sensitive nature of accounting.
Data Security
Accountants, as part of their main responsibilities, work with highly sensitive financial information. For example, they may handle clients who are active in trading and stock-based investments. In today's world full of cybersecurity threats, extra steps should be taken to protect this type of data, especially when sending and receiving it internally among team members.
Providing data security is an essential function for any accounting firm, yet can seem daunting to those without a dedicated cybersecurity budget. So how can accountants most safely send and receive sensitive data within their teams without a dedicated in-house cybersecurity expert?
The solution- One Team IM Tool that has a Secure Communication Focus
The issue of secure and efficient internal communication in the accounting business can be addressed through one online tool, Brosix Instant Messenger. Brosix is a business IM program that provides its customers with secure private networks with extensive collaborative features. This comprehensive tool is able to address a wide range of needs in the modern workplace through better team communication.
Communicating Effectively and Timely
The nature of the modern workplace and advances in IM technology mean that the amount of remote communication is on the rise, even within teams working in the same building. As with any such changes, this trend can become a great opportunity. The challenge to accountants comes from ensuring efficient team communication when face-to-face meetings are declining, but the opportunity lies in more timely and responsive communication.
For example, team members could set specific online statuses signaling that they are available for an immediate consultation on a first come first serve basis. This type of responsive communication is easily done through Brosix, through online statuses and either text or audio chat. By making themselves more easily available to their teammates through their private Brosix network, teams can save time and increase collaboration.
Brosix can also support accounting teams when it comes to sending and receiving files. Accountants work with a large number of files, some of them quite sizable. Brosix private networks allow for unlimited sized peer-to-peer file transfers, so team members can easily send and receive the data that they need. File transfers are also totally secure, just one element of Brosix's overall security approach.
Encrypted Communication and Data Transfer
In terms of security, Brosix has a holistic approach to secure online communication. It starts with encryption of all data transferred on a Brosix network using AES 256-bit encryption, which makes it perfect for accountants sending and receiving sensitive financial information. Brosix also backs up all of its servers to different geolocations using secure connections, meaning that accounting teams will never be faced with any disruption in their internal communication.
Perhaps most importantly for accountants, Brosix does not process any financial information, meaning that it can easily help its customers in the accounting industry become SAS-70 or SSAE 16 compliant. This is perfect for accounting firms that may not have the resources to dedicate to a separate cybersecurity strategy or hiring cybersecurity experts. By allowing Brosix to secure their internal communication, accountants can focus on serving their clients to the highest standard.
Conclusion
In their daily jobs, Accountants look for ways to help their clients save and manage money more effectively. This means that they should be highly attuned to efficient cost-saving measures. Using one tool, Brosix Instant Messenger, to help teams communicate more efficiently and securely is just one such measure. By allowing Brosix to improve their team communication, accounting firms can more effectively serve their clients and increase their results.