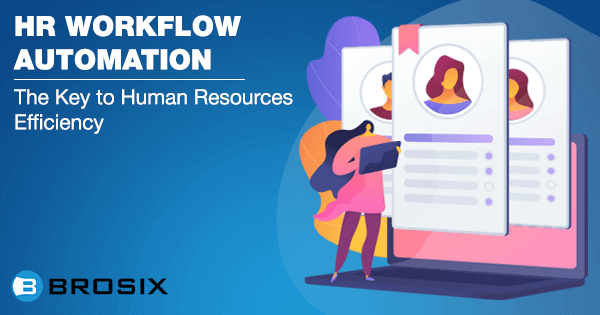 HR Workflow Automation: The Key to Efficiency in Human Resources
HR management consists of so many different activities, making it extremely laborious and time-consuming. HR managers have to deal with many tasks at once – employee engagement, employee onboarding, handling business processes and employee data, performance appraisals, and other mundane tasks.
These HR processes are important and can make or break your organization. If they aren't handled efficiently, they drain funds from your company and you may be driven to hire a massive HR team to support the need, which gets pretty expensive.
HR workflow automation has the power to optimize all these manual processes and enable your HR staff to perform their tasks quickly, efficiently, and in an organized manner. Businesses of all sizes use automated workflow solutions to improve performance and productivity within their human resources department, and here's why…
What Is a Human Resource Workflow?
A human resource workflow is the process of managing repetitive HR tasks, such as recruiting new talent, approving vacation requests, and following up on employee performance. It's the work routine human resource management completes their tasks in. Workflow management represents the journey these activities go through before they're marked as complete. Optimizing and automating administrative tasks and other activities stops HRs from wasting extra time on mundane stuff and lets them focus on the truly important tasks at hand.
Why Should You Consider HR Workflow Automation Software?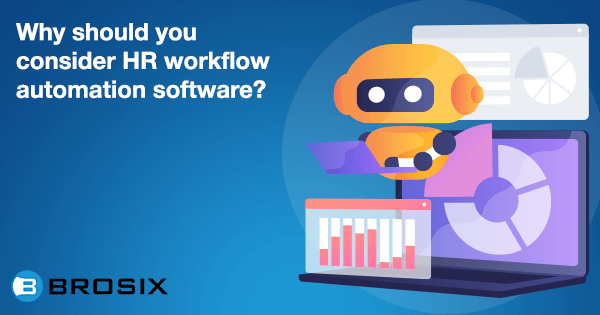 HR professionals know how time-consuming and tedious their job can be. The whole purpose of having an HR department within a company is to maximize employee productivity whilst taking care of other duties such as compensation and benefits, recruitment, updating policies, maintaining employee records, firing employees, and ensuring compliance with existing laws, rules and regulations.
The human resources department is extremely important for all businesses because its primary goal is to protect the company from any issues that may arise from its employees.
Workflow automation software takes care of these administrative tasks with ease. For example, you can create a custom travel request system where employees submit requests and receive approvals. Since it also allocates budgets and automatically manages reimbursement requests, it makes the whole process much easier and less time-consuming.
Businesses of all sizes have adopted automated HR software – which isn't surprising since it has great statistics to back it up. 81% of HR leaders have already implemented or explored using AI in their workplace.
Also, this type of all-inclusive software is a great way to streamline all processes from a single platform. Over 94% of business professionals say they would rather use a unified platform to handle processes like HR automation workflows than rely on multiple solutions.
Benefits of HR Automation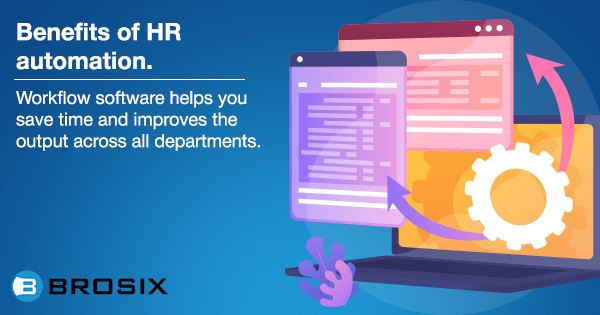 Automated HR workflows are slowly becoming the norm across all industries. Workflow software helps you save time and improves the output across all departments.
Since HR is usually document-driven, it can take ages to complete and sort through paperwork when done manually. Manual errors are also common because humans aren't robots, leading to issues in the long run. Moreover, HR processes usually require employees to physically come to the office to submit and sign paperwork, which is becoming redundant.
After all, we're living in an age of digital commodities, so why not take advantage of all the perks this era comes with?
HR automation is especially beneficial now that remote work is more popular than ever. Onboarding and other processes are completed more efficiently and miscommunication between management and employees is eliminated. These are only a couple of examples of the advantages associated with using this technology. 
Here's a quick rundown of other benefits of HR workflow automation:
all your information and documents in a centralized location
saves you time and money
guarantees information security compliance
streamlines and simplifies the hiring and onboarding process
affordable
reduces manual errors
completely automates all manual tasks
lets your HR team focus on other essential business needs
reduces waste since paperwork is handled electronically
improved productivity
easier performance appraisals
enables you to interact with other productivity tools your company uses
optimizes the whole workflow, making it more efficient
How to Get the Most From HR Workflow Automation Software?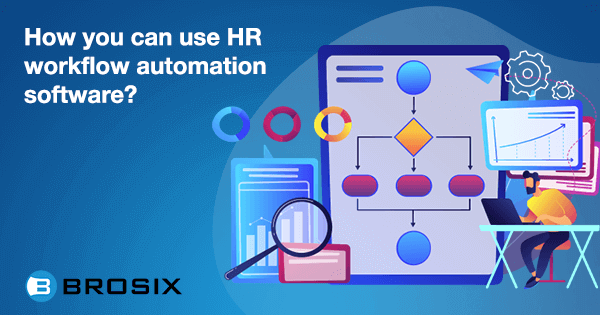 The demand for workflow automation is higher than ever because it's so versatile and easily customizable. You can use it for a plethora of tasks and processes, which we'll explore in a bit more detail below.
Optimize your employee onboarding process
Every HR manager will tell you that onboarding is one of the most stressful processes as it's very complex and has to be done correctly. Automated HR workflow uses a centralized system where new hires complete HR paperwork electronically, read business rules and perform all other onboarding activities with ease and convenience.
Once everything is complete, the system notifies the HR department and new employees are put on the payroll within minutes.
It works even better when integrated with Brosix messenger , enabling you to share your screen, organize video calls and chat with a dedicated messenger tool for instant communication. So, if your new hires comes across an issue during onboarding, you'll be able to handle it immediately.
Handling leave requests
HR workflow software also lets you handle leave requests, which are equally as complex as onboarding. The tool collects and sorts employee information and lets employees quickly submit their own leave requests.
When done manually, leave requests require many lengthy back and forths via email. This is messy and creates complications if the HR manager needs to re-access these emails in the future. Automation collects all information in a single place, meaning that you can always access your employee's files instantly. You can also use filters to categorize the data.
Managing employee information
Automated HR workflows are great for managing employee information from one place. You can create separate files and folders for each of your employees and access them easily anytime. Once you open their file, you'll see all information like performance, leave and holiday requests, sick days, bonuses, complaints, notes etc.
Since most HR tools come with top-notch security, you don't need to worry about personal data and confidential information leaks, or getting lost in a sea of papers.
Employee offboarding
It's important to handle employee offboarding with precision and care. If not, you're risking potential lawsuits and other issues in the long run. Automated HR tools make it easy to create a custom exit checklist, and the software will ensure that all steps are validated before submission.
Employee timesheets
Automated workflows can also help keep track of time and attendance, which is crucial for HR. You can employ an automated attendance system and have your employees check-in and out digitally. The software gathers information and creates detailed attendance statistics for every employee which can be accessed by clicking on their file.
Annual performance reviews
HR software lets you create custom performance appraisal questionnaires that can be filled out digitally by employees and managers. You can also create reminders or instruct the software to send these surveys to the whole company on specific dates. Conveniently HR tools usually come with detailed statistics & analytics, so you'll always know what the situation is within the company.
What is HR Process Automation?
HR process automation uses specialized software solutions to automate repetitive tasks. Creating an automated HR workflow means that you'll be able to handle all processes with a couple of clicks, without the need to request personal visits from employees.
When hiring new employees, the onboarding process is unavoidable. Traditionally, the onboarding process is fully managed and executed by the HR department, which is time-consuming, especially if your company frequently gets new hires.
HR process automation lets you automate these common workflows. When a new employee is hired, the software does the work for you, instead of you rushing to show them around and familiarize them with business rules and processes. Once you create a workflow design and specify the steps and information, the software automatically sends it to new hires and guides them through the process.
What Is Workflow Design in HR?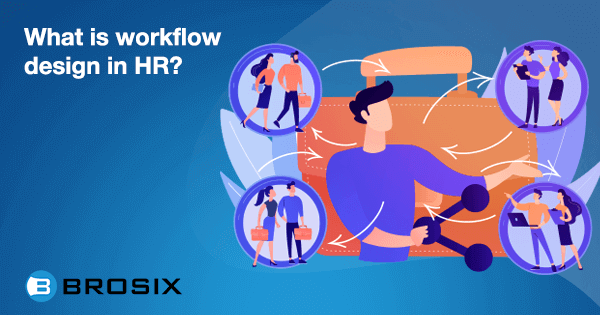 Workflow design in HR means creating custom workflows from scratch to handle various processes and tasks. The HR manager visualizes the process and decides how they want the data to move from one task to another. Let's take onboarding workflow automation as an example:
The software sends out a welcome message to the new employee
The software automatically generates an email account and password using the employee's information
The employee receives informational and instructional videos about the company
Once they complete the onboarding checklist, the HR manager gets a notification and finalizes the onboarding process
Bear in mind that in the example above, we've simplified the process as different companies have different business needs. Your workflows can be as simple or as complex as you want. We also recommend integrating your HR workflow automation with a messenger suite like Brosix to improve internal communication, maximize productivity, and create a healthier work environment.
How Does Workflow Automation Help HR?
HR is document-driven, meaning that it traditionally requires a lot of manual labor and paperwork. This leaves a lot of room for error, inconsistency, and is very tedious. Introducing HR automation in your workplace will ensure that all processes are consistent and accurate. It also automates all these repetitive tasks, which takes the load off your HR managers and allows them to focus on other essential tasks, improving your business.
Conclusion
The human resources department is the spine of your company. It represents the bridge between management and the workforce. Handling HR processes is very tedious, especially for large businesses and organizations. Introducing HR workflow automation makes everything more accessible and more convenient.
A great thing about automated HR workflows and software is that it can be combined with other productivity tools to ensure maximum efficacy. You can integrate it with Brosix's collaboration software to optimize your internal communications and leave an open line of communication between your HR department and employees.
FAQ
How does HR workflow software improve the hiring process?
Human resource workflow software improves the hiring process by automating various tasks, such as applicant tracking, interview scheduling, and background checks, leading to a smoother and more efficient hiring process.
How does HR automation help in the onboarding process?
HR automation helps in the employee onboarding workflow by providing a streamlined and automated process for new hires to complete necessary documentation, such as signing contracts and submitting personal information.
How does HR workflow automation improve employee experience?
Human resource workflow automation improves employee experience by providing a seamless and user-friendly process for HR requests, ensuring that employees have a positive interaction with the HR system.