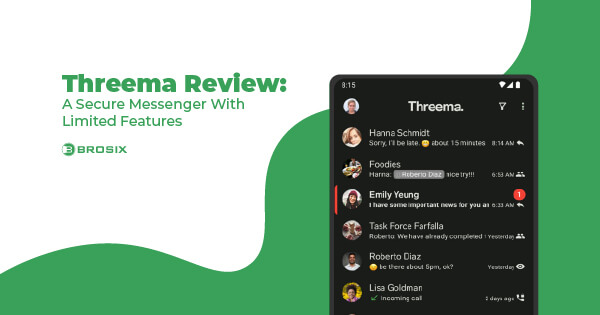 Threema Review: A Secure Messenger With Limited Features
With the market of secure instant messengers constantly expanding, it's getting harder to find a solution that fits all the criteria you're looking for. It seems like you're always faced with a choice: sacrifice privacy for usability or vice-versa.
And, while apps like Telegram are a perfect example of an intuitive, well-designed safe instant messenger that has some important security concerns, Threema might be an example of the opposite.
As we're about to see, the team behind Threema invested a lot in making their app as safe as possible but, in the process, they might have sacrificed a little too much in the usability field.
Let's learn more about Threema messenger and its features.
What Is Threema?
The very name "Threema" signifies security. The acronym "EEEMA" stands for "end-to-end encrypted messaging applications" so the name of the app is a combination of this acronym and the "three E's" (end-to-end encryption).
Indeed, Threema takes safety seriously. The app has seen major growth during the Snowden leaks, acquiring hundreds of thousands of users. Similarly, when Whatsapp was acquired by Facebook in 2014, Threema doubled its user base in a single day. Most of these users came from Germany—a country that is one of Threema's best markets to this day.
In the second week of 2021, Threema again saw a surge, thanks to Whatsapp's clumsy rolling-out of a new privacy policy.
Today, the app counts around 11 million users, which is significantly fewer than Telegram (700 million) or even Signal (around 40 million).
Both Threema's headquarters and development are based in Switzerland.
Threema App Installation and Setup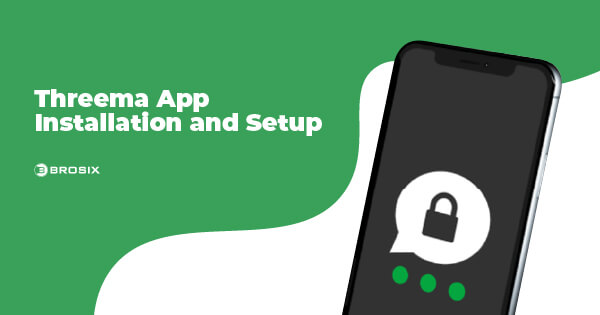 Right during the installation process, you can see that Threema puts safety first. It's one of the rare instant messenger apps that doesn't need your phone number, email, or any other personal information. Practically, Threema is one of the few messengers that allows for almost complete anonymity.
Unfortunately, this comes at a price: Threema can't be downloaded from the Google Play Store/App Store for free, it costs $2.99. While this certainly isn't a big deal, it can't be a drag if you don't have your credit card connected to your Store yet or if you live in a country where the App Store isn't available.
In any case, it's an obstacle that separates Threema from apps like Signal, Whatsapp, Telegram, and other free instant messengers.
So, if it doesn't use your number or email, how do you create a Threema account?
When you first launch the app, you'll be required to create a Threema ID which is independent of any of your private data. This also generates a unique asymmetric key pair (a private and a public key) used to encrypt and decrypt all of your messages.
Your private key will be stored on your phone the whole time and even Threema won't have access to it. A copy of your public key, however, is stored on Threema servers. This is required so that the people communicating with you can use this key to encrypt messages they send to you.
Threema Pricing
Unfortunately, this level of privacy comes at a price. Threema can't be downloaded for free. It costs $5.99 on the Google Play Store. On the App Store, you can purchase it for $4.99. While this certainly isn't a big deal, it can't be a drag if you don't have your credit card connected to your Store yet or if you live in a country where the App Store isn't available.
In any case, it's an obstacle that separates Threema from apps like Signal, Whatsapp, Telegram, and other free instant messengers.
Threema Messenger: Key Features and Interface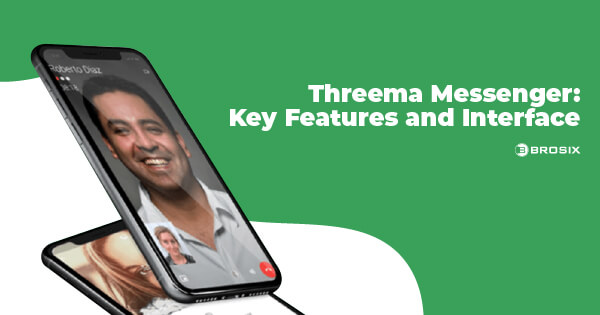 Threema doesn't try to revolutionize the way that an instant messenger looks and feels—which is a good thing. There's no point in trying to reinvent a system we've been using for years and are familiar with.
Once you launch the app, you'll see that your main screen is comprised of your active conversations. Like on Whatsapp (and many other messengers), you can start a conversation at any time by tapping on the "Start chat" icon in the bottom right corner. Threema won't sync your contacts by default so you'll need to turn this option on if you want to communicate with the people in your contacts that have the app installed.
To message someone, you'll need to know their Threema ID or you can scan their number in person.
There aren't too many options to choose from when it comes to changing your theme or customizing the experience, so we can consider that a slight knock against Threema's user experience.
Safety: How Secure Is Threema?
Threema has a lot of safety features and the very structure of the app is set up in a way to facilitate data security.
As mentioned, Threema doesn't use any of your data, it's completely anonymous. You can add your phone number, email, and sync your contacts but none of these actions are required.
More importantly, Threema stores very little information on their servers. One of their main principles is metadata restraint. In other words, if the app doesn't store your data, no data can be misused. Threema, therefore, doesn't store your messages, contact lists, or anything of the sort. Even if you choose to sync your contacts, the data is immediately deleted from the server as soon as synchronization is completed.
Threema also offers end-to-end encryption for all sorts of communication: text messages, group conversations, voice calls, files, and more. And, if all of this isn't enough, the app's source code is open for public inspection from the IT community, further contributing to the potential discovery of flaws and inefficient protocols.
So, we can safely say that the Threema app is among the most secure instant messengers when it comes to data preservation.
Advanced Team Communication Features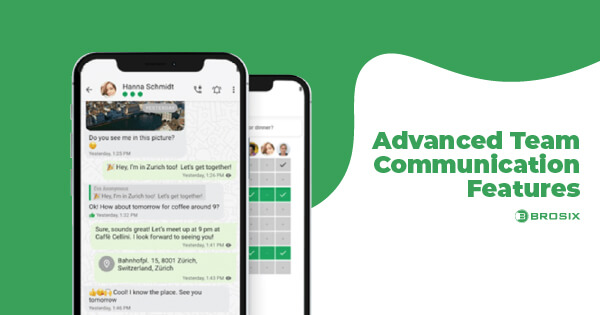 One area, however, where Threema might underwhelm is advanced communication.
If you're looking for features like screen sharing, secure file transfer, or some sort of basic project management, you'll find that Threema falls short. Unlike some team chat apps, Threema's options are limited.
That isn't to say that the app is completely devoid of any advanced communication options. For example, it has:
Polls: useful for gauging the opinion of a group, polls allow you to ask a question and quickly get an overview of where everyone stands. They aren't a very advanced feature but can be useful for groups of friends as well as work situations.
Agree/disagree: this is an even simpler and quicker version of polls. You can tap on a message and express your opinion on its content in a matter of moments. Unfortunately, this feature isn't available in group chats so this is another drawback for team communication on Threema.
The web client: like many other messengers, Threema offers a web client. Threema Web works (and looks) just like the mobile app, only adapted to desktop. However, since it's a web client, it requires your smartphone to be connected to the internet at all times.
Another big limitation for Threema is the fact that it only allows sharing files that are up to 100 MB. While this won't be a problem for images taken with your phone, you'll find that hi-res videos, Powerpoint presentations, or even some hi-res images will break this limit.
That can be an issue for professional communication where you often have to deal with larger files.
Versions of Threema: Work, Broadcast, Gateway, and Education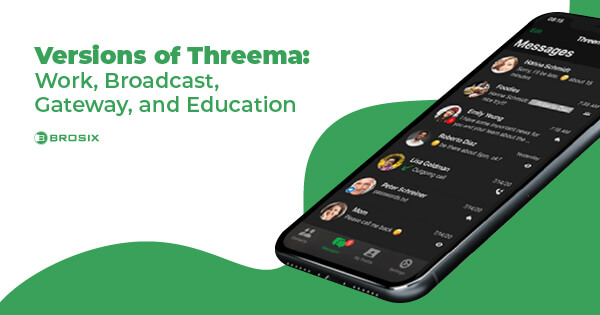 To bypass the issue of Threema's lack of features, you can try some of Threema's other products that make it more competitive in this area.
The first of those is Threema Work. This collaboration tool lets employees communicate with each other in a safe and organized manner. Admins can use the "management cockpit" that allows them to define how their employees get to use the app. With this product, Threema aims to limit the chances of your company data leaking out of the organization, keeping information safe and under control. Threema Work is paid but offers a 30-day free trial period.
In addition to Threema Work, there are a few more products you can consider:
Threema Broadcast allows you to broadcast your messages to a selected group of users—distribution lists, newsletters, feeds, etc. This feature is reminiscent of Channels on Telegram.
Threema Gateway which you can use to automate processes and use your own software to send and receive Threema messages.
Threema Education is pretty much the same as Threema Work, only at a special price for educational institutions. It facilitates privacy-compliant communication for teachers, students, and parents.
Brosix: More Safety and Features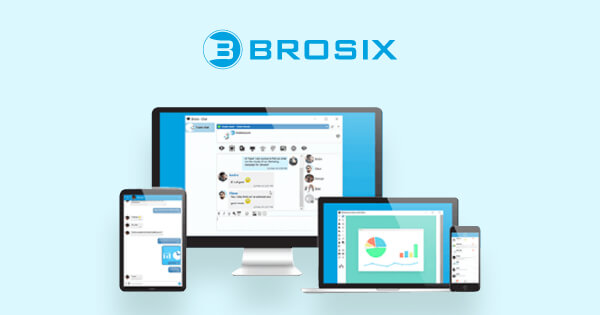 By now, you've probably identified Threema's key advantage: safety. And, if you're looking for an app that makes team collaboration easier, you've probably noticed that this is an area in which Threema could use some improvement.
With Brosix, we devoted our entire product to putting these two things together: better team communication supported by more safety.
Safety guaranteed through admin control
In any enterprise, data security is among the primary concerns. As a secure messaging app, Brosix makes this easier to manage through the Web Control Panel—a unique interface that affords you admin access to all the settings needed to keep everything safe.
You can adjust user privileges, track user activity, control features, and more.
Easier team communication
More importantly, Brosix empowers your whole team to collaborate more efficiently.
With unlimited chat histories and an unlimited size file transfer, you can make sure that your team has all it needs to work on a project together and never miss a step. Additional options like screen sharing with remote control and the Whiteboard feature will take each presentation to the next level and give your team members better ways to share ideas.
Threema Review Conclusion
In the secure instant messaging field, Threema has possibly gone the furthest in making sure that your data is safe and uncompromisable. The fact that it doesn't require any of your personal information combined with their metadata restraint policy makes for a pretty safe messaging experience.
However, that isn't to say that Threema is a perfect messaging app. Especially when it comes to team communication on an enterprise level, Threema has room for improvement.
If you find that Threema doesn't have what you're looking for in this area, consider Brosix. It provides the same level of safety by giving you control over your data while also equipping you with some powerful team chat features.
Try Brosix free and see what features you can have at your disposal!
Request Demo
Threema FAQ
Now, here are some frequently asked questions that a lot of people have been researching when it comes to Threema's secure messaging service and the way some of its features work.
Can Threema see your messages?
End-to-end encryption means that Threema can't get to your messages even if they were instructed to do so by the government. However, it's worth noting that even Whatsapp has end-to-end encryption protocols in place, so EEE alone isn't enough to guarantee your data safety.
How does Threema make money?
Since Threema doesn't allow ads, it makes money by selling the app. To stay independent and provide service untainted by advertising, Threema charges $4.99(App Store)/$5.99 (Google Play) per user. Threema Work can end up being much more expensive, as it can cost from $2.00 to $3.50 per user per month, depending on the plan you choose. For large enterprises with over 100 employees, this can be a big draw.
How do you export a chat on Threema?
Both Threema iOS and Threema Android allow you to export your chat outside the app, with all the text and media formats. The chat is then saved as a ZIP archive.
On iOS, all you need to do is access chat detail view and select "Export chat".
On Android, you need to tap and hold a chat from your chat list and tap "Share". You can then save the chat or send it as a ZIP file with the help of your installed apps.
Does Threema have private chat?
You can make a chat "private" and hide it from your chat list. To do this on the Android app, tap and hold the chat you want to hide and select "Mark as private chat". The next time you try to access this chat, you'll be required to unlock it using your PIN or biometric unlock. You can select your locking mechanism in Settings.
To create a private chat on iOS, you have to swipe right on an existing chat and choose the padlock icon. Then, pick "Mark as Private". To open this chat, you have to enter the passcode, fingerprint, or Face ID that you set when locking it.
How is Threema different from other messaging apps like WhatsApp?
Threema distinguishes itself by its focus on security and privacy. Unlike WhatsApp, Threema users don't provide their phone numbers. Instead, users generate a Threema ID, which protects their identity.
Is Threema available for desktop?
Yes. Threema is available for desktop. Threema Web allows users to access their Threema account and send messages from their computer.
Is Threema a free app?
No. Threema is not a free app. However, it is a one-time purchase, meaning you only need to pay for it once.
How does Threema ensure the privacy and security of user data?
Threema uses end-to-end encryption, meaning only the intended recipients can read the messages. Additionally, Threema does not store messages on its servers, further protecting user data.
Can I make voice and video calls on Threema?
Yes. Threema allows users to make voice and video calls, in addition to sending text and voice messages.
Can I use Threema on multiple devices?
Yes. You can use Threema on multiple devices. However, it is important to note that Threema is designed as a personal messaging app and not as a collaboration tool.
Does Threema provide customer support?
Yes. Threema provides customer support. If you have any questions or issues, you can reach out to their support team for assistance.