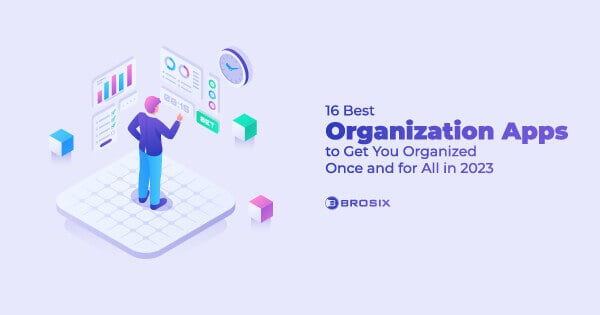 16 Best Organization Apps to Get You Organized Once and for All in 2023
Struggling to stay organized isn't a one-size-fits-all problem.
You may be a meticulous note-taker, yet grapple with ordering the information in a useful way or sharing it with the right person at the right time. Or you may command your tasks and workflow with the precision of Swiss watch, but struggle at organizing the finer details in your personal life, such as receipts and business cards.
Ultimately, though, poor organization grinds productivity to a halt. But as the saying goes – there's an app for that. And apps for organization are no exception.
Why Use an Organization App?
Keeping yourself organized is crucial for productivity. As remote work takes hold, more and more people are juggling home and office responsibilities. Without good organization, effectiveness, motivation, and well-being suffer.
Today, tons of different software applications and tools can help you organize and manage both personal tasks and work-related processes.
Here are some of them:
Notes and to-do lists

Time tracking and planning

Expenses

Travel itineraries

Scanned documents

Business cards

Team chat

and work-related communication

Project and task management

Shared documents, files, and cloud-based storage
Best Organization Apps for Personal and Business Use
To sort through the clutter, here's a rundown of the best 16 organization apps to keep you productive.
1. Brosix
Brosix is an all-in-one instant messaging software for businesses to streamline and secure team communication.
Brosix gives you a fully encrypted, private Team Network that you can tailor to the unique needs of your business. Set up chat rooms for specific projects, teams, departments, or company branch locations. Broadcast messages to handpicked audiences or chat one-to-one. It's all archived and easily retrievable.
Collaborate in real time thanks to rich voice and video calling capabilities, unlimited file sharing, screen sharing with remote desktop control, a virtual whiteboard, and more. Manage it all on a granular level from the Web Control Panel, including user access to features, contact lists, and chat rooms, all the way down to individual data security permissions.
Loaded with robust messaging features, collaboration tools, and control options, Brosix increases and secures team communication by replacing the need to use multiple instant messaging apps, or worse, free instant messengers that can pose a serious threat in the workplace.
Available on: iOS, Android, macOS, Windows, Linux, Web
Pricing:

Free for up to 3 users; paid plans start at $4 user/month
2. Awesome Note 2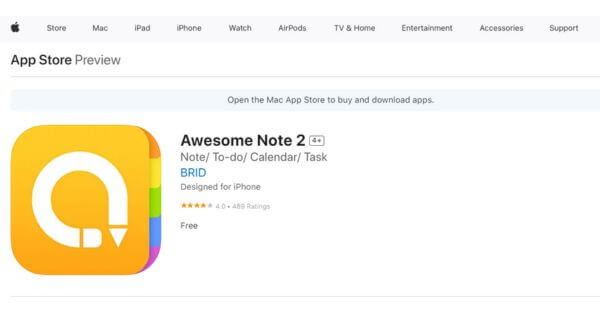 If you're an iPhone user looking to stay on top of the daily humdrum or just record those spur-of-the-moment ideas, check out Awesome Note 2. The all-in-one planner combines notes, to-do lists, and calendars over a clean design that's bright, intuitive, and customizable. Take advantage of different templates, create multiple lists, organize them into separate categories or folders, color-code them, and sync everything between your iOS devices.
As personal productivity apps go, Awesome Note 2 is appropriately named, unless you're an Android user. In that case, you'll have to look elsewhere as it sadly isn't available to you.
Available on: iOS
Pricing:

Free
3. Evernote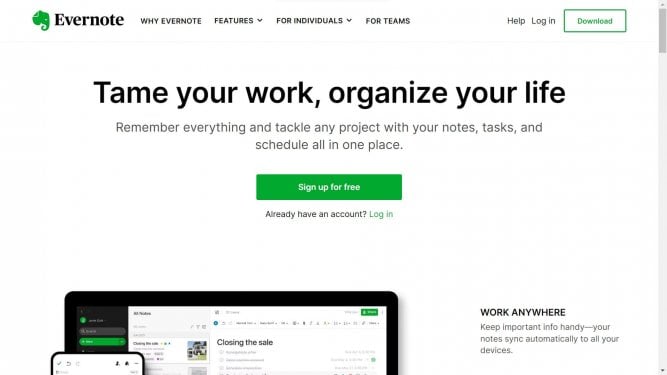 Android users bummed about missing out on Awesome Note 2 needn't look further than Evernote. More than just a note-taker, Evernote is one of the most powerful organization apps out there. Manage to-do lists, scan business cards, receipts, and handwritten notes, and even record voice memos. Attach docs, photos, and PDFs and organize it all however you see fit. It's a highly popular option and, unlike Awesome Note 2, has both a free version and an option for PC.
Available on: iOS, Android, macOS, Windows
Pricing:

Free; paid plans start at $14.99/month
4. TripIt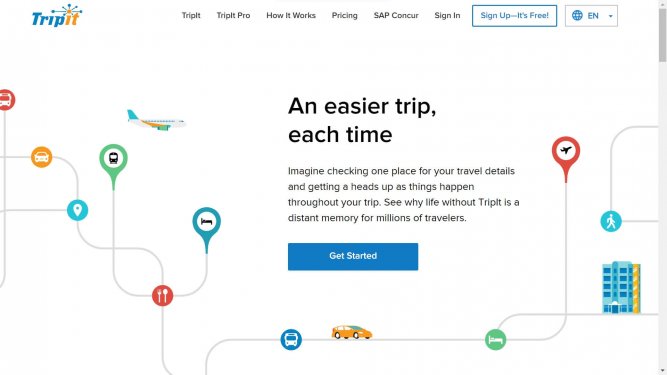 If you're a frequent traveler or the kind who's always on the go during trips, keeping plans straight and itineraries separate can be a hassle. That's where TripIt comes in.
TripIt analyzes and organizes all your relevant travel information. Simply forward your travel confirmations to the TripIt email address or sync the app with your email. TripIt then compiles your plans into one master itinerary that you can review from any device, online or off. TripIt even includes travel maps, like airport terminals, and directions for events that are back-to-back.
Available on: iOS, Android, macOS, Windows
Pricing:

Free; TripIt Pro for $49/year
5. Expensify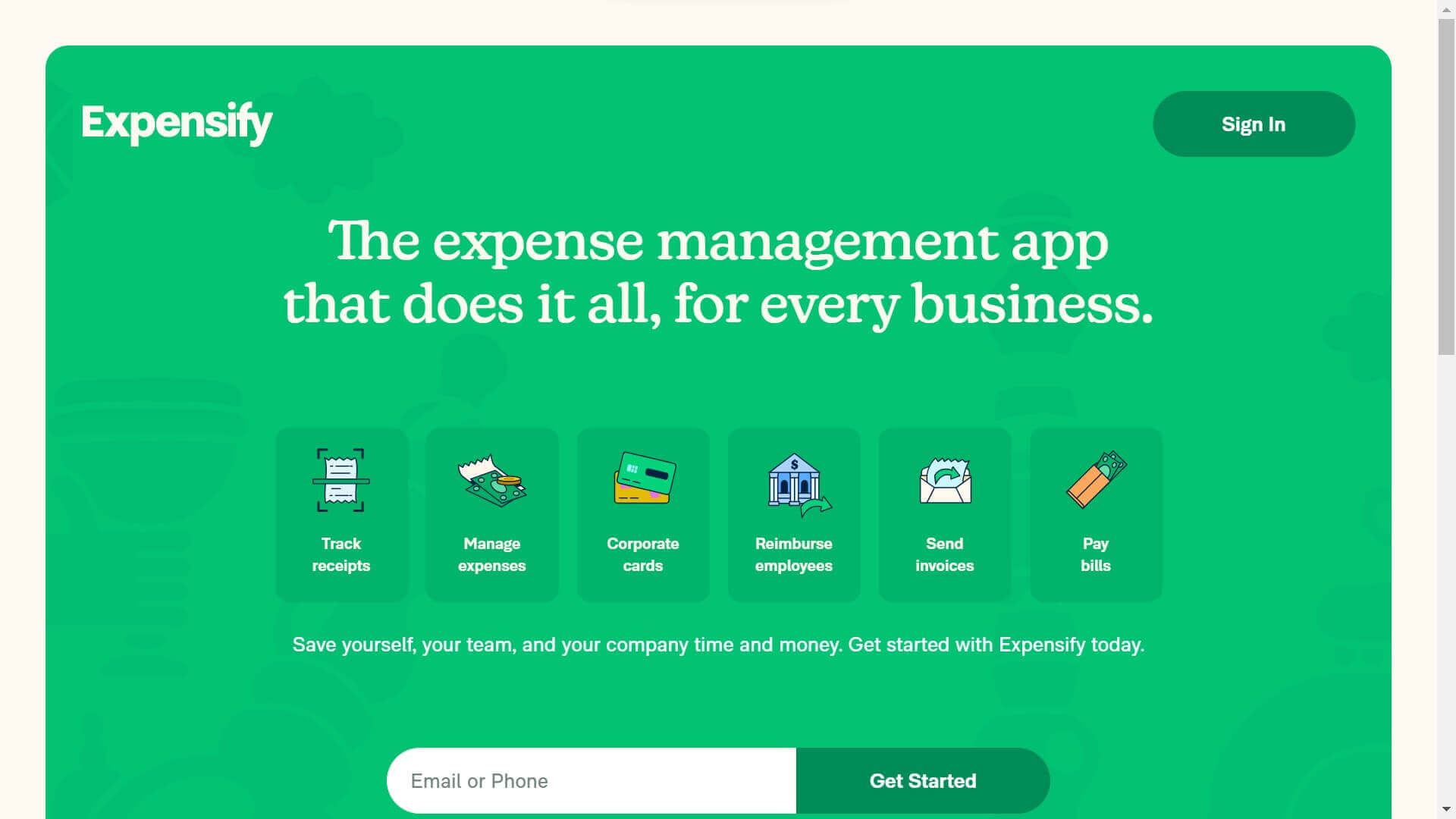 Expensify is an expense management solution that simplifies the process of submitting and approving expense reports so you can keep spending neat and tidy.
Suited to large companies, small businesses, and individuals, Expensify offers respective plans for each. The app supports multiple user roles, admin capabilities, policy auditors, as well as integrations with accounting software such as QuickBooks. For business travelers, Expensify connects with other travel apps and even provides options like mileage tracking.
Available on: iOS, Android, Web
Pricing:

Free; paid options start at $4.99/month
6. Todoist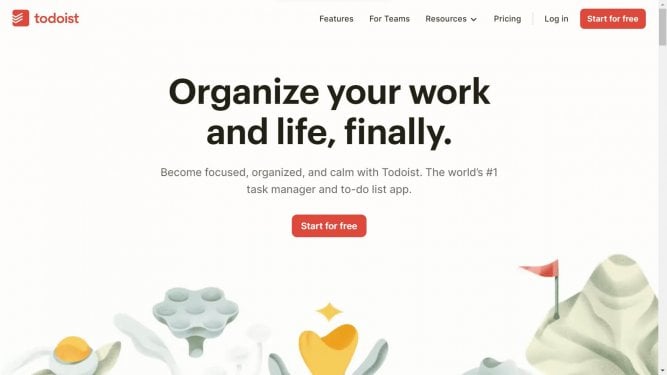 If you're the kind of person with checklists always scattered about, Todoist could just be your saving grace. An easy-to-use to-do list organizer, Todoist helps you streamline these annoying and often messy lists.
You can make a list of tasks, set deadlines, assign goals to other people in group projects, prioritize via color-coding schemes, and track progress with productivity graphs. Todoist will even file the task for you and set a reminder, allowing you to take control of even the most disorderly lists.
Available on: iOS, Android, macOS, Windows, Linux, Web
Pricing:

Free; paid options start at $4 per month
7. Google Drive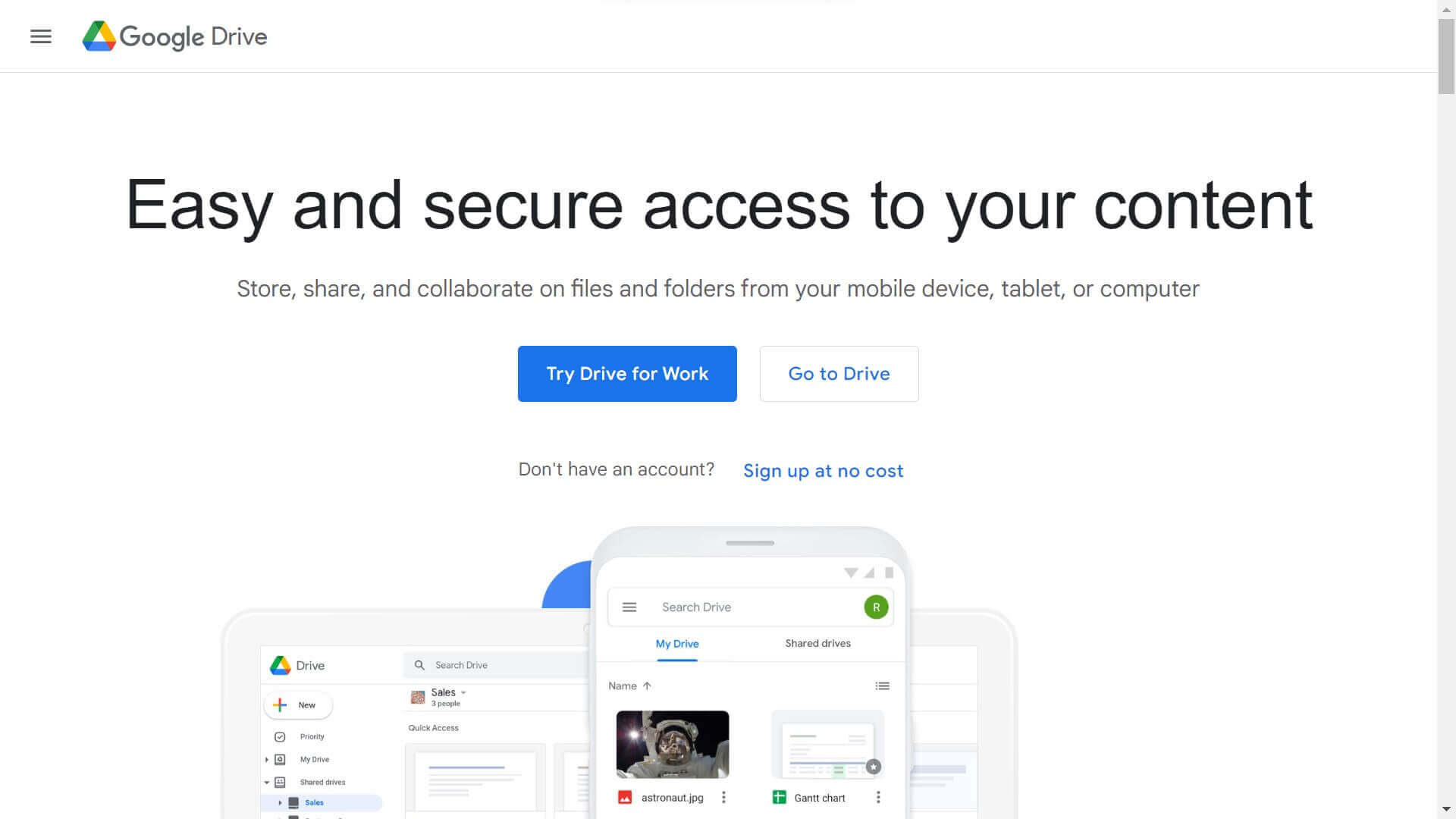 One of the challenges of good organization is staying in sync with those with whom you collaborate. But with nearly 1 billion users on the platform, that's hardly a problem with Google Drive.
Drive is a multi-functional communication platform for file sharing, cloud storage, and remote collaboration. Teams and individuals can create docs, spreadsheets, slides, drawings, and more and then store and access the files on any device. Share and access files quickly with a URL link, comment and collaborate in real time, and view previous versions prior to editing. Better yet, with 15GB free storage, Google Drive is affordable for those on the tightest of budgets.
Available on: iOS, Android, macOS, Windows, Web
Pricing:

Free for up to 15 GB of cloud storage; paid plans start at $1.99/month for up to 100 GB of storage
8. Dropbox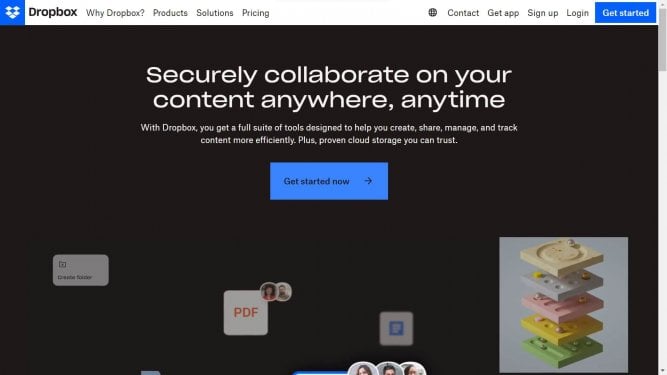 Founded in 2007, Dropbox is a pioneer in the realm of digital document organization. The cloud-based content management solution facilitates quick storage and easy collaboration on files. Using the Dropbox client, you can drag and drop everything from individual files to your entire PC. You can even share and organize Google Drive documents, with links to the Drive files embedded in Dropbox folders. Leave comments, provide feedback, and assign roles to streamline document collaboration.
Available on: iOS, Android, macOS, Windows, Linux, Web
Pricing:

Free for up to 2GB storage; paid options start at $9.99 / month for 2TB of storage
9. CamCard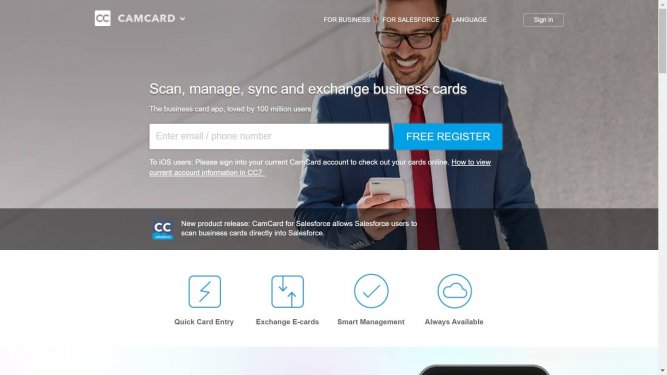 Networking is a great way to boost your contacts. Unfortunately, it often leaves you with a stack of business cards which can bog you down. And you can never really seem to locate the right card at the right moment. CamCard solves both of these issues. Just snap a picture of the business card and CamCard does the rest,  organizing the relevant information and automatically adding it to your contact list.
Available on: iOS, Android
Pricing:

30-day free trial; paid plans start at $21 per user/month
10. LastPass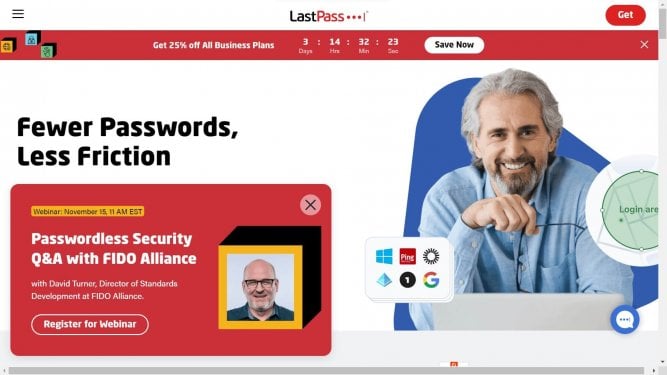 Logging in shouldn't be a game of roulette. LastPass puts an end to the password antics by storing all your login credentials in a secure, encrypted vault. The password manager allows you to store credit card details, delivery addresses, encrypted notes, and more all supported by multi-factor authentication. The app can even fill in forms when you're browsing the web.
Available on: iOS, Android, macOS, Windows, Linux
Pricing:

Free for one device; paid options starting at $2.00 per user/month
11. SwiftScan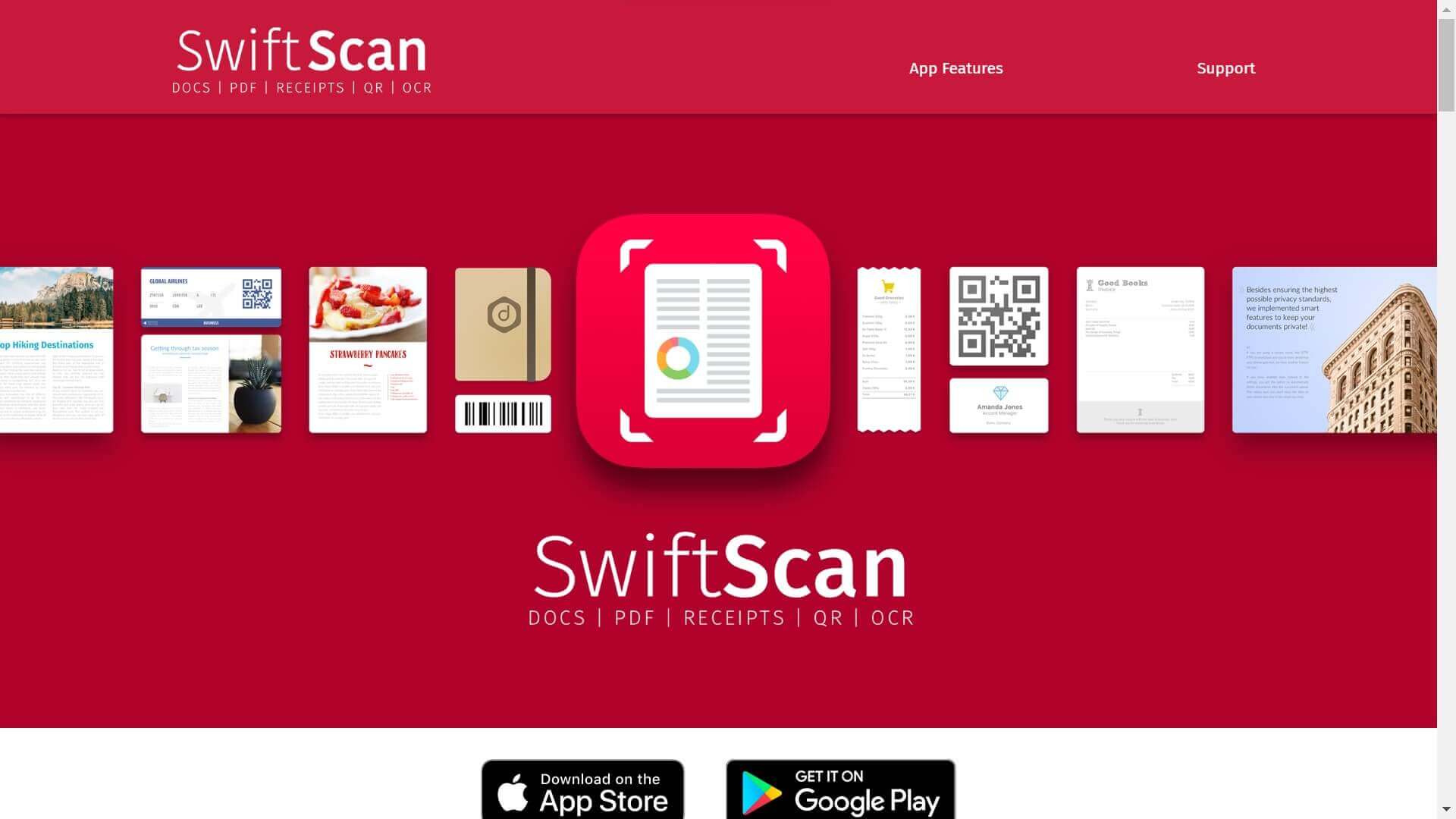 In the crowded field of mobile scanning apps, SwiftScan deserves consideration thanks to its ease of use, rich file management capabilities, and tight security protocols.
With SwiftScan, it's easy to capture documents. The camera automatically deploys upon launching the app, or you can choose to start from your library. The library groups your scans by capture date, but from there you can create folders to better organize your files. For the security conscious, and unlike some competitors, SwiftScan retains nothing on its servers. Save scans locally or send them to one of 17 cloud services including Google Drive and Dropbox.
Available on: iOS, Android
Pricing:

Free
12. Toggl Track
Workdays teem with productivity killers. They deflect your attention for a second here and a few minutes there until suddenly you've lost the whole day. While Toggl Track won't eliminate the distractions for you, it can help you track your time to pinpoint where your work hours go.
Toggl Track syncs between your phone, desktop, and the web so you can log hours from your browser and then stop from your phone. Add projects, clients, and tags and sum it up with business intelligence reports that you can export and analyze. This helps you not only discover where your time goes, but adjust your workflow appropriately.
Available on: iOS, Android, macOS, Windows, Web
Pricing

: Free for up to 5 users; paid plans start at $10 per user/month
13. Proofhub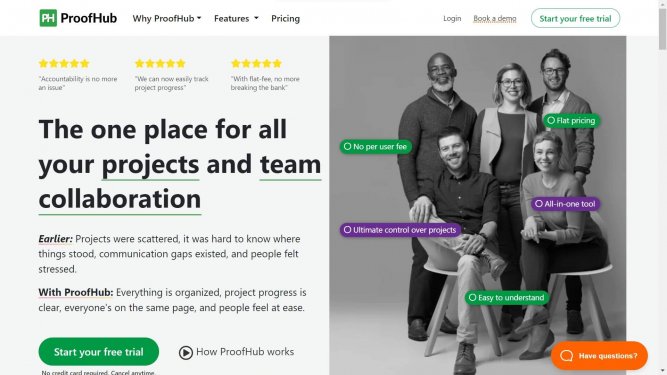 ProofHub is a user-friendly project management software solution. It gives you full control over your tasks and helps you manage your projects effectively.
Proofhub takes the place of apps like Slack, Toggl, Harvest and Dropbox, so you don't have to invest in or switch among many tools while working. Its simple interface keeps the entire team on the same page. Team members can coordinate work schedules, carry on conversations and discussions, propose ideas, assign tasks and track progress status all from one place. Thus, collaboration and communication become effortless and mess-free.
Available on: iOS, Android, Windows, macOS, Linux, Web
Pricing

: Free trial for 14 days; then, flat pricing starting at $45 a month
14. Otter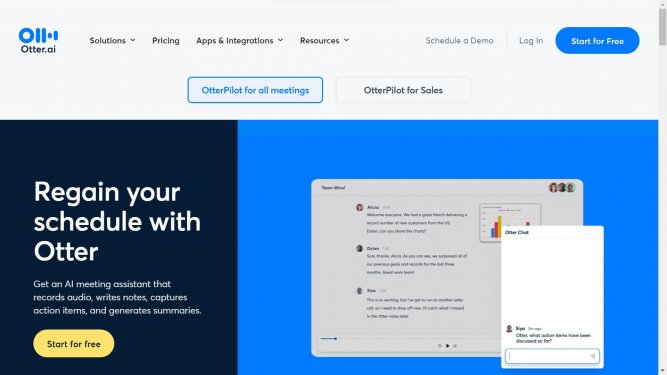 Otter is an AI-powered voice transcription app for your mobile devices. Otter captures meetings, interviews, lectures, and more, taking notes for you so you can focus on the conversation itself. Annotate transcriptions in real time, search text, set up groups to organize conversations and collaboration, share and export recordings, and arrange it all into folders. It's like a personal voice assistant in the palm of your hands.
Available on: iOS, Android, Web
Pricing

: Free basic version; free business trial for 7 days – then, prices starting at $10 per user/month
15. Trello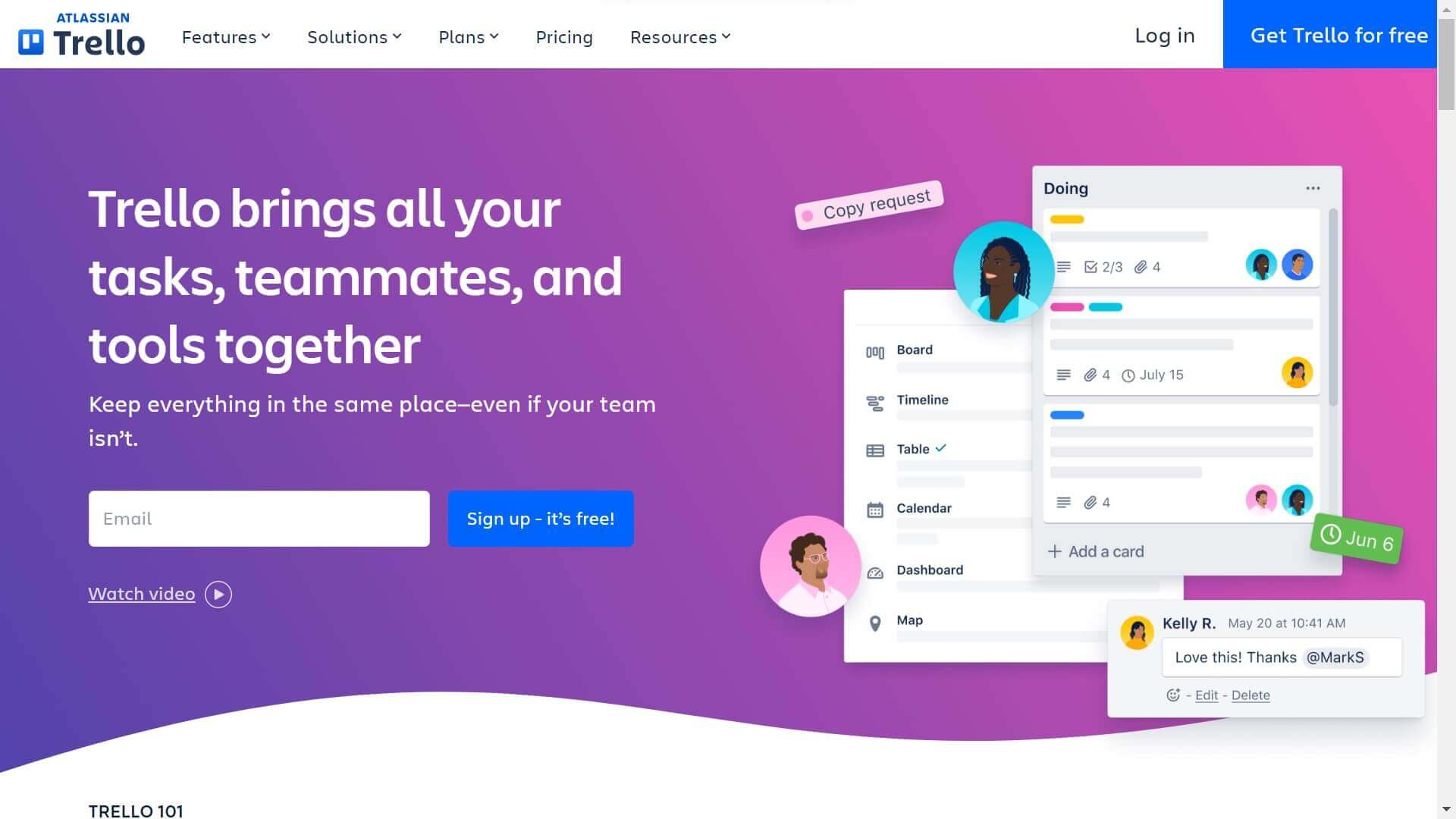 Trello is an agile project management tool for Kanban-style progress tracking. Trello boards allow you to organize your information while Trello cards help you keep track of the finer details, such as tasks in your workflow. The drag-and-drop interface lets you easily show progress. Drop your Cards onto the board and drag them across as you advance. Open the cards to add comments, deadlines or specific files.
With Trello, you can make boards for everything in your life. Teams in companies can use Trello Business to unlock unlimited boards, user-level permissions, and integrations with apps like Google Drive and Jira.
Available on: iOS, Android, macOS, Windows, Web
Pricing

: Free; paid options start at $5 per user/month
16. nTask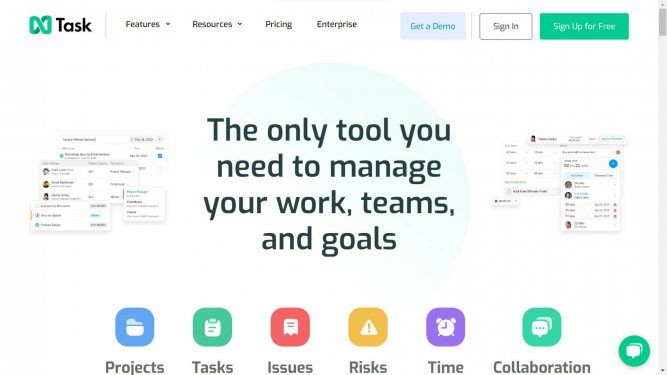 While managing projects, you will need to actively communicate with your team members on tasks and share important documents for collaboration. This all can be done on the nTask team communication tool.
With nTask, you can streamline your project communication with task comments and reply to and send messages to your team members in one app. Using this platform, you can share images, videos, documents and organize them in folders for better file management.
Its rich text editor allows you to edit the message and even insert tables in the chat. '@' mentions can be used to assign a task to a particular team member. The app keeps all your work-related communication in one place, and help you browse it even for the finished projects for monitoring and evaluation purpose.
Top nTask features:
Integration with Google Calendar, Outlook Calendar, Slack, Zoom and Zapier.

Share files, images and videos with extendable storage capacity in paid packages

.

Real-time notifications and reminders

.

Meeting management and

note-taking.

Video conferencing with

third-party tools.
Available on: iOS, Android, Web
Pricing: Free basic plan for up to 5 users; paid options starting at $3/month
Conclusion: Get Organized for Good
With so many apps on the market promising to help you organize your life or your business, finding the right one requires some homework.
Start by breaking down exactly what you need to better organize. Ask friends about their favorite apps or survey your team. Read up on customer reviews and product information on sites like Capterra and G2. Many organization apps are completely free to download and use while others offer limited free versions or free trial periods. Don't hesitate to try a few different platforms.
If you're not sure where to start, request a demo from Brosix. An all-in-one instant messaging software for businesses, Brosix offers the features, tools, and control options to streamline and secure your team communication.
FAQ
What is an organization app?
An organization app is a mobile or web-based application that helps individuals or teams manage and optimize their productivity. It provides tools and features to track tasks efficiently, communicate with team members, set reminders, assign and collaborate on projects, manage calendars, and prioritize work.
Are organization apps easy to use?
Yes. Most organization apps are designed to be user-friendly and intuitive, making it easy for anyone to start using them. Created that way, such apps can help you tackle tasks and projects effortlessly.
What are some of Brosix's features as an organizational tool?
As an organization tool, Brosix offers features such as secure team chats, a mobile app, audio and video calls, built-in screenshot sending, co-browsing, etc. These help keep business communication instant, safe, and on point.
How can organization apps improve productivity at work?
Organization apps are designed to help streamline workflows, prioritize tasks, and provide real-time collaboration capabilities, which ultimately leads to increased productivity and efficiency. By using these apps, you can tackle time management, stay organized, delegate tasks to team members, set deadlines, and track progress.
How can organization tools help organize work life?
Organization tools provide a central place to manage various work aspects such as work projects, events, deadlines, and team collaboration. They help you stay on top of your commitments, reduce stress, and ensure that nothing falls through the cracks.
Are there any free versions of organizational apps available?
Yes. Many organizational apps offer free versions with limited features. These versions are a great way to try out the app and see if it meets your requirements. However, for more advanced features and functionalities, you may need to upgrade to a paid subscription plan.
What is a Kanban board?
A Kanban board is a visual project management tool that represents work as cards moved across columns. It helps teams visualize their workflow, track progress, and identify any bottlenecks slowing down productivity. Kanban boards are commonly used in organization apps to prioritize and manage tasks and subtasks.
What are some popular organization software?
Some popular organization software include Calendly, Todoist, Evernote, Trello, Any.do, Notion, Asana, and Brosix.
Are there organization apps that can automate tasks?
Yes. Some organization apps offer automation features that allow you to create workflows and streamline repetitive tasks. Some can even be integrated with other tools like the Google Calendar app or Drive.
How do I find the best organization app for my needs?
To find the right organizational tools for your needs, consider your specific requirements, such as the features you need, ease of use, platform compatibility, and user reviews. Choosing based on these criteria will help you achieve the best results using the app and work more efficiently.