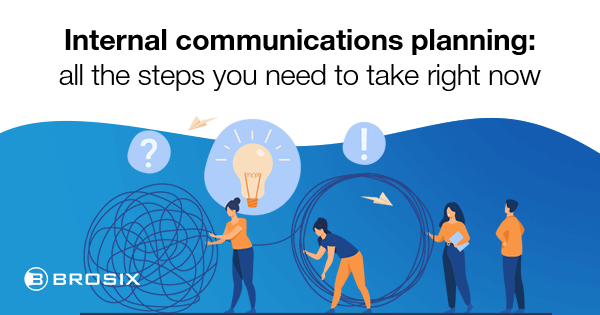 Internal Communications Planning: All the Steps You Need to Take Right Now
Internal communication is one factor that can have a big influence on your company's success. Employee engagement, productivity, and general satisfaction can all be considerably improved with an effective internal communication strategy.
But, how can you make sure your communication practices are implemented the most efficiently? What should you pay attention to and what are the exact things you can do to keep everyone on the same page?
In today's article, we'll go over some key steps you need to take when formulating an internal communications plan.
First, let's learn a thing or two about internal communication as a management method.
The importance of internal communication in 2021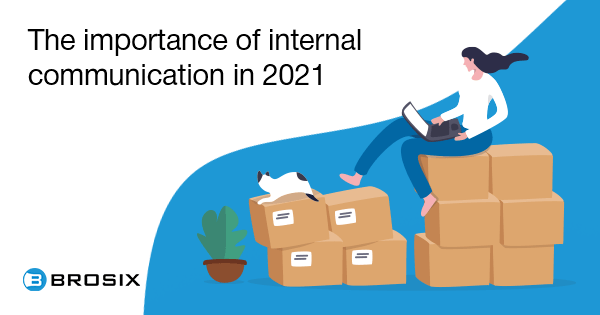 It's quite obvious that the way we communicate is being challenged by the events that have unfolded during the past two years. Remote work has made us think more deeply about the practices we currently have in place and the way we deal with employee engagement and productivity in these conditions.
And, since most people prefer this way of working (even after the pandemic ends), it's clear that communication challenges that come with remote working are here to stay.
One of the biggest such challenges is isolation. This survey of almost 500 companies with millions of employees found that employers are getting increasingly concerned about their employees' mental health. Up to 28% of companies reported that they're already investing in digital mental health platforms, with almost half of the questioned companies considering making the same move.
Successful internal communication and teamwork have been found to affect employee happiness, task persistence, and work enjoyment.
So, it seems that employee communication should be one of our top priorities, especially in these new circumstances.
Here are some tips to help you do just that.
#1: Audit your current practices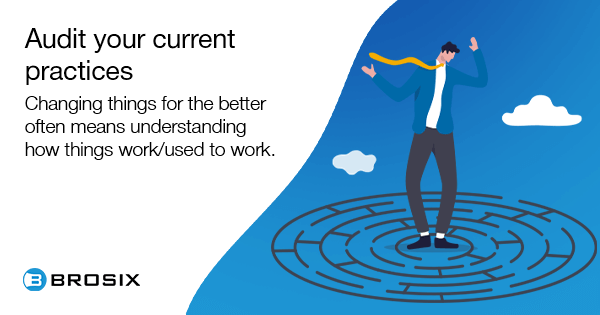 Changing things for the better often means understanding how things work/used to work. It can help you identify potential issues and opportunities.
So, start by taking a look at your current internal communication practices. It's good to know what your employees use to communicate on a daily basis and how efficient those means of communication actually are. You can interview your senior managers and other employees to get ahead and see if anything jumps out at you from the very beginning.
Try to find the answers to the following questions:
Which channels are used for informal communication and which ones are used for official communication? Which channels do your employees feel works best? Why?
Are there any issues, misunderstandings, or miscommunication? When and why does that happen?
In your employees' opinions, how could your internal communication be improved?
Does everyone feel like they have all the information they need to do their job at all times?
Is the level of team collaboration high enough for everyone to complete their tasks? If not, how could that be improved?
If they were to pick out one single issue with the way that current internal communication is being handled, what would that issue be?
#2: Identify your key metrics of success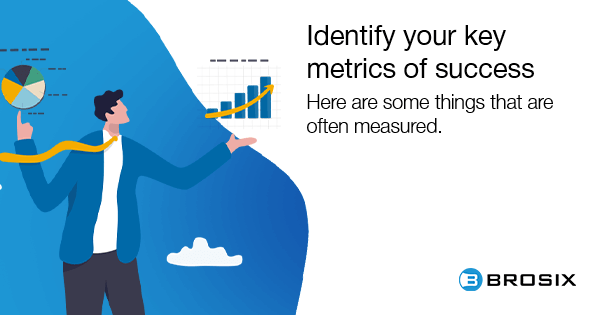 Whenever there's a plan, there should be a way to measure its effectiveness. The same goes for a good internal communication plan: you need to have measurable success indicators if you want to know that your new internal comms initiative works.
Here are some things that are often measured when it comes to effective employee communication.
Employee engagement: do your employees interact with the content you broadcast? How likely are they to get in touch with their managers and voice their opinions/concerns? Answers to these and many other questions can tell you how engaged and connected your employees feel. A more positive sentiment expressed in these answers is probably a sign that your internal comms plan is working.
Social media engagement: if your employees regularly like, share, and comment on your company's social media posts, that's a good indication that they're in tune with your company culture. A good internal communication plan might affect the way your employees perceive you on social media and how likely they are to interact with your content.
Referrals: more engaged employees will be more likely to recommend their company to their friends. If you want to see whether your internal communications strategy is working, you might want to keep track of your employee referrals.
Employee retention: people that feel like a part of the family will be less likely to leave the company for other opportunities. A good internal communications plan could have a reduced employee churn as an end result.
#3: Set clear goals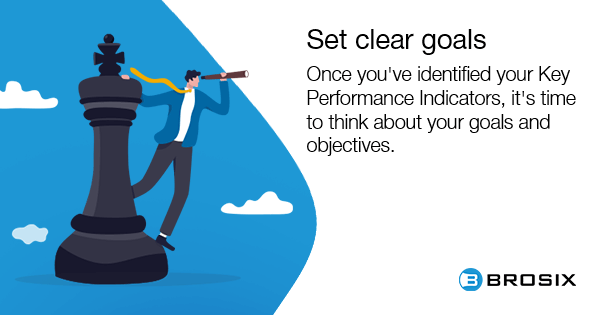 Once you've identified your KPIs (Key Performance Indicators), it's time to think about your goals and objectives.
An easy way to do this is to look at your current metrics and identify which ones could be improved (and how significantly). For example, you might have an internal Facebook group with 40% of your employees as members. How close to 100% do you think you can realistically get? Do your research and set achievable (but not too easily achievable) goals.
The following questions can help you formulate your goals:
What do you want your internal communication strategy to achieve for the company in terms of business goals?
What do you want your internal communication strategy to achieve for the employees?
Do you need a dramatic shift or just a marginal improvement?
What should be your first steps and priorities?
What is a realistic time frame to achieve your goals?
#4: Work on your company culture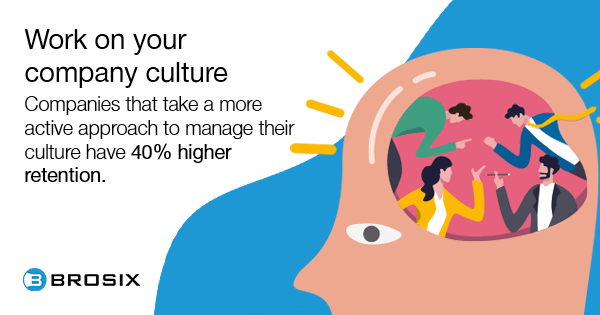 A big step towards improving your current internal communications is to slowly start transforming your company culture.
Why is this important?
For starters, company culture and values are among the most important factors that job seekers use to make a decision as to whether to become a part of an organization. According to one LinkedIn survey, 66% of participants consider values and culture the most important factors when making this decision.
More importantly, companies that take a more active approach to manage their culture have 40% higher retention. Since retention is one of the most important metrics when gauging the success of your internal strategies, this is a pretty big deal. It tells us that company culture isn't just a new-age HR fabrication—it's an effective tool in attracting and retaining talent.
Including values like openness, honesty, feedback, and teamwork in your company culture is a must. Communicating these values through various channels and with the right messages can help your business reach new highs.
#5: Hire the right team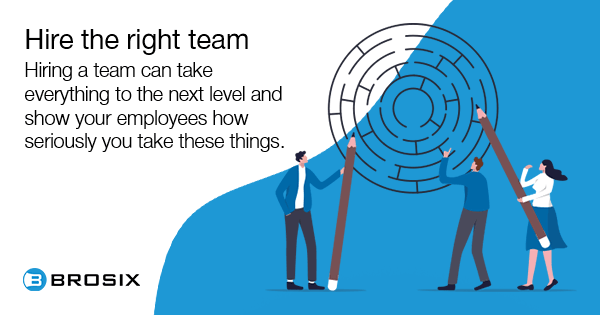 You can hardly do all of these things on your own. Hiring a team to handle your internal communication initiatives can take everything to the next level and show your employees how seriously you take these things.
Of course, you don't have to create an internal communication team of five people to take care of a single project but having at least one dedicated person from your HR team is a must. Larger enterprises, however, might need an internal communication department to handle these initiatives on a larger scale.
When hiring the people in your HR team, look for candidates with at least some communications experience, either in marketing or employer branding. They'll already know some of the best practices and they'll be able to have an instant impact.
#6: Choose the most effective communication tools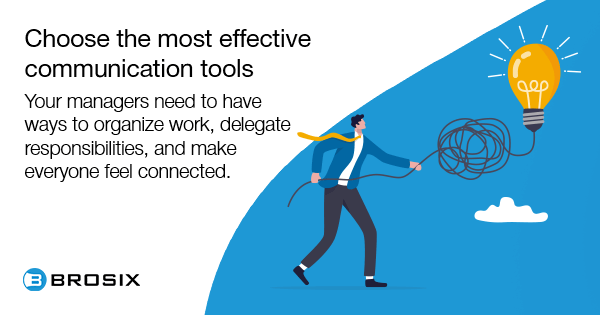 Keeping your employees informed and engaged at all times can be difficult.
Your managers need to have ways to organize work, delegate responsibilities, and make everyone feel connected. All of this also needs to happen through safe communication channels that ensure this information won't be available to third parties.
Here are some productivity apps and chatting tools that can help facilitate communication in various ways.
Brosix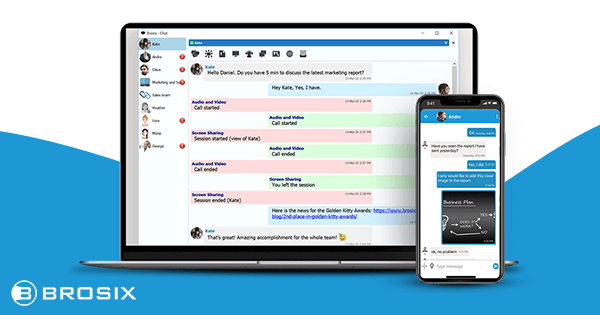 When we created Brosix, our main goal was to simplify communication between team members and to ensure maximum security both for them and their company.
After years of development, we can proudly say that our tool does just that—it provides teams with all the features they need for effective collaboration without sacrificing safety.
Here is a part of what you get with Brosix:
Make Brosix a part of your internal communications strategy and start improving employee engagement. Request a demo now!
Yammer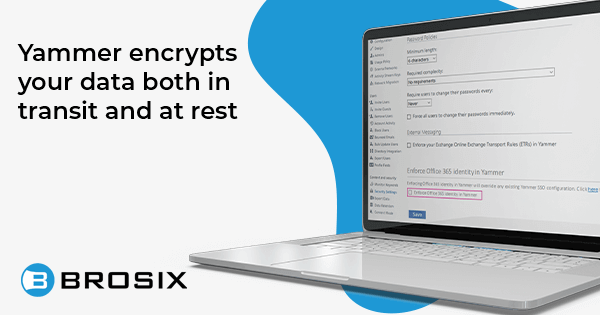 If we're talking about employee engagement, Yammer is a great option to allow them to connect, chat, and manage their profiles much like on other networks. It's essentially an enterprise social media network.
On Yammer, you can have a profile that you can use to post updates, join group chats, and engage in conversations. There are also many other interesting options, like the "Praise" feature that allows you to express your support for a team member. You can also use the "Poll" feature and instantly make team decisions with the power of the majority. This can come in handy when deciding what to order for lunch!
Like Brosix, Yammer can also be used to send the news to the entire network—a useful feature to manage internal communication.
Unfortunately, you can't download Yammer outside of the Office 365 Suite. On the other hand, some Office 365 plans come with pretty useful apps so this might not be that bad!
Trello
One of the most important elements of internal communication is task management and organization.
Trello is a tool that has been a big player in the task and project management field since its foundation in 2011. With an intuitive interface and a simple kanban board setup, this tool allows you to track your tasks across teams, individuals, and different departments as the projects move through various stages.
The app features bright colors and a vibrant interface, making project management pretty much fun. With Trello, people usually start by creating three Lists, which are essentially columns: To Do, Doing, and Done. The next step is to add sticky notes with individual tasks that need to be completed into the first column. You can also add more Lists as your project gets more complex and you have more stages of the process.
Zoom
We already mentioned isolation as one of the key challenges not only with internal communication but with remote work in general. Without human contact, people become less happy at work, leading to decreased productivity and employee engagement.
One of the ways to combat this is by relying on video communication. Simply scheduling a daily or weekly video call with team members can be a great way to stay connected while working from home or across state borders. Not to mention the effectiveness of the video for internal communication initiatives like CEO addressees, company-wide announcements, etc.
Zoom has been leading the video conferencing market for some time and has only strengthened its position during the pandemic. The app has more than 300 million daily active users and offers meetings with up to 100 participants even in the free plan. Some plans even allow company branding, recording transcripts, and up to 1.000 participants at once.
The final word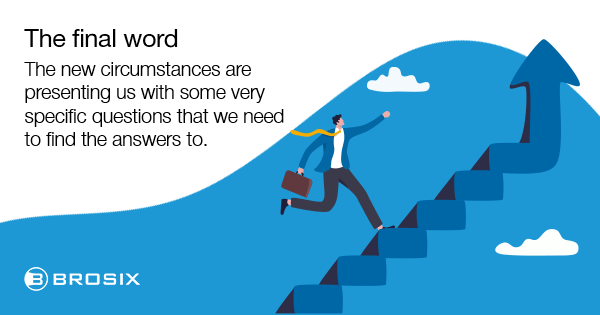 Internal communications planning has always been a challenging field, even before the pandemic.
But, the new circumstances are presenting us with some very specific questions that we need to find the answers to. Since these questions are completely new, no one really has the answers. It's on us to follow the latest studies, introduce initiatives, and take care of internal communication to empower our teams to do their best work and feel valued.
In these continuous efforts, it's important to be equipped with the right tools. Here at Brosix, we believe that our internal communications tool is exactly what you need to make information sharing more transparent, safe, and fun. With an abundance of features at your disposal and guaranteed safety through admin control, you can rest assured that you have the best possible tool for the job.
Check out how Brosix can help you achieve your communication goals!
Request Demo