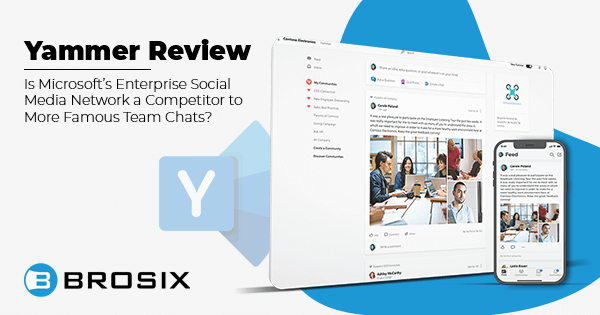 Yammer Review: Is Microsoft's Enterprise Social Media Network a Competitor to More Famous Team Chats?
Microsoft has made it clear that the enterprise market is one of the company's main focuses going forward.
By expanding its Teams platform to include more and more features, acquiring Skype and LinkedIn, and executing a number of other acquisitions, Microsoft has strengthened its position and dominated the market ever since.
Among Microsoft's elaborate enterprise app offerings is Yammer: an enterprise social media network that helps employees connect, chat, and organize in all sorts of ways.
But, what is Yammer's place in the Office 365 ecosystem, especially in comparison with Teams? And, how does it compare to some other team communication apps like Slack?
Let's go through Yammer's most important features and answer some questions about this app.
What is Yammer?
Yammer is a social media platform for enterprises, where its employees can connect, see each other's profiles, chat, and collaborate in different ways.
Yammer had a modest beginning: it started as an internal communication platform for the commercial genealogy website Geni.com in March 2008. Six months later, its founder, David O. Sacks (one of the key people behind PayPal's success), brought the app to TechCrunch50 to get more attention from possible investors.
The app then underwent a series of redesigns, perhaps the most important being introducing features like chat, polls, Q&A, events, topics, and others in 2010. It reached four million users the following year, quickly growing from one million users in 2010.
In 2013, Yammer was acquired by Microsoft and integrated into Office 365 plans. Since then, the app has been redesigned several times and its position in the Microsoft enterprise ecosystem has gradually shifted to accommodate the changes that happened on a larger scale within its parent company.
How can you get Yammer?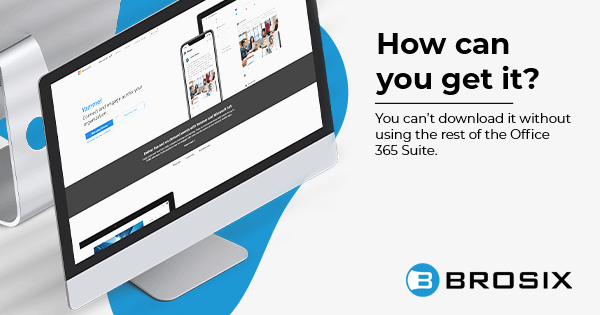 You can't download Yammer on its own, without using the rest of the Office 365 Suite.
You also can't get Yammer as a private user – you need to be a part of an enterprise and you need to have a company email to access the platform.
That tells us a lot about Yammer's purpose: it's intended for businesses (mostly larger companies) that have a lot of employees. These employees might not even know each other personally so they need a way to connect, become more familiar, and collaborate on projects.
However, as we're about to see, Yammer is very limited when it comes to task management and advanced collaboration, so we can safely say that its purpose is more social than organizational.
To get Yammer, you need to get Office 365 for business. Let's go through its pricing plans in the next section!
Yammer pricing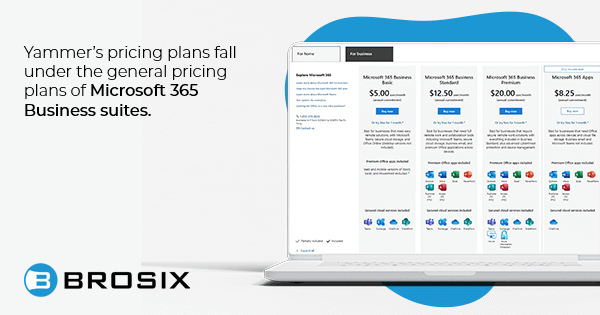 Yammer's pricing plans fall under the general pricing plans of Microsoft 365 Business suites.
These plans are as follows: Microsoft 365 Business Basic ($5 user/month), Microsoft 365 Business Standard ($12.50 user/month), and Microsoft 365 Business Premium ($20.00 user/month).
All of these prices are for annual commitments and, as such, they're more affordable than monthly payments.
One of the most significant differences between these plans is the fact that the Basic plan doesn't allow you to have desktop versions of Office apps. You also don't get advanced threat protection (a significant safety feature) until you upgrade to Premium.
Yammer also comes with the Microsoft 365 Apps plan for $8.25 per user per month. This is a popular plan that gives you access to all of Microsoft's apps and cloud storage but it doesn't include Microsoft Teams, Exchange, SharePoint, and others.
Yammer review: User interface and key features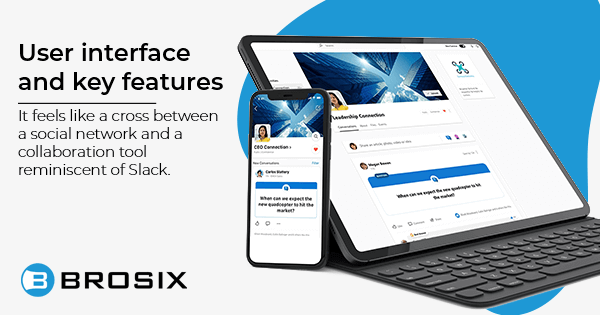 In terms of the user interface, Yammer feels like a cross between a social network (much like Facebook) and a collaboration tool reminiscent of Slack.
You have two main tabs: Home and Inbox. Your Home page looks like a feed that you can scroll through and see all the updates from your network. Whenever someone posts something in a group you're a member of, you'll see that update on your Home page, just like on Facebook.
On your feed, you can leave comments, "like" posts, share them, and more. On the left, you can see your groups. Selecting any of these will change what you see in the main window – clicking on a group will show you only the content posted by its members.
From that sidebar on the left, you can also create a group or browse all groups for specific terms.
Again, groups look a lot like Facebook groups or pages: they have a name, profile picture, description, and similar elements. There is also a separate tab within the group where you can view all files, download them or upload your own.
Overall, you can say that Yammer's design is pretty intuitive, given the fact that it uses a lot of elements that many users will be familiar with.
Yammer review: Team communication
However, Yammer doesn't really give off that unique team chat feel.
Unlike apps like Slack, Yammer doesn't have a dedicated team chat or channels where you can send messages in real-time. Instead, this happens in groups – it's called Conversations and it looks like comments on Facebook. In an era where we're all used to instant messaging and chat bubbles, this can feel a little awkward.
Even the Inbox feature doesn't feel like a modern inbox but more like something Facebook would have done five years ago.
On the other hand, Yammer is filled with useful team communication features.
For example, you can use the "Praise" option to express your support or admiration for a colleague. You can tag them, choose a cute icon, and write a message to celebrate their success with the rest of the team. We already mentioned the "Poll" feature that allows you to post a question and include answer options to gauge the opinions of the group.
Yammer can also be used to make announcements to the rest of the network. That can be useful for notifying everyone of company-wide news and big milestones.
Dealing with files is pretty easy since you can upload, download, and preview them in groups and the file upload limit is 5 GB. This should be more than enough for everyone apart from video editors and designers who work with large open files. You should be able to share all standard media formats on Yammer: videos, images, pdf files, etc.
Yammer review: Safety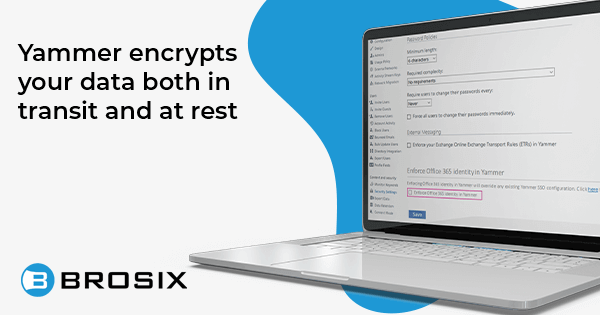 Data safety is often among the most important concerns when we're talking about enterprise communication. Employees are not only worried about their privacy but there are important questions about how data is stored and whether or not it can be approached by third parties.
Similarly to the most popular secure chat apps, Yammer encrypts your data both in transit and at rest, regardless of which platform you're using to access the app (smartphone, web, desktop).
Yammer also has an Admin Center which you can use to set password policies, create and configure retention policies, and manage compliance policies.
Overall, the Yammer app can be considered safe both in terms of data encryption and the level of admin control you get.
Yammer user reviews
Yammer has decent ratings on most review websites but none of them go overboard with their praise.
For example, the famous review website, g2 has Yammer at 3.5 stars out of 5. Other websites like Capterra and TrustRadius are a little more generous with 4 stars.
In a lot of Yammer reviews, the app is mostly praised for its useful and natural integration with the rest of the Office 365 suite. Sharing files and speeding up communication by integrating with Outlook is made easy for all users. Some users also point out how the app is effective for connecting people throughout the organization, wherever they are.
On the other hand, the brunt of the criticism in Yammer reviews is directed towards the outdated UI and bad UX. A lot of the negative reviews mention that the app can feel cluttered and they find that the smartphone app isn't too user-friendly.
Frequently asked questions about Yammer
Finally, here are some questions we found a lot of people online have been having trouble with.
Who is Yammer for?
You might be asking yourself the same question – which companies would need to use an enterprise social media network instead of a regular team chat?
Large enterprises that have offices in different countries could find such a platform useful. Especially during the current global situation where things like international team buildings and office parties are unlikely.
Additionally, Yammer makes a lot of sense for companies that rely on the Office 365 suite. Those companies could find sharing files, scheduling appointments, and chatting more natural with Yammer than with many other apps.
What is the difference between Teams and Yammer?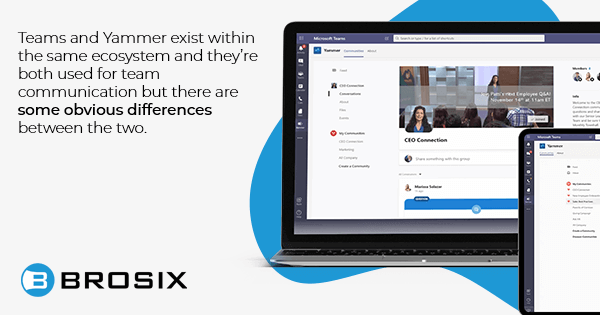 Teams and Yammer exist within the same ecosystem and they're both used for team communication but there are some obvious differences between the two.
First of all, Microsoft Teams is much more streamlined and focused on task organization and team coordination. Yammer is more laid-back and better suited for announcements or less formal conversations.
Yammer is also structured more like a social network while Teams looks like a typical group chat app.
Is Yammer being discontinued?
While it might feel like Microsoft's continuous investment in Teams means that Yammer will suffer, that hasn't been the case.
In 2019, Microsoft announced that Yammer has been redesigned from the ground up and infused with new features to empower leaders and communities to share news and communicate.
In fact, Microsoft has made it easy to integrate Teams with Yammer for a more seamless experience. By combining the two apps, you can get the best of both worlds.
Can Yammer be used externally?
You can add external participants to your Yammer conversations easily. Simply start typing your message (or a reply to an existing message) and type the email address of the external participant on the Cc line. Similarly, you can send a private message to external participants by going to Inbox, clicking on Create Message, and typing their email into the "Add more participants" field.
Additionally, if you have permission, you can create an external network with people from outside of your organization. Make sure to check with your admin if you can do this.
Brosix: A safe network with more features
When it comes to safety, Yammer is a pretty elaborate solut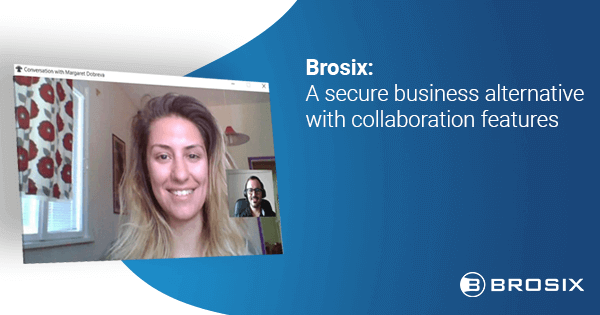 ion, with lots of admin control and an encryption protocol. However, its lack of real-time communication features and organization tools might lead you to consider some Yammer alternatives.
One of those alternatives is Brosix: a real-time team chat app with industry-level safety protocols and advanced collaboration features.
Next-level collaboration and team chat
Like Yammer, Brosix gives you an incredible level of admin control through the Web Control Panel. You set up your whole Private Team Network and you get to control who has access to which features, who can communicate with whom, and set password security levels.
In terms of team communication, you can use video chat and audio calls to connect to colleagues more directly, as well as chat rooms for group communication.
You can also bring life to your video presentations with the whiteboard feature and screen sharing with remote desktop control.
Yammer review: the final word
While Yammer is an innovative solution that helps your employees connect in an interesting way, it makes little sense to invest in the whole Office 365 suite just to get it. You might also be underwhelmed by its design and the lack of real-time communication.
If you're looking for an equally safe but more efficient way to communicate, consider Brosix. You'll get a similar level of admin control across the whole network but with more advanced communication features including video calls and real-time group chat.