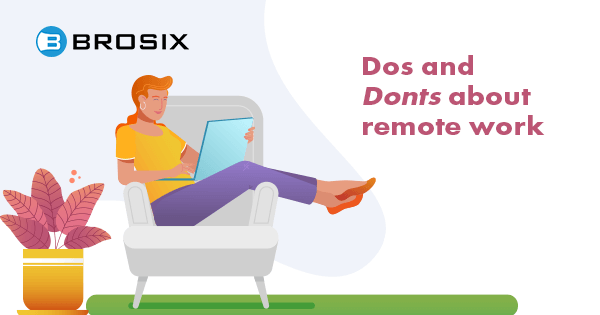 The Dos and Don'ts of Remote Work
The option to work remotely is often a highly sought-after opportunity. And understandably so. Who wouldn't want to ditch their commute, 9-5 schedule, and staff meetings for a little more freedom, flexibility, and family time; all from the comfort of your own home. If it sounds enticing it's probably because it is. A recent survey found that 43% of employed Americans opted to spend at least some time working remotely. While those numbers are increasing, you should know that remote work does come with its own challenges and hassles. Prepare yourself with these dos and don'ts of working remotely and enhance your remote work experience.
Do
Be Resourceful
Taking the leap to remote work doesn't automatically mean your job just got easier. When questions arise, your colleagues are no longer in the next cubicle. Nor is your boss right across the hall. You'll have to be resourceful about how you keep in touch and that means finding a connection method that works for you.
An instant messaging (IM) platform with the right features can improve your effectiveness, connectivity, and vitally, well-being. The latter, after all, is why you decided to work remotely, right?
Stay Connected
Sounds obvious, right? But those who work remotely often overlook this crucial factor. Sure, email is a great tool, but it can be redundant and subject to delays. What's more, it can't provide you the human contact which you'll miss while working remotely. Luckily, it's far from the only resource available to you. Voice and video chat can help you optimize your connectivity.
Staying connected via voice chat is easier than sending emails and better yet, there's less risk of miscommunication and misunderstanding. Video chat, on the other hand, adds the all-important personal touch often absent from remote work. Whether you're collaborating on a project or discussing the latest report, you'll more effectively gauge each others's thoughts and reactions, share ideas, and maybe even share a laugh or two.
Stay Organized
Your ability to stay organized is a key factor in how efficient and productive you are. Set aside a designated workspace with all your devices and items handy and, most importantly, keep it clean!
Moreover, a routine is necessary, and instant messaging can help. Designate a time to check in with your colleagues via group chat, text conference or even a quick IM.
Your organization isn't limited to your workspace though. You'll want to maximize your screen space. Tabbed chats organize in a single window all your chat conversations, allowing you to switch between chats with ease.
Take Advantage of Tech
We all have our preferred devices. But whether it's a desktop system, laptop, tablet, or smart phone, make sure you're utilizing not only the latest tech, but software compatible across a range of devices and platforms.
Do your due diligence and make use of P2P technology and unlimited size file transfer. The last thing you need when you're working remotely is an error message that the file's too large to send. What a hassle! What's more, P2P tech and strong encryption mean your files and documents won't be seen by unauthorized users; giving you peace of mind.
Get Creative
Working remotely means you can work from anywhere. But it's more than just choosing the right location, coffee shop, or library from which to work. You'll need to be creative about how you communicate and collaborate. Take full advantage of a host of available tools and you'll not only improve your efficiency, but keep yourself interested and motivated.
The virtual whiteboard is one of those tools – allowing you to co-produce and visualize in real time graphs, charts, and diagrams. Especially effective for presentations, you'll wonder how you ever collaborated without it.
At some point during your remote work you'll likely have to send links, URLs, or explain to someone how to navigate a webpage to see what you're viewing. Coupling tools like co-browsing with voice chat, you can research and browse together while chatting; maximizing your collaboration, creativity, and efficiency.
Don't
Restrict Yourself to the Normal Workday
Perhaps you love waking up with the sun? Or maybe you're a night owl? However your internal clock functions, working remotely allows you the flexibility to work when you're at your most productive. Of course if your schedule varies drastically from normal work hours, you'll want to inform your colleagues and superiors. But with offline message delivery, whether you're picking up the kids from school or taking the dog for a morning walk, you'll never miss something important.
Neglect Security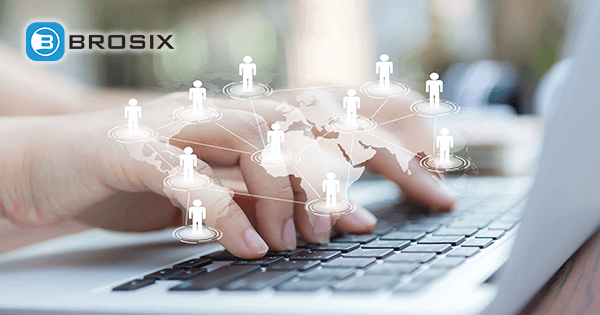 Working from home naturally means you'll be a bit more relaxed. Don't let your guard down though. In addition to keeping your software updates current and utilizing the latest anti-virus technology, the right IM platform can keep you safe. Brosix not only encrypts all file transfers, but also scans all sent and received files using your anti-virus software.
Slack off
The conveniences that remote work can offer don't need much elaboration. Having all your comforts nearby, however, can be a curse if you're not careful.
Working from home means it can be especially tempting to stay in your pajamas. But get dressed! Your clothes and appearance can impact both your mental and physical performance.
Your performance and productivity aren't just linked to the clothes you wear. Staring at the screen for hours on end can give you headaches and eye strain, while remaining sedentary day after day can even lead to early mortality. For every 30 minutes of sitting, get up and move around for 5 minutes. Keeping your mind and body fresh will enhance not only your productivity, but your health and satisfaction.
In Conclusion
Remote work is not without its own set of obstacles. Most of all it requires discipline, organization, resourcefulness, and a bit of creativity. With these helpful tips and the right tools at your disposal, working remotely can boost your productivity, efficiency, and well-being.