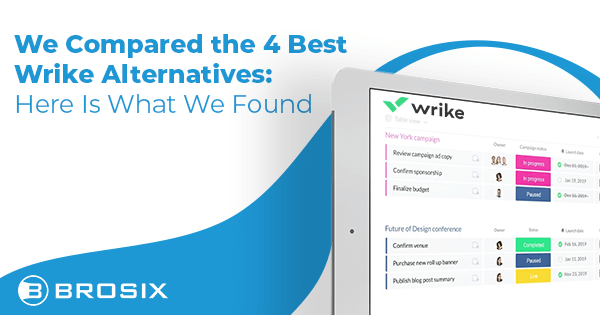 We Compared the 4 Best Wrike Alternatives: Here Is What We Found
A decade ago, the words "collaboration platform" and "task management tools" meant very little to us. Most people would probably think of Excel or Gantt charts.
Today, however, you can list at least a couple of popular task management apps and collaboration tools that have been around for some time. In fact, your company probably uses them right now.
The collaboration market is a huge one, generating over 12 billion dollars in revenue and encouraging predictions for the future.
And, while Wrike may not be the first app that comes to mind in this landscape (certainly not before Slack or Trello), it's one of the pioneers of the industry.
Like all pioneers, Wrike has constantly been challenged by competitors that serve the same market. In this article, we will go over our favorite Wrike alternatives that address some of its deficiencies.
What is Wrike?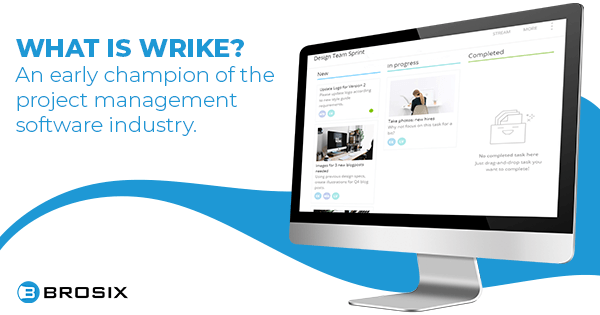 Founded in 2006, Wrike is an early champion of the project management software industry. The app won the main prize in the B2B category at the Le Web 3 conference in Paris which was its public debut.
Wrike was bootstrapped for nearly seven years, before receiving $1 million in angel funding in 2012. Three years later, the app secured another $15 million in a new round of investment.
In January 2021, Wrike was to be acquired by Citrix Systems, an American multinational company with over 400.000 users worldwide. The acquisition was completed in March and the final sum was $2.25 billion.
When it comes to features, Wrike is known for its minimalistic UI that's split into two categories: collaboration and project management. It helps teams track tasks through Gantt charts, Kanban boards, and pre-built templates.
One of the most popular Wrike features is the customization that makes the app different for each team: marketing, sales, finance, etc.—so each team can feel at home using the app's interface.
Wrike pricing
In terms of pricing, Wrike offers four plans: Free, Professional ($9.80 user/month), Business ($24.80 user/month), and Enterprise (price on inquiry).
The Free plan allows for up to five users, with some important limitations when it comes to the app's functionality. For example, you won't get advanced integrations like the ones with Excel or RSS. You're also limited to 2 GB of storage space.
Report templates, calendars, Salesforce integration, and time tracking all kick in with the Business plan that's also marked as "most popular". If you choose the Business plan, you can customize it based on the team that will be using the app. So, for example, you have the Wrike for Marketers plan that offers an extension for Adobe Creative Cloud that marketers will find useful.
The best Wrike alternatives: how did we compare them?
To reach a decision, we used each app on this list for a minimum of two weeks. During this time, we took the following things into consideration:
Ease of use: In 2021, B2B apps are all about streamlined, clear UI. You need to know where everything is and the learning curve can't be too steep because you want to be operational as soon as possible.
Team communication features: Is the group chat experience seamless and intuitive? Can you tag people, search the chat, access the entire chat history? All these things are increasingly important in a fast-paced enterprise environment.
Pricing: A few bucks per user might not feel like much but these costs can quickly add up if you have a larger team. We carefully assessed what you get with each tool for the price you're paying.
Safety: Your company data can never be safe enough. You want to have complete control over the communication process to avoid data breaches and other safety issues.
Advanced communication: Especially if your team is working remotely, you might need features like video calls, screen sharing, and sharing of large files. Not all of these apps offer these advanced features.
Now, let's get to our top choices for Wrike alternatives in 2021!
Wrike vs Brosix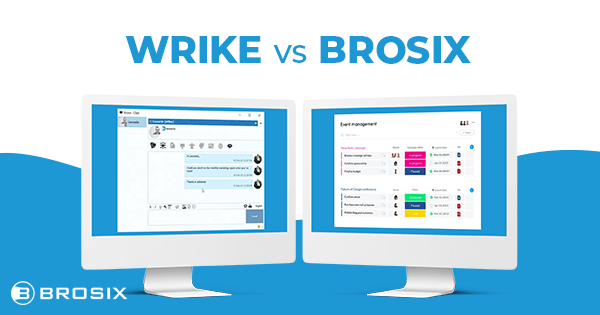 Unlike Wrike, Brosix is all about communication: you have no spreadsheets or Gantt charts.
But what you do get with Brosix is a seamless chatting experience with no limits. You can upload files of unlimited sizes and search the entire (yes, entire) chat history both by keyword and date. So, if you don't remember exactly the words and phrases you used, you can search the conversation based on when you believe it took place.
When you get to more advanced features, that's where Brosix really starts to shine. It allows you to organize video calls with screen sharing sessions where the other person on the call can control your desktop. And, if you want to take your reporting and idea sharing to the next level, you can use the Whiteboard feature that will bring a new dimension to your presentations.
Another area where Brosix outperforms Wrike (and many others on this list) is safety. Brosix gives you complete control over your entire communication network through the Web Control Panel. All communication is end-to-end encrypted so you don't need to worry about data breaches.
Brosix pricing
As for pricing, Brosix offers three plans to choose from: Startup (free), Business ($4 user/month), and Premium ($6 user/month). These prices all refer to yearly subscriptions so the Business and Premium plans are slightly more expensive for monthly subscriptions ($5 user/month and 8 user/month, respectively).
The Free plan is limited to only three users but you still get complete control over user accounts and some advanced features like the Whiteboard. The Premium plan is marked as "best value" and it offers unlimited user accounts, screen sharing, video and audio chat, and all other advanced communication features.
Wrike vs Asana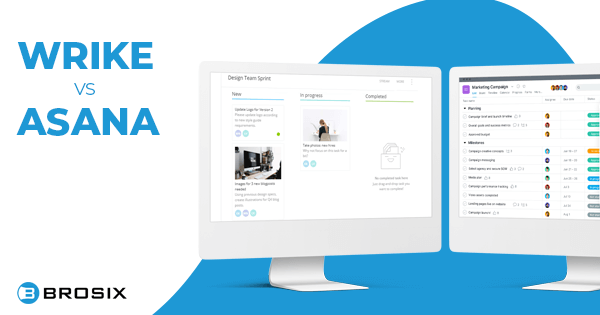 At first glance, Wrike and Asana are strikingly similar but there are some significant differences between the two that might make you lean towards one or the other option.
The first difference is data visualization and task planning. While the Wrike Gantt chart has become pretty much a trademark of the app, Asana doesn't have a native Gantt chart option. They do offer an integration with an app called Instagantt to make this possible.
Asana offers a similar solution to Wrike—simple, easy to navigate, and intuitive in terms of the UI. You can zoom into individual projects and tasks or you can take a more high-level view.
An important difference between the two apps is their approach to integrations. Wrike focuses more on the enterprise market while Asana is aimed more towards small businesses. For example, in the marketing automation field, Wrike integrates with HubSpot while Asana integrates with MailChimp and Campaign monitor—typical small business partners.
When it comes to sales, Asana integrates with Zapier while Wrike chooses Salesforce, another big name in the industry that serves big-name clients.
Asana pricing
Asana offers four plans: Basic (free), Premium ($10.99 user/month), Business ($24.99 user/month), and Enterprise (price on inquiry). When you compare this to Wrike pricing plans, you can see that they're fairly similar.
But one thing that's a pleasant surprise with Asana is the fact that even its free plan offers a lot of options. For example, you have unlimited tasks, projects, and messages. This is a breath of fresh air, as many task management platforms place limitations on these features in their free plans.
However, one thing that's missing from the free plan is the Milestones feature—and we all know how important milestones can be in project planning.
Wrike vs Trello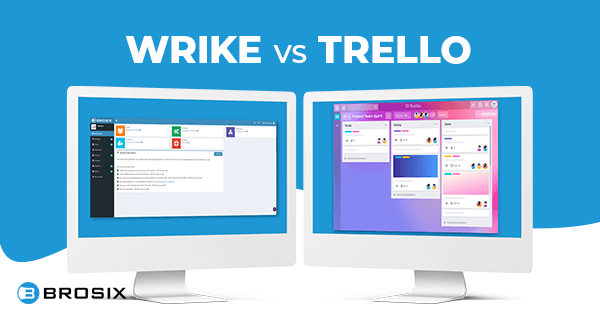 Now, we've talked about Wrike Gantt charts that are easy to navigate and a perfect choice for project managers and teams that are used to this type of task tracking.
But, for some projects and teams, Kanban boards are by far the preferred way of managing tasks and projects. This is especially the case for simpler projects with repetitive work and similar tasks that need to iterate over a certain period.
If this is your preferred project management method then Trello is (or should be) at the very top of your list when it comes to collaboration tools. Its recognizable interface is easy to navigate and the app has been credited for making project management simple and even fun. If you're a fan of Kanban boards, you'll find the UI highly intuitive:
It's not that different from the Wrike dashboard when you switch to Kanban view.
However, if you need anything more than a streamlined, easy-to-use Kanban task tracker, Trello probably won't suffice. Still, if that's what you're looking for, Trello is a better choice than Wrike.
Trello pricing
Like many apps on this list, Trello offers a free plan. And, similarly to Asana, Trello offers a pretty substantial free plan that's more than enough for small teams to organize their work and track tasks. You get unlimited cards, unlimited members, and unlimited activity log.
On the other hand, the free plan has two significant limitations: you can only store files that are up to 10 MB large and you can only create up to 10 boards. To unlock unlimited boards, you have to subscribe to Business Class which is $10 user/month when billed annually and $12.5 when billed monthly.
The Business Class also increases your file upload limit to 250 MB which, unfortunately, still might not be enough for certain teams. Designers or video editors will struggle to upload their large files on Trello.
Wrike vs Monday.com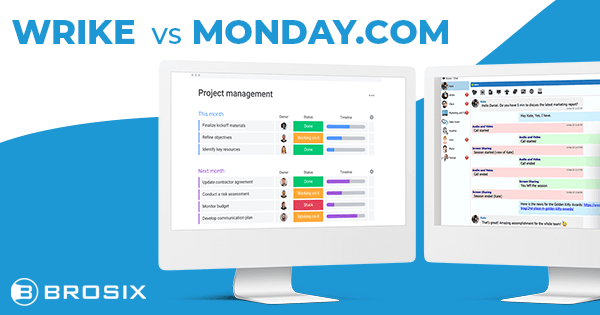 Our last entry is perhaps the closest to Wrike both in terms of design and usability. Like Wrike, Monday.com allows you to choose between different views: Kanban, Gantt charts, lists, tables, timelines, etc.
However, Monday.com seems to prioritize the list view which is beautifully designed and makes adding tasks, deadlines, and people quite easy.
The Gantt chart is called the "timeline" in Monday.com and it's pretty much the same as the Gantt charts you get with Wrike templates. It's a little differently designed (there's more color) and it's not as easy to manage as in Wrike—sometimes it's not instantly clear what depends on what.
Overall, Monday.com is a less traditional, more user-friendly Wrike alternative that's more suited to people looking for a simple drag-and-drop platform. Of course, Monday.com also offers a lot of advanced options, most of which are available through integrations with tools like Teams, Dropbox, Zoom, Google Drive, etc.
Monday.com pricing
When comparing Monday.com and Wrike, cost becomes a significant factor as soon as you see the sheer amount of options and plans that Monday.com offers.
You have the Individual plan (free), Basic ($8 seat/month), Standard ($10 seat/month), Pro ($16 seat/month), and Enterprise (custom price on inquiry).
The thing that strikes first from these plans is the fact that the free plan allows for only up to two users. In other words, even a small team of 5-10 people will have to opt for at least the Basic plan. Do the math and you'll see that this small team will end up paying at least $80 per month.
Although it's not exactly "pricey", we can say that Monday.com has the most limited free plan that's virtually of no use to anyone other than individual project managers.
Conclusion: the best Wrike alternatives out there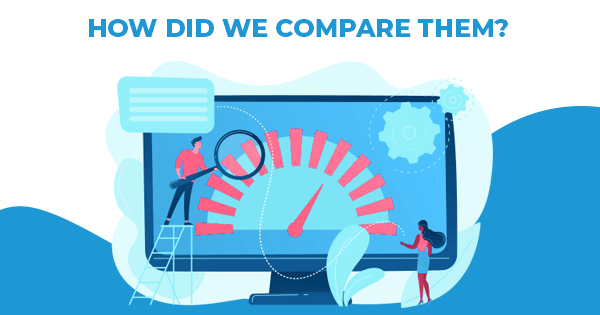 Depending on your business needs, you might find Wrike an unsuitable solution: not safe enough, not streamlined enough, or simply too limiting.
If you're looking for a free project management solution that offers simple task tracking, we recommend Trello. It's easy to use and offers a lot for free.
However, we believe that 2021 is all about communication: staying connected with your colleagues and collaborating in a direct way that makes you feel more in-tune. If that's what you're looking for, our top choice for you is Brosix. It allows you to collaborate by sharing files of all sizes, group chatting, and video calling.