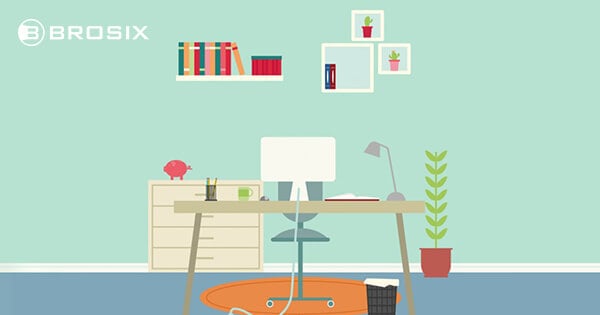 23 Work from Home Tips to Crush Tasks and Hack Your Workflow
Today, more and more individuals are taking advantage of the opportunity to work from home.
It's little wonder. The benefits of working from home are many. For example, it allows you to:
Set your own schedule
Eliminate office drama and distractions
Reduce work-related stress
Enhance your work-life balance
If you're not yet working from home but you're interested in making the switch, there's a lot to consider:
Is your profession suited to remote work?
Is working from home suitable for you individually?
Do you plan to work from home full-time, or on certain days for certain tasks?
"Before you jump on the work from home train, you need to learn which tasks you have that benefit from solitude and which ones need a team (even if indirectly). By discerning the difference between the two, you can schedule your work from home days for when they'll actually make you more productive."
– Christine Glossop, Content Specialist, Looka
Explore our complete guide to making remote work your reality.
For the rest, whether you've been working remotely for years or you're new to the game, it's always good to consider some fresh tips on working from home. After all, even the most productive need help avoiding burnout, slumps, and inefficiency.
That's why we put together this list. From maintaining your work environment, yourself, the optimal work from home toolkit, and everything in between – these tips on working from home can help you keep your edge and get to done more efficiently and effectively.
So without further ado, the top work from home tips to help you crush tasks and hack your workflow.
Pay attention to your work environment.
Of all the tips on working from home, maintaining your environment is often-overlooked. But it shouldn't be! After all, this is where you'll be spending the majority of your days.
"Don't underestimate the power your environment has on motivation and productivity. Pick a spot free from distractions that supports what you need to accomplish. Cracking open your laptop from the comfort of bed might seem like a good idea, but it's hard to get things done in a space associated with non-work activities like reading, sleeping, or binge-watching Netflix."
– Jenni Prat, Marketing Manager, Portent
1. Designate a Workspace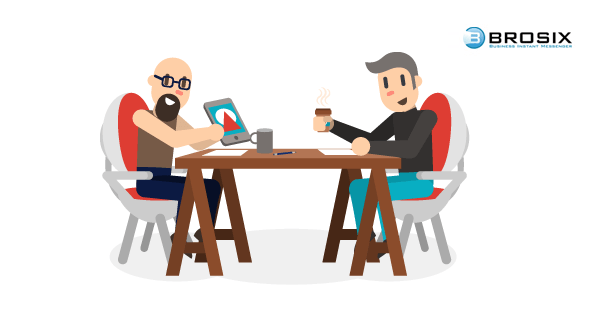 Just because you're working from home doesn't mean you don't get to have an office. Quite the contrary! Rather than struggling to focus from the couch or bedroom – spaces which are typically associated with leisure – designate an area of your house or apartment for work.
Dedicating a space for work not only helps put you in the right frame of mind during work hours, but it'll save you the time and hassle of getting set up each day, and then cleaning up when it's time for meals, for example.
2. Choose the Right Furniture
Try to strike a balance between comfort and support. Pieces that are overly inviting or bland and boring could cause back and neck pain or leave you carefree or uninspired. Choose a desk that's large enough to accommodate your essentials, but not so large that it invites too much clutter.
3. Consider Your Color Schemes
Believe it or not, there's psychology behind colors. Blue can bring about feelings of calmness and serenity. The same goes for green, which can improve reading ability. Yellow, on the other hand, induces warmth and energy, but also anxiety and fatigue. In any instance, choose a color not only that you're comfortable with, but which reflects your responsibilities and task load.
4. Use Appropriate Lighting
Natural lighting is the best lighting for health and well-being. Position your workspace near a window or in a room that receives plenty of daylight. If that's not possible, consider changing light fixtures and bulbs to those that are designed for office productivity.
23 Work from Home Tips to Crush Tasks and Hack Your Workflow
Click To Tweet
5. Embrace Greenery
Plants can help you hack your workflow. Plants benefit you both physically and psychologically. Sprucing up your home office with a bit of greenery not only cleans the air around you, but boosts your mood and improves concentration and memory, making you more productive.
6. Put an End to Chaos
Chaos adds up over a day. If you're not careful, you'll spend the day getting organized, doing laundry, making lunch, cleaning house – everything but your actual task list.
Get all your supplies ready in advance. Have your desk or workspace well-stocked. Getting up to search for a document or a paper clip, for example, chips away at your productivity and could lead to other distractions. Set boundaries with roommates or houseguests – informing them of your workspace, work hours, and the peace you need during the workday.
Maintain yourself while you work from home.
One of the benefits of working from home is that you're your own boss. But that can be a double-edged sword. Your colleagues aren't asking you to join them for lunch and no one's telling you when to take a break. To keep your productive edge, maintain yourself. Here's how.
7. Eat Healthy
There are many useful working from home tips. But your diet is one of the most important. Your diet directly impacts productivity, sleep cycles and self-control. Avoid binging on carbs and empty calories and go for healthy options like fruits, vegetables, and nuts.
"Keeping healthy snacks on hand – You can get hungry either side of lunch, and this is highly likely to impede your progress if you try and wait it out. Many offices around the world over fruit as snacks and this is a great idea to have in the home too. Relatively cheap but healthy food to give you a burst of energy when needed."
– Adam Lumb, EN Site Manager, Cashcow Ltd
8. Take Meaningful Breaks
Overwork not only makes routine tasks more difficult, but also leads to health problems, more errors, and lower overall productivity.
The beauty of working from home is that you can set your own schedule. Take advantage of the flexibility and set work hours that help you manage a healthy work-life balance.
What's more, take meaningful breaks. Schedule them if you have to. Instead of checking social media on breaks, take a walk, read, or do some yoga.
9. Trim Social Media Use
Social media is designed for you to check in for quick intervals. But checking in repeatedly during the day wrecks productivity. Unless you're a social media marketer or you're handling customer success via chat apps, take steps to trim social media use during work hours.
Log out of all your social media accounts
Remove social media links from your browser shortcuts
During the week, delete or slim down the social media apps on your smartphone – relegating them to weekend use
10. Mimic Office Work Routines
Mimicking prior work routines, like when you worked in an office, helps you maintain the mental association between work and your home office.
"Get ready for your day! It can be tempting to stay in your PJs all day but instead get up and get dressed for your day. You will feel more productive and you will be ready for last-minute guests, video chats, and errands."
– Lisa Sharp, Digital Content Creator, LisaSharpCreative.com
Set your alarm, make coffee, and get dressed. Upon wrapping up, make a to-do list for the next day.
To structure your day and stay on task, pinpoint and utilize your productive times, use calendars and planners, and schedule everything – including your breaks.
11. Mix Up Your Work Locations
Just because you've designated a workspace and work routines doesn't mean you can't be flexible. Mix up your work locations. Once or twice per week, choose a new spot to work from – like a cafe, the library, or one of the popular co-working sites springing up in cities all over.
Or choose a different spot for each task on your to-do list. Upon finishing a task, simply walk or bike to the next location. You'll gain a fresh perspective and the bonus of physical activity.
12. Pick Your Playlist Wisely
Music is proven to improve information processing and increase work output. But being productive at home requires a mindset different from unwinding after work, gathering with friends, or hanging out at the local pub. To hack your workflow, pick your playlist wisely.
Nature sounds can boost cognitive function and concentration, while classical music can enhance overall mood and focus. Interestingly, video game soundtracks – specifically composed to enhance your gaming experience – can help you better fixate on the task at hand.
Working from home requires a strong toolkit.
To truly power up your performance and hack your workflow, you need a strong toolkit. Luckily, there's no shortage of apps, tools, and tech to help.
"Don't skimp on technology: Technology is the single-most-important productivity booster when working from home. Slow internet connection, low-speed printers, bad telephone line, computers with low storage and processing power – all these technical snags may not matter greatly in personal context but steadily drain work productivity. So invest in good quality tech gear for your home office."
– Arash Khurana, CEO, Spiffy Spools
13. Safeguard Your Data and Information
To ensure that you, and only you, hack your workflow, take steps to safeguard your data and information. Encrypt your communications and consider using peer-to-peer channels. Peer-to-peer communications bypass potentially vulnerable cloud databases and third-party servers.
To safely communicate and collaborate with your team while you're working from home, try a secure team messenger, like Brosix!
In addition to a fully private Brosix network, Brosix always encrypts communications end-to-end over peer-to-peer channels, and allows you to integrate your anti-virus and malware software. It's a safer, more secure way to communicate. Try it today!
14. Use a VPN
A VPN allows you to establish a secure connection with a remote network, such as a business network, from anywhere in the world – better protecting you if you're working from an unprotected public network or transferring sensitive company information.
15. Employ Organization Apps
To truly hack your workflow, you need to eradicate tedious, time-consuming processes. Luckily, a slew of apps can enhance your organizational capabilities, helping you streamline business cards, chats and conversations, expenses, trip itineraries, scanned documents, and more. Organization apps will change your life!
16. Spend on Stable Internet
Don't skimp on low-cost internet. Poor connectivity could impact how you're viewed professionally. The better your internet, the less likely you are to experience connectivity issues, messaging or email delays, and dropped voice and video calls.
17. Communicate in Real Time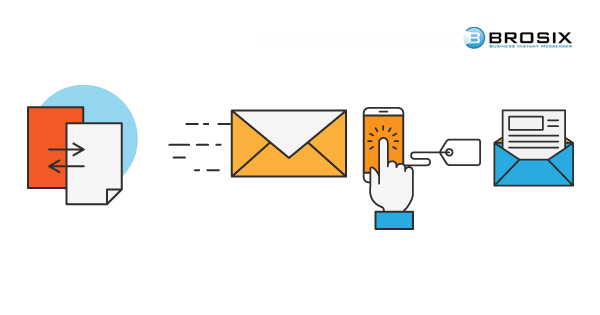 Stop wasting your time with email! Email is useful for long-form messages, especially to multiple participants, and for archiving purposes. In many other instances, it's inefficient.
For real-time communication, instant messaging is a quicker, more versatile option. For quick, one-to-one chats or yes/no questions, use text chats. For engaging group dialogue, establish a chat room. Hand-pick your participants to ensure maximum engagement. Better yet, tailor your group chat spaces by team, project, department, or location to ensure teamwork flourishes.
Finally, if you're using a free, consumer-grade chat app to communicate while working from home, think again! It may not be free at all. Targeted ads and security and privacy risks could leave you, and your workflow, exposed. Try a business solution, like Brosix, instead.
18. Invest in Good Headphones
Another of the frequently neglected tips on working from home. Noise-cancelling headphones not only help you avoid echoes which occasionally occur during voice chats, but they'll block distracting noise from roommates, pets, and creaks of the house. What's more, in case you're not working from home, they'll help you find your flow from the airport, cafe, library, and so on.
19. Take Advantage of Productivity Boosters
Taking full advantage of technology helps you get more done with less effort. From project management, mobile team chat, task automation, and even your to-do list, there's an app for everything. Explore these productivity apps and hack your workflow, wherever you're working from.
20. Utilize Video Chat
Working from home can be isolating. Make it a point to touch base with fellow team members and colleagues via video chat.
"Choosing video calling over voice and having to ensure you are dressed and put-together for meetings is a hassle, but worth it. Nothing beats face-to-face interaction, and ensuring you are dressed for business – even at home, can put you in a more productive mindset."
– Rebekah M, Digital Marketing Course Creator, UC Davis, rebekahm.com
What's more, video chat offers a host of use cases to boost your teamwork. Conduct a daily stand-up. Hold a one-on-one. Or just check in to say hey. Not only are you benefitting from meaningful interaction, but you may just hack your workflow in a new and unexpected way.
These 10 tips can help you ensure the effectiveness of your video chats every time. Have a look!
21. Take Control of Your Tasks and Team
Today, teams of all sizes and employees occupying myriad positions are working from home. Whether you're an administrator, manager, or team lead, and regardless of the team structure, take control of your tasks and teamwork.
Use enterprise tools to help ensure a workflow that's focused and productive.
Set multiple administrators, if necessary
Establish individual data security levels
Oversee shared chat spaces
Administer the features to which users have access
Manage contacts and contact lists
Track network communications via comprehensive chat history archives
Brosix, for example, affords teams all of the above and more. That allows you to tailor the platform to meet your individual team communication and collaboration needs.
22. Make Use of Collaboration Tools
Make use of collaboration tools like instant screenshots and screen-sharing to turn mundane processes into a collaborative effort.
Instant Screenshots boost collaboration on processes like proofreading, how-to demonstrations, and basic tech issues. Screen-sharing with remote desktop control, on the other hand, can drastically enhance the quality of presentations, training and onboarding, and even tech support.
Finally, stop letting email providers restrict your file-sharing capabilities. File transfers with Brosix are always unlimited in size and number, and take place over peer-to-peer channels. Give it try!
23. Employ a Virtual Whiteboard
When working from home, there's no teammate or coworker at the next desk to brainstorm or bounce ideas off of. This can easily turn routine tasks into a chore.
A virtual whiteboard ups your creative edge! Draw shapes, graphs, flowcharts, and diagrams. Visualize goals, targets, metrics, and KPIs. Make notes and highlights. Include images and URLs. Better yet, pair the virtual whiteboard with real-time communication tools, like video chat, and create dynamic whiteboard conferences.
If your workflow's stagnating, try a virtual whiteboard and get back on track.
The Takeaway
Working from home is a major adjustment on many levels. For starters, there isn't just one factor to think about. You need to give equal consideration to:
Your work environment
Your diet, health, and work from home routine
Your toolkit
Fortunately, more and more people are undertaking remote work. As these tips on working from home indicate, there's a lot of advice out there to help you maximize the experience.
Taking some time to research remote work and considering these tips can help you optimize your efficiency, effectiveness, and productivity. Then you can begin to fully realize the many benefits of working from home.
23 Work from Home Tips to Crush Tasks and Hack Your Workflow
Click To Tweet

Which tips do you have? Have we missed any? Share with us!