Brosix releases version 3.5
Brosix users can now connect with other IM networks.
The new version 3.5 of Brosix for desktop is now available. It includes the following features: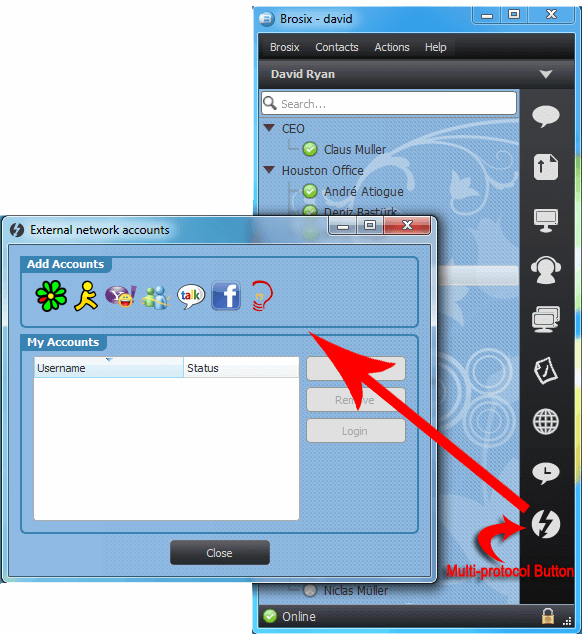 Multi-protocol IM – Brosix users can communicate with external instant messaging networks like: AIM, Yahoo, ICQ, Google Talk, MSN, Facebook and Jabber.
Spell Check – now available in 12 different languages, including English, German, French, Portuguese, Spanish, Russian, Farsi and Bulgarian.
Tabbed Chat – allows flexible combination of multiple chats into a single window to maximize efficiency and screen real estate.
File Transfer Improvements – allows transfer of even larger folders.
Geo Location Feature – allows mobile Brosix users on Android and iPhone to send their locations. PC and web messenger users are able to receive and display Geo Location from the mobile users.
Forward Screenshots – convenient feature for redirecting a screenshot to another person.
User Interface Improvements – Brosix client looks even better now.
Bug Fixes – Brosix is now stable as a rock!
Personal Version with Multi-protocol
Multi-protocol feature is free of charge for the Brosix Personal users and can be downloaded from our download pages.
Enterprise Version with Multi-protocol
Multi-protocol IM is available to the Brosix Enterprise users with Brosix Ultimate plan and is disabled by default. Network administrators will have to explicitly enable it. They have full control which users can use this feature. They can turn on and off the feature at any time from the Web Control Panel.
Have questions? Please contact us.
As always, Brosix team does whatever it takes to meet the needs of our ever growing user base.