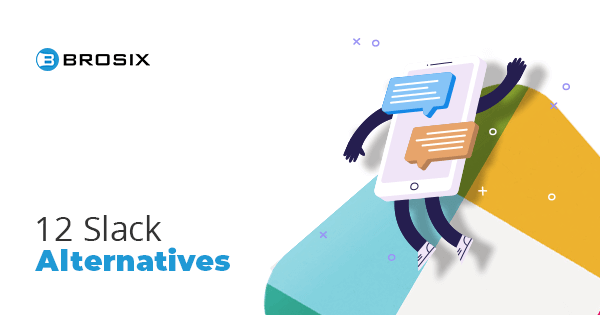 The 12 Best Slack Alternatives for 2021
Slack has made quite a name for itself over the years. Starting out as an internal chat tool to keep a small team of gaming developers connected, Slack now boasts 12 million daily active users, half of whom are paying customers. That makes Slack the fastest-growing startup in history, not to mention one of the leading instant messaging apps for business.
But that doesn't make Slack a one-size-fits-all platform. Whether you're using it now or considering it for your business, it's helpful to have some Slack alternatives in mind. Every team is different, and Slack may not be the best answer for yours.
Why Is Slack So Popular?
In a word, integrations. According to Slack, the chat software connects with more than 2,000 other tools and apps.
Slack delivers a social-media-like user experience through a hip interface that's filled with notifications, emojis, GIFs, memes, and other such goodies. Slack also makes strong use of user feedback, taking customer suggestions on board in order to grow more iteratively.
Slack Isn't without Drawbacks
Slack's success and popularity are undisputed. The same goes for Slack's top-dog status in the integrations category.
That said, those integrations render many of Slack's capabilities a result of other apps and technologies. And if your team isn't making use of those integrations, you're practically pouring money down the drain, because Slack isn't cheap.
It's expensive – At $6.67 per user/month for Standard and $12.50 per user/month for Plus, Slack is out of reach for many startups or small to medium-sized enterprises. There's a freemium version, but that limits you to 10K searchable messages and 10 integrations.
It's complicated and disruptive – If you're part of multiple teams or groups, you face separate workspaces for each team and separate logins. That's a lot of buried messages and missed details. What's more, anyone who posts a message resulting in a thread then gets notifications about replies. And if you're thinking of turning off notifications, other team members can bypass your Do Not Disturb mode.
It may not be completely private – Questions have been raised surrounding Slack's handling of user data, as well as the threat that the ever-growing number of third-party app integrations pose to the platform and the organizations using it.
The Best Slack Alternatives for 2021
As you can see, Slack isn't without drawbacks. Luckily, this is the golden age of communication and there are loads of alternatives to Slack, each offering distinct capabilities to suit teams of all sizes and functions.
Below, we'll help you sort through them so you can make the best choice for your business.
1. Brosix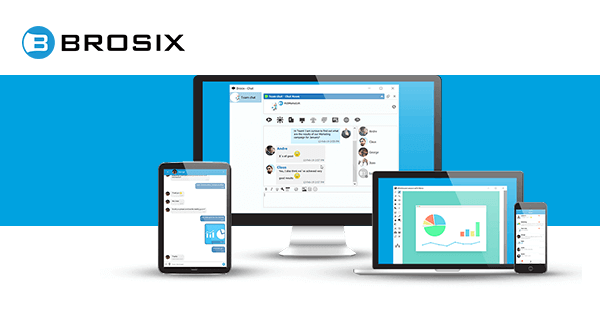 Why not start with what we know best? It's our blog after all! Brosix is a highly capable, secure, and customizable Slack alternative.
Brosix enables team communication via one-on-one text chats, group chat rooms, and seamless voice and video calls. Our user-friendly UI lets you share your screen, capture instant screenshots, transfer files, and create whiteboard conferences, all with just a click.
A fully manageable and secure platform, Brosix is packed with rich administrative features so you can tailor your Team Network to your business's unique communication, collaboration, and security needs.
Manage everything from user access to the platform to communication spaces, features, and user data access. End-to-end encryption, peer-to-peer communication channels, and anti-virus and malware integration practically eliminate the risk of outside threats.
Top Brosix features:
Authorize platform access on a user basis.
Manage contact lists, features, shared chat spaces, and more.
Set multiple network administrators.
Establish individual data security levels.
Track and archive user activity.
Transfer unlimited files with no size restrictions.
Broadcast messages to handpicked audiences.
Grant desktop access with remote desktop control.
Pricing: Free Team Network, text chat, and features control for 3 users; $4 per user/month for Business; $6 per user/month Premium.
Available on: iOS, Android, Windows, macOS, Linux, and Web
2. Flock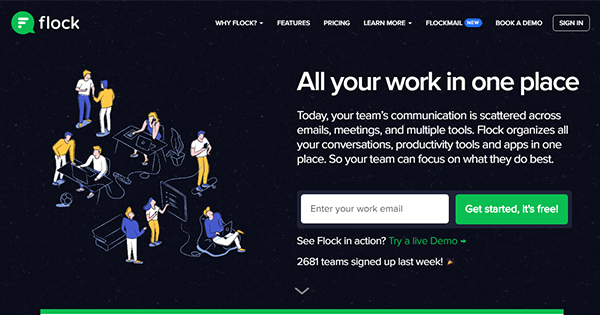 Flock's big claim is that it's faster than Slack. With Flock, you get the standard team communication tools like one-on-one and group chat, as well as audio and video calls.
The freemium version includes integrations (60 or so such as Google Drive, Trello, and Dropbox). It's limited, however, to 10,000 searchable messages, video conferencing for four users for twenty minutes, and 10GB team storage.
Top Flock features:
Convert discussions to tasks with built-in task management.
Create polls, auto-generated mailing lists, and shared to-dos.
Invite guests onto the platform.
For more, explore our Flock vs. Slack comparison!
Pricing: Paid plans run $4.50 per seat but you'll get access to screen sharing, unlimited messaging history, and 10GB storage per user.
Available on: Windows, macOS, Linux, iOS, Android, and Web
3. Hangouts Chat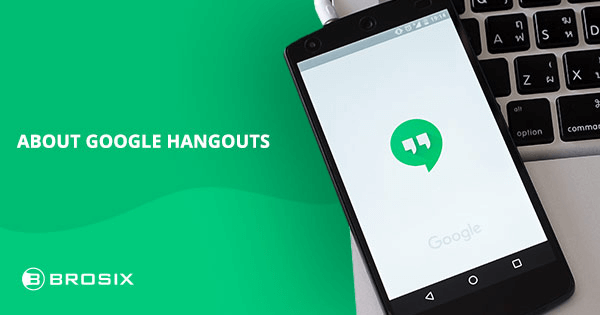 Brought to you by Google, Hangouts Chat provides dedicated spaces for team communication. Provided you have a Google account, you can chat one-to-one, set up a group, and make voice calls from your browser or the mobile app. Sadly for teams, that's about it at the moment as Hangouts Chat is once again rumored to be on Google's chopping block. That said, Hangouts does allow you to register a phone number and communicate for free within the U.S. or Canada.
Top Hangouts features:
Chat one-to-one or in groups
Make browser or app-based voice calls.
Call landline and mobile phones for free within the U.S. or Canada.
Pricing: Free
Available on: iOS, Android, and Web
4. Microsoft Teams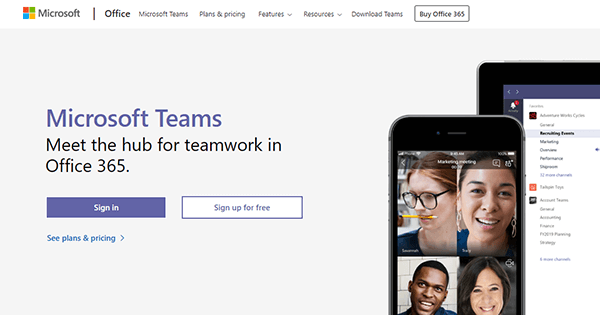 Subscribers of Microsoft's Business Essentials or Business Premium plans are familiar with Microsoft Teams. Launched in 2016, Teams comes standard with an Office 365 plan.
There's a freemium plan which offers you the usual suspects – chat and audio and video calls – as well as integrations, limited file storage, and the ability to communicate and collaborate with anyone inside or outside your organization.
Top Teams features:
Deep integration with Office 365 lets you access, edit, and share any Office or OneDrive document without ever leaving the app.
In-messaging Word-like formatting lets you change font styles, create bulleted lists, and more.
T-bot and Who-bot provide AI-powered onboarding and search.
We recently compared Teams vs. Slack in-depth. Check it out!
Pricing: Essentials starts at $5 per user/month; Premium runs $12.50 per user/month.
Available on: Windows, macOS, iOS, Android, and Web 
5. Glip
Developed by RingCentral, Glip's team messaging tool offers more freebies than Slack..
You get unlimited chat, storage, guest users, integrations, and teams. Communication takes place one-on-one, privately, and publicly. There's a catch, though. Glip restricts the number of shared video minutes to 500 for free plans. While a paid plan raises this allowance – 1000 minutes per user/month – video time on Glip is still capped.
Top Glip features:
Chat with 'yourself' to prioritize tasks.
Stay organized with a built-in calendar and notes.
Share your screen and files.
Pricing: Free plan with loads of freebies; $5 per user/month for 1000 for shared video and administrative controls.
Available on: iOS, Android, Windows, macOS, and Web
6. Mattermost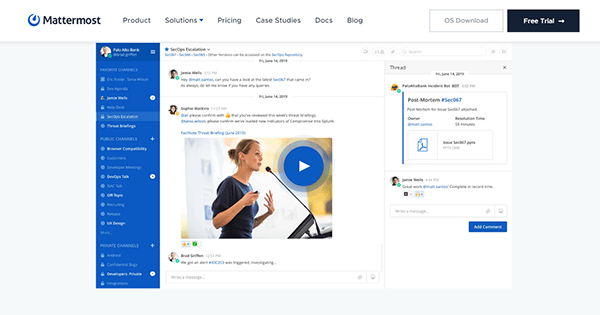 Mattermost is a self-hosted, open-source communication tool. For the non-techies, that means you can fumble with the source code, tailoring it to meet your organization's needs. It also means you'll need to deploy it on your server.
Communication happens via direct one-on-one messages, or in groups through public and private channels. There's also voice, video, and screen-sharing.
Top Mattermost features:
Custom-build the mobile app.
Customize emojis.
Tweak branding and login page design.
Change languages in the UI.
Add encryption on both communication and server levels.
Pricing: Freemium plan for small teams. Paid plans start at $39 per user/year and require at least 10 users.
Available on: Windows, macOS, iOS, Android, Linux, and Web
7. Discord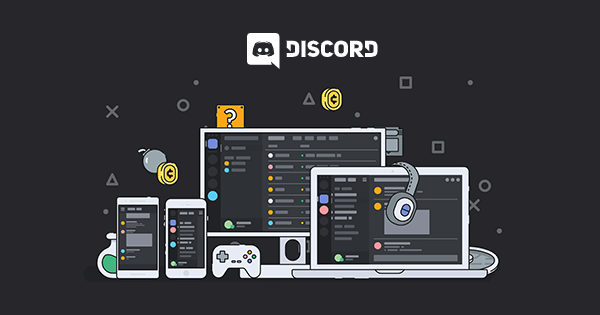 A voice-based alternative to Slack, Discord may be new to some. For gamers, though, it's a household name. That's because Discord was conceived to bring the gaming community a more interactive experience.
Lately, Discord's rich voice features – coupled with chat capabilities and screen-sharing – have begun to take hold in the business world.
Discord organizes conversations into 'Servers.' Servers are separated by text and voice. The latter continuously takes place in the background and by clicking on a channel, you'll immediately start voice communication with other users.
See our Discord vs. Slack review for an in-depth comparison!
Top Discord features:
Push-to-talk lets you immediately start, and stop, voice communication.
Access all your workspaces on one interface.
Integrate natively with YouTube, Twitter, Reddit, or a host of others through Zapier.
Pricing: The free plan offers core functionality; For $9.99/month Nitro gets you custom emojis, larger file uploads, and GIF avatars.
Available on: Windows, macOS, iOS, Android, Linux, and Web 
8. Chanty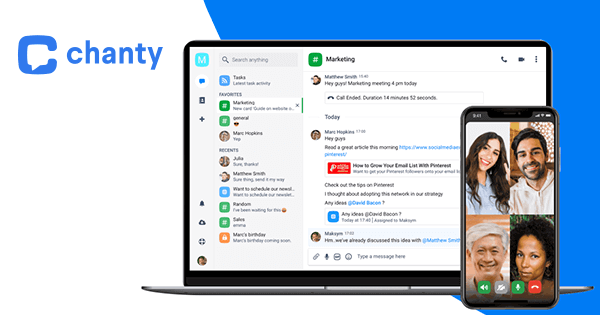 An up-and-comer in the world of team communication, Chanty hit the market in 2018. The AI-powered messaging tool is geared toward small to medium-sized enterprises.
Chanty allows for communication on a one-to-one basis, as well as through both public and private channels. You also get voice and video, file sharing, screen-sharing, and an unlimited searchable message history.
Top Chanty features:
AI-powered search and suggestions.
Organize tasks, messages, links, and files with the Teambook feature.
Turn messages into tasks and track them on the Kanban board.
Automate workflows through integrations with Trello, Mailchimp, and Google Drive.
Pricing: Free plans are limited to 10 users on a team; Paid plans start at $3 per user/month.
Available on: iOS, Android, Windows, macOS, and Web
9. Ryver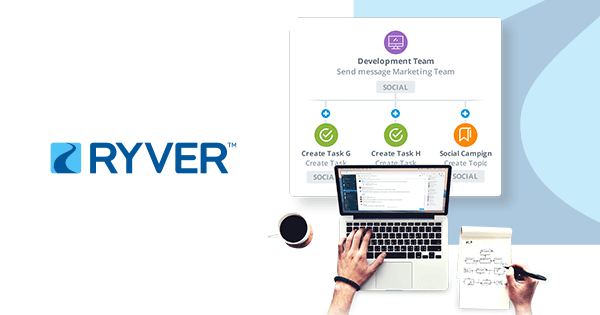 We mentioned Trello as one of our top productivity apps. What's that got to do with Ryver, you ask? Well, imagine the Kanban boards of Trello together with a team messaging platform and you've got Ryver.
Ryver allows for direct communication through direct messages, private groups, and open forums; all of which can be managed like tasks on a Kanban board. You also get voice and video calls and screen-sharing. Ryver offers unlimited integrations through Zapier.
Top Ryver features:
Chat, manage tasks, and automate workflows on one platform.
Turn messages into tasks and track them on the Kanban board.
Stream social media, news articles, and RSS feed content.
Pricing: There's a 14-day free trial. Plans start at $49 per month for up to twelve users or $99 per month for unlimited users. If your teams rely heavily on integrations, you'll need to shell out for a Zapier plan, too. And at $250 for 50K tasks – those don't come cheap.
Available on: Windows, macOS, iOS, Android, and Web
10. Trillian
The elder of this list, Trillian was released all the way back in 2000! You get encrypted direct and group messaging with desktop notifications, voice clips, image and file sharing, screenshots, and email and social media management, all on Trillian's servers. Alternatively, you can host Trillian on-premises behind your own firewall.
Centralized administration, control over features and contacts, and customizable data retention periods make Trillian a versatile option.
Top Trillian features:
Have the option to self-host or communicate behind Trillian servers.
Take advantage of numerous in-messaging text formatting options.
Integrate Trillian with Facebook, Twitter, and LinkedIn to stay on top of your social media.
Leverage in-game overlay to chat directly during full-screen games.
Pricing: Business Plans start at $3.99 per user/month; Enterprise from $7.99 per user/month.
Available on: Windows, macOS, Linux, Android, and iOS
11. Workplace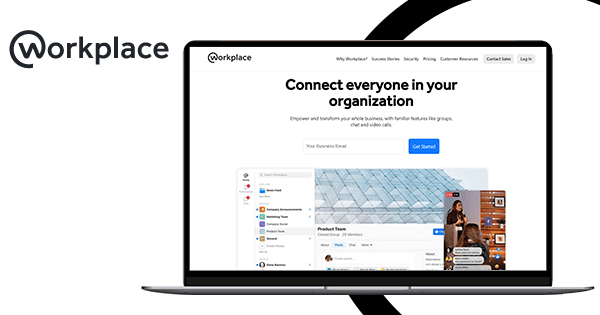 Facebook isn't just a social media giant anymore. In 2016, the Silicon Valley titan unveiled its very own workplace communication tool based on its notorious Facebook platform.
Workplace delivers team chat in familiar Facebook fashion. In addition to direct and group messaging, there's a news feed, personal pages, posts, comments, and likes. You also get voice and video calls, monitoring tools for IT teams, admin controls, and some integrations.
Top Workplace features:
Live stream events and get real-time feedback.
Invite partners, customers, or teams from outside the organization to the platform.
Establish Groups to unite chat and collaboration.
Communication, collaboration, culture and team-building with the familiarity of Facebook.
Take a look at our full Workplace comparison to Slack!
Pricing: $4 per user/month for Workplace Advanced; $8 per user/month for Enterprise.
Available on: Windows, macOS, iOS, Android, and Web
12. Twist
Twist was created by a team working remotely across several time zones. Their priority was to design a chat app to better organize the asynchronous communication typical with remote teams.
In this way, Twist organizes messages into an inbox where they're threaded by topic, so responses don't get buried in endless streams of conversation.
You get direct and group messaging, threaded conversations, highly customizable notifications, browseable and searchable conversation histories, and a handful of integrations.
If you need voice and video, you'll need to look elsewhere as Twist doesn't offer those.
Top Twist features:
Native integration with Todoist, an app we've written about to help you stay organized.
Preview messages before opening them.
Have access to all your messages in an inbox.
Invite guests like freelancers and consultants.
Pricing: Free with 5 integrations, 5GB storage, and 1-month message history; $5 per user/month for unlimited everything.
Available on: Windows, macOS, iOS, Android, Linux, and Web
Which Slack Alternative Is for Your Team?
As this list proves, there's no shortage of viable communication tools to suit your business. But as needs vary from team to team, choosing the right solution isn't easy.
You'll need to consider things like:
Your specific team communication habits and preferences
Which features could enhance team performance, and which could hinder it
Your organization's approach to data privacy and security
If you're having trouble making up your mind, why not give Brosix a try?
It's an intuitive, secure, and affordable alternative to Slack with the right amount of features to ensure teamwork, safeguard communications, and boost your business.