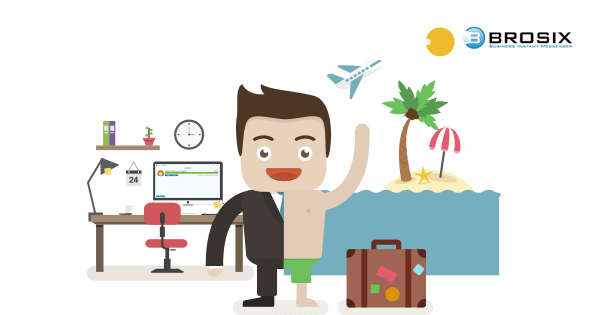 Top Reasons to Use Business Instant Messaging During the Summer Months
July 25, 2017 Instant Messaging



When the warm summer months roll around, it's important that employees be given a bit more flexibility in regards to their work arrangements.

This is not always possible, but there are times when companies can "let loose" as a means of ensuring that employees are able to enjoy the summer season.

Of course, this doesn't mean that you want your company to miss out in regards to productivity and efficiency. You still need to get your work done, which is where a business instant messaging application comes into play.

There are many reasons to use business instant messaging during the summer months. Let's discuss a few of the more important points:
Makes it simple for employees to work remotely. When everyone is in the same office, an IM application can definitely come in handy. But this is even more so the case when people are working remotely. You want everyone to be able to communicate in real time, as this ensures that there is no drop off in regards to productivity.
Mobile communication. There is no denying the fact that text messaging and basic phone calls will allow you to stay in touch with your team. But did you know that you can use your mobile device in many other ways? For example, the Brosix mobile app is extremely popular. This allows you to take your IM application anywhere you may be traveling – and there is nothing more important than that.
Access to many features. With text messaging, for example, you are only able to send and receive basic messages. You don't really have access to other high level features that could benefit users. This isn't the case with instant messaging. From voice chat to screen sharing, from video chat to group chat, you have features that will make your life easier.
The summer months are in full swing, with employees all over the world taking vacations and spending time outside the office.
If you need to stay in touch with your team during the summer months, don't hesitate to learn more about instant messaging and the many ways that this can improve your overall level of communication.
Although you may have relied primarily on phone calls and email in the past, you can adjust your approach in the future. Choosing an IM application comes down to three things:
Which application makes the most sense for business use?
Are you getting what you need in regards to features?
Are you getting what you need in regards to safety and security?
Once you answer these questions, you'll know that you are on the right track. If you want to give this a try in the near future, sign up for a free 30 day trial of Brosix. This is a great way to see what it can do for you, your team, and your company as a whole during the summer months!