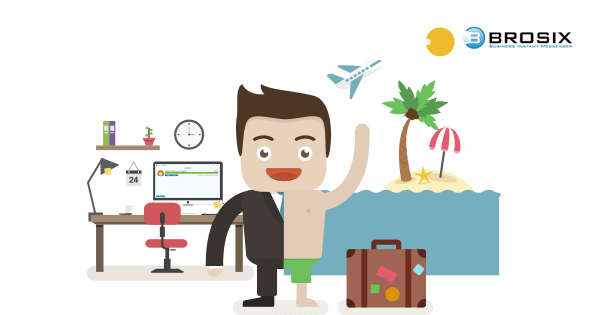 Your Instant Messenger Can Help You More Fully Unplug This Summer
June 20, 2019 Instant Messaging



It may be tough to imagine at the moment – as you grind away from your office or desk – but summer's right around the corner.

That means beach vacations, mountain retreats, and some needed time off to any number of possible destinations.

And research suggests that vacations:
Promote self-restoration
Boost productivity
Inspire creativity
In spite of the research, though, in 2018, 47% of Americans didn't take their full vacation allowance.
The reasons vary. Employees often feel guilty for taking time off. For instance, if you're in a position of authority, you may wonder what's going on while you're away. For others, the fear of a mountain of work waiting upon return is a great deterrent.
Luckily, there are steps you can take to prep your team for your absence and more fully unplug while you're away.
Explore the tips below to ensure not only continued productivity while you're away, but a smooth transition upon return.
Ready Your Team
Consider sending a broadcast message to your team before departing the office. Broadcast messages are useful for a number of reasons, most notably for rapidly and efficiently informing all necessary recipients.
You'll save yourself the time of composing and sending an email, sifting through the inevitable responses, or worse, calling multiple individuals – all time-wasters when you're busy wrapping up last minute tasks before your holiday.
Moreover, as recipients are unable to respond to a broadcast message, you remove any ambiguity on their end associated with how, what, or whether it's even necessary, to respond.
Ready Yourself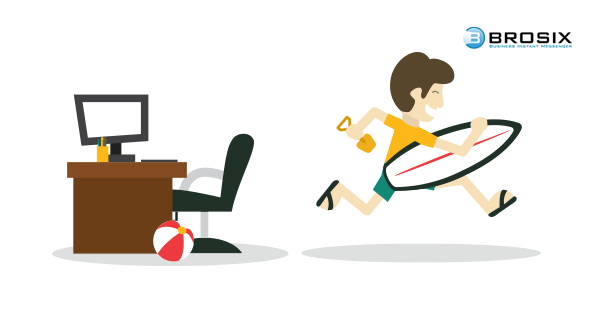 Through email, instant messaging, and social media, we're more connected than ever. And being informed and in-tune no doubt has its benefits, but a barrage of messages, reminders, and notifications while on holiday isn't one of them.
Before you leave:
Turn off all push notifications
Update your status
Create a custom status update with your expected return date in the details. In addition, consider crafting a brief auto-reply. An auto-reply serves as a quick reminder in case anyone forgets or misses that you're out of the office and tries to get in touch.
What's more, offline messages ensure any messages sent to you will be delivered when you return.
Breathe Easy
With Brosix you can breathe easy that, even in your absence, work will continue – thanks to real-time connectivity, transparent communication channels, and intuitive collaboration tools.
Full chat features and voice and video not only provide your team the right platforms to communicate, but also guarantee that the discussion goes on. What's more, chat histories allow team members to access and reference prior conversations.
On the other hand, collaboration tools like unlimited size file transfer, virtual whiteboard, and screen sharing ensure the transfer of vital data, information, and knowledge is never halted and teamwork continues to advance.
Importantly, while you're away, set time aside from your devices. This self-restoration allows you to engage in more meaningful interactions, freshens your perspective, and even boosts problem-solving capabilities.
Harness the Power of Chat
Common chat rooms are effective spaces for organizations, departments, and teams to share in real time relevant group comments, questions, discussions, and information.
Set up a chat room for related questions while you're away, or any tasks, projects, or responsibilities which may be taken over while you're gone. This way you'll:
More evenly distribute responsibilities among team members
Further promote an environment of teamwork and collaboration
Provide greater transparency
It also helps you more easily catch up upon your return – simply check the chat room or the local chat history for details regarding work which was handled in your absence.
Empower Others
If you're a manager or team lead, or you operate in a position crucial to organizational, departmental, or team functionality, that can make the prospect of taking time off all the more stressful.
An enterprise instant messenger with through administrative controls can mitigate some of these concerns.
Before you leave, authorize a new network administrator. In your place, the stand-in admin can:
Delegate features on a user basis
Ensure individuals have access to the features they need
Manage contacts across the network
Oversee chat rooms
Govern data security levels
It's normal to fear that your absence may hinder productivity. It's also natural to wonder what's happening while you're gone. By delegating some authority to the right team members, though, you can rest assured that the network is efficiently monitored, and office communication and teamwork move forward.
Upon Return
While you may not be able to prolong your vacation, a few simple steps can ease your return to work.
Visit the group chat you set up in your absence and note anything of question or significance
Scan chat histories or chat history archives for more detail
Arrange a debrief with your team to discuss tasks, projects, and responsibilities which were handled while you were away
More importantly, though, take some time to share your experience with your team! Share things like chocolates, candies, small souvenirs, and photos from your trip. These gestures help foster tangible team morale and togetherness.
The Final Word
Taking a deserved vacation doesn't have to be a roadblock to productivity and team collaboration.
With a little planning, appropriate coordination, timely information sharing, and the right instant messenger you can ensure that team performance continues to flourish while you restore and rejuvenate.