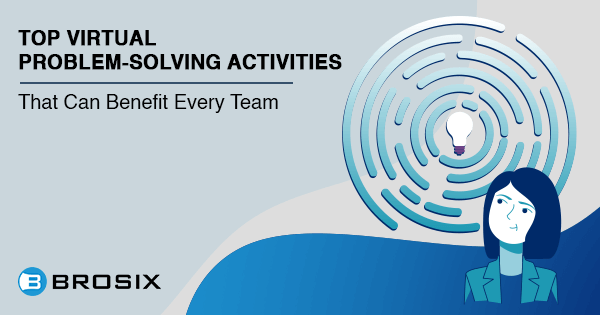 Top 22 Virtual Problem-Solving Activities to Strengthen Any Team
We live in a fast-paced environment where challenges often arise, both personally and professionally.
Especially in today's workplace, professionals have to deal with social, ethical, and organisational problems.
This is where problem-solving skills come into play.
Strong problem-solving tactics can improve creativity and help team members make efficient and informed decisions.
While every professional might not be a natural born problem-solver, there are a lot of resources to help develop these skills.
In this article, we'll go over the definition of problem-solving activities, their main benefits, and examples that can be put into practice in the workplace.
What Are Problem-Solving Activities?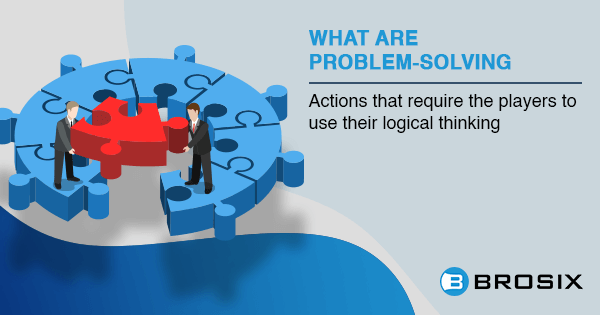 Problem-solving activities are tasks that require participants to use logical thinking and follow a set of rules to resolve problems and overcome challenges.
These activities require problem-solving skills, which help find solutions for difficult situations.
Like any other skill, these tactics are best learnt through practice.
To make problem-solving activities worth the ride, participants have to be open-minded, listen to others, and accept alternative ideas and solutions.
An agile mindset can also be beneficial when participating in such activities because they're based on understanding, collaborating, learning and staying flexible.
As problem-solving games are group activities, participants must be willing to collaborate and embrace agility and flexibility.
Another critical aspect is creating the mindset that there are no winners or losers.
The goal of these activities is to share strategies and learn from each other, rather than compete against one another.
The Four P's to Problem-Solving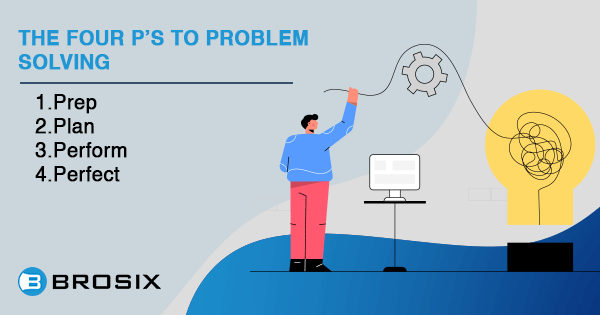 While all problems are unique and require different solutions, they share one generic attribute: they're cyclic.
By following the four P's in the problem-solving guide, one can resolve almost any problem that comes along.
Problem-solving activities begin with a discovery phase, where the problem is identified.
This is the step where you understand, dissect, and learn about the problem you're trying to solve.
Until the problem has been well defined, you can't move forward and prepare to form the right solution.
After you've analysed the problem, you have to develop several courses of action to solve the issue.
This is the phase where you generate several possibilities to ultimately decide on the best course of action for your problem.
After the problem has been defined and resolutions have been listed, it's time to take action.
This is the step where you find the best approach and implement a plan that needs to be followed with precision.
You need to first visualise your plan and then execute it.
When the problem has been solved, you need to evaluate the plan and assess whether it could be improved for future situations.
While you should do your best to solve the issue, the truth is that there is always room for growth.
Reviewing and checking for room for further improvement is essential because it can help you achieve even greater results in the future.
Benefits of Developing Problem-Solving Skills in the Workplace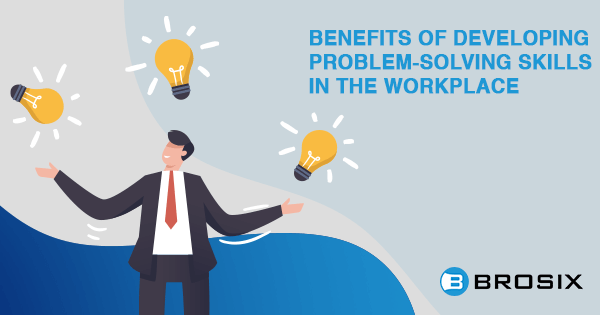 Now that we've defined problem-solving activities, you may be wondering how team members could benefit from developing problem-solving skills.
Employees are often asked to think outside the box for projects or find alternative solutions for work problems.
Problem-solving tactics are a great way to practice valuable skills relevant in the workplace.
There are a lot of situations where processes and workflow in organisations need improvement. Or, when deadlines are tight, team members have to find ways to deliver on time.
These are the exact scenarios that can be overcome if the team is able to turn problems into actionable solutions.
After all, performance is closely related to employee efficiency as achieving companies' goals on time is crucial to success.
Having team members with good problem-solving skills means they can use critical thinking to make better decisions and ultimately increase business productivity and growth.
There are a wealth of advantages that problem-solving activities can bring to teams.
Here are a few benefits you can expect from employees well equipped with problem-solving skills:
Better risk management
Simply put, risk management skills help people know what could go wrong, assess risks, and finally take action to solve an issue.
Some people are very good at handling risk, while others are afraid of risky situations.
Whichever way your team members are naturally inclined, problem-solving techniques are here to help.
Participating in problem-solving tasks trains the mind to handle stressful situations better.
It's impossible to avoid risk, and this is why it's essential to be confident that your team knows how to handle risk and turn it into opportunity.
Better thinking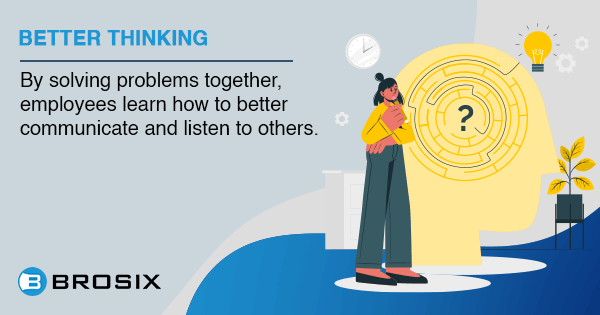 During team problem-solving sessions, participants are asked to work together as a group to find answers and solutions for particular problems.
Team problem-solving techniques stimulate better thinking by pushing people to find progressive alternatives.
Better thinking also develops analytical skills, which help people find logical explanations for problems and identify practical solutions.
Better communication skills
As mentioned earlier, problem-solving activities are group tasks that can only be performed if participants work together.
Humans are competitive by nature which can be problematic when trying to create a cohesive team. Problem-solving skills nurture understanding and collaboration within a company.
By solving problems together, employees learn how to better communicate and listen to others.
Having transparent and effective communication improves engagement and productivity and leads to better relationships.
Increased team cohesion
If your team already has good communication skills, this will likely lead to increased team cohesion.
Regardless of your business's profile or size, success comes from having a united team.
Team cohesion reduces anxiety, brings motivation, and increases employee satisfaction.
Being on a cohesive team means that employees work together for the same goal, and everyone contributes to the group's overall success.
People are social creatures, so it's imperative that everybody feels heard, understood, and included.
Efficiency / increased productivity
Exercising problem-solving activities can boost performance and workplace productivity, leading to overall growth and profits.
Having solid problem-solving skills equips employees with the ability to find efficient solutions promptly.
By reducing the time spent solving specific problems, companies benefit from improved workplace productivity, leading to better profit margins.
Creativity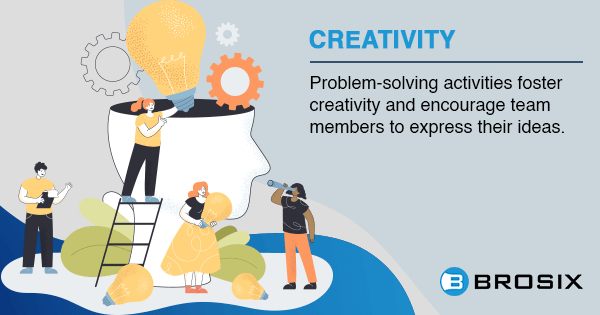 Problem-solving activities foster creativity and encourage team members to express their ideas.
Creative thinkers know how to find the balance between analytical skills and innovative solutions, thus providing new perspectives.
No matter how well-established company processes are, there are always situations that require alternative ways of thinking.
Creative thinking skills boost people's confidence in putting forth unique ideas.
List of the Top 22 Virtual Problem-Solving Activities
Virtual problem-solving activities for teams are meant to challenge participants to think outside the box and find solutions to problems while also having fun. Remember that these exercises should be playful and enjoyable.
Here is a list of virtual problem-solving activities that teams of any size can play:
Dumbest Idea First

Brainstorm Ideas

End in Mind

Stop, Start, Continue

Idea Mock-Ups

Be a Character

Idea Trial

Crossword Puzzles

Online Escape Rooms

Murder Mysteries

Virtual Hackathons

Treasure Hunts

Moral Challenge

Improv Games

Poem/Story Challenge

What Would You Do?

Lost at Sea

The Hunt

Coworker Feud

Virtual Code Break

War of the Wizards

Ultimate Game Show
Online problem-solving activities can be played through video conferencing platforms, such as Zoom, Skype, Google Meet, Webex, etc.
Let's take a closer look:
1. Dumbest Idea First
Dumbest Idea First, as the name suggests, is a problem-solving exercise in which participants are asked to think of the dumbest possible solutions to the problem presented.
After all ideas have been presented, look through the list.
You might be surprised to find that some ideas are not as dumb as first thought!
Helps with: creative problem-solving.
2. Brainstorm Ideas
One of the most common problem-solving activities is brainstorming ideas with your team.
Brainstorming ideas' objective is to generate as many ideas as possible.
After the list is complete, team members review them and decide which is most suitable for the given scenario.
There are a lot of methods to aid the brainstorming process.
You can play word games, create a mood board, play improv games, or even doodle.
Helps with: lateral thinking.
3. End in Mind
The End in Mind technique is an excellent activity for solving group problems that require participants to start with the end.
In this exercise, you have to backtrack, finding solutions for the issue.
It challenges team members to think of the "what," "why," and "how" of a problem, thus coming up with alternative approaches.
Helps with: analytical thinking.
4. Stop, Start, Continue
"Stop, Start, Continue" is a technique used for delivering or requesting feedback.
This problem-solving activity consists of a list of three categories that each member has to think about:
Stop: three things that the team should stop doing
Start: three things that the team should start doing
Continue: three things that the team should continue doing
This exercise aims to solve problems in new ways while also having fun.
Helps with: team cohesion, critical thinking.
5. Idea Mock-Ups
Idea mock-ups are processes in which solutions to problems are found via mock-ups.
It's a virtual solving problem activity as you can use images from the internet that can be easily shared with the team members.
This exercise aims to have players try out a bunch of different scenarios until the perfect match for the problem is found.
Helps with: analytical thinking.
6. Be a Character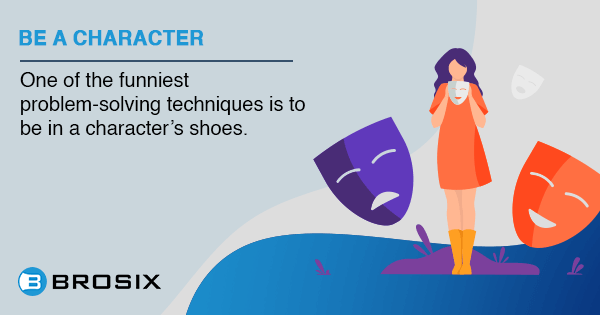 One of the funniest problem-solving techniques is putting yourself in a character's shoes while finding the answer to a problem.
Have you ever dreamed of being a character from a movie or a book? Then this is the perfect exercise for you.
By playing this group game, participants impersonate a character and approach problems through that person's mindset.
Helps with: creativity, thinking outside the box.
7. Idea Trial
The Idea Trial is another fun virtual problem-solving activity that encourages participants to find solutions for a particular problem.
Players need to present their ideas to the "court."
They can go through the entire process, such as opening and closing statements, and call witnesses to support their ideas.
Helps with: risk management, communication skills.
8. Crossword Puzzles
Everybody has heard of crossword puzzles, but not everyone has thought of transforming them into a virtual problem-solving activity.
All you have to do is use an online crossword puzzle to create a custom puzzle for your team.
To make it more exciting and engaging for your team, you should consider your company's niche and your teammates' interests.
Helps with: critical thinking.
9. Online Escape Rooms
Like in-person escape rooms, their online counterpart requires participants to escape rooms and work together to solve puzzles virtually.
Digital escape rooms provide two alternatives for players: either a Zoom room led by a host or from a specialised website.
These are significant virtual problem-solving activities that are both fun and challenging.
Helps with: cooperation, communication.
10. Murder Mysteries
Murder mysteries are story-based problem-solving activities that require participants to take on the roles of suspects and detectives.
The aim of the game is to identify the killer by searching for clues and occasionally solving small puzzles.
These group exercises are complex because they require players to be observant and search for hidden clues using logic.
Luckily for you, there are many options for playing murder mystery games online.
Helps with: observation, logical thinking.
11. Virtual Hackathons
Hackathons are events where a group of people pitch a product or service in a given period.
Even though it originated in the programming world, hackathons can be easily applied to any industry.
Virtual hackathons refer to the online version of these events, where participants work together via online meeting software to design solutions.
These are great virtual team problem-solving activities because they don't require much organisational work.
You just have to announce the event's theme, explain the problem when the hackathon begins, and set a timeline.
Helps with: efficiency, cooperation.
12. Treasure Hunts
Like escape rooms or murder mysteries, treasure hunts are group games that require players to find hidden objects by following a trail of clues.
Treasure hunts are fun problem-solving activities that teach participants how to collaborate and communicate with each other.
They can have specific themes or be a more general hunt.
Helps with: communication, cooperation.
13. Moral Challenge
While most group problem-solving activities focus more on finding alternative problem resolutions, moral challenges lean more towards ethics.
These group techniques are just as important as the others as not all problems are factual; some are ethical.
Moral challenge exercises are better played in a group because each participant can represent a different opinion or moral belief.
The moral issue becomes harder to resolve and implicitly forces team members to find common ground.
Moral challenges are equally important in decision-making processes as rational thinking.
Some of the most well-known moral challenges online are the Moral Machine or the Dilemma.
Helps with: communication skills.
14. Improv Games
Improv games have their roots in acting and comedy and are group activities designed around participants' acting without a script, or improvising.
These problem-solving activities force players to keep the story going in an entertaining and logical way.
This kind of group exercise helps build collaborative skills while boosting team members' confidence.
Helps with: collaboration, imagination.
15. Poem/Story Challenge
If most of the problem-solving activities mentioned are based on logical thinking, the poem/story challenge revolves around writing skills.
While not all businesses rely on this, it's still an excellent exercise for groups, as it stimulates the imagination and improves public speaking.
All you have to do is ask participants to create a story or a poem using a limited word bank.
After they have crafted their stories, they read them aloud in front of the group.
Helps with: creativity, public speaking.
16. What Would You Do?
"What Would You Do?" is a hypothetical problem-solving activity that challenges your team to brainstorm ideas and react to different scenarios.
To play this game with your team members, prepare some problem-solving stories in advance, then read them one by one.
Participants have to say what they would do in these circumstances.
Helps with: lateral thinking, imagination.
17. Lost at Sea
Lost at Sea, also known as Stranded at Sea, is a team-building activity that encourages interaction and teamwork.
Give participants a scenario where they're stranded on an island with just a handful of objects.
To increase their chances of survival, they need to rate the objects based on their utility.
Players should work individually first and then together to decide which objects are most important.
If multiple groups play this game, the moderator can ask each group to compare their individual and collective rankings.
They should also consider why any scores differ.
At the end of the game, players reflect and feedback on their choices.
Helps with: decision making, collaboration, critical thinking.
18. The Hunt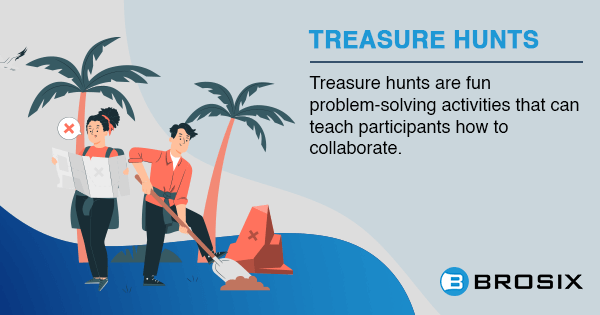 The Hunt is an online social team game that uses different types of puzzles, images, and word problems.
Its purpose is to challenge players to collaborate under pressure as they compete for glory.
This is a virtual problem-solving activity suitable for a business of any size.
It works best played in small teams of four or five, so players have the opportunity to interact with one another.
Helps with: team decision making, lateral thinking, creativity.
19. Coworker Feud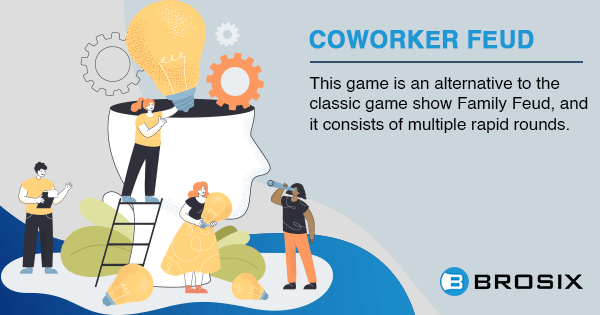 Coworker Feud is a virtual problem-solving activity perfect for playing with colleagues.
This game is a new take on the classic game show Family Feud, and it consists of multiple rapid rounds.
The players are asked to provide fast answers to a fun assortment of questions the host presents.
The aim is to guess the five most popular answers to win points for the round.
The team with the most points is declared the winner of the game.
Helps with: fast-thinking, communication.
20. Virtual Code Break
Virtual Code Break is a virtual team-building activity specially designed for remote players.
Its purpose is to challenge players to think outside the box, improve problem-solving skills, and leverage their own and each other's skills.
This game uses an intelligent video conferencing solution so that teams of all sizes can play from anywhere globally.
Players compete against each other by answering trivia questions and solving riddles and puzzles.
Helps with: better thinking, collaboration.
21. War of the Wizards
War of the Wizards is a 90-minutes virtual team-building activity that promises to be both fun and creative.
To play this game, participants roleplay as powerful wizards to conquer evil forces through the power of storytelling.
They have to play mini-games and competitions, develop their characters, and make decisions together to win.
Helps with: teamwork, imagination.
22. Ultimate Game Show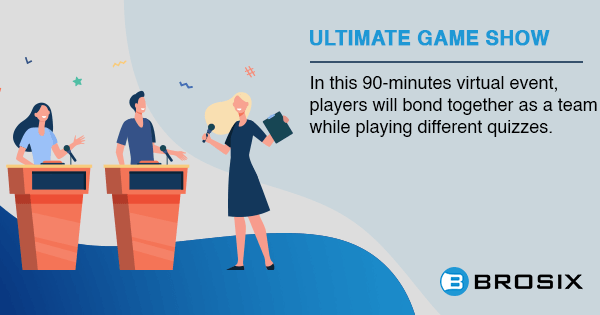 If you're looking for high-energy virtual problem-solving activities for competitive teams, then the Ultimate Game Show is the perfect fit.
In this 90-minute virtual event, players bond together as a team while playing different quizzes to win the final prize.
This competition works for hybrid teams, as well as for fully remote teams.
Helps with: collaboration, fast-thinking.
Conclusion
Plenty of organisations face daily challenges that affect team productivity and get in the way of attaining business goals.
While it's impossible to avoid those situations, there are many ways to train team members to work collaboratively to resolve problems effectively.
Problem-solving activities act as educational tools that bring all participants closer as a team and help them develop problem-solving skills. By nurturing solution-generating capabilities, your team learns to communicate better, act fast in risky situations, and find creative solutions.
The virtual problem-solving activities listed in this article are excellent practices for real-life conflict resolution that can benefit everyone within an organisation.