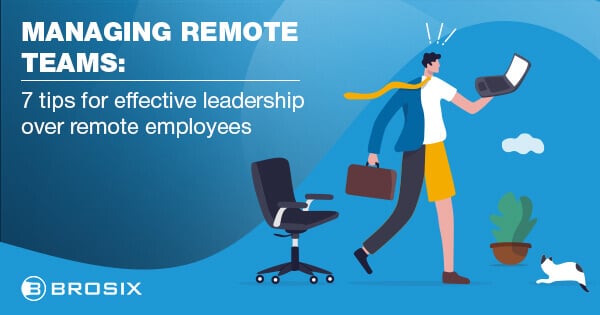 Managing Remote Teams: 7 Tips for Effective Leadership with Remote Employees
The COVID19 pandemic has brought many changes in our lives; there's no doubt of that. However, we have to admit that they weren't all so bad.
Of course in our personal lives, we can't wait to travel freely, party with friends and share important moments together again. In our professional lives, however, the new social context has brought some positive changes, like the normalization of remote working.
Thanks to the widespread roll out of remote working, employees are able to spend more time with their families or pursue activities they enjoy. This has a direct impact on their wellbeing, and in turn their overall productivity.
Did you know that 32.2% of hiring managers said productivity has increased since their employees started working from home in 2020?
Working remotely has proven to save time, increase productivity and reduce stress for employees.
However, despite the numerous benefits of working remotely, it isn't a silver bullet. Unfortunately, this new work environment comes with its own unique set of challenges, especially for managers.
Managing remote teams is not as easy as you might first assume. People in leadership positions must constantly innovate ways to keep the organization's employees motivated and feeling valued.
Additionally, there is a more practical element, also having to ensure that all tasks are conducted on time, deadlines are met, and all work ticks along as smoothly as possible.
That is why we've put together our top ten tips for managing remote teams – to help higher-ups with some guidance on this nuanced and multifaceted process.
Challenges of managing remote employees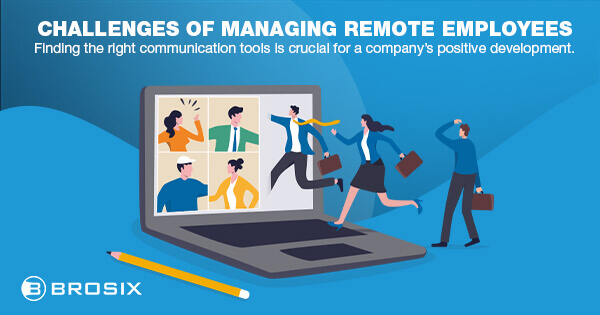 It's no secret that many companies were reluctant to let their employees work remotely before the pandemic. So, the very fact that most organizations had to adapt to such an unexpected shift in such a short time frame was a challenge in itself.
At the time, the lack of such a company culture may have meant that the appropriate communication tools for managing remote employees were also lacking. This may still be the greatest challenge for remote team management, even if remote work has become the new normal now.
Finding the right communication tools is crucial for a company's positive development. Not only to clearly establish tasks that are delivered on schedule, but also to strengthen interpersonal relationships within the workplace.
Brosix is one of the most powerful internal communication tools, maximizing employee engagement.
Brosix is an employee communication solution that enables higher-ups to manage their remote teams effectively, having multiple features for various needs.
From more technical features, like file transfers, to more personal and relational – like video chat options, Brosix is a powerful ally when it comes to strategic communication.
Book a demo and give it a try! ]
One of the most striking challenges when managing remote teams has to be training new employees. Managers can unanimously agree that training new employees has always been an important and labor intensive process. Managing this training remotely has brought new trials and tribulations.
Interpersonal communication matters when establishing a new team. Besides getting familiar with the technical aspects of a new job, newcomers also need moral support and openness to flourish in a new team.
Did you know that according to data, 54% of employees said that a strong sense of community (great coworkers, celebrating milestones, a common mission) kept them at a company longer than was in their best interests?
Direct human relationships are much stronger than technology-mediated ones. Clearly,  training employees remotely requires creativity and innovation, as properly integrating new talent is vital to a company's success.
Tips for managing remote teams
Whether creating an external or internal communication strategy, you have to understand that there's no guaranteed recipe for success.
However, things may be easier to handle when it comes to internal communication processes. The best practices for managing remote teams may not bring as many variables as external communication initiatives.
Additionally, welcome feedback from employees, as this provides a real-time indicator that can guide your company towards success.
Provide the tools needed for successful communication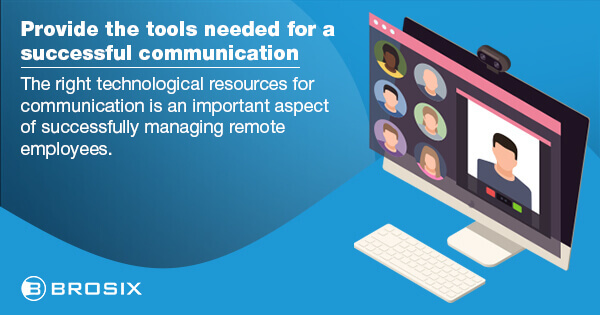 We mentioned earlier that providing the right technological resources for communication is half the battle when managing remote employees.
The heart of the challenge is finding that sweet spot; between the company's values and organizational culture, whilst supporting the company's employees and their needs.
For example, suppose a company's managers enforce the use of video chat for internal calls, just for the sake of controlling their employees. While employees might prefer a voice chat instead. That's a red flag indicating distrust and inflexibility.
On the other hand, let's imagine that a company's employees voice suggestions about new tools to facilitate their workflow and communication. In this case, managers should consider the proposal, carefully analyze the pros and cons, and prioritize employee productivity.

Delegate responsibilities and set up regular check-ins
As a manager, your prime responsibility is to assign different tasks to whoever is more likely to resolve them efficiently in a given timeframe.
The framework of managing remote teams has a similar management system to its classic counterpart, and also intersects with all of the steps mentioned in this guide.
To efficiently coordinate remote employees, you, as a manager, must create a communication plan that covers these vital areas:
Establish processes and standards for remote work productivity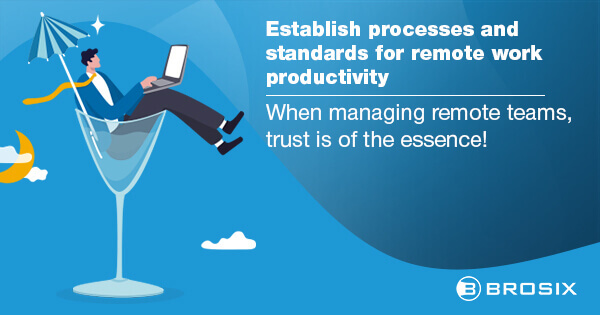 Overseeing your employee's tasks and keeping track of their progress allows you – as a manager, to better understand an employee's workload and needs.
You can use specific tools where your employees note down tasks accomplished in a day or week. Or you can hold regular informal discussions in which everyone speaks a bit about the project they're working on.
When managing remote teams, you have to implement a process to track employee productivity in order to handle your existing resources better.
Let's imagine that some of your employees have had too heavy workloads lately. Which has resulted in focus and productivity on their main tasks decreasing. In this case, you should consider bringing some new members into the team.
Establishing clear processes and standards for remote work productivity is mutually beneficial for managers and employees. This way they have concrete evidence of their work and the tools to ask for help when needed.
Another trap that managers should avoid falling into is that of the dreaded micro-management.
Unless being paid by the hour, having trackers of timers may prove to be very stressful for your employees.
As a piece of advice, your company's growth and success may be greater if managers focus on the end goal – as in actual, long-term results, instead of employees' daily activities.
When managing remote teams, trust is of the essence!

Be flexible
When thinking about managing remote teams' best practices, flexibility is without any doubt an important component.
An extraordinary advantage of working remotely is that it allows employees to organize their work depending on the most productive time for them.
As long as tasks do not depend on real-time inquiries – as is the case with a customer support department, for example, managers should not be preoccupied with having their employees in front of their laptops at a particular hour.
If deadlines are met, and tasks are realized as estimated, working remotely is an excellent opportunity for managers to show that they care about their employees' wellbeing and trust them.
Schedule daily meetings
With the risk of seeming too controlling, daily meetings are an important aspect of the remote team management process, and department heads should not disregard the need to implement them.
That's because daily's are a great way of synchronizing teams.
While employees briefly sum up the status of their tasks, the whole department gets up to date with the latest projects and updates of interest.
This can simplify future workflows and lead to employees' efficient time management.
Besides, this is a fantastic opportunity to foster better interpersonal relationships in the workplace. It gives employees the chance to connect with colleagues they may not have direct contact with within their day-to-day work.
Gather feedback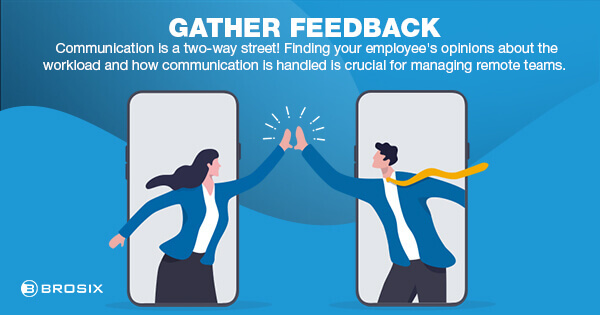 All in all, you have to remember that communication is a two-way street! Receiving feedback openly leads to becoming a better manager. It helps employees improve their skills and work, and having a thriving team is always a positive reflection on the management of a company.
Understanding your employee's opinions about workload and communication within an organization is crucial for managing remote teams.
Suppose your team members have never worked remotely before. If that's the case you have to encourage them to speak up and tell you how this work scenario impacts them, how they adapt to it, and their struggles.
As data indicates, 77% of remote workers say they're more productive when working from home, but – as a manager, you cannot assume this to be true for all of your employees and leave them to their own devices.
In the end, people are different, and the only way to improve working relationships and overall productivity is by communicating, this means opening up about difficulties and needs.
Create team-building activities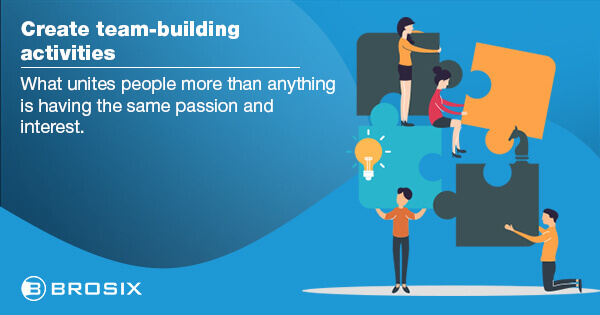 Having the same passion and interest unites people more than anything. More specifically, something that is related to the outside world, not just work.
Granted, old versions of team-building activities are not always possible right now, but you can still organize fun events and meetings to bring employees closer.
Through regular, casual, informal meetings – like wine night, half-learning/half-chill Fridays, or whatever creative nicknames these kinds of events may receive, employees get the chance to know their coworkers better.
In a remote-first workplace, this kind of gathering is very important.
Collegiality and teamwork are very important in today's dynamic work environment. With time you'll see that helping employees connect, and fostering deeper interpersonal relationships in the workplace prove beneficial for any company.
Conclusion
Whether you're in charge of managing remote teams consisting of only a few people, or you're managing remote employees on a much larger scale, these tips should help and improve your leadership.
However, the more self-aware, autonomous, and hard-working your employees are, the less you'll have to worry about the daily coordination of your remote teams.
Regardless of regular meetings with the team, a manager should also try to have one-on-one talks from time to time with the company's employees.
On these occasions, the emphasis should be less on performance, profit, and KPI's, and more on how the employee feels within the organization overall.
So, start working to improve relationships with your lower-level employees right away!