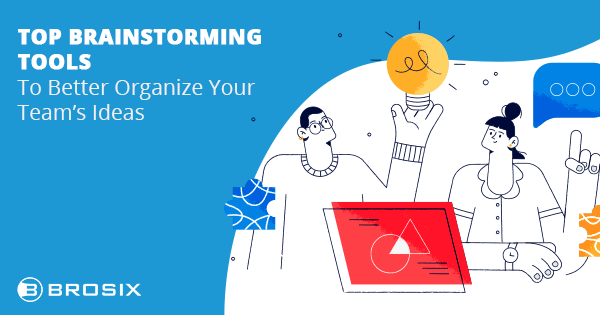 The Top 13 Brainstorming Tools To Better Organize Your Team's Ideas
Most of today's innovative business ideas were the result of at least a few brainstorming sessions. These, especially nowadays, with remote working being the new normal, can be facilitated by tools for virtual brainstorming.
Since all these productivity and brainstorming tools are at our disposal, why not use them to organize ideas and use time more efficiently?
Depending on the case, virtual brainstorming tools offer multiple features, like mind-mapping, voting accessibility, and many more. This makes them a great choice to help organize ideas, particularly when working remotely.
Having proven efficiency, we'll go over some of the most popular online brainstorming tools to help you discover and select the one most suited to your company's needs.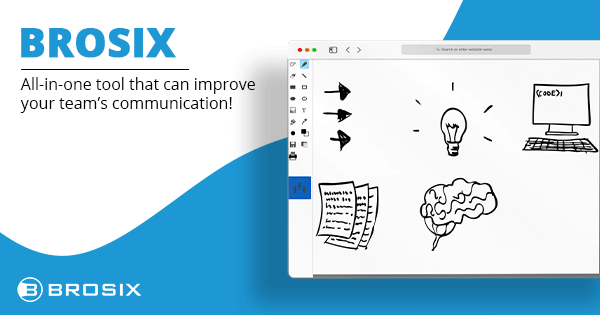 With multiple features available, Brosix is an all-in-one tool that can improve your team's communication! From services for real-time communication, to tools designed to enhance teamwork and productivity, Brosix offers all solutions most brainstorming tools enable, and so much more.
Its whiteboard feature, for example, is great for brainstorming sessions, as it allows users to gather all ideas in one place.
In addition, Brosix has also integrated other helpful resources for communication facilitation and brainstorming, like chat rooms and video calls.
Brosix, like many other online brainstorming tools, offers different price packages, including a free account. So, if you're interested in brainstorming tools with free options, you should check it out!
In case you want to learn more about the product and discover how to be more efficient when communicating with your team, you can book a demo here!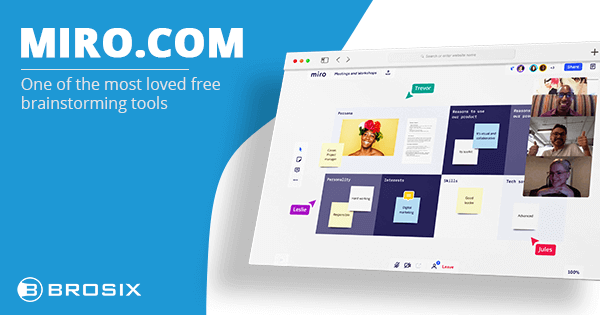 Miro.com is one of the most loved free brainstorming tools since it perfectly understands customers' needs and tailors its features accordingly.
It is a brainstorming tool that offers enough space for creative teams to deconstruct their ideas in any format necessary.
Among the main features of this brainstorming tool, you'll find a series of infinite canvases in which you can integrate visual Kanban boards. A major advantage of this tool is the ability to import data from any of your spreadsheets.
Miro's free plan includes three editable boards and premade templates, while more features come with different price packages.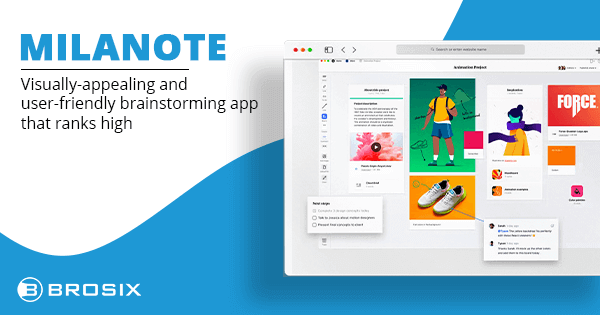 Milanote.com is another visually-appealing and user-friendly brainstorming app that ranks high among the best brainstorming tools.
This trendy brainstorming tool allows you and your team to share your ideas in various ways. You can write notes and to-do lists within the app, upload files and images, save text, files, and images from the web, and add notes and photos from your phone.
A major benefit is that creating your Milanote account is free and has no time limit.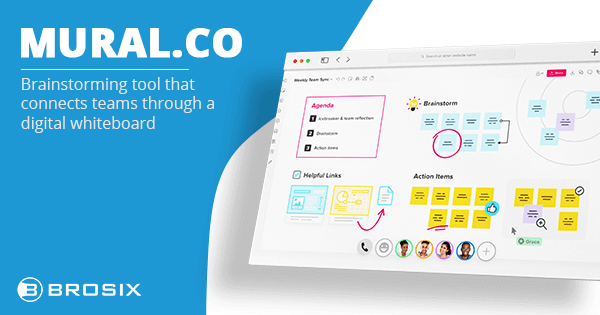 Mural is a brainstorming tool that connects teams through a digital whiteboard and collaboration features designed to inspire innovation.
With the integration of different shapes and connectors, icons, frameworks, and drawings, this free brainstorming tool by far outshines brainstorming meetings of the past.
This tool arguably provides the greatest variety of options to integrate with other apps. Making it a must-try for your business.

Granted, some of the team brainstorming tools we've presented offer quite similar benefits to each other, however, Ayoa boasts a unique mix of features.
Apart from the collaborative online whiteboard, mind mapping, and ability to share the mind maps created, Ayoa brings a couple of new features to the table.
The platform not only enables the creation of radial maps but has also developed a Gantt timeline view. With it, you can "easily create your Gantt-style charts to achieve more effective time management".
Being one of the most complex interactive brainstorming tools, Ayoa has taken communication facilitation to another level. Implementing instant messaging and a video chat option within the platform.
Since the services provided vary, Ayoa only has premium packages at a fixed cost. However, it does offer a seven-day free trial, for which there's no requirement to enter credit card details.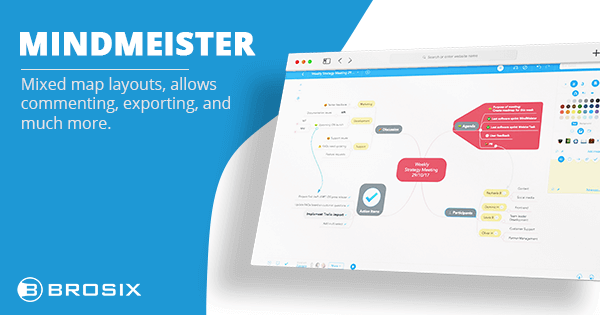 Depending on your needs, you may be looking for a more simplified or more complex brainstorming tool.
Midmeister.com is a brainstorming tool pretty similar to Miro.com, the first one introduced.
This brainstorming tool offers mixed map layouts, multiple and varied team accounts and permissions, allows commenting, exporting, and much more.
It is also a brainstorming tool with a basic free plan and the option to upgrade to different pricing packages.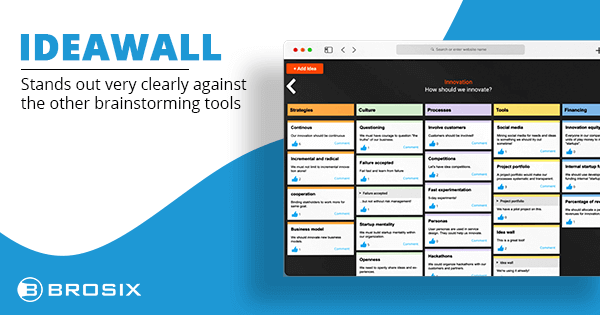 IdeaWall.fi stands out very clearly against the other brainstorming tools presented on this list. It's simple, flexible, and accessible, and as such, Ideal Wall has truly earned its place among the best brainstorming tools.
The tool's key features include unlimited walls and participants, anonymous participation, moderation, security of accounts, and so on.
Being more of an enterprise tool, its pricing options are significantly higher than other online collaboration tools for brainstorming.
The app offers product videos and user guides. However, since pricing packages start from €120, it's worth doing proper research before considering investing.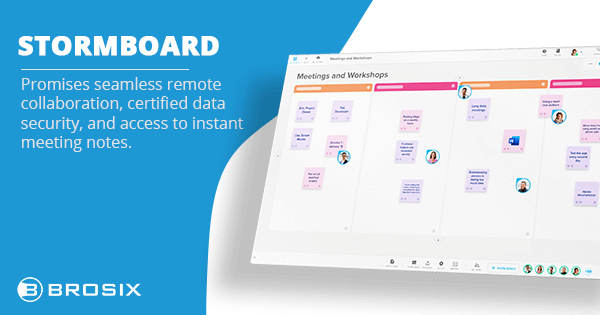 Similar to other apps from this niche, this tool promises seamless remote collaboration, certified data security, and access to instant meeting notes.
Whether you're aiming to solve problems and find opportunities, capture, organize and prioritize ideas, Stormboard.com is ready to give you a helping hand.
Its pricing options are also diversified, having a free package and some with discounts depending on the situation.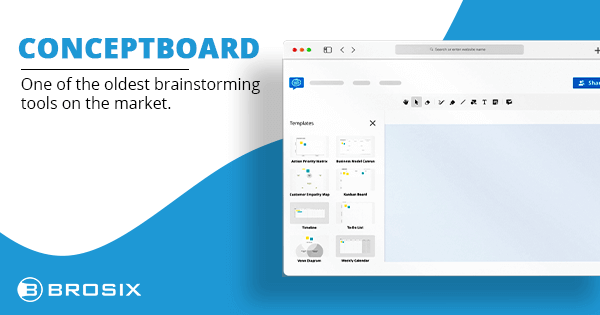 Conceptboard.com is one of the oldest brainstorming tools on the market. You'll find features like infinite canvases, template libraries, and aids to streamline documentation centralization, among the main services provided.
Conceptboard.com is marketed at a similar price point to its competitors, offering a free account while also having special packages. Two of the mid-price packages also give the option of a free 30-day trial.
Be that as it may, when it comes to allowing integrations, this brainstorming tool offers the fewest options and solutions.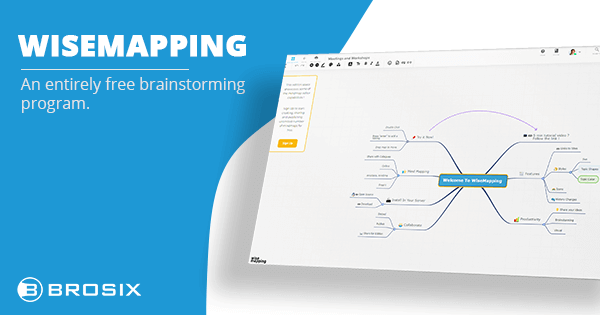 While most of the tools we've examined are freemium brainstorming tools, this particular one is an exception, as an entirely free brainstorming program.
Inside this free brainstorming tool, you have editing and collaborative features, as well as the ability to import and export documents.
It has a pretty simple interface, so if that's what you want, it may be the perfect choice for a quick solution.
[ Must-use tools for more effective work collaboration with the best apps for making internet calls! ]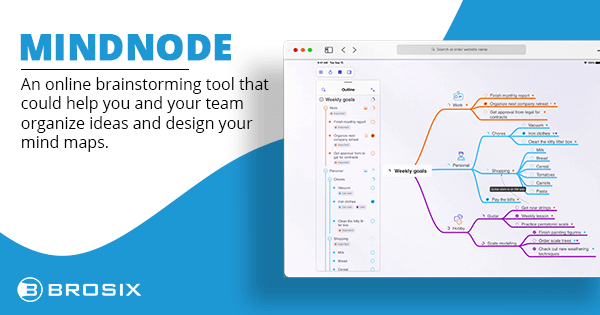 Available for download, MindNode.com is an online brainstorming tool that could help you and your team organize ideas and design your mind maps.
To personalize your visuals you have multiple elements, from themes, stickers, and visual tags.

Looking for a tool that allows you to connect notes, create background shapes to group them, or entirely customize the appearance of your notes? Scapple may be the tool for you.
This tool's website offers a video tutorial on how the product works, so you can make an informed decision about if it is the right choice for you.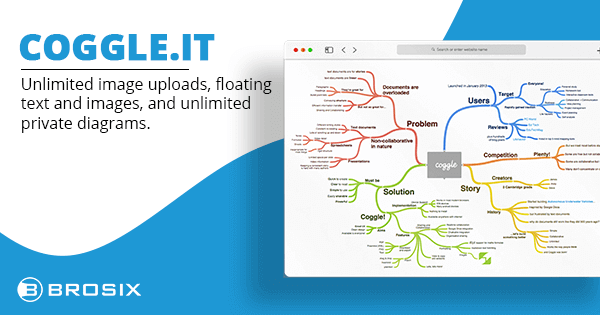 The last brainstorming tool on our list brings the following features to the table: unlimited image uploads, floating text and images, and unlimited private diagrams.
As you might've guessed, this tool offers a free package and two other premium ones in terms of pricing.
The tool's website also provides a product video in case you're curious about what it looks like, and want to know what's available to you if you choose to register.
How can brainstorming tools help you be more efficient?
First and foremost, online brainstorming tools can be of great help when it comes to giving you and your team a hand to be more organized.
Instead of having sticky notes thrown across the room or covering a table, isn't it better to gather them all virtually in one place? This way you can rest assured knowing that no valuable idea is at risk of getting lost.
Or, instead of interrupting your colleagues' train of thought when pitching something, everyone can write and gather ideas in one place, where they remain as long as necessary. Using an online brainstorming tool eliminates the possibility of interrupting anyone and ensures that you won't forget your idea in the meantime.
Final thoughts
Hopefully, each brainstorming tool's description and feature breakdown offered some insights into what the market can offer you.
In the end, when choosing a tool it's also important to keep in mind the user experience it provides so that your team can not only take pleasure in their work, but be productive while using it. This is, after all, the ultimate goal of any app implemented in the workplace, isn't it?