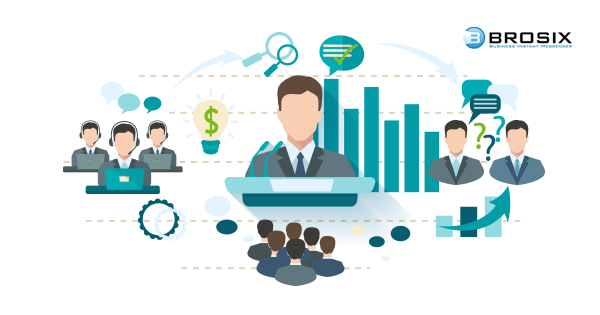 3 Efficient Ways to Participate in Team Meetings from Anywhere
August 23, 2017 Instant Messaging



Regardless of company size or industry, there may come a point when you need to participate in team meetings.

Taking this one step further, there are situations in which your entire company will not be located in the same place. This is often the case with companies that have workers stationed all over the world.

Go back in time 25 years and participating in team meetings meant one of two things:
Joining a conference call
Sitting in a conference room
While both of these options still exist in today's day and age – and there are times when they make sense – you need to realize that there are other options available.
Technology is changing the way people communicate in a business environment. This is particularly true in regards to instant messaging.
Brosix, for example, has a large number of instant messaging features that make it easy to efficiently participate in team meetings from anywhere.
Consider the Following Methods
At this point, you may be wondering how you can use an IM application to participate in team meetings. There is no shortage of options, with the following methods among the best (and most common):
1. Group Chat
This is exactly what it sounds like. It gives you the opportunity to participate in real time conversations with team members, regardless of location.
As long as everyone is using the same application and is available at the same time, this is one of the most efficient ways to participate in team meetings. Even better, it can be one of the most productive.
2. Video Chat
Imagine this: you are located in one part of the world and a coworker is in another. Since you don't want to spend time and money traveling to meet each other, you need to find a different solution.
Video chat can step in and provide you with everything you need. As the name suggests, this gives you the opportunity to see the person you are speaking with. This gives you the feel that you are chatting face to face, despite the fact that you are hundreds or even thousands of miles away.
3. Voice Chat
Similar in many ways to video chat, here is how we define voice chat:
"Voice chat makes communication easier, faster and more personalized. Sometimes a quick call is all it takes."
This gives you the opportunity to jump in on a team meeting if you are unable to visit the office for any reason (such as if you are traveling for business or personal reasons).
It's similar to a phone conversation, but with access to a variety of advanced features such as screen sharing.
Which Option is Best for You?
It can be a challenge to adjust your approach to business communication, especially when it comes to team meetings.
While you should be open to all opportunities, it's important to focus on the methods that make the most sense for you and your company.
All three ideas detailed above come with many benefits, all of which will make your life easier in terms of how you communicate with your team.
Deciding which option is best for your company is as simple as:
Finding out what works for every member of your team (not just your preference)
Making a list of the pros and cons of each communication method
Experimenting with each one
When you rely on Brosix, you don't have to concern yourself with choosing only one of these options. You have access to all three, which makes it much easier to get on board with the one that is right for your business.
Conclusion
Many companies lack the technology they require for employees to participate in team meetings from anywhere. As a result, they are unable to work in an efficient, effective, and productive environment every day of the week.
If you want to protect against this in the future, the best thing you can do is implement the right technology.
An instant messenger could be just what you have been searching for, so don't hesitate to learn more today!