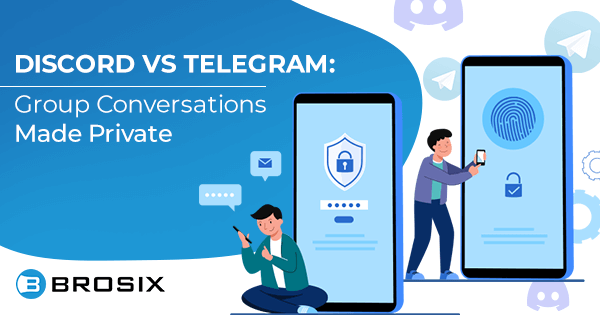 Discord vs Telegram: Group Conversations Made Private
If you're looking for vibrant online communities, you'll hardly go wrong with Telegram or Discord.
These two chat apps have been one of the most interesting online spaces that gather people of all demographics and interests. People who care deeply about privacy and safeguarding their conversations from third parties have especially flocked to Telegram and Discord to have both one-on-one and group chats.
At first glance, these two apps are fairly similar. However, when we dig a little deeper, we can uncover some major differences in the way they work and look.
Let's go through this Telegram Vs Discord review and find out how these two popular group chats differ.
What is Telegram?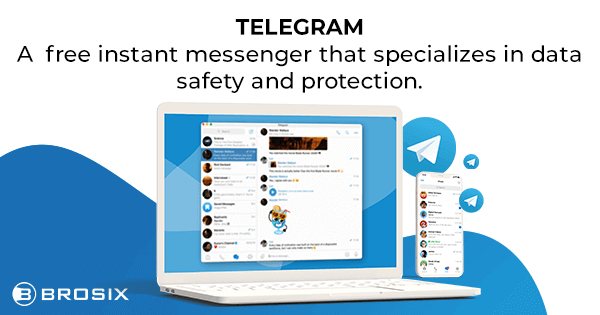 Telegram is a free instant messenger that specializes in data safety and protection. Started in 2013 by the brothers Nikolai and Pavel Durov, the app has since amassed a strong user base, mostly in Russia, Germany, and parts of Europe.
Telegram offers end-to-end encrypted communication through text, voice, and video messages. One of its standout features is the Channels that allow any entity, publication, or individual to broadcast their messages to a wider audience. You'll find Channels gathered around almost any topic, including news, sports, gaming, and even Telegram crypto groups.
In 2021, Telegram hit 500 million monthly active users, in large part due to Whatsapp's new safety policy causing concerns for users worldwide.
What is Discord?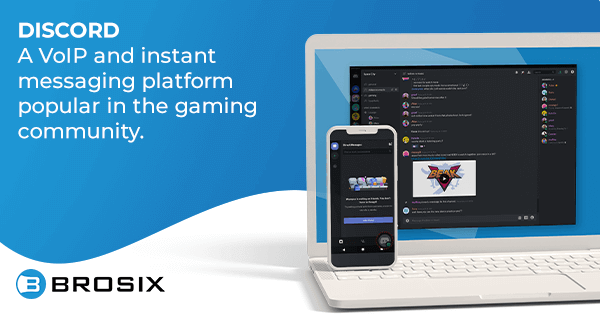 Discord is a VoIP (Voice over Internet Protocol) and instant messaging platform popular in the gaming community. It was first conceived by Jason Citron and Stanislav Vishnevsky, both of whom had already founded social gaming platforms independently.
Discord was released in May 2015 and quickly gained traction in gaming communities, especially the Reddit communities of Diablo and World of Warcraft.
Although initially branded as the "Chat for Gamers", Discord has recently shifted its focus to all-purpose communication, changing its branding to "Chat for Communities and Friends".
Recently, the app has ended takeover talks with Microsoft, refusing their acquisition offer and opting to stay independent.
Discord vs Telegram: Initial setup
By now, you might find that Discord and Telegram occupy a similar position in the market.
While that's true to a certain extent, the key difference between these apps is the fact that Telegram is primarily a mobile instant messenger while Discord is more popular as a desktop solution. Discord is platform-agnostic, meaning that it's used by gamers on all the popular operating systems and devices—PC, PlayStation, Xbox, and smartphones.
All you need to do if you want to start using Discord is to download it on your platform of choice and join a server. You can also create your server or accept an invite by entering a unique code you get when someone sends you an invitation. In any case, you'll need to be a part of a server if you want to communicate on Discord.
Setting up Telegram is also standard procedure: you download it from the App Store/Play Store and install it. The only issue is that you need to enter your phone number to get a confirmation code. If you're overly concerned about privacy, this might be a big knock against Telegram. Discord, on the other hand, doesn't require any of your personal data apart from your birth date.
You could make the case that Telegram is slightly more open and "social", allowing you to connect with your contacts and get a push notification when someone you know joins the app.
Discord vs Telegram: Interface and key features
Both Telegram and Discord feature a simple, intuitive interface we're all used to with messenger apps.
On Telegram, you can see all your active chats on the main screen, and clicking on any of them will open the conversation—just like with many familiar messengers out there.
You can start a new conversation by clicking the "Compose" icon on the bottom right. Once you do, you'll see all your contacts that have the app installed. You can type their name in the search bar at the top of the screen or scroll down to their name manually.
There, you'll see a list of all your contacts that have Telegram accounts. You can scroll down this list and select a contact or use the Search option at the top and start typing their name. You can start a team chat by tapping the "New Group" option and adding people from the next screen.
Chatting on Discord, on the other hand, you feel sort of like a hacker—the black interface and the thin white letters are clearly aimed at gamers and a tech-savvy subculture.
In a way, Discord is like a hip, gamer Slack. If you change the dark theme, you'll see just how reminiscent of Slack it is: your channels are on the left and 80% of your screen is the chat where you can type your message.
Discord makes a distinction between text and voice channels—which is one of the reasons why the app has become so popular among gamers. Streamers have made use of the "always on" microphone feature that allows you to share your screen and communicate with the audience at the same time.
Discord vs Telegram: Team communication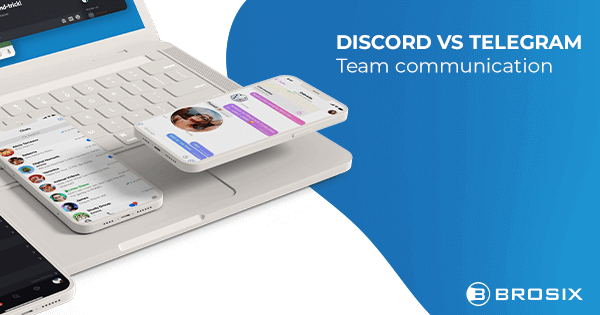 As mentioned, both Telegram and Discord allow you to create groups and Channels—these are the main places where group conversations happen.
On Discord, it all starts with Servers. You need to join a Server or create your own to start chatting with people. Within each server, you'll find different channels dedicated to different topics. For example, if you join a Server dedicated to a multiplayer game, you'll see channels for tournaments, lore, tips & tricks, and many other game-related topics.
You can join a maximum of 100 servers, each server hosting up to 500.000 members.
Unlike public servers that everyone can join, you can set up private servers where you can talk to your friends, teammates, or colleagues without strangers getting involved.
But, how to create a group chat in Discord? You can create your own Server or click on the "Add Friends to DM" button while chatting with any single friend.
On Telegram, your group communication happens in group chats. You can create your own or get invited by a friend to an existing one, just like on any other messaging platform.
The equivalent to Discord's Servers are Channels on Telegram. However, the key difference between the two is the fact that Channels embrace one-way communication. As a member, you can only consume the messages of the owner, not contribute to the discussion.
When it comes to team collaboration, we would give an edge to Discord because of its communal nature and obvious dedication to making the chatting experience a fun, joint activity.
Discord vs Telegram: Safety
A lot of people turn to Discord and Telegram because of their perceived focus on data protection. Unfortunately, as we're about to see, both apps fall a little short in this field.
Sure, compared to your run-of-the-mill default messenger like Facebook's Messenger app, Discord and Telegram are more secure. They don't blatantly share your data with third parties and they offer some anonymity.
The issue with Discord is the fact that it doesn't use end-to-end encryption for your messages. Even WhatsApp—which has itself been a subject of data privacy controversy—has end-to-end encryption.
You do get some level of admin control on Discord. You can control user permissions so that only the users with authorization can access a certain channel. You can also create private servers which are safer than public ones.
In other words, Discord is a proprietary app that can, in theory, access the contents of your messages if they want to. So think twice before joining those Discord crypto groups and discussing your finances.
Similarly, Telegram doesn't use end-to-end encryption by default, only in Secret chats. It does, however, have its source code open for public inspection, which is a big plus.
Overall, Telegram can be considered safer than Discord. But, unfortunately, neither of these two apps is particularly safe from a technical standpoint.
Discord vs Telegram: Enterprise features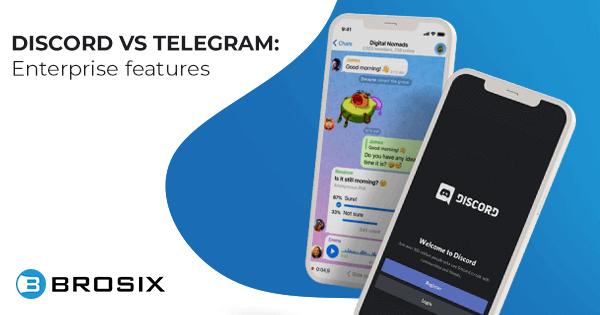 Using either of these two apps as company-wide internal communication platforms might be a challenge: they have some serious limitations.
For example, Discord is great for voice communication and simple team chatting but it limits both your file uploads and group chat size. The Discord group chat limit is 15 participants and you can post files that are up to 8 MB.
In 2017, Discord released the Nitro and Nitro Classic options, which are paid subscriptions that solve some of these problems. With these, you get extra features like custom emotes, streaming higher quality videos, and uploading larger files.
Telegram also offers little to get excited about when it comes to enterprise team communication. There are no polls, calendar integrations, or admin controls. You can, however, add up to 200.000 people to a single group chat and send files that are up to 2 GB in size.
Discord vs Telegram: User reviews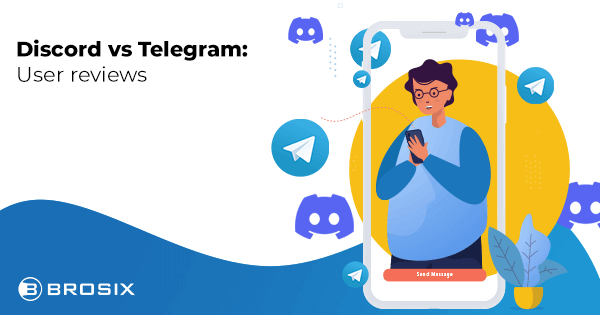 Both of these apps are generally well-received among users. There are no major knocks against either one that could be considered deal-breakers.
Telegram is often praised for its ease of use and an intuitive design that follows the basic UI logic of instant messaging apps we're all used to. The app isn't buggy, it's fast, safe, and well-put-together. Telegram holds a 4.3 rating on the Google Play Store.
The one thing that's often mentioned as Telegram's downside is the bland design. People seem to be asking for more customization, lively colors, and a design refreshment. A lack of features and a small user base (in the U.S.) are also sometimes mentioned as potential improvements.
Discord is lauded for its innovative approach to communication and community building. It holds a 4.5 rating on the Google Play Store with multiple users praising its design and information structure.
However, voice communication has been getting a lot of negative reviews, especially after a recent update. Some users have also pointed out that it's not clear how to create a group in Discord if you're a new user.
Brosix: Safer communities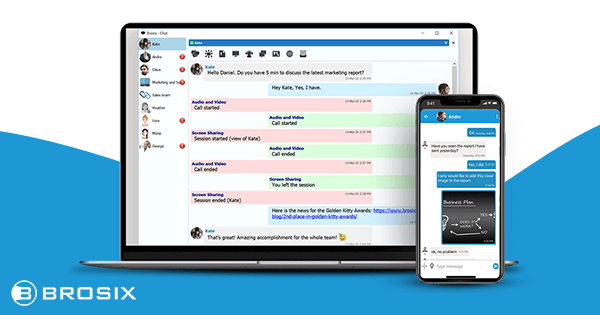 If you find that neither Telegram nor Discord offer enough in the enterprise communication sphere, you might be left looking for an app that delivers on this while keeping the same focus on privacy and safety that Discord and Telegram do.
This was exactly our idea when we created Brosix—making team communication easy and safe for everyone.
Safety, control, and easy communication
With Brosix, you can help your team communicate without distractions and use powerful tools to make collaboration a breeze. In addition to video, audio, and text team chats, you have features like the whiteboard that allows you to give life to your presentations and screen sharing with a remote control that can be useful for training.
More importantly, all of this is kept safe through end-to-encryption and industry-standard privacy protocols. Brosix allows you to roll out your own Private Team Network to keep communication focused and safe. You can use the Web Control Panel to set user permissions and make all kinds of decisions that can make your network safer from outside interference.
Unlike with Telegram and Discord, file sharing with Brosix is unlimited, just like the chat history.
The final word
Whether you're looking for an app to safely connect with your friends and colleagues or you want to join growing news, games, and crypto Discord and Telegram communities, there is no denying that these two apps are among the most popular messengers out there.
However, when it comes to safety, they could still use some work, especially Discord.
And, if you find that both of these messengers are underwhelming when it comes to enterprise communication, you might want to try Brosix. It offers more security and puts control right in your hands.
More importantly, it makes communication easier for the entire team.