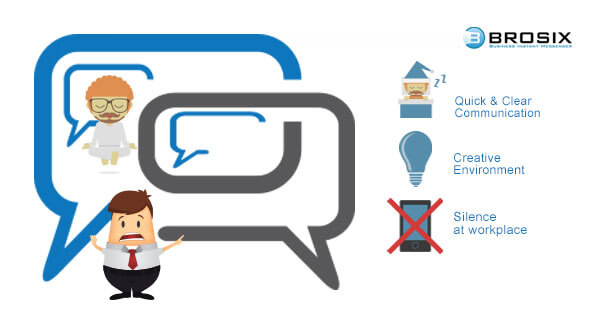 7 Reasons to Use a Business Instant Messenger in Your Workplace
May 20, 2017 Instant Messaging



As a business professional, you're probably well aware of how important it is to communicate in a fast, efficient, and productive manner. Unfortunately, many people continue to fall short in this area. While the reasons could be varied, it may simply be that they're not using the right technology.

Fortunately, there is a tool that can help empower your employees to be even more productive and collaborative, Business Instant Messaging (IM). Business IM is a technology on the rise, building off of the recent advances in field of IM. With this technology, users are able to communicate and collaborate in a highly efficient manner through a range of features well beyond simply sending and receiving messages. Furthermore, it can be used by companies of all sizes, spanning a variety of industries.

The entire field of instant messaging, both in terms of personal and business users, has seen huge growth, with The Radicati Group reporting that:

"In 2015, the number of worldwide Instant Messaging (IM) accounts, not including Mobile Messaging, totals over 3.2 billion. This figure is expected to grow at an average annual rate of about 4% over the next four years, and reach over 3.8 billion by the end of 2019."

The same study noted that the use of business IM is growing at a faster pace than personal use. In other words, an ever increasing number of companies are realizing that IM is one of the best ways for their employees to communicate. The reason for this is simple: companies have the ability to both monitor and control users, ensuring that they use the technology in its intended manner, and create a collaborative environment, for the purpose of increasing team communication and productivity.
What are the Benefits?
Instant messaging as a general tool brings many benefits regardless of the environment it's used in, but businesses can experience specific benefits when using business IM in a work environment. In order to help you better understand exactly what they are, below you'll find the top 7 reasons to use a Business Instant Messenger in your workplace:
1. Instant Communication
The speed of communication in your business is crucial, as many work functions depend on your employees' ability to quickly ask for and receive information. As the name suggests, Business Instant Messengers allow you to communicate with others in real time, with no delays such as those associated with email communication. As long as the other person is available, you can hold a conversation instantly, meaning quicker and more efficient communication.
2. Improved Efficiency and Productivity
Every business thrives on the productivity of its employees, and this is certainly the case for your business. If you're wondering how to further increase your employees' productivity, a Business Instant Messenger can be the right tool for your team. With this technology, employees can communicate efficiently and stay engaged, both key factors for increasing productivity.
Business Instant Messengers can also save your employees time, which they can then invest in their work. One example is by reducing the need to hold time-consuming in person meetings by using group chat features.
3. To Save Money on Travel
How much money does your company spend every year on travel related expenses? If this number is higher than you'd like, and you're looking for a way to cut expenses, a business instant messenger could be the answer. For example, using video chat to communicate with another person in a simulated "face-to-face" manner could replace costly in person meetings. Simulating group meeting environments through features such as virtual whiteboards and group chat could also serve to reduce the need for travel as well.
Think about it this way: you can use video chat to communicate with another person in a face-to-face manner. Although you're not in the same room, it will feel like you are.
4. People Like Using It
Simply put, people enjoy using a Business Instant Messenger. IM technology is so much a part of everyday life that most of your employees will feel completely at ease using a Business Instant Messenger. It can also be exciting to know that you're using cutting-edge technology.
5. Communicate with Remote Workers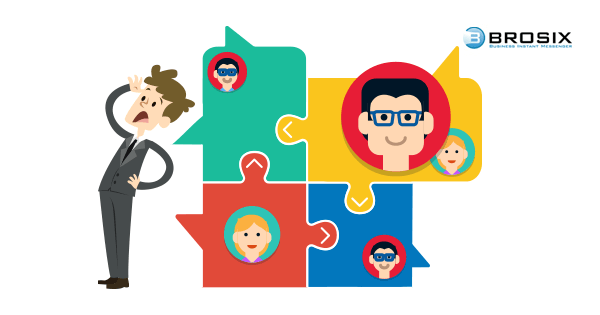 As you may know, more and more companies are allowing people to work from home, or employing entirely remote employees. Along with this, some companies have offices in locations all over the world. Engaging employees is crucial for the success of your business, but often times businesses ignore remote employees in their engagement efforts.
By using a Business Instant Messenger you can ensure that all of your employees, regardless of their location, have the means to stay connected and engaged. Working with them only through email and the occasional phone call will most likely leave your remote employees feeling cut off.
6. Full of Features
High-quality Business Instant Messengers are equipped with a wide range of innovative features, and more are being developed by the day. From screen sharing to group chat, you never know when you'll come across something that is perfect for your company. Odds are that whatever your communication and collaboration needs are, there's a feature that will help you meet them.
7. Easy to Implement
The time needed to set up and administer a Business Instant Messenger has been greatly reduced over the years. Nowadays, you can get up and running with a business instant messaging application within a matter of minutes. From there, you can quickly invite others to join your network, allowing you to instantly take full advantage of the technology.
Conclusion
While this list certainly isn't comprehensive, these 7 reasons should provide you with a good basis on which to decide whether a Business Instant Messenger is the right tool for your business. If you're still on the fence, the best thing you can do is experiment with this technology to get a better idea of what it can bring to your company. You might just uncover a new benefit not mentioned here!