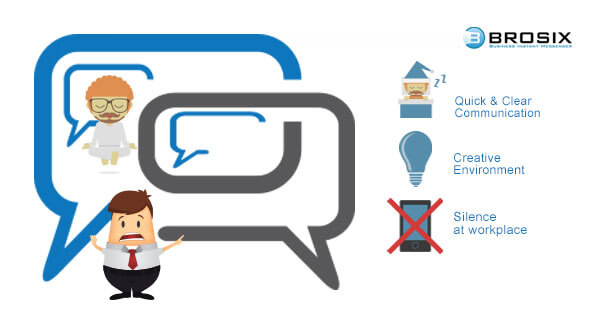 7 Reasons to Use a Business Instant Messenger in Your Workplace
May 20, 2017 Instant Messaging


As a business professional, you're well aware of how important it is to communicate in a fast, efficient, and productive manner
Unfortunately, many people continue to fall short in this area. Here's why: they're not using the right technology.
Fortunately, business instant messaging is on the rise. With this technology, users are able to communicate in a highly efficient manner. Furthermore, it can be used by companies of all sizes, spanning a variety of industries.
Before we discuss the top reasons to use a business instant messenger in your workplace, let's examine an important statistic shared by The Radicati Group:
"In 2015, the number of worldwide Instant Messaging (IM) accounts, not including Mobile Messaging, totals over 3.2 billion. This figure is expected to grow at an average annual rate of about 4% over the next four years, and reach over 3.8 billion by the end of 2019."
In other words, a growing number of companies are realizing that instant messaging is one of the best ways to communicate.
Along with the above, the same study noted that the use of business instant messaging is growing at a faster pace than personal use. The reason for this is simple: companies have the ability to monitor and control users, ensuring that they use the technology in its intended manner.
What are the Benefits?
Now, it's time to examine the top reasons to use a business instant messenger in your workplace:
Instant Communication
As the name suggests, this allows you to communicate with others in real time. There is no delay. As long as the other person is available, you can hold a conversation in real time.
Improved Efficiency and Productivity
Are you concerned that employee productivity has reached an all time low, due in large part to a lack of communication tools?
If this is something that worries you, it's time to implement a business instant messenger. With this technology, employees can communicate efficiently as to increase productivity.
An example of this would be using a group chat feature as opposed to gathering everyone in a conference room. This approach saves everyone a lot of time, thus boosting productivity.
To Save Money on Travel
How much money does your company spend every year on travel related expenses? If this number is out of control or if you're simply looking for a way to cut expenses, a business instant messenger could be the answer.
Think about it this way: you can use video chat to communicate with another person in a face-to-face manner. Although you're not in the same room, it will feel like you are.
People Like Using It
Simply put, people enjoy using a business instant messenger. They find this to be exciting, as they realize they're using the best technology available.
If you want to energize your workforce, implementing a high quality business instant messenger may do the trick.
Communicate with Remote Workers
As you may know, more and more companies are allowing people to work from home. Along with this, some companies have offices in locations all over the world.
How will you stay in touch with everyone if you're not in the same office? While email, phone, and face-to-face meetings remain viable options, a business instant messenger will make everything much easier.
Full of Features
If you have never reviewed the features of a top quality business instant messenger, it's time to do so.
From screen sharing to group chat, you never know when you'll come across something that is perfect for your company.
Easy to Implement
There used to be a time when implementing a business instant messenger was a time consuming, stressful task. Those days are long gone.
In today's world, you can get up and running with a business instant messaging application within a matter of minutes. From there, you can invite others to join your network, allowing you to instantly take full advantage of the technology.
Conclusion
So, there you have it. These are seven of the best reasons to use a business instant messenger in your workplace.
If you're still on the fence, the best thing you can do is experiment with this technology to get a better idea of what it can bring to your company.