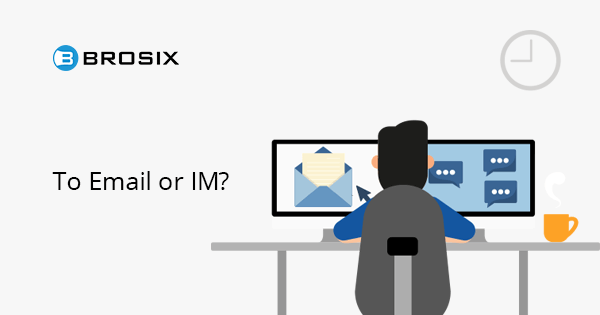 To Email or IM? A Must-read Before You Press 'Send'
December 4, 2018 Instant Messaging



We send and receive an extraordinary number of emails – 122 per day to be exact. As the person sending the message, you hold the power. It's your job to choose the right vehicle to effectively, but also efficiently, get your message across. Today we have more communication tools at our disposal than at any point in history. So why are you still defaulting to email?

Sure, email's a great tool for conveying lengthy amounts of information, summaries, important updates, or general information which doesn't require an immediate response. But it tends to be cumbersome, inefficient, or impossible for:
real-time conversations
inquiries or issues which require quick action
advancing engagement and collaboration
communications which require voice or video
By carefully considering the nature of your communication, you'll likely find that an instant message will more than just get the job done, but it could also:
Improve Efficiency
While the data varies, studies show that we spend anywhere between 2 to 4 hours per day on email. You don't need to be a rocket scientist to know that, especially over the course of a year, that's a lot of hours.
And though email isn't going anywhere, quickly getting in touch with coworkers via IM for briefer communications – think on the fly discussions, short answer questions, or file transfers – can save you precious minutes throughout the day. Not to mention the hassle of getting bogged down with an overflowing inbox. Need to make yourself unavailable? Customize your status. You'll also know when your colleagues are available so you're not waiting idly for a response. Simply put, in many instances IM is a more efficient way of communicating.
Reduce Clutter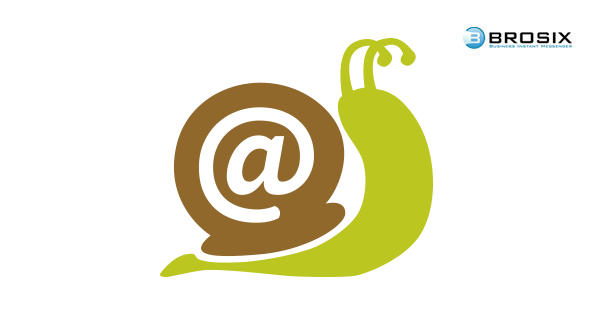 Your workplace email is rarely limited to work-related emails. The same goes for your personal email. And if you're using one address for both your work and private life, your inbox is likely teeming with clutter. You've got inquiries, announcements, updates, those annoying reply-alls which have nothing to do with you, and, in many cases, straight spam.
Instant messaging, on the other hand, encourages more direct and concise communication, reducing the number of emails which can often be answered with a few words. Or an ongoing group chat targeted to a specific team or task, for instance, could reduce those irritating reply-alls. And while you'll never get rid of spam altogether, by decreasing some of your email traffic, bit by bit you can begin to chip away at the clutter.
Boost Engagement
If you're eliminating some of the time you spend on email then, theoretically at least, you're freeing yourself up for your other tasks – you know, your job. That's good news for your productivity. By discussing matters in real time and increasing the speed at which information is shared, you're boosting engagement and optimizing productivity. And that part about waiting around idly for responses? By no longer needing to constantly refresh your inbox, you're reducing time-wasting, too. In fact, by utilizing social technologies, and that includes IM, you could enhance your productivity by 20-25%.
Aid Collaboration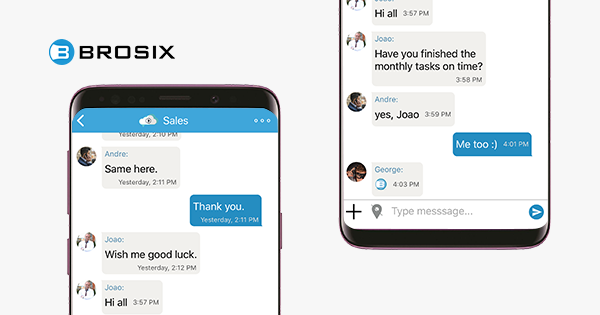 When you choose a business instant messenger, you're advancing workplace collaboration in ways that email can't match. And not just because the communication is real-time, but because you're provided the tools which are tailored toward enhancing teamwork.
Co-browsing, for instance, allows you to browse the internet together with a colleague, leading to more effective collaboration on tasks which require outside research. Screen-sharing, on the other hand, can help you better assist someone with configurations or new software – an impossible job via email. Both eliminate the need for sharing URLs. To more effectively enhance visual demonstrations, virtual whiteboards enable you to draw charts and graphs with a variety of colors and text, as well as insert pictures.
Business instant messengers also usually afford larger file transfers. Brosix Instant Messenger, for example, allows unlimited size file transfer. Transfers are easily executed through a regular text chat window and are peer to peer, so you have peace of mind that you won't face file size limitations or malicious outside interference.
Sometimes, however, a phone call is needed. The topic may be sensitive or you may just have a lot to say. Sometimes you just want to hear the other's voice, see their face, or gauge their reaction. For these instances, make sure your business instant messenger offers both voice and video chat.
While these are just a few of the features at a glance, all of them can be coupled with instant messaging, upping your teamwork and collaboration – whether with the next cubicle or your remote staff. Can your email client do that for you? We didn't think so.
Safeguard Your Communication
Cyber crime has unfortunately become part of our daily lives. In 2017 alone, both Google and Yahoo announced unprecedented-in-scope phishing scams, data breaches, and malicious attacks. Email simply isn't the right vehicle for sharing data.
You need a client which offers you total protection. Brosix doesn't just provide an all-in-one package of communication and collaboration solutions, it ensures your data remains in the right hands. A private network, peer to peer communication channels, comprehensive data encryption, and the ability to integrate the anti-virus software of your choice into the platform all combine to make Brosix an industry leader in secure business communication.
The Last Word
Communication is critical to any work environment. But it's up to you to get your point across clearly and effectively. An email could certainly be the right vehicle for that communication. In many instances, though, it isn't. When utilized the right way, a business instant messenger can make your workplace communication more efficient, engaging, and secure.