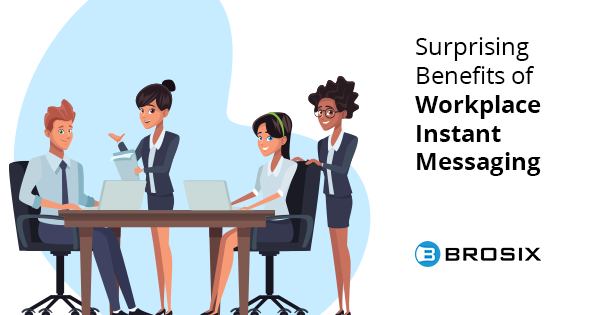 8 Benefits of Instant Messaging in the Workplace
The phenomenon of real-time communication has been around for a while. Believe it or not, instant messaging was actually developed back in the 1960s at MIT.
Certainly, instant messaging has come a long way since then. Popularized in the 1990s by defunct but trailblazing platforms like AIM, MSN, and Yahoo messenger, the technology has continued to soar in popularity.
Free chat apps of today, like WhatsApp, Messenger, Viber, and WeChat to name a few, boast billions of daily users.
These apps empower users with a host of conveniences.
The power to communicate in real time, from any location, for free
The ability to see and hear the other party thanks to VoIP capabilities
The capacity to share files, media, and other content
8 Benefits of Instant Messaging in the Workplace
Click To Tweet
Recently, however, instant messaging has begun to make a name for itself in the business world. And it's little wonder. In addition to the conveniences afforded by free, consumer chat apps, there are many benefits of instant messaging, especially in the workplace.
"Rapid response. Brainstorming sessions. Office banter. It's hard to argue with the effectiveness of instant messaging in the workplace. Instant messaging has become the focal point for our creative sparks. It also encourages the team to share ideas as well as being an informal platform for help and guidance and helping new employees settle in quickly."
–Will Craig, Founder and CEO, LeaseFetcher
That's just the tip of the iceberg. So what else can instant messaging do for your office? Read on to learn 8 other benefits of instant messaging in the workplace!
1. Real-time Facilitation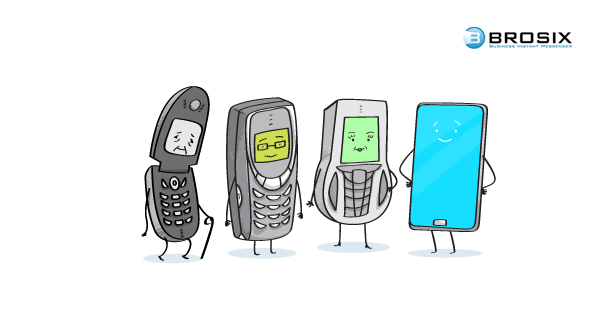 Instant messaging in the workplace offers many benefits. Most notable, however, is the real-time facilitation it provides.
By facilitating quick communication for the initiator and the recipient, instant messaging not only expedites question and response times, but leads to more sound decision-making.
Whether you need advice on an excel formula, which background to use for the presentation, or where to grab lunch, an instant message reaches more members of your team more quickly, and provides you answers faster than an email or phone call.
"We use instant messaging to share notes between our team during sales calls. If someone has an idea while the prospect is talking, we can share it and get consensus almost immediately, without interrupting the flow of the conversation. It's been a great practice for us."
–Clayton Fuller, Strategy Director, Studio Freight
What's more, when people are put on the spot – such as on the phone or in-person – they may not make the best decision. An instant message subverts this pressure by enabling the recipient to respond at their will. These precious seconds allow team members to more thoroughly process the request, formulate a response, and make a decision that's best for the entire team.
2. Transparency
Transparency is key to any productive work environment. Instant messaging in the workplace enhances transparency by promoting more regular communication and, in the process, making colleagues and superiors more approachable.
An instant messaging platform provides you a channel to more consistently give advice, support, praise, and feedback – reinforcing company direction and goals.
Holding the daily stand-up via video chat helps promote clarity among remote teams, for instance. More efficiently and effectively coordinate projects and sprints, get task updates, make involved decisions, and foster an environment of teamwork and communication.
What's more, the simplicity of instant messaging helps place everyone on equal footing. One study of emergency surgical teams found that instant messaging helped level the hierarchical nature within the team, allowing trainees access to more experienced clinicians who provided guidance and advice.
3. Security
$3.86 million. That was the average cost of a data breach in 2018 globally.
Of the many benefits of instant messaging, the enhanced privacy and data security it affords could be the most important for your business.
While using free consumer-grade chat apps for work-related communication comes with privacy and security risks, business instant messengers, like Brosix, help enterprises of all sizes to avoid falling victim to the next data or privacy breach.
Robust, enterprise-grade security safeguards communication and collaboration in many ways:
The ability to self-host your instant messaging network allows you to avoid third-party servers and cloud-based platforms which can be vulnerable to interference, malfeasance, and other threats.
Peer-to-peer channels ensure network activity transpires between authorized users only.
End-to-end encryption ensures data and information remains visible between the sender and recipient only.
Anti-virus and malware integration further boosts the safety and certainty of data transfers.
4. Cost-savings
Proponents of instant messaging are often quick to point out benefits like fewer business trips, leading to reduced expenditures on travel, lodging, meals and so on. And that's all true!
But instant messaging in the workplace provides your bottom line more than reduced travel costs. The right solution allows you to reexamine overpriced phone plans, costly and complex software, hiring and employment strategies, and even the amount of office space you need.
Group chats, voice and video capabilities, file transfers, and a host of collaboration tools allow you to conduct meetings, create presentations, and share content in real-time, and at a fraction of the cost. Better yet, many business instant messaging platforms offer free trials or freemium plans, allowing you to test-drive the platform without dropping a dime.
5. Compliance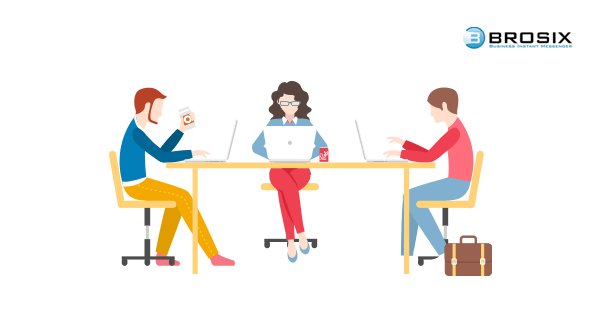 These days it can be tough to keep up with ever-increasing regulations and compliance-related matters.
As regulations on both sides of the Atlantic dictate the archival of electronic communications, relying on consumer-grade chat apps could leave you in violation of these laws.
Your chat archives matter. From health care to financial and business-related communication, comprehensive chat history archives keep you in observance of myriad federal and state laws.
6. Record Keeping
Record keeping is one of the overlooked benefits of instant messaging. A simple record of your internal communication, however, can boost team and organizational performance.
Chat histories provide team members with the ability to review their conversations. A simple keyword search or a search by date helps to easily recall details and information, saving time and frustration.
"My staff have praised instant messaging because they have documented answers to questions they may have asked throughout the day or week, which they would usually ask face-to-face, forgetting what was discussed at a later date. As a result, instant messaging has increased efficiency amongst my workforce as it gives staff a clearer way of communicating; making the task at hand easier to get on with."
– Chris Wain, Sales Director, AfricaTravel
Record-keeping doesn't just help streamline individual processes, though. By diving deep into your organization's chat history archives, you could gain insight into who's communicating and when, as well as their preferred channel. That would allow you to pinpoint collaboration and productive times, sharpening team performance.
7. Camaraderie
Camaraderie is one of the more surprising benefits of instant messaging. Research shows that when employees have friends at work, their job is more enjoyable, worthwhile, and gratifying.
While instant messaging should not be viewed as a substitute for the in-person communication fundamental to human relationships, it can help to foster and maintain workplace camaraderie during the busy workday.
A group chat room, for instance, tailored to sharing small victories, success stories, or a clever GIF or two provides a convenient way to not only improve team communication and collaboration, but boost workplace cohesiveness.
Of course, this flexible approach requires trust in your team, not to mention a clear communication policy and ground rules. Just remember to follow these tips for group chatting.
Encouraging your team to support each other can foster group loyalty, as well as mutual respect and admiration – crucial components of a productive and happy work environment.
8. All-in-one Communication, Collaboration, and Control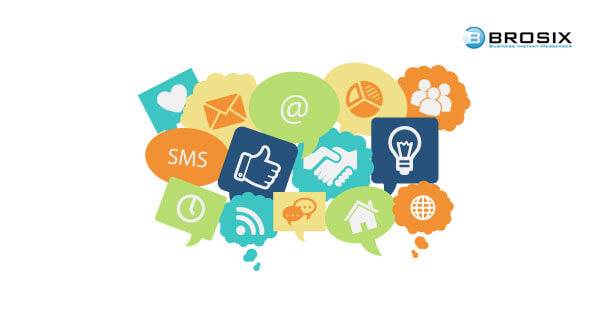 Instant messaging in the workplace ensures teamwork and productivity. By consolidating in one package real-time messaging, collaboration, and administrative control, you streamline internal processes while eliminating the need for extra software.
Fusing real-time communication with collaboration tools like screen-sharing and remote desktop, instant screenshot, and a virtual whiteboard creates a work environment that's dynamic, engaging, and efficient.
Boost brainstorming and strategy sessions, presentations, and remote meetings
Enhance tech support, both remote and in-house
Maximize proofreading, feedback, and how-to demonstrations
Enterprise toolkits pave the way for performance. A private team network requires administrators to authorize network access, affording clarity over who's on the platform.
Control over shared chat spaces, who has access to which features, who can chat with whom, and even data security levels facilitate a workflow that's focused and productive.
The Final Word
There you have it! 8 benefits of instant messaging in the workplace. Certainly, there are more. What advantages of instant messaging has your workplace uncovered? Share with us!
8 Benefits of Instant Messaging in the Workplace
Click To Tweet
To start reaping these benefits and others in your office, try Brosix!