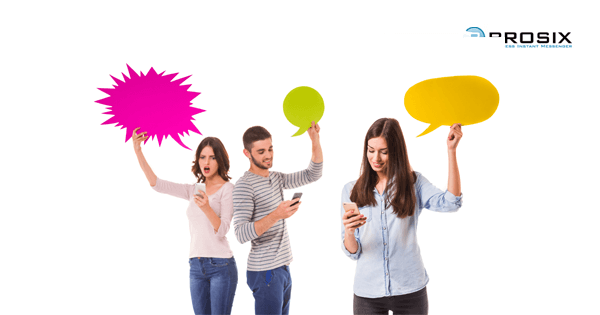 Benefits of Instant Messaging
December 13, 2016 Instant Messaging



Brosix a direct link between related users, thus fostering a greater and increasingly solid rapport among colleagues. No longer does one need to open an email client, insert subject data, compose the body of the message, confirm the recipient's email address, and finally ensure that formatting is correct.
Messages sent via instant messengers are expected to be concise and to eschew the niceties common in email communications
Time isn't spent signing one's name. The sender and recipient are easily identified through the messenger interface. Forgoing such formalities fosters a more intimate working relationship among colleagues and our prospective clients.
An added benefit of the more intimate style of conversing via instant message is found in clients devoting less attention to such mundane and ultimately time-wasting details of completely accurate spelling and punctuation. As time is money and as it takes time to formulate perfectly honed missives between clients, productivity and ease of communication are increased as messages are less bound by the structural limitations of proper English. Shorthand was developed for a reason; to generate ideas using small amount of time. Today's instant messengers serve to democratize such efficiency, ensuring that information is delivered in as few steps as possible.
The use of instant messengers actually adds to the efficiency of workers
especially if the messages are keyword monitored by the Information Technology department of the company.
In today's day in age, instant messaging is a near necessity in the business world. While emailing is useful, communications over an instant messaging application are easy to use and are saving time. The use of messengers actually adds to the efficiency of workers, especially if the messages are keyword monitored by the IT department of the company.
The quicker a worker gets a response they need to a question, the productiveness is increasing. Since messaging is in real time, it cuts down on the waiting time for an email response. Business messaging programs often also provide security for the company. Many of the messaging clients offer keyword features, where the IT department in the company can catch if workers are talking about things they should not be sharing, therefore, preventing information links about confidential information.
Business messengers also provides a way of communication
In a time of crisis when landline telephones and cell phones might not be in service. Another great feature of having a business messenger service is being able to do away with conference call services. When businesses execute conferences through instant messaging services versus conference call services, the resulting savings in the financial department are apparent.