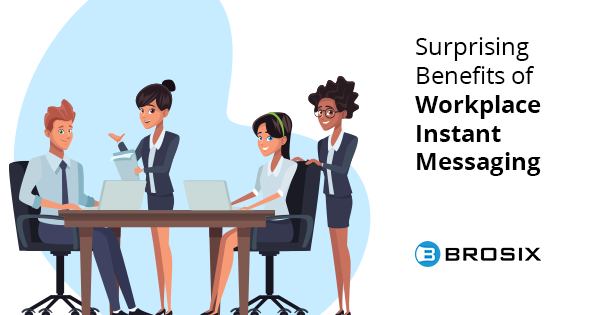 Surprising Benefits of Workplace Instant Messaging
October 23, 2018 Instant Messaging



By now, you might be familiar with workplace instant messaging and its many advantages. Offering comprehensive collaborative tools for streamlined real-time communication, it's no wonder that enterprise instant messaging is taking off in workplaces all over.

But what else can it do for you or your workplace? Much, much more actually! Whether you're a loyal user, new to IM, an enterprise instant messaging solution offers a host of surprising benefits which you should be familiar with. Read on to find out just how much it can do for your workplace!
Daily Facilitation
The daily facilitation provided by instant messaging in the workplace isn't limited to upgraded communication through text chats, voice calls, and file transfers. Business IM not only expedites decision making and response times, but also reinforces company direction, and in some instances can even eliminate the need for meetings.
Whether you need advice on an excel formula, which background to use for the presentation, or where to get lunch, an instant message will reach more members of your team more quickly, and provide you answers faster than an email or phone call. What's more, an enterprise instant messaging platform provides you a channel to give advice, support, praise, and feedback more regularly – reinforcing company direction and goals.
The most welcome piece of news? This constant real-time communication and collaboration can mean fewer meetings. There will always be instances where a meeting is necessary, such as a product rollout or new software demonstration. But the cost of meetings, both financially and to productivity, can add up, especially if you're meeting weekly. Instant messaging is a more efficient way to reach your team, and more often.
Networking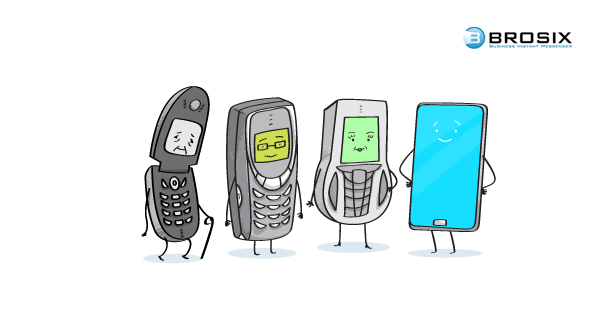 Ok, so this may not be networking in the sense of searching out new customers or clients. But a team that's engaged with each other is ultimately a more productive one. You might want to organize after-work drinks or dinner. Or you may have a new employee who's a bit shy in getting to know your team. In such instances, phone calls and emails can be unsuitable and, frankly, inefficient; taking more time than your busy schedule allows.
Instant messaging, on the other hand, was designed for the purpose of real-time communication, making it the perfect vehicle for carrying out small talk and short conversations. And with an enterprise instant messaging app, you can organize in real-time the weekend team-building retreat without picking up the phone or perusing through a chain of emails – all while wrapping up the budget report or putting together the marketing strategies presentation.
Camaraderie
It's only natural that most of your communication is going to center around work. Research shows, though, that when employees have friends at work, their job is more enjoyable, worthwhile, and gratifying. While instant messaging should not be viewed as a replacement for the in-person communication fundamental to human relationships, it can be a way to foster and maintain workplace camaraderie during the busy workday.
A group chat, for instance, tailored to sharing small victories, success stories, or a clever GIF or two provides a convenient way to not only improve team communication and collaboration, but boost workplace cohesiveness. Of course, with this flexible approach comes an element of trust in your team, not to mention a clear communication policy and ground rules. But encouraging your team to support each other can foster group loyalty, as well as mutual respect and admiration – crucial components of a productive and happy work environment.
Transparency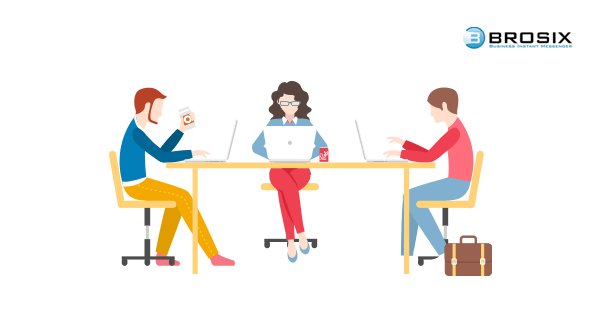 Transparency is a prerequisite for any productive work environment. A lack of it can hinder everything from effectiveness and morale to the budget. The right enterprise instant messaging solution, however, provides enhanced workplace transparency in a number of ways.
A private team network with broad administrative capabilities not only gives you full control over who accesses the platform, but also how certain features can be used and by whom. Furthermore, by providing you a detailed account of chats, voice calls, and file transfers, chat history archives allow you to recall specifics from prior communications, more effectively focus users, and importantly, meet any regulations which require logs of workplace communications.
But that's not all. If you've ever been reluctant to ask a question to a superior because you didn't know the best way to approach them – you're likely not alone. But in a chat group, everyone is on equal footing. One study of emergency surgical teams found that instant messaging helped level the hierarchical nature within the team, allowing trainees access to more experienced clinicians, who provided guidance and advice. The simple nature of an IM could make both your colleagues and superiors a bit more approachable, while giving a voice to someone who may have otherwise felt excluded.
And then there's the cost savings. For businesses who employ remote workers or have locations spread across time zones and geographies, instant messaging saves money in long-distance phone calls, postage, and travel expenses. Group chats, voice calling, file transfers, and a host of collaborative features mean you can conduct meetings, create presentations, and share content in real-time and at a fraction of the cost. What's more, many enterprise IM platforms offer free or trial alternatives, allowing you to test-drive the platform without dropping a dime.
The Final Word
Having the right tools to communicate and collaborate is vital to your team's performance, productivity, and success. Considering the bottom line, though, means considering a host of other crucial factors, as well. By enhancing facilitation, team morale and camaraderie, and workplace transparency, enterprise instant messaging doesn't just boost your team communication – it takes your business to the next level.