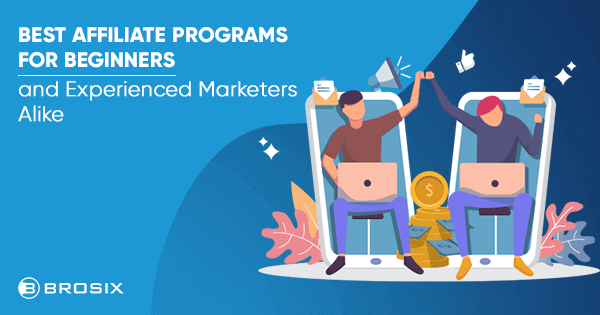 Best Affiliate Programs for Beginners and Experienced Marketers Alike
Whenever you Google "ways to earn money online", you're faced with millions of results. There's a whole sea of different guides and tips out there, each with its approach, guidelines, strategies, and methodologies. Many of them are shady, untested, and outright scammy – after all, "earning money online" has traditionally been a somewhat slimy subject.
However, a pattern can be seen in these guides, with one method especially prominent in all of them. Unlike some, this method is both wholly legitimate and compelling, which is one of the reasons why it has become so popular. That method is affiliate marketing.
Affiliate marketing refers to the process of earning a commission by marketing products from other businesses. Affiliate marketers earn revenue based on their performance by making a percentage from each sale or through other performance-related reward systems.
Next to dropshipping, affiliate programs are a favored method among entrepreneurs,  novices, and veterans alike. According to the latest data, affiliate marketing is responsible for 16% of global eCommerce sales, with 81% of advertisers and 84% of publishers in the U.S. turning to at least one affiliate marketing program to earn revenue.
There's plenty of reasons why you should consider becoming an affiliate marketer. It's a low-risk, low investment way of earning money without having to stoop to less-than-legal or outlandish methods.
In case this interests you, the next step is to find an appropriate affiliate program or programs to go with. This sounds easier than it actually is in practice, as there are thousands of affiliate networks and programs to choose from.
Picking the right one can be difficult, especially if you've just entered the field. To make matters more accessible, we've gathered and reviewed the best affiliate programs around. We've compiled the highest paying affiliate programs from different niches so you can select those that fit your interests.
Let's get right to it.
What is affiliate marketing?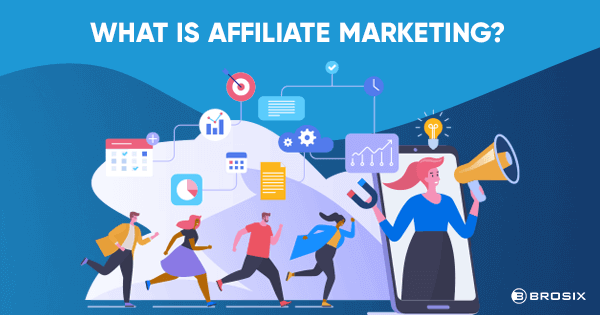 Before you can join the ranks of successful affiliate marketers, you first need to know what it is and how it works.
The concept of affiliate marketing predates the Internet and all other technologies it relies on today. For example, most door-to-door salespeople are affiliate marketers, earning a commission from the company that makes the product for each item they sell.
While door-to-door salespeople might not bring the happiest image to mind, the affiliate marketing business has changed thanks to technological advances.
The core structure remains the same – you earn affiliate income whenever a consumer buys a product or subscribes to a service due to your marketing efforts. A business can track how much they've made through sales from your marketing via an affiliate link.
Affiliate links are links that you place on your website. The consumer is taken straight to the purchasing page for the product in question by clicking on them. After connecting your link, you'll earn a commission if the product is bought.
Thankfully, most affiliate programs don't require the buyer to purchase immediately after clicking the link. Through the use of internet tracking cookies, even if they make a purchase a few days later, that sale will still go towards your commission.
Of course, you can't just plonk the affiliate link anywhere on your site if you hope to make sales. Instead, affiliate links are usually placed within product reviews on your website or blog. Then, the review acts as a recommendation for consumers. If they trust your judgment and the review is well written, they're more likely to purchase through your link.
Amazon is responsible for the massive and rapid popularization of affiliate marketing. The company was one of the first to offer marketers a chance to earn money by marketing products offered on Amazon's marketplace.
The trend caught on quickly, with affiliate programs popping up left and right.  Nowadays, the global affiliate marketing spend is estimated at over $12 billion and is expected to rise by 10% in the upcoming years.
Types of affiliate marketing
Both affiliate marketing and affiliate marketers are not uniform. While affiliate programs function similarly at base level, there are some differences in approach and the relationship between the marketer and the product they present.
These are the main types of affiliate marketing you can encounter today:
Unattached affiliate marketing – the marketer has no relation to the product or service they're marketing. They have not used or reviewed the product, nor does the marketer represent an authority in said niche.
Related affiliate marketing – in this case, the marketer has built a name for themselves in a particular niche and markets products which they're expected to have extensive knowledge of. However, the affiliate marketer does not claim to have used or tried out the product directly.
Involved affiliate marketing – the affiliate marketer has used the product they're advertising and can attest to its quality. As such, buyers treat the marketer's promotion as a recommendation, guaranteeing its quality with their reputation.
As you can assume, the best affiliate program offers are reserved for the last two types of marketers. Logically, people are more likely to purchase something when recommended by a trusted source. For example, you're more likely  to buy a graphics card if it was recommended by Tom's Hardware or PC Mag compared to some random person with no reputation or backing telling you to buy it.
However, you can't just decide one day that you're a trusted affiliate marketer and ask people to trust you. Reputation and expertise take years to build, which is one of the obstacles for affiliate marketing beginners.
How to get involved in the best affiliate programs
There are many ways you can get involved in an affiliate program. Like Amazon or eBay, some companies leave their affiliate programs open to the public. You can freely integrate an affiliate link for either of those marketplaces on your site. If someone buys something following the link on your affiliate site, you'll receive your commission.
With other companies, affiliate programs work by you reaching out to them and agreeing on an affiliate deal. Do note that many merchants won't strike an affiliate deal with just anyone – they might require you to have a particular following and reputation before working with you.
Alternatively, it's not uncommon for merchants to reach out to you first after seeing you attract sizable traffic and pump out quality reviews.
Lastly, you can search for available affiliate programs through something called affiliate networks. An affiliate marketing platform or network is a site that acts as an intermediary between merchants and publishers (marketers). You can search through hundreds of different affiliate program offers on an affiliate network and find ones that suit your needs and interests.
However, deals struck through an affiliate network tend to be less lucrative than ones made through direct contact with a merchant. Hence, we recommend you check out the affiliate programs we've listed below and get in touch with companies and merchants directly.
Terms you need to know before heading into affiliate marketing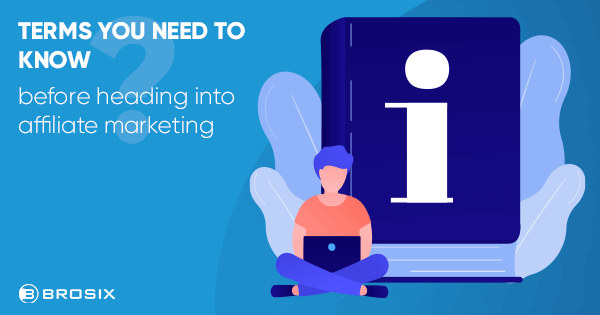 When you start scouring for the best affiliate marketing programs, you'll be hit with plenty of terms you might not understand. Things like "Net 60", "CPA", "CPR", or  "cookie life".
These are not purely technical terms better left to tech-savvy users – they represent essential concepts that define how a particular affiliate program works. There are dozens of relevant terms concerning affiliate marketing. We can't hope to cover all of them within this article, but we'll try to explain the most common ones you're likely to encounter.
First, let's go over the terms for the parties involved in affiliate marketing deals.
Advertiser/ merchant – the person or company behind the product you're marketing.
Affiliate/publisher/marketer – you, the person advertising a product in hopes of earning a commission.
Consumer – the person that visits an affiliate site and buys something through an affiliate link.
Next, we have terms relating to how the advertiser's affiliate performance is measured and awarded.
CPA (Cost per Action) – an affiliate model in which marketers are paid whenever a consumer performs a particular action like registering on a site or leaving their contact details
CPC (Cost per Click) – affiliate model where you'll receive a small commission whenever someone clicks on your affiliate link
CPO (Cost per Order) – the most common way of doling out rewards where you earn a commission whenever a consumer makes a purchase.
Now, let's move on to terms explaining how the commission is calculated:
Fixed fee: whenever the consumer undertakes the desired action, you'll receive a fixed amount of money. For example, you'll receive $50 whenever someone buys sneakers through your affiliate link. This figure does not change regardless of how many orders go through you – you'll still be receiving $50 for each.
Percentage-based commission: plenty of the best affiliate programs rely on this model, where your commission is equal to a certain percentage of the affiliate purchase cost. If the commission is 10% and someone buys a $200 smartphone through your link, you'll earn $20.
One-time fee: a one-time fee affiliate program rewards you with a certain amount of money (either fixed or percentage-based) when a consumer makes a purchase. However, you'll only get a commission for the first time they buy something or subscribe to a service – any subsequent purchases won't net you any money.
Recurring commission: unlike one-time fee models,  recurring commission affiliate programs reward you both for the initial subscription and all subsequent ones.
There are a few other essential terms regarding affiliate marketing that you should know:
Cookie length/cookie life: the number of days a cookie tracker will persist before disappearing. For example, if cookie life is 30 days and someone clicks your affiliate link but decides to make a purchase 30 days later, it will still count towards your commission. However, a purchase made on the 31st day after the last time your affiliate link was clicked won't earn you any rewards.
Net X: the delay between a qualifying affiliate purchase and your commission payout. The "X" signifies the number of days. If an affiliate program is Net 60, you'll receive your money two months after a qualifying purchase was made.
Payment threshold: the minimum amount of commission you have to earn before the advertiser pays out your commission.
The terms we've covered here should be enough for you to get into affiliate marketing and start earning income. You're bound to come across some terms we haven't covered here or a different variation of those we did. Even a cursory Google search should tell you what the term in question means when in doubt.
The benefits of affiliate marketing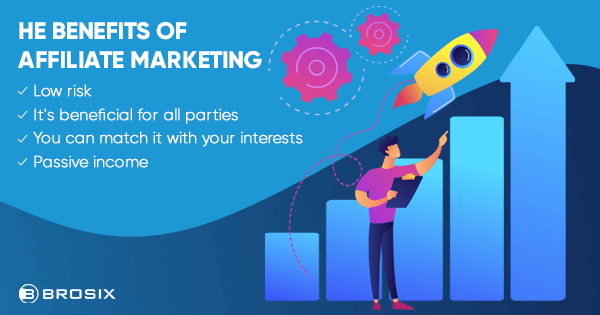 You might be wondering why affiliate marketing is so popular and why you would pick it over something like dropshipping. While affiliate marketing certainly has its drawbacks, they're far outweighed by its potential benefits. Let's go through the main advantages of participating in an affiliate program.
1) Low risk
Affiliate marketing requires little-to-no investment from your side. The only infrastructure you need to pay for is a functioning website –  you don't need to spend hundreds or thousands of dollars just to get started. However, earning decent affiliate income does take time as you need to produce quality content that people will like and trust.
Still, you don't stand to lose your life savings if things go sour, and you can then consider switching to a different industry.
2) It's beneficial for all parties involved
The beauty of affiliate programs is that they're lucrative for everyone involved. Businesses don't need to spend thousands of dollars on marketing campaigns or Google Ads, which may or may not yield a return. Instead, they pay only for marketing that has led to purchase while remaining profitable.
Publishers too stand to gain a lot. You don't have to buy out items and try to resell them or spend any money to start your affiliate business. If you're successful, you'll earn money – if not, not much is lost.
3) You can match it with your interests
Instead of working in an industry you don't find inspiring, you can find high-paying affiliate programs in nearly every niche imaginable. From tech and clothing to cryptocurrencies and gambling, there are great affiliate programs to be found.
4) Passive income
Unlike dropshipping, affiliate marketing doesn't require you to keep watch 24/7. Once you've built up your following and started accruing affiliate revenue, your online business can practically run itself. Sure, you need to update reviews on your affiliate site and write new ones, but that can be easily outsourced too, letting you earn solid passive income.
The best affiliate programs: Top 12 list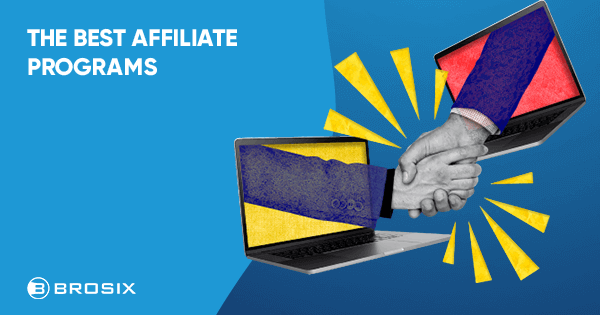 Now that we've covered all the critical bits, let's delve into showcasing the best affiliate marketing programs. We've split them into several categories, so you can filter out the ones you're not interested in more easily. Let's get right to it.
Subscription services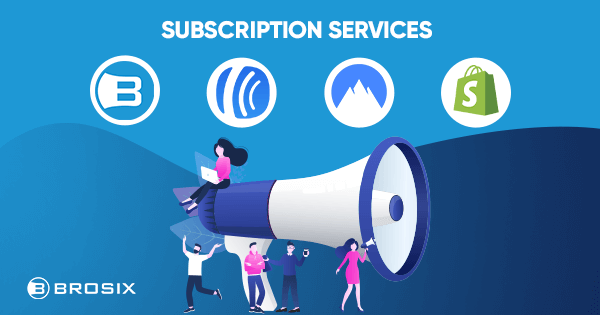 Subscription services are always top-rated among affiliate marketers as they usually come with recurring commissions. You can earn money for months to through them, even without landing any new conversions.
1) Brosix
Brosix just recently launched an affiliate marketing program and it has almost everything you might need as a marketer.
Brosix is behind a rapidly rising secure business messenger that can go toe-to-toe with the likes of Slack and Microsoft Teams. When remote work is ubiquitous, its highly secure messaging platform is in high demand. Thanks to a plethora of robust features like omnichannel communication and multi-platform availability, Brosix is far from a tough sell.
This means you can expect some easy conversions right off the bat, as the product pretty speaks for itself. Additionally, its affordable pricing will also translate into more customers.
Brosix offers a 30% recurring commission for all its affiliate partners. This means that for every payment made during the customer's lifecycle, you'll earn a 30% commission. On top of that, Brosix gives you access to a handy web panel where you can monitor traffic and conversion and see how well you're performing.
Commission: 30% recurring
Commission requirement: CPA  – paying customer
Payment threshold: N/A
Payment time: next month on the 30th
Cookie life: 60 days
2) NordVPN
NordVPN is probably the most widely used VPN provider around. If you've spent any time online, you've certainly come across NordVPN, which is another testament to its popularity. VPNs are more popular than ever in the age of increased surveillance and fleeting privacy.
All of this means that you probably won't have any trouble converting customers looking to hide their online activity from prying eyes. However, the VPN review niche is somewhat crowded, so it might take you a while before you can start accumulating traffic and, therefore, income.
NordVPN has a unique and generous affiliate program on offer. For new sign-ups that subscribe for one month, you get 100% commission – the total price of a 1-month subscription. For any subsequent payments from that customer, you'll earn a 40% commission. For longer subscriptions (6-month, 1-year, and 2-year) your commission will be 40% for the first purchase and 30% for all those that come after.
The cookie lifetime here is 30 days, with a payment threshold of $50. You also get access to a dedicated affiliate manager to help you grow and earn more revenue. The NordVPN customer service is top tier and is ready to help you and any customers you bring.
Commission: 40% on subscription, 30% recurring (100% of the first month's revenue)
Commission requirement: CPA  – paying customer
Payment threshold: $50
Payment time: every month
Cookie life: 30 days
3) Shopify
Shopify is a top-rated eCommerce solution used to process online payments and create eCommerce websites. Many online stores rely on Shopify to process payments, meaning there'll rarely be a lack of interested customers.
Another great thing about Shopify is that it offers both a Partner and Affiliate program, giving you much-needed flexibility and the chance to earn some serious revenue.
The Shopify affiliate program functions by giving you a bounty (one-time fee) for each new client you bring in. You'll earn a 200% bounty for each customer that's been active for at least two months. This means that you make two times the monthly subscription price the client in question chooses when purchasing.
On the other hand, the Shopify Partner program is reserved for users that contribute by creating websites, themes, or apps within the Shopify ecosystem.  Through this program, you'll be earning a 10-20% recurring commission for monthly subscriptions, as well as money for anyone that purchases your app or theme.
Be sure to check out the Shopify affiliate programs in more detail on their website, as there's a lot to cover.
Commission: 200% bounty (affiliate), 10-20% recurring commission (partner)
Commission requirement: CPA  – paying customer
Payment threshold: $25
Payment time: 5 business days after the 15th of the month or five business days after the last day of the month.
Cookie life: 30 days
4) AWeber
AWeber is a renowned email marketing solution that's been around for 20 years. Over time, they've managed to build up quite a reputation for themselves. It comes equipped with a well-rounded toolkit that allows you to reach out to thousands of people via email, create beautiful email templates and landing pages, and much much more.
You don't need us to tell you how important email marketing is, and AWeber is never short on clients. Therefore, this is one of the best affiliate marketing programs you can delve into, as you'll never fall short when it comes to conversions. On top of that, AWeber isn't over-marketed as some other solutions are, which means that you can easily carve out a good chunk of the audience to market the product to.
The AWeber affiliate program is pretty lucrative, rewarding you with a 30% recurring commission for all paying customers. You also get access to easily-repostable ads and articles you can share on your website. That way, you don't even have to create any content if you have a decent enough following. Just place the pre-made promotion content, add your affiliate link and earn money.
AWeber's tracking cookies have a jaw-dropping life of 365 days, with a $30 payment threshold for US affiliates ($50 for non-US).
Commission: 30% recurring
Commission requirement: CPA  – paying customer
Payment threshold: $50 ($30 for US-based affiliates)
Payment time: on the 1st of the month
Cookie life: 365 days
5) Systeme.io
Systeme.io is an all-in-one digital marketing platform that comes packed with all the tools you need to run every aspect of your business. The platform is ideal for people looking to start their own online business, and with a fully-loaded free plan, the software almost sells itself.
This super-charged software includes its own affiliate program, as well as a marketplace full of other, affiliate offers you can promote.
There are no conditions for becoming a systeme.io affiliate, you don't even need to be a systeme.io customer.
The systeme.io affiliate program functions by giving 40% lifetime commissions for the sale of every course and subscription. This means that if someone purchases the Enterprize plan at $97/month, you'll earn a $38.80 recurring commission, as long as they continue to subscribe to that plan.
There's also the second-tier of their affiliate program, where you earn a further 5% if anyone you refer, becomes an affiliate and refers someone else.
Systeme.io's affiliate tracking method is extremely effective as it relies on more than cookies. Your affiliate link never expires. If your referral has opted-in using your link, but uses another device, at a much later date to make a purchase, you'll still receive the credit and commission for that sale.
Commission: 40% recurring commission, extra 5% on the second-tier >Commission requirement: CPA – paying customer
Payment threshold: $30
Payment time: 10th of each month
Cookie life: 180 days (6 months)
Online marketplaces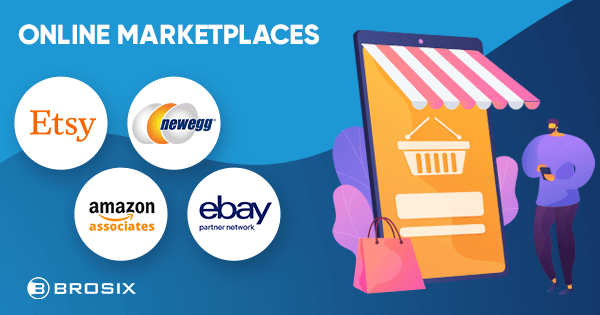 A surefire tactic in affiliate marketing is to look for immensely popular or rising trends and products. Online shopping is one trend experiencing explosive growth that was only sped up by the pandemic. Here, we've gathered the best affiliate programs from big online marketplaces. Due to their highly in-demand product offers, digital marketplaces give you a tremendous amount of flexibility around which items to focus on, all under a single affiliate program.
5) Amazon Associates
Amazon is a company that certainly needs no introduction. Starting as an online marketplace, it grew to become a titan of the corporate world, spreading into every industry imaginable. Still, its initial success – the online marketplace – represents possibly the best affiliate program you can find as a beginner affiliate marketer.
Amazon's affiliate program, Amazon Associates, lets you earn a commission from practically every branch of the company's business. From recommending products on their marketplace to promoting Amazon video games and streaming services, the potential for affiliate sites to earn revenue is nearly limitless.
Amazon Associates rewards you with a percentage-based commission for all products bought through your affiliate links. The exact percentages depend on the product category, starting at 1% for groceries and video game consoles to 20% for Amazon Games.
Additionally, there's a one-time fee bounty system for dedicated Amazon services like Amazon Prime, Amazon Home Services, and so forth. Unfortunately, cookie life at Amazon Associates is only 24 hours. The default payment threshold is $100.
Commission: 1%-20% for products, $0.50 – $25 for Amazon services
Commission requirement: CPA  – paying customer
Payment threshold: $100
Payment time: within 60 days following the month in which you earned the commission
Cookie life: 24 hours
6) eBay Partner Network
Next to Amazon, eBay is the go-to place to find any product online. While the site has lost some of its popularity due to the unrelenting rise of Amazon, it still has millions of users and listings you can promote to earn money.
eBay's forte is consumer-to-consumer listings which can give you more flexibility regarding how and what you advertise. There is a whole niche of eBay resellers that bring in some serious revenue, which makes eBay a viable alternative to the Amazon affiliate program.
eBay's popular affiliate program is the eBay Partner Network (EPN). What's unique about this program is that it allows you to promote your listings. While this would be considered a conflict of interest in some cases, here, it's encouraged, as you're still driving traffic to the site.
The eBay Partner Network program pays a percentage-based commission for all sales made through your link. This is one of the oldest affiliate programs in existence, and the fact that it's still alive and healthy is an excellent testament to its profitability.
The commission rate goes between 1% and 5%, depending on the product category. While not much, you still stand to earn a lot for pricier items. Like with the Amazon affiliate program, cookie length is 24 hours, with a payment threshold of only $10.
Commission: 1%-5%, depending on product
Commission requirement: CPA  – paying customer
Payment threshold: $10
Payment time: 10th of each month
Cookie life: 24 hours
7) Etsy
Etsy might seenan odd choice compared to the two substantial online marketplaces we've covered previously. Not that Etsy isn't popular – it is – but it isn't really on the same level, and it's mainly used to buy cheapish gifts, right?
While this is partly true, Etsy gives you many opportunities to generate revenue. First, while many items on Etsy are cheap, that also means people are more likely to make purchases without thinking about them too much.
Secondly, Etsy is home to extraordinarily creative and charming items that attract prospective consumers. Lastly, Etsy has pricey items, mainly in the vintage section. You can earn serious money if you play your cards right and promote those items properly. Furthermore, the Etsy affiliate market doesn't have as many influencer heavyweights you'll have to compete against as other platforms.
The Etsy affiliate program gives out a percentage-based commission to affiliates. For purchases made through standard affiliate links, you'll earn a 4% commission. On the other hand, sales made through user-generated content such as social media posts earn you a 2% commission.
The cookie lifetime is 30 days, which is more than other online marketplaces. You can choose your payment threshold between $20 and $100.
Commission: 2% or 4%, depending on method used
Commission requirement: CPA  – paying customer
Payment threshold: $20-$100
Payment time: every two weeks or monthly
Cookie life: 24 hours
8) Newegg
If you're unfamiliar, Newegg is a computer hardware and electronics-focused selling site famous for its affordable and often-discounted prices. For bloggers, Discord admins, and marketers that focus on gaming and hardware, Newegg is one of the core affiliate marketing programs you need if you hope to generate noticeable revenue.
There's never a lack of conversions for Newegg. With technological advancements and recent supply chain problems depleting stocks, hardware components are currently a sought-after product category. Newegg has around 30 million users which should be a good indicator of its potential as an affiliate program.
The commission rate here is 2.5%. You might think this is extremely low, but this is an excellent rate for a site of this type, where commissions are usually 1%. Furthermore, the recent price spike for hardware means you'll be earning even more than usual.
Besides the commission, you'll get access to marketing material, deep linking, a dedicated affiliate team for support, and much more. As far as affiliate programs for hardware selling sites go, this is the best one you'll find.
Commission: 2.5%
Commission requirement: CPA  – paying customer
Payment threshold: $25 (US), $100 (international)
Payment time: every two weeks or monthly
Cookie life: N/A
Affiliate networks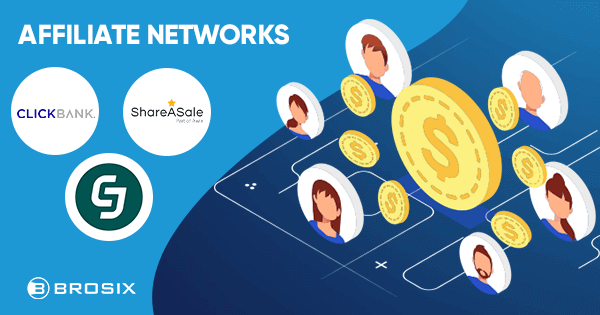 Lastly, we have the affiliate network section. As discussed earlier, an affiliate network is a middleman between publishers and advertisers. They offer lucrative affiliate programs to creators while providing merchants with much-needed marketing.
You'll find that Amazon or eBay are classified as affiliate networks on some sites. We decided to use a more traditional definition of affiliate networks, placing sites that focus purely on connecting merchants and publishers.
9) CJ Affiliate
One of the oldest and most popular affiliate networks out there, CJ affiliate is the go-to place for finding the best affiliate programs. Founded way back in 1998, CJ Affiliate grew quickly and now has nearly 3,000 merchants in its network.
These include incredibly recognizable names such as Barnes & Noble, Office Depot, and Grammarly. The affiliate network claims that affiliate marketing publishers using their services earn up to 88% from a single shopper and increase their revenue by 30% in the first year.
Of course, the exact commission rates vary from deal to deal. What's excellent about CJ Affiliate is that they combine all of your commissions on the site into one single payment.
10) ClickBank
Boasting over $4 billion in commissions earned during its 20-year history, ClickBank certainly has the stripes to find a place on our list. Whether you're a newbie or a grizzled veteran of affiliate marketing, this is a great place to find the best affiliate programs around.
Currently, there are over 6 million different affiliate products you can promote on ClickBank. What's interesting is that, unlike other popular affiliate networks, ClickBank focuses mainly on smaller merchants. This gives you space to create unique yet highly sought-after reviews that attract a dedicated audience.
Another of ClickBank's strong points is that it allows you to choose your payment schedule. Additionally,  it provides more payment options than most affiliate networks, which constrict you to PayPal.
11) ShareASale
Finally, we have ShareASale. If you've ever dabbled in affiliate marketing before you're sure to have come across this site, as it's probably the most beloved affiliate network around. The people running the site work hard to bring you only the best affiliate programs and top-quality products.  This means you'll never disappoint your audience by recommending something that turns out to be lackluster.
ShareASale services nearly 17,000 merchants and 225,000 publishers. The site offers affiliate programs from various niches and includes both digital and physical products.
Many affiliate programs are exclusive to ShareASale, such as OptinMonster, which should tell you enough about the quality and trustworthiness of this site.
Final Thoughts
We've worked hard to find an affiliate program or affiliate network for each type of marketer. Go through them, see which ones you like, and strike some lucrative partnerships. After all, flexibility is one of the most significant advantages of affiliate marketing.
Also, you don't have to focus on one affiliate program exclusively. Most marketers have dozens of active deals simultaneously, with the best affiliate programs earning them decent passive income.
Remember that earning money from an affiliate program does require effort – you still have to provide captivating and engaging content that will motivate people to follow your recommendations. Good luck out there!