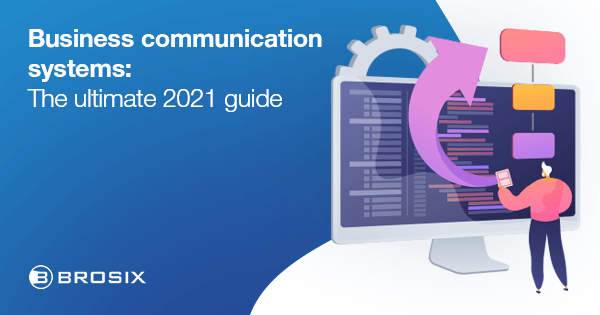 Business Communication Systems: The Ultimate 2021 Guide
Communication is one of the most important challenges when running a business.
Regardless of whether you're a small company with under 20 employees or a big enterprise with entire departments and floors—you need to figure out the best way to let your people communicate. Good business communication means building strong relationships between coworkers and keeping everyone on the same page when it comes to company policies, active tasks, and the latest news.
Business communication systems can serve another purpose: it helps everyone stay organized and track their assignments.
So, what kinds of business communication systems are there and which ones should you use?
What are the types of business communication systems?
First, let's go over all the types of communication systems you can implement in your company.
Roughly, these systems can be split into four categories:
How to choose the best business communication system?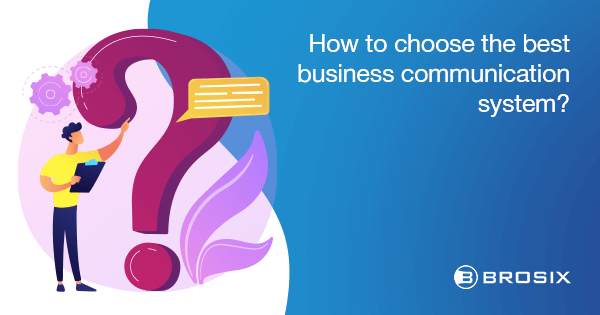 But, how do you know which solution is the best for you?
First of all, their pricing can already give you a good idea. In other words, if you're running a small business, you'll almost instantly notice when a certain tool is aimed at larger enterprises. Complex features and hefty price tags will be a dead giveaway. On the other hand, easily scalable plans are usually meant for small businesses. A lot of communication systems also offer unlimited free plans.
If you're looking for a tool to communicate with your customers, you'll have to research which channels of contact they prefer. For example, you'll likely want to invest in a business phone system if you're marketing to a more traditional audience that likes to call your contact center. On the other hand, it might make more sense to invest in live chats or chatbots if you're targeting a more tech-savvy group.
Most importantly, you'll need to think about features: what does your team require to communicate properly? Here are some things to consider:
Communication vs task management: most tools will prioritize one over the other. It's almost impossible to find a good communication platform that has task management or time-tracking capabilities. You also shouldn't expect your task management platform to double up as a team chat tool.
Data safety: you want to choose a tool that has strong safety features that safeguard your data from third parties. Take a close look at what the tools you're considering have to offer and compare their security protocols.
Voice and video calls: these are features that you either really need or you don't. In other words, decide early on whether you'll be going for the tools that allow for video and voice chat or you don't find this as important.
File sharing: you might only be looking for a simple work chat solution for simple communication but make sure that the app isn't too limiting when it comes to sending files. A lot of people will get used to chatting through this app so they'll likely want to quickly share files here. When that happens, you want them to be able to do this quickly and easily.
Best business communication systems to choose right now
Here are our picks for the best communication systems you could go for in 2021—from team chats to customer care and task management.
1. Brosix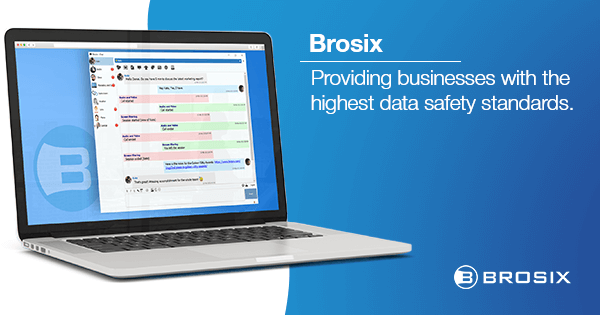 For a lot of companies, safety comes first when discussing business communications processes. At Brosix, we're fully dedicated to providing businesses with the highest data safety standards while also making sure our users get the best possible chatting experience.
In practice, this means that you as an admin have complete control of the entire communication process in your company. Through our Web Control Panel, you can add and remove users, set their privileges, create specific rules when it comes to communication features, and more. Essentially, you can tailor Brosix to the needs of the company and the users.
We also went to great lengths to streamline the communication experience. So, with Brosix, you have an unlimited chat history that you can research by both date and keyword. There is also no limit when it comes to uploading and sharing files—you can share your hi-res videos and demanding .ppt files with ease.
In addition to these regular features, you also have screen sharing, audio and video calls, as well as the Whiteboard feature that will help you breathe new life into your meetings and presentations.
Brosix pricing
Brosix comes in three plans: Startup (free), Business ($4/user/month), and Premium ($6/user/month).
Even in the free plan, you get the Web Control Panel, features control, the Whiteboard, and many other features. However, the free plan is limited to only three users so it makes the most sense for startups and entrepreneurs.
In the Premium plan, you get everything you could ask for from a business communication app, including full control over user accounts.
Check out Brosix and explore these features for free!
Request Demo
2. RingBlaze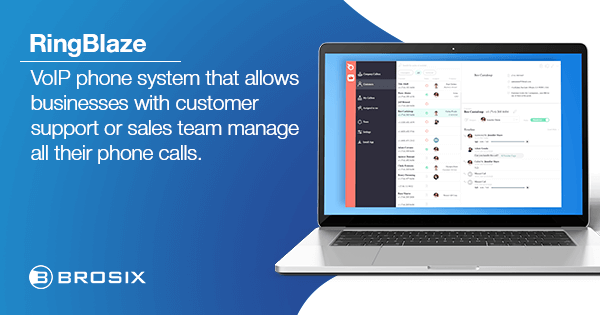 RingBlaze is a VoIP (Voice over Internet Protocol) phone system that allows businesses with customer support or sales team manage all their phone calls. Like many VoIP phone systems, RingBlaze is fairly easy to implement and it can save you a lot of time and money that's otherwise spent on a cumbersome call management process.
What sets RingBlaze apart from the competitors is the highly intuitive, well-designed dashboard. With it, your entire team can easily coordinate their efforts and make sure every caller gets top-notch service. This dashboard facilitates team collaboration by allowing your agents to assign calls, leave comments on them, and even record each call if necessary.
The app also offers other useful features like the click-to-call widget that you can easily incorporate into your website and let your visitors reach you by clicking a single button. This call (and all other calls, no matter where they're coming from) are completely free for the customer. This is a big plus, as it means your customers have a quick, intuitive, and free way to contact you over the phone.
RingBlaze pricing
This is simple: RingBlaze has a single pricing plan that slightly differs based on whether you're paying on a monthly or yearly basis.
If you decide to pay monthly, the price is $19 per user, per month; and if you decide to make yearly payments, the price drops to $15 per user, per month. The plan includes all features, including unlimited calling to the U.S. and Canada, call recording, the click-to-call widget, and more.
3. Monday.com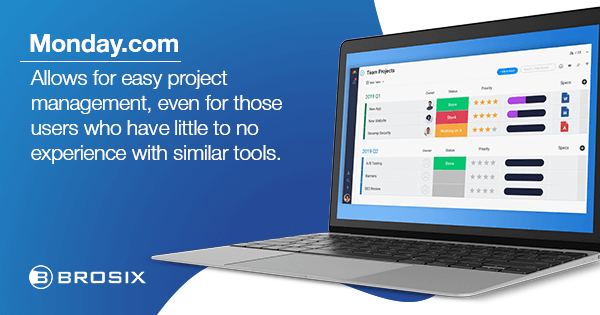 We can't talk about business communication systems without mentioning some sort of organizational tool whose primary goal is project tracking.
Monday.com is one of our favorite such tools—it allows for easy project management, even for those users who have little to no experience with similar tools.
With Monday.com, it's all about the intuitive interface. It structures all data by default into these highly stylized sheets that take the form of a vibrant, colorful grid. Each row contains a task, activity or project—however you want to organize things. The columns then signify different attributes of that project or task: deadline, assignee, priority, progress, etc. By looking at the data and changing the attributes, your team can work together on even the most complex of projects.
This is the default view, called Table. However, depending on your project, you can switch to a Calendar view for those projects that include dates or a Map view if you need to account for physical locations like stores or warehouses. Interestingly, there isn't a Gantt chart view, although the Timeline view is pretty close to being exactly that.
As we mentioned, a lot of project management tools have chat features built in.  On Monday.com, you can chat using a conversation panel that's connected to any row. You can post an update, reply to specific comments, like other people's comments, and mention people. Although this can't be compared to a more serious work instant messenger, it's still a handy feature to have.
Monday.com pricing
Monday.com offers the following plans: Individual (free), Basic ($8 seat/month), Standard ($10 seat/month), Pro ($16 seat/month), Enterprise (custom price).
As you can see, the Individual plan is free but it's limited to only two seats. If you want to organize an entire team and facilitate internal communications, you'll need a plan that empowers other users as well.
The Standard plan is marked as "most popular" on their website and it includes features like unlimited users, 20 GB of file storage, integrations, automation, and more.
4. Slack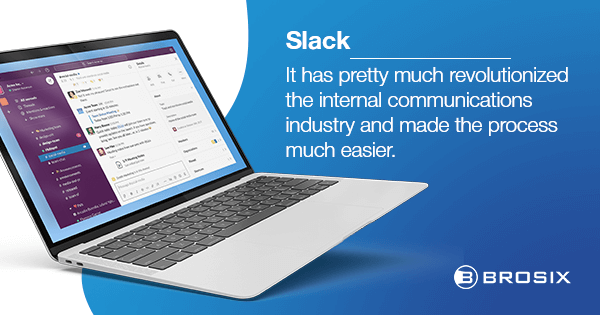 Slack is one of those business communication tools that everyone seems to know about. Companies small and large, more or less informal—all types of enterprises can find something useful in this tool.
This popularity is thoroughly deserved. Slack has pretty much revolutionized the internal communications industry and made the process much easier. Discussing projects, sharing files, and communicating with different teams within an organization is a breeze on Slack.
Slack's main asset is the Channels feature—something that many business chats have since tried to emulate. You can be a part of different channel within a single company, they're usually created for each team, department, or project. Apart from General and Random channels that are there by default, any user can create their own channel, give it a name and purpose, and add members.
Slack also offers a wide range of integrations. For example, you can integrate with Google Drive and share files and give editing permissions in just a few clicks.
Slack pricing
Slack offers the following plans: Free (with limited access to message history), Standard ($6.67 user/month), Plus ($12.5 user/month), and Enterprise Grid (price estimated on request).
The Pro plan which seems the most cost-effective, features an unlimited message history, unlimited apps & integrations, group video calls up to 15 people, and priority support.
The Final Word
No matter the size and purpose of your company, business communication systems are always a good investment.
They can help your team get to know each other better and communicate effectively so as to avoid confusion or false information. They can also have a big effect on productivity, especially if you look into apps that provide some project management features.
If you put safety and ease of communication first when looking for a business communications platform, we suggest you take a look at Brosix. It's filled with features that can make a big difference for your team and it's secured with the latest safety standards. It also gives you control over the communication process, which is an additional safety guarantee.
Request a demo now and see for yourself!