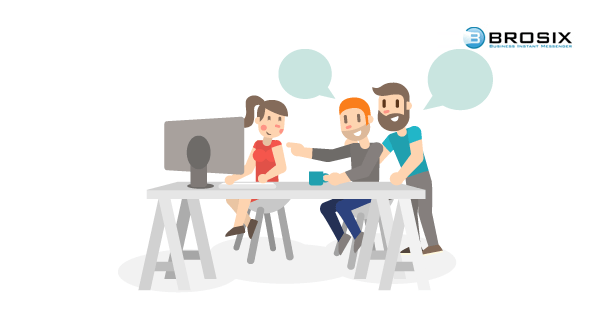 Instant Messaging Makes Communication Quick & Easy
February 24, 2017 Instant Messaging


Instant Messaging in Business Communication
Brosix Instant Messenger counts – Time is money in a business with employees that must communicate with each other frequently. Messages need to be sent fast and read quickly by others on the team. Email used to be the best choice for this way of communication but corporate instant messaging has taken over the number one spot.
Easier business communication organization and access
Private instant messaging services allow quick and easy access to important messages that are sent through the network. Time constraints are involved in every business and having the ability to send imperative changes for work projects or group meetings is vital to the healthy production of a busy office.
Brosix Instant Messenger enterprise feature – Chat History – allows network administrators to keep track and access chat history archives.
Easier to remind and congratulate
Instant messaging also creates a cohesive unit and camaraderie between fellow employees. In fact, having the ability to send a quick personal message to wish a fellow employee happy birthday is a benefit of having a private network service.
Work production is increased and less stress is seen when using a private instant messaging service. Deadlines are met and made easier to achieve because employees have the ability to quickly relay important information to each other.
Instant messaging is also easier than typing out an email and waiting for a reply. If a fellow employee doesn't check their email, an important message could be sitting there waiting for them and they wouldn't see it quickly. This shouldn't happen in a busy office.
Brosix Instant Messanger for business is an application designed for corporate communication in an office, with remote employees and for customer support as well. Brosix Instant Messenger allows multitasking and quick data exchange with its features unlimited file transfer and screen sharing.