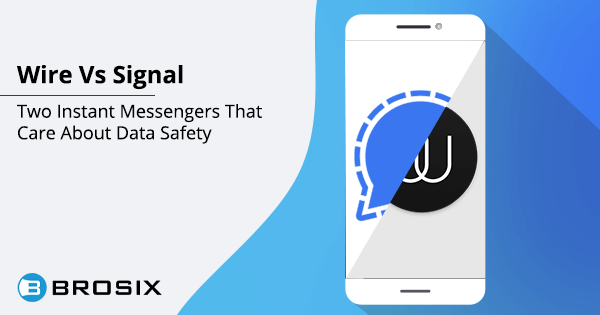 Wire Vs Signal: Two Instant Messengers That Care About Data Safety
Privacy scandals and data safety issues we've witnessed in the past few years have led to an increased demand for secure messengers.
This increase in demand has quickly led to an increased offer: you now have more secure instant messengers to choose from than in 2015. Wire and Signal are among the most popular such messengers, with various safety features that ensure privacy and data conservation.
While none of these two apps will reach Whatsapp's or Messenger's popularity any time soon, they've both found their niche audiences and are steadily gaining users.
What are the key differences between these two messengers and which one should you use?
To answer these questions, we used both Wire and Signal for two weeks, analyzed them, and summarized our findings in this article.
First, let's learn more about each messenger and their success.
What is Wire?
Launched in late 2014, Wire started as an encrypted chat app, although end-to-end encryption wasn't rolled out until 2016. Since its inception, Wire was considered an alternative to Skype – one of its founders, Janus Friis, is also the co-founder of Skype, and many early Wire employees were previously working at Skype.
In 2018, Wire launched a team collaboration solution with features like video calls, file-sharing, and conferencing. At the moment, Wire offers three solutions for companies: Wire Pro (team collaboration platform for businesses), Wire Enterprise (platform with added features for large companies), and Wire Red (a crisis collaboration suite).
For personal use, they offer Wire Personal – a secure messaging app that we'll be focusing on in this article.
What is Signal?
Known for its open-source code and increased transparency, Signal is a secure messenger that runs on donations, as a non-profit organization.
It started as a successor to two apps: RedPhone and TextSecure – the former being a secure voice calling app, the latter an encrypted messaging protocol.
In 2018, Signal messenger received a $50 million donation from Brian Acton, Whatsapp's co-founder. In the following period, the app added a lot of functionalities, including view-once images, support for iPads, and stickers. Between August and September 2020, Signal also added one-to-one voice and video call options to their desktop app.
Edward Snowden has been quoted saying that Signal is his favorite messaging app. So, if you aren't suspect that this could be just a smart marketing move, that's quite an endorsement!
How did we compare them?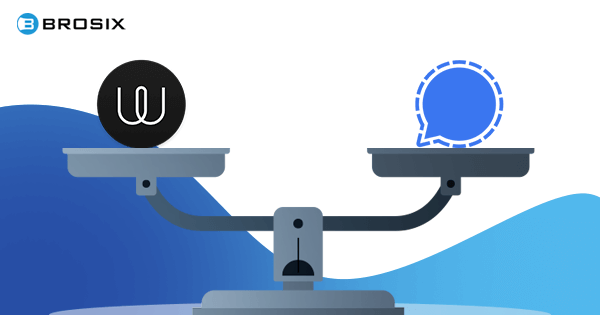 While we were using these two apps, we were looking at six specific criteria.
Now that we know what we'll be covering, let's see how Wire and Signal compare to each other!
Wire Vs Signal: Ease of use and interface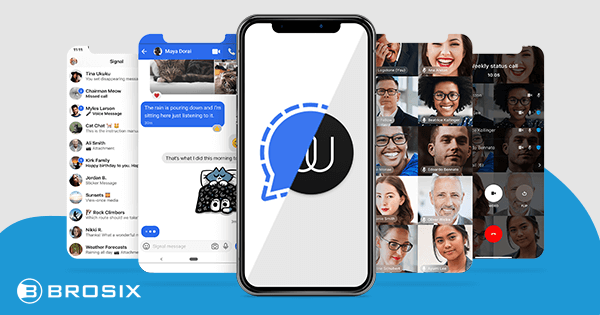 The download and installation process for these two apps is pretty straightforward: you download them from the App Store/Play Store and complete the installation in a matter of minutes.
When you get to the setup, however, that's when they start to differ. To register for Signal messenger, you need to enter your phone number and receive a text message with a code to create your account. The downside of this is that you can only access your messages on one device, so if you need to switch to a new phone, you'll have no prior messaging history.
To set up Wire, you can choose to either do it using your phone number or your email. So, if you don't like the idea of sharing your phone number with an app, Wire could be a better option.
When it comes to user interface, Signal sports a typical messenger design: on the bottom, you have a "create a message" button, along with your camera button. The majority of the screen is taken up by your chats, so you simply need to click a person's name to start a conversation. You can choose between light and dark themes, both of which are minimalistic.
Wire Messenger installation process is similar but its user experience is slightly different. It has four buttons at the bottom of the screen and it doesn't offer the classic messenger look that Signal does. That aside, if you've ever used a messenger app before, you won't find either Wire or Signal particularly difficult to use.
Wire vs Signal: Advanced features
Signal's trademark advanced feature is the disappearing message option.
You can access this feature by clicking on the three dots in the upper right corner of the screen. From there, you can select how long you want your message to stay available – from five seconds to one week.
Wire matches this feature with their Timed Messages that work a little differently but serve the same purpose. One downside of the Timed Messages feature is the large difference between disappearing times. The first option you have is 10 seconds, while the next one available is five minutes.
Signal also doubles as a default text messaging app. You can use Signal to message people who don't have the app installed but they'll receive it as a standard SMS. Although these messages won't be end-to-end encrypted, you don't have to convince your friends to install Signal or switch between apps when talking to different people.
In addition to text messaging, both apps offer video and voice calling as well.
Wire vs Signal: Security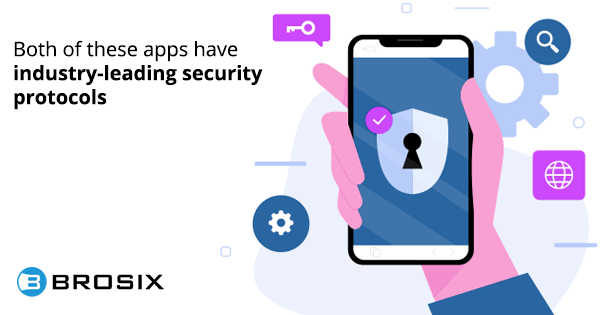 Both of these apps have industry-leading security protocols, starting from end-to-end encryption on all forms of communication: messages, audio, and video calls. None of your information is stored on their servers or shared with third-party services.
One advantage that Signal has over other secure messengers is that all of its code is open-source and peer-reviewed. This means that their code is available for all kinds of tests, which ensures a high level of transparency and good service.
Unlike many other messaging apps, Wire also has an open-source code. Like with Signal, there are no ads and they're publicly audited – you can even download audit reports from their website.
When it comes to security, it's a close call between these two apps. In the end, the fact that Wire doesn't require your phone number to create an account might be the deciding factor.
Wire vs Signal: Team chat and collaboration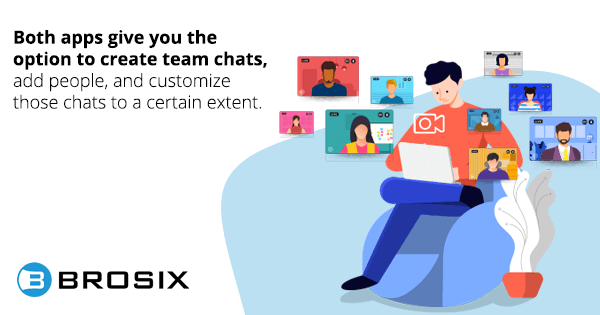 Both apps give you the option to create team chats, add people, and customize those chats to a certain extent.
However, if you want to take team collaboration to the next level and have features like file sharing and commenting, you'll want to check out Wire's Pro or Enterprise products. With these platforms, you can have team chats where you can start video or audio calls with one click, share files, and create reports.
You also have a useful feature called "Secure guest rooms", where you can communicate using end-to-end encryption with your clients and partners. They don't need to have a Wire account to access these rooms but they get many of the same functionalities, including file sharing and video calls.
When it comes to file transfer and upload size, Wire limits it to 100 MB, which is plenty but could be limiting if you work with high-quality videos. On Signal, the upload limit for GIFs is 25 MB, while the limit for other files is 100 MB.
Wire vs Signal: Desktop messenger apps
Both apps work on all popular platforms – Windows, Mac, and Linux. Both of them also manage to translate their mobile design to desktop perfectly, so if you're used to your smartphone app, you'll find switching to desktop easy.
While they both work perfectly and look fine, Wire might take the win in this category because its design looks a little more premium. The downsides that Wire has on mobile turn into advantages on the desktop: the transparent toolbar on the left and the icons on the bottom look much better on a large screen.
On the other hand, Signal sports the same, minimalistic design as on their smartphone app. If you're not looking for anything special, it will do the trick. But, if you care about aesthetics, Wire is the better choice.
Wire vs Signal: User reviews
Wire currently has a 3.5 rating on both the Google Play Store and the App Store. Most negative reviews are focused on various glitches: sharing pictures and videos can be a pain, video calls can be buggy, and difficulties when outside guests try to log in.
The positive reviews highlight the advanced security features like disappearing messages.
Signal has a 4.5 rating on the Google Play Store and a 4.8 rating on the App Store. Most of the criticism highlights the fact that you need to use your phone number for registration. Some users aren't too happy with the minimalistic design and claim that it could be more intuitive.
It's praised as reliable, secure, and the fact that all its code is open-source is often mentioned in the most positive reviews.
Brosix: an alternative instant messenger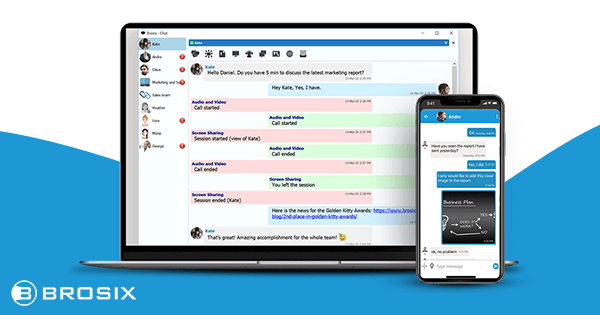 Signal and Wire are solid instant messenger apps that offer more advanced security features than mainstream solutions.
However, both of these apps fall short in several categories. For example, Signal has very few options for team collaboration – other than team chats, you have no other options to organize a team.
Wire, on the other hand, offers team collaboration features but doesn't provide enough admin control and enterprise-level security.
If you want a messaging app that delivers the same features as Signal and Wire, with more safety and a set of advanced team collaboration options, Brosix might be the choice for you.
Safety features
Just like Signal and Wire, Brosix offers industry-leading end-to-end encryption protocols. However, Brosix goes one step further and provides a Private Team Network, which gives you full control over your internal communication and lets you create a safe environment.
You control the whole network through the Web Control Panel, where you can set up user privileges, monitor licenses, and even control which features are available to which users.
That way, Brosix puts you in the driver's seat and prioritizes safety.
Team collaboration
Brosix also manages to present itself as a valid alternative to Slack and other popular team collaboration tools by offering a set of impressive collaboration features.
You can organize conference calls where you have features like screen sharing and the Whiteboard which can help you bring your presentations to a new level.
There is also no limit when it comes to file upload size, and you can search your conversations using more criteria. Compare that to Slack, where you can't even access your whole conversation history, and the advantages are clear.
Wire Vs Signal Vs Brosix: conclusion
If you take into consideration the number of active users, Signal is the most versatile private messenger of the three. It also doubles as an SMS texting app, so you don't even need to convince your friends and family to install it if you want to use it to chat.
However, Signal falls short when it comes to team chats and admin control. If you need your instant messenger to be useful as a team chat tool, Brosix is the best choice out of all three.
With it, you get complete admin control over communication but you also get all the useful features and the familiar interface of a standard instant messenger.
If you want to see how all of this looks in practice, request a demo and check Brosix out!
Request Demo