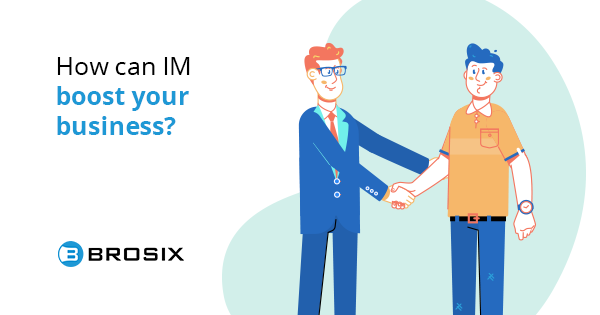 IM Can Boost Your Business Success – Here's How
Instant messaging is revolutionizing business communication. By transforming how we work and interact with one another, as well as our routines, profit margins, and even cybersecurity, instant messaging is creating a more productive, profitable, and secure work environment.
So how can it boost your business success? Read on to find out!
It's Familiar
Chances are you already have a favorite app for instant messaging. Whether it's WhatsApp, Viber, Messenger, or another, you likely have experience with such platforms.
Luckily for you, business instant messengers aren't so different. For starters, you get text and group chats. For text chats, it's simply a matter of selecting the person with whom you'd like to chat and sending the message. With group chats, you'll simply need to decide how to tailor the group(s) and who to include. You could arrange them by department, task, or location, for instance. It's up to you!
With most business instant messengers, you also get voice and video calls – perfect for when your communication needs call for something more personal than an instant message.
It's Convenient
One of the factors which has not only carried instant messaging to prominence, but also allowed it to endure as a preferred communication method, is convenience. And that matters when you're on the go. In addition to their desktop platforms, most business instant messengers offer mobile apps. So whether you're in a meeting, on a layover, or simply waiting in line – all of your enterprise communications are in the palm of your hand.
Furthermore, there's a reason that 40% percent of millennials are "more likely to act" following a text message communication. Its brief and straightforward nature is quicker and more efficient than an email and less disruptive than a phone call. You can quickly shoot an IM from any device, shut the app, and then get right back to what you were doing.
It Levels the Playing Field
Sometimes it can be difficult to be heard. You may not be comfortable voicing ideas or concerns in a large group setting. Or you may not have the same access to colleagues or superiors if you're working from a different location.
With a group chat, though, everyone's on a level playing field. You have access to the same information and the same ability to contribute as everyone else. And this holds true regardless of where you are physically. So if you're a remote worker struggling to keep in touch or you're just a bit shy speaking up, instant messaging has you covered.
It Can Improve Customer Service
These days, it's not enough to simply streamline your team communication. You also need to simplify how your customers reach you. By embedding instant messaging into your website directly, you provide your customer base with easy and instant access to you. This way customers can inquire about more information, request assistance, or simply discuss products and services – without wasting time with busy signals, lengthy options menus, or voicemails.
It Alleviates the Monotony
One area in which business instant messengers differentiate from their personal chat app counterparts is the features they offer to enhance teamwork. A robust set of team collaboration tools at your fingertips empowers you to further productivity and in the process quell some of the daily monotony.
By utilizing a feature like screen sharing, you can simplify training sessions, show a colleague how to configure their computer, or seamlessly review documents or presentations. While with co-browsing you can browse the internet with a colleague or client, eliminating the need to share links or URLs and further streamlining research. And then there are features like the virtual whiteboard which inject some life into your collaboration. Demonstrating your ideas and concepts through charts, graphs, diagrams, shapes, and colors allows you to visually and more creatively boost the collaborative process.
It's Cost-effective
How your organization communicates is vital to your efficiency, productivity, performance, and as a result, your bottom line. And the right communication strategy, or lack-thereof, could make or break the success of your enterprise.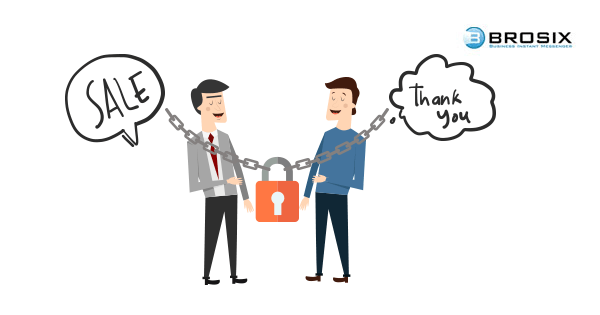 To start off, all communications on the platform – text and group chats, voice and video calls, and file transfers – are free between users. Moreover, if you've got staff, partners, or clients located in different geographic locations, even internationally, you'll negate not only the costs associated with long distance calls and texts, but possibly some travel expenses, too. You can schedule and conduct meetings on the platform, share presentations, and transfer data. And by embedding instant messaging into your website, you'll eliminate the need for an expensive phone system to handle incoming calls.
It's Got Your Back
Having the tools to enhance collaboration can boost your enterprise success in a multitude of ways. Having comprehensive security features, though, ensures that that success remains in the right hands. And since 2006, Brosix Instant Messenger has successfully carried through on both fronts.
First off, all your communication channels are peer to peer while all your data transmissions are encrypted end-to-end using the AES 256-bit encryption algorithm. For added peace of mind, Brosix's private network ensures that only authorized users have access to the platform. And if that wasn't enough, you even have the option to integrate your anti-virus software into the platform.
Further bolstering these security measures are the administrative features which allow you to better focus team communication. Administrators can manage who has access to whom on the platform as well as the features to which users have access. Moreover, Chat History Archives offer a two-fold safeguard – allowing you to monitor users on an individual basis, as well as keeping you in compliance with federal regulations on the archiving of electronic communications.
In Conclusion
If your enterprise isn't using a business instant messenger, your productivity, profitability, and security could be at a major disadvantage. A number of business instant messengers on the market today offer free trial versions and affordable rates thereafter. So try one out and see how it can boost your business success!