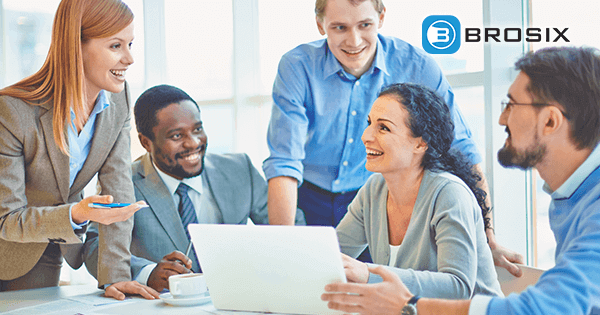 5 Ways Brosix Can Help Insurance Companies Boost Efficiency
It goes without saying that insurance companies have quite a bit of work on their plate. This holds true for every employee, from entry level positions all the way up to executives.
For this reason, efficient communication is a must. Without this, employees will soon find that they are wasting time, thus resulting in lost revenue. Fortunately, there are many steps insurance companies can take to boost efficiency. One of the best is to implement an enterprise instant messaging solution, such as Brosix.
In an overall sense, any company, regardless of size or industry, can use Brosix to improve the way they communicate. However, some companies, such as those in the insurance space, are more likely to benefit. So, with this in mind, let's examine five ways Brosix can help insurance companies boost efficiency:
1. Faster Communication
For many years, insurance companies have been relying on email to communicate. While this isn't likely to change for good at any time in the near future, it's more important than ever for these companies to look at other methods of communication.
Instant messaging, for example, is a great place to start. As the name implies, this allows for real-time communication, as opposed to the delay that often takes place with email.
Fast communication is a must in the insurance industry, and the best way to guarantee this is by ensuring that every employee (or most of them) have access to the same IM program.
2. Ability to Share Information Between Departments
The biggest insurance companies have various departments. From claims to customer service, from sales to marketing, there are a lot of people working on a lot of things. There are also times when information needs to be shared between departments. For example, the claims department may need the assistance of the customer service team when dealing with an upset policyholder. This is why the ability to share information between departments is critical.
While email and paper-based messages still have a place in the insurance industry, instant messaging is becoming more and more popular. This is the quickest way for people to share information with other departments, all without having to leave their desk or worry about something getting lost in translation.
3. Communicate On the GO
Do you remember the days when communicating from the road was next to impossible? Now that most people are carrying a smartphone, it's easier than ever to communicate on the go.
Check out this statistic from the Pew Research Center:
"Roughly three-quarters of Americans (77%) now own a smartphone, with lower-income Americans and those ages 50 and older exhibiting a sharp uptick in ownership over the past year, according a Pew Research Center survey conducted in November 2016. Smartphone adoption has more than doubled since the Center began surveying on this topic in 2011: That year, 35% of Americans reported that they owned a smartphone of some kind."
Even better is the fact that smartphone adoption should continue to grow in the years to come.
So, since most people are using this technology, most people also have the ability to use the mobile version of an instant messaging application.
4. Forget Face to Face Group Meetings
Insurance companies have a way of getting stuck in the past. They have been doing things the same way for many years, so they assume they have to continue down this path in the future.
This doesn't necessarily have to be the case. It's easy to believe that face to face group meetings are integral to your company's success, but don't let this hold you back from trying new things.
For instance, use an IM program with a group chat feature. This provides the opportunity for everyone to communicate at the same time, all without the need to be in the same room.
Yes, it's a big change, however, it can bring many benefits in regards to efficiency and productivity.
5. No Concerns About Security
It goes without saying that insurance companies hold onto quite a bit of confidential information. It also goes without saying that a security breach is the last thing an insurance company wants to deal with.
This is why choosing a secure instant messenger is so important. Brosix fits this mold, with the company website sharing the following:
"Your team's privacy and security is our top priority, which is why Brosix encrypts all communication channels. Messages, files, voice and video calls – every channel is encrypted, and we've taken measures to make sure no one outside of your team can access any of your data."
It's easy to believe that all instant messaging programs are safe and secure to use, but this isn't always the case. You need to check on this before you do anything, as you can only communicate in an efficient environment when security isn't a concern.
Final Thoughts
Insurance companies are in the business of making money, not wasting time. This is why so many of these organizations have turned their attention to finding a better way to communicate.
As you can see, Brosix can help insurance companies boost efficiency – and there is nothing more important than that!