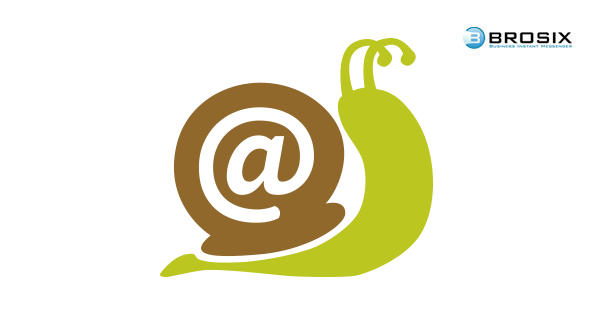 Is Email Slowing You Down?
July 19, 2017 Instant Messaging



In today's day and age, there are more options than ever before in regards to business communication.

For many years, business professionals have relied on the telephone and face to face meetings to interact in an efficient and productive manner.

While both of these strategies remain popular, many people have turned their attention to email. Get this: more than 205 billion emails are sent every day of the week. While some of these are for pleasure, many are related to business activity.

Email is more powerful than ever before, thanks in large part to a variety of applications geared toward business users. For example, there are applications that make it easier to connect with your target audience via cold emails.
So, what's the Problem?
Despite the power of email, there are times when this isn't the best form of communication, such as when you want to communicate in real time.
A conversation between colleagues via email tends to become cumbersome when both people are at the computer, actively waiting on the other to respond. In fact, this is a time drain that can result in lost productivity.
Here are some examples of situations when "email lag time" can lead to issues:
In each of these situations, email is not the right answer. The lack of speed and inability to communicate in real time can result in too many problems.
Here's the Answer
If email isn't the answer, what is? While you're free to experiment with a variety of strategies, it's important to learn more about instant messaging.
There are many benefits of using a business IM application, with the ability to communicate in real time at the top of the list.
When you send a message, the other person will receive it right away. This makes for a more efficient "back and forth" conversation, allowing both individuals (or a group of individuals) to share their thoughts. In addition to real time communication, instant messaging offers a variety of additional features not available via email:
Voice and video chat
Screen sharing
Co-browsing
Whiteboard
Chat history archive
So, while you're communicating in real time, you can use some of these other features to your advantage. An example of this would be screen sharing with a prospect. You can use this to show the other person what is on your screen, which is much easier than sending attachments via email or attempting to walk the person through the process over the phone.
Yes, Email is Slowing You Down
There is no denying the fact that email still plays a big part in today's business world. You can and should use this day in and day out to improve how you communicate with coworkers, clients, and prospects.
When you want to speed up and communicate in a more efficient manner, it's time to use an enterprise instant messenger.
With this approach, you don't have to worry about email slowing you down. All you have to worry about is your ability to keep up!
What do you think about email as a form of business communication? Have you come to find that instant messaging works better for you and your company? Share your thoughts and personal advice in the comment section below.