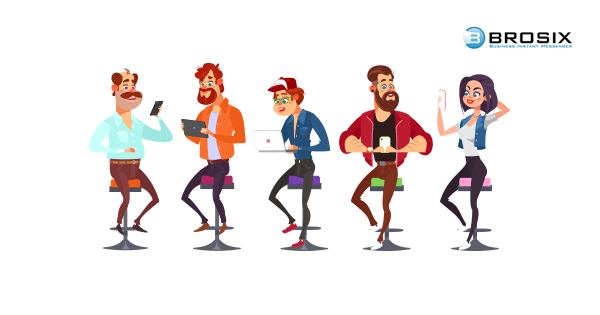 Is Instant Messaging a Distraction in the Workplace?
September 25, 2017 Instant Messaging



There is no shortage of workplace distractions. Regardless of your company size or industry, you know there will be times when workers are not paying full attention to what they should be doing.

Many companies shy away from the use of an instant messenger for one reason: they are concerned that employees will take advantage of the application, thus giving them another reason not to get their work done.

Let's be honest: there will always be conversations, regardless of the platform, that have nothing to do with work and a person's daily responsibilities. It's important to realize that these conversations will take place regardless of if an instant messaging program is in place or not.

With this in mind, using an IM is actually beneficial, as it gives workers the ability to communicate in the most efficient and productive way possible, thus saving both time and money.

Since IM applications, such as Brosix, are so easy to use, it can be a challenge for people to stay on track at all times. However, there are some basic tips you can follow to ensure that you are operating at your standard level of productivity while still being able to use Brosix to chat with others.
Ask the other person if they are available to chat. When you ask if the person has time to chat, you cut back on the potential for a meaningless conversation to take place.
Ask your question in a clear, direct, and concise manner. Once again, this goes a long way in keeping the conversation on topic from start to finish.
If your coworker gets off topic, let him or her know that you are too busy to chat at the present time. Instead, you can suggest that you meet up at lunch to continue the conversation.
Don't hesitate to remind your coworker that your enterprise IM program is to be used primarily for work related conversations. Sometimes, all it takes is a short reminder in order to get the person back on track.
Are You an IM Network Administrator?
Maybe you are a small business owner. And maybe you have come to find that the use of an instant messaging platform is a great way to improve communication between your employees.
As a network administrator, there are many things you can do to keep conversations on track.
For example, you have full control over who is and is not part of the network. Do your best to ensure that the network only includes company employees, contractors, customers, clients, and prospects.
Tip: if a personal contact is added to the network, there is a much greater chance that a person will veer off track.
Another thing you can do is this: let your employees know that you will be reviewing their conversations every so often.
You don't have to do so with malice. You simply want to do so to ensure that everyone is staying on track. When your employees realize this is a good thing, they won't concern themselves with what you are doing. Of course, it's likely to help them stay on track, as they don't want you to learn that they are not using the IM network as intended.
Conclusion
There will always be people who feel that instant messaging is a distraction in the workplace. For this reason, they don't give themselves the opportunity to take advantage of the many benefits.
If you feel this way, now's the time to change your approach and realize that an IM could be just what you need to improve efficiency and productivity.
You may have avoided this in the past, but you don't want to do so in the future. Instant messaging is only a distraction when people don't know how to use it in the appropriate manner.
What do you think about business instant messaging? What steps do you take to ensure that this technology does not become a distraction? Share your personal thoughts and experiences in the comment section below.