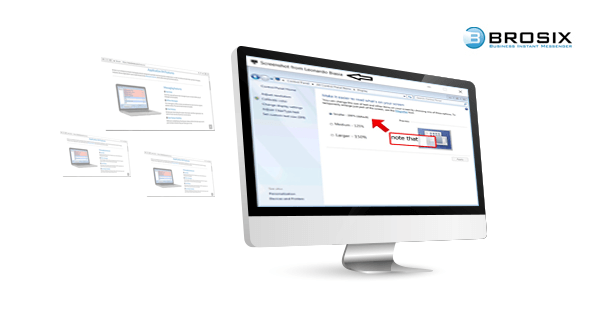 Top Ways to Use the Brosix Screenshot Feature
September 21, 2017 Instant Messaging



There is no denying the fact that Brosix is full of high level features, all of which can make your life easier as you communicate with people in your network.

While you want to take advantage of each and every feature that is available to you, here's something to keep in mind: some features will be more useful on a regular basis than others.

This is where the screenshot feature comes into play. There are several times throughout the course of a day when you may need to use this. Consider the following:
Customer Service
In the technology or computer sector, it may be helpful to include customers in your Brosix network if they are having issues with their software. Because the customer and employees aren't in the same place, the customer may have trouble properly explaining their issue. Being able to capture and send a screenshot to a customer service representative may be helpful for troubleshooting.
Remember this: you want to provide the highest level of customer service at all times. Using the screenshot feature will allow you to do just that.
Internal IT Assistance
This is similar to the customer service example above. However, because all employees are likely to be on the same Brosix network, sending a screenshot to the IT department should be a simple task.
This may be helpful for a number of reasons, such as showing a particular error message on your screen.
You no longer have to call an IT professional to your office to explain what is going on. Instead, you can use this feature to share a screenshot, which documents and speeds up the troubleshooting process.
Showing Proof of Payment
When purchasing services or items online, capturing a screenshot and then sending it to a supervisor or accounting department can be helpful for recording purposes. This may also cut down on printing, as the person can keep this electronic file instead of printing it out.
If you are the type of person who wants to cut back on clutter, all the while remaining organized, you will want to consider this way of using the screenshot feature.
Showing Live Activity
Many activities that you conduct online cannot be printed out with ease. Fortunately, with the help of the screenshot feature, you can forget about this causing you trouble.
Live activities can be captured with a screenshot and saved locally. Once again, this is more time efficient and cost effective than printing it out (if you are even able to do so).
Give it a Try
When you first get involved with the Brosix instant messenger, you may wonder which features will work best for you and your company. It's only natural to run into a learning curve, but here's something to keep in mind: the screenshot feature is extremely easy to use.
Once you do this one time, it's simple to get into the habit of using the feature over and over again.
The best thing you can do is experiment with the screenshot feature. This will give you a clear understanding of how it works and the best way to use it in your day to day life.
Conclusion
Every feature of an instant messenger is one that can make your life easier, such as by saving you time and cutting back on costs.
The screenshot feature has long been a favorite of Brosix customers, and there is no reason to believe that this will change in the future.
As noted above, there are many ways to use Brosix screenshot, so don't sell yourself short. You should begin to take full advantage as soon as possible.
When does it make the most sense for somebody in your position to use this feature? Do you have any experience using it to your advantage? Share your thoughts and feedback in the comment section below.