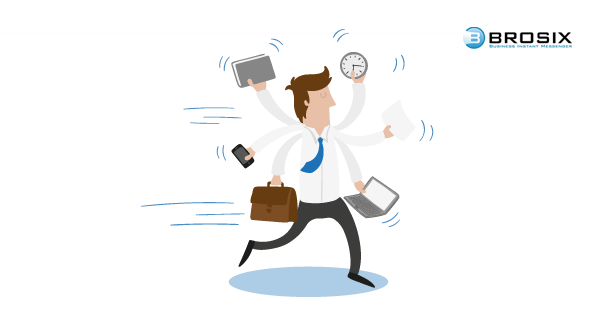 How to facilitate your work day with an IM
January 30, 2017 Instant Messaging



Working full-time could be quite stressful from time to time. Our, full with meetings, long phone conversations and additional projects, schedule takes our focus and we cannot give the 100 per cent of ourselves which is not good. If you find yourself in this situation, go on reading to find a way to increase your productivity and in the same time to save yourself some time.
Some Benefits of using messaging applications
Brosix is an easy to use and highly secured instant messenger
It has a full set of features that aim to help you organize your work obligations by saving you some time
Allows you to freely communicate and share ideas by cutting the distance gap between co-workers
Here are 2 useful tools in Brosix that would help you be more productive and facilitated in the same time
Video chat is one of the most popular and used features in Brosix. The reason for that is the fact that it can replace the so-called face-to-face meeting which might be the most uncomfortable option for one of the participants in it. Brosix successfully solves this issue by allowing you to reach your colleague let`s say living on the other corner of the World with less than 2 clicks. You can share your ideas, perspectives and visions during the video chat through the rest of the features such as chat, file-transfer, etc. Enjoy Multi-tasking in real time without any additional efforts.
Another helpful feature that would be more than useful on your daily basis is the Chat rooms. You can gather all your contacts from your network and create a chat room. You can instant message, share files, do white-board sessions to lay your suggestions, etc.
Never underestimate the price of exhaustion. Sign up for Brosix and facilitate your work day in the greatest way possible.